DeSclafani grinds through six solid vs. A's
Right-hander made 2016 debut after suffering oblique injury in Spring Training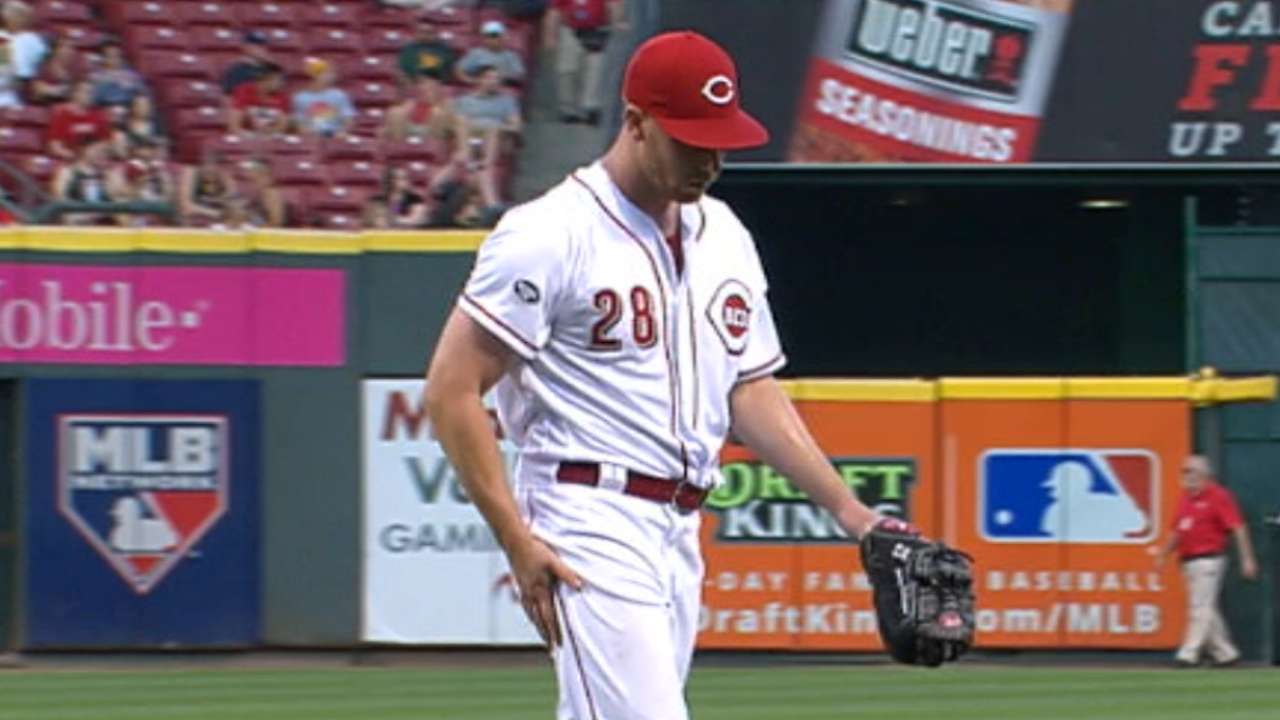 CINCINNATI -- Anthony DeSclafani had more than two months of frustration ready to let loose when he took the Great American Ball Park mound Friday night.
Coco Crisp, the first batter the Reds' right-hander faced against the A's, took all of DeSclafani's emotions and promptly answered them with a clean single. Oakland registered eight hits over DeSclafani's six innings, but the right-hander allowed just one run in his season debut and kept the Reds in the game long enough for them to rally for a 2-1 victory.
"I didn't make it easy on myself, that's for sure, but I was super-anxious just to be out there," said DeSclafani, who registered a no-decision after throwing 102 pitches. "I felt really good. I felt maybe too good. I don't know if that's such a thing, but I grinded out there, and the guys played great defense behind me. That's a great win overall."
DeSclafani was poised to be the Reds' Opening Day starter, but a strained left oblique muscle suffered late in Spring Training nixed that plan. He was working his way back when he suffered a relapse in late April.
The only run DeSclafani allowed was a home run to Stephen Vogt in the third inning, which came one batter after he induced his first of three double plays. DeSclafani had at least one baserunner against him in every inning but ended up stranding eight.
"I was everything: nervous, anxious. I had a lot of adrenaline I had to try to control from the start of the game," DeSclafani said. "I felt the first inning was a little bit of a long one.
"I felt pretty good. The rest of the time I didn't feel like that. I kind of went all out in the first inning and didn't save any, but I battled through and got great [defense]."
DeSclafani went 9-13 with a 4.05 ERA last season in 31 starts after the Reds acquired him on Dec. 11, 2014, from the Marlins as part of the trade that sent Mat Latos to the Marlins.
"He was a lot of fastball, slider and not a lot of separation in velocity. They put some balls in play hard," Reds manager Bryan Price said. "Then he got back in there and utilized his curveball and changeup every now and again to get them off the velocity pitches over the plate. Most importantly, he felt great. His arm looked great, and he was able to make it work."
DeSclafani struck out only two and walked three before turning the game over to relievers Blake Wood and Tony Cingrani for the final three innings.
"Even though it was a battle and grind, I feel like you have to make pitches when you need to and not give in," DeSclafani said. "I was able to make pitches when I need to, and the defense made the plays when it needed to."
Kevin Goheen is a contributor to MLB.com based in Cincinnati. This story was not subject to the approval of Major League Baseball or its clubs.