5th-round pick Shelby always been around game
Father is long-time coach, currently in Rockies system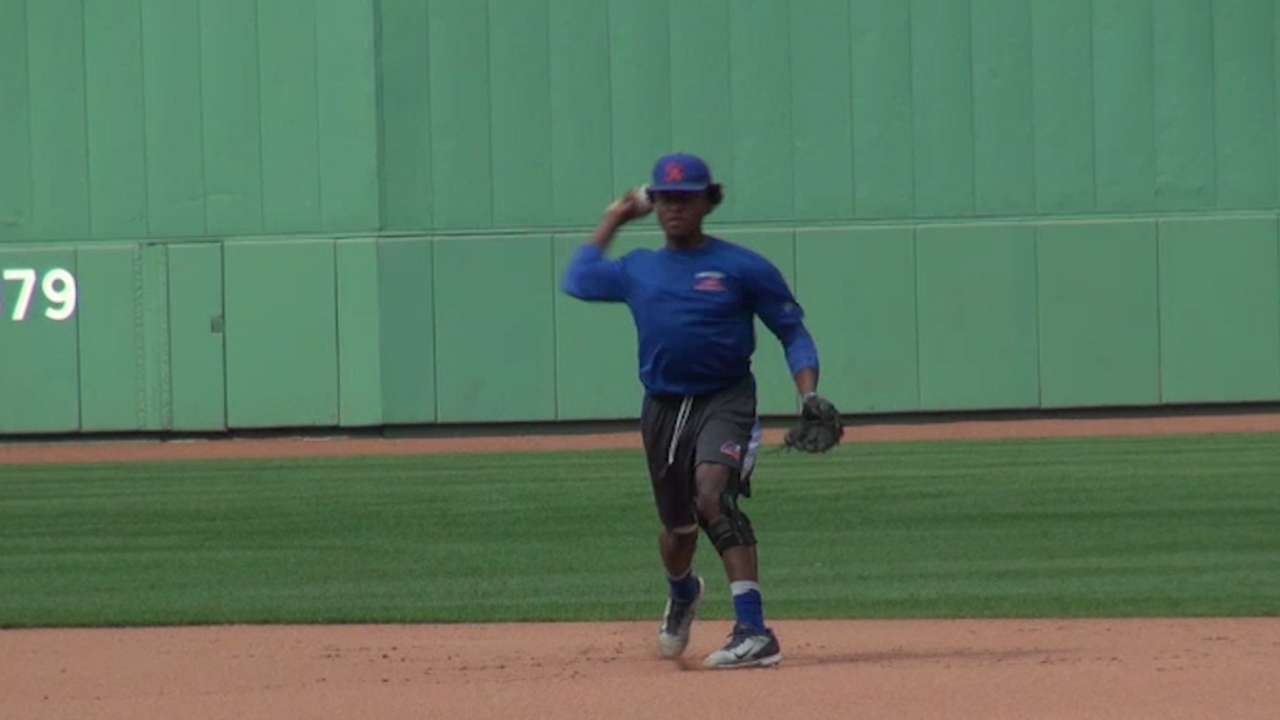 OAKLAND -- Eric Gagne was the hitter, JaVon Shelby recalled. The Dodgers pitcher was taking batting practice, and a young Shelby, though swallowed by a big league outfield, finally found himself camped under a ball, perfectly so.
Ball found glove, then glove found grass.
"It took the glove off of my hand," Shelby said, laughing. "That was probably my favorite memory because it was the first one I caught."
Shelby would catch several more on days he accompanied dad to work.
Longtime big leaguer John Shelby, then the first-base coach for the Dodgers, almost always had his six children by his side during a coaching career that's still ongoing, immersing them in a game that means so much to this Lexington, Ky., family.
"We'd go wherever my dad was," JaVon said. "Last day of school, we're flying to L.A., staying there until a week before school started again."
On Friday, baseball rewarded the Shelbys yet again, this time in the form of a call to JaVon from his agent, informing him that the A's were highly interested in his services. In a matter of minutes, while eating lunch with his family, JaVon was selected by them in the Draft, going in the fifth round.
"It still hasn't really hit me yet," JaVon said by phone. "I was in the car talking to my brothers, and we were just talking how crazy it is, because you play baseball just to get to this point. I'm just trying to soak in every single moment.
"I'm glad I'm with an organization that wants me at a position that I think I can play at the next level, and organization who believes in me."
The Kentucky third baseman, who is also cousin to Pirates infielder Josh Harrison, made the transition from second look easy this spring, and the hot corner "is now probably my favorite position that I've played on the diamond," he said.
At the plate, JaVon hit just .212 but totaled 12 home runs, tied for third in the Southeastern Conference.
"I'm an aggressive hitter with bat speed, and those are probably my two strengths," he said. "Once I can put those together along with being calm when I need to be, not really chasing after stuff in the dirt, then I believe that I'll be a very polished hitter."
He's not lacking in mentors. John's big league career as an outfielder spanned 11 years with three teams, including the World Series-winning Orioles (1983) and Dodgers (1988). He then took on coaching gigs with the Dodgers, Pirates, Orioles and Brewers, and he's now serving as hitting coach for Colorado's Triple-A affiliate.
"He always said that I've always been the one who I thought would make it out of his sons, because I always had a passion for it," JaVon said. "I remember waking up at 6 a.m. when I was 8 or 9 to go with him from Lexington to Cincinnati just to hang around all the big leaguers. He said that's the one thing that stood out to him as a father, watching your son growing up and having a passion for baseball like that."
Jane Lee has covered the A's for MLB.com since 2010. This story was not subject to the approval of Major League Baseball or its clubs.