Duplantier 'ecstatic' to join D-backs
Arizona eyes Rice right-hander as future starter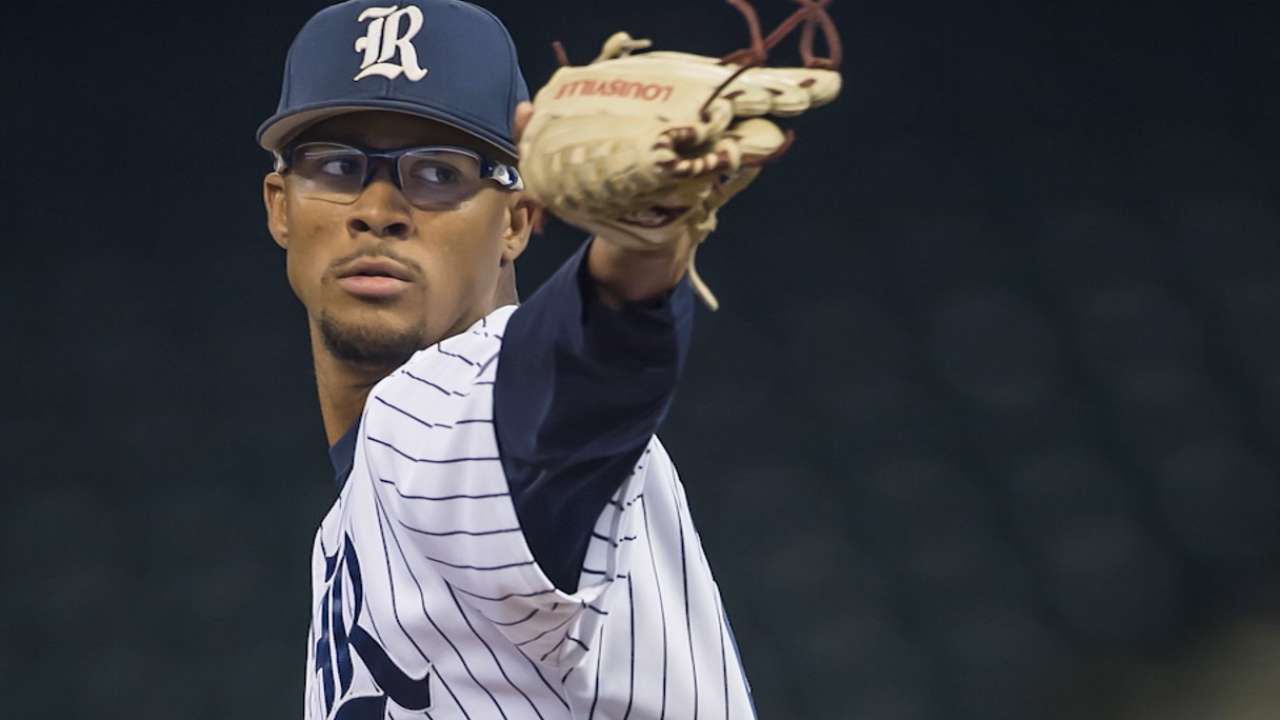 PHOENIX -- As recently as 2014, you could always tell how D-backs third-round pick Jon Duplantier was doing on the mound just by being around him away from the diamond.
"Up until that point, baseball provided a lot of my happiness in life," the Rice University right-hander said. "If I wasn't pitching well, I didn't have a good day. If I was pitching great, oh man, you would have thought I was the happiest and most positive person in the whole world."
When an impingement in his right shoulder caused him to miss the entire 2015 season, it prompted him to look at his life differently.
"It forced me to find other things for myself," Duplantier said. "With the injury, I couldn't play, and it started out where I was in a bad mood all the time. I really didn't want to do much. I was forced to find positivity in other things like relationships and find small victories in the process of getting healthy."
So if he was able to make five more throws during his rehab, he relished it like a victory.
Had he not had the injury, Duplantier likely would have gone higher in the Draft, but the D-backs were ecstatic when he was still on the board when their pick (89th overall) rolled around.
"He's a guy that we were very thankful to get where we got him," D-backs scouting director Deric Ladnier said. "Up to 98 mph with [a] plus curveball and changeup, and [he] put together a really good year this year. Big, strong, physical guy that attacks the zone. We feel there's upside with this guy. We drafted him as a starter."
Duplantier was not sure where he would be picked when the Draft opened Thursday, but Friday morning, the D-backs brass woke him up with a phone call to gauge his interest in signing. He realized that if he was still around by the time their third-round pick came up, he would be wearing Sedona Red.
"I got really excited because I started getting information on them that I didn't have," he said.
For example, he discovered that Arizona GM and former Major League pitcher Dave Stewart liked what he saw of him.
"When I found out he was a guy I would potentially be dealing with in my development, I was ecstatic," Duplantier said.
Duplantier grew up liking former D-backs ace Randy Johnson, who is special assistant with the team, and more recently he has tried to pattern his game like Rays ace Chris Archer.
"I like to have a mentality that I'm going to attack hitters with similar stuff to his," Duplantier said of Archer. "I'm nowhere near on his level, but I strive to be someday. The way he understands himself and from what I hear and what I've read the way he takes care of his body -- how healthy he is and how healthy he eats and the lifestyle he lives. It's something to model myself after."
Steve Gilbert has covered the D-backs for MLB.com since 2001. Follow him on Twitter @SteveGilbertMLB. This story was not subject to the approval of Major League Baseball or its clubs.