Myers' 3-run HR caps Padres' comeback vs. Rox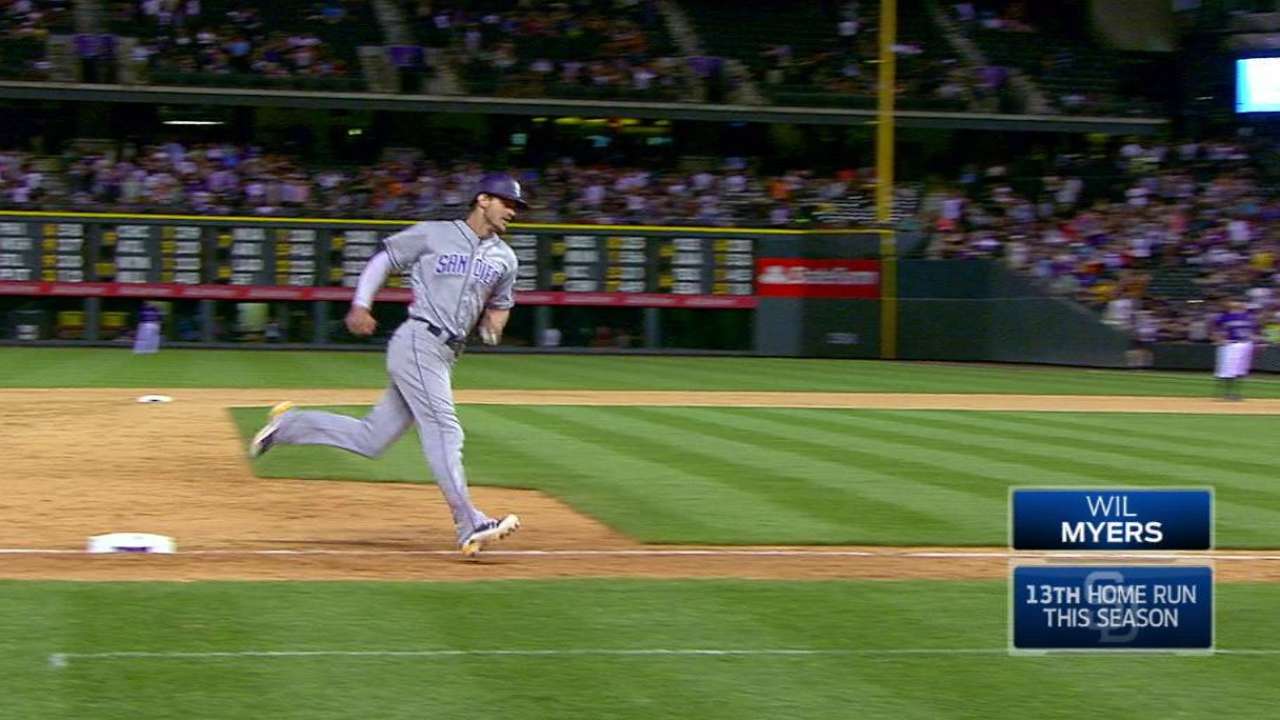 DENVER -- San Diego scored four runs in the ninth inning -- pulling ahead on Wil Myers' 451-foot three-run homer off closer Jake McGee -- as the Padres beat the Rockies, 7-5, at Coors Field on Friday night.
Myers' game-winner capped a two-out rally with the Padres getting four runs on four straight two-out hits -- a pair of singles from Alexei Ramirez and Alexi Amarista, a ground-rule double from Jon Jay, and Myers' three-run blast.
"For Alexi to be able to get it started like that -- for both Alexeis -- and Jay to have a great at-bat right there, that was so clutch for us to have those at-bats and keep the game going," Myers said. "I was just lucky enough to get a good pitch and put a good swing on it, but those guys really got it started with two outs. That's the most important thing.
The Padres did a little damage to Rockies starter Jon Gray in the early frames, then he bore down, allowing only four hits with no walks, striking out seven. San Diego added two unearned runs, helped along by a throwing error by catcher -- and former Padre -- Nick Hundley, and Melvin Upton Jr. added a solo home run, but the Padres couldn't manage anything more until they put seven runners on base against Rockies relievers.
• Cast your Esurance All-Star ballot for #ASGWorthy players
The Rockies spread out their offensive attack with every position player reaching base. Nolan Arenado got the offense going early with a two-run home run in the first -- his 18th of the season and 89th of his career, but first of his career to right field. Trevor Story and Hundley added runs in the fourth on a fielder's choice and single, respectively, but the Rockies only managed one hit in the final four frames -- Mark Reynolds' RBI single in the eighth.
"Any time you lose in the ninth when you led all night," Rockies manager Walt Weiss said, "yeah, those are tough losses."
MOMENTS THAT MATTERED
Cashner makes quick exit: Padres starter Andrew Cashner left the game after throwing just six pitches, five of which earned him a strikeout of leadoff hitter Charlie Blackmon. After his first pitch to his second batter -- a ball -- Padres manager Andy Green and head athletic trainer Mark Rogow visited the mound and brought Cashner back to the dugout with them. The injury was later identified as upper back and neck tightness. Padres reliever Luis Perdomo made his second appearance against the Rockies in five days, taking over for Cashner. Perdomo allowed a bloop single to DJ LeMahieu, then the two-run homer to Arenado before wrapping up the inning on his way to 5 2/3 innings.
"He just wasn't able to throw very free and easy today," Green said of Cashner. "His [velocity] was down [to the] first batter. He experienced [tightness] kind of late in his bullpen session as he was warming up, and I just have to watch him throw. After a batter, I knew it was best to get him out of there." More >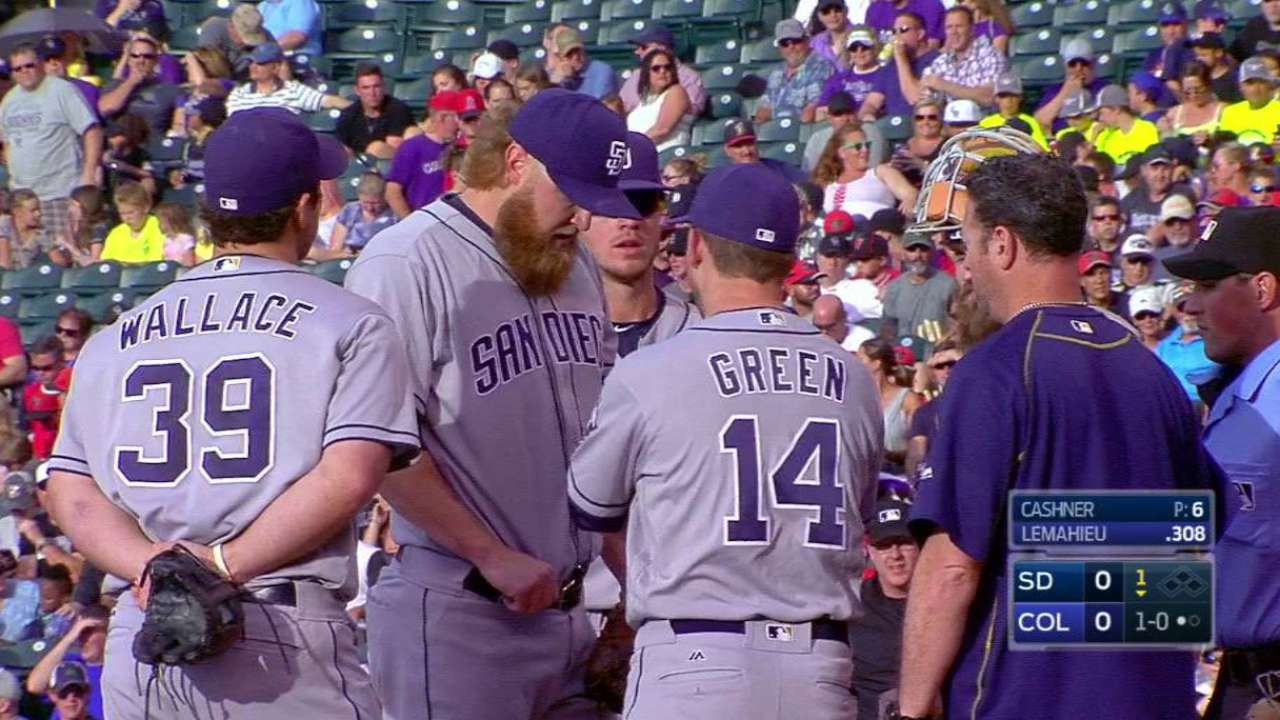 Arenado strikes early again: The Rockies put a crooked number up in the opening inning for the second game in a row. After the first four batters scored Thursday against the Pirates, Arenado hit a two-run home run off Perdomo. Arenado has reached base each of the last six times he has come up in the first inning, dating back to a June 4 walk off Cashner.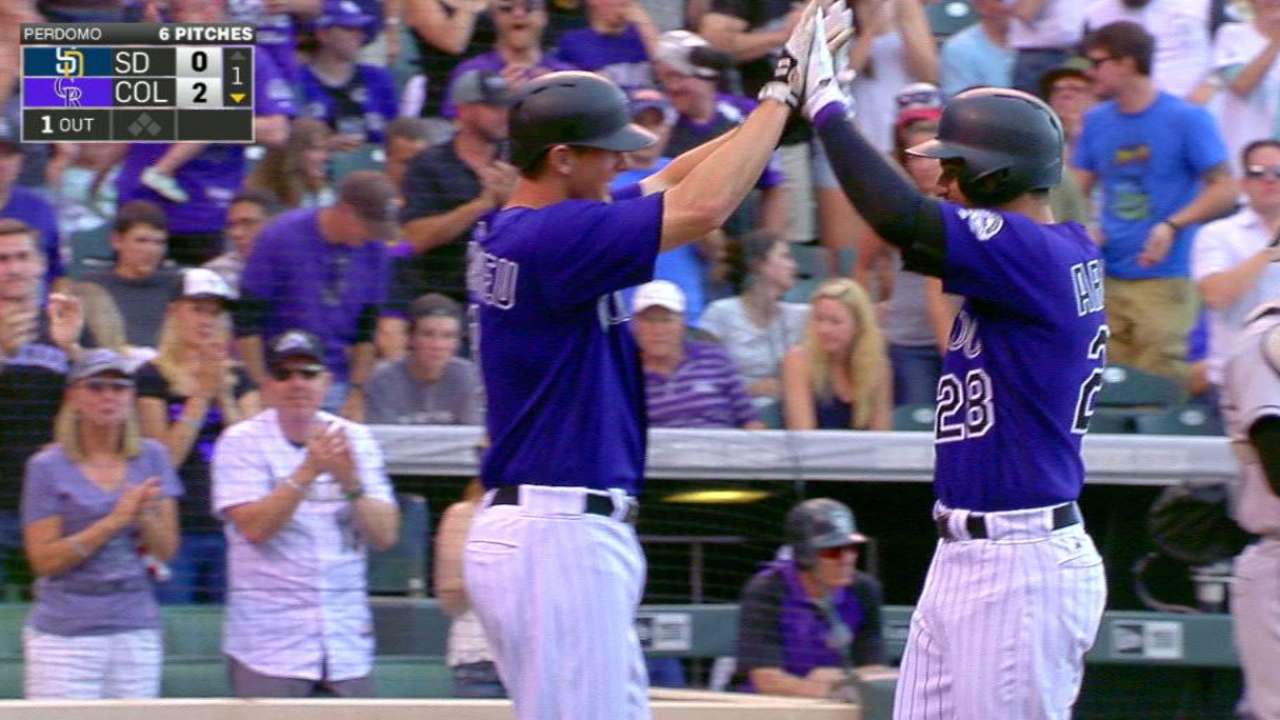 Stopping Kemp: Matt Kemp, who came into the game hitting .359 with five home runs against Colorado this season, has historically owned the Rockies. His 41 career home runs against the club are the most among active players and third-most ever after Barry Bonds and Sammy Sosa. However, the Rockies were able to keep him in check, striking him out four times in an 0-for-5 day. In his most crucial at-bat, reliever Carlos Estevez struck Kemp out with runners on the corners in the eighth and the Rockies leading by one.
"I threw a first pitch for for a strike -- slider," Estevez said. "We had been giving him the slider all game. Maybe I thought he was looking for a fastball there because the whole game we had been throwing sliders. Maybe he was looking for a slider again. Fastball. He fouled one off, then slider away. He's been swinging on it, and you know what's going to happen."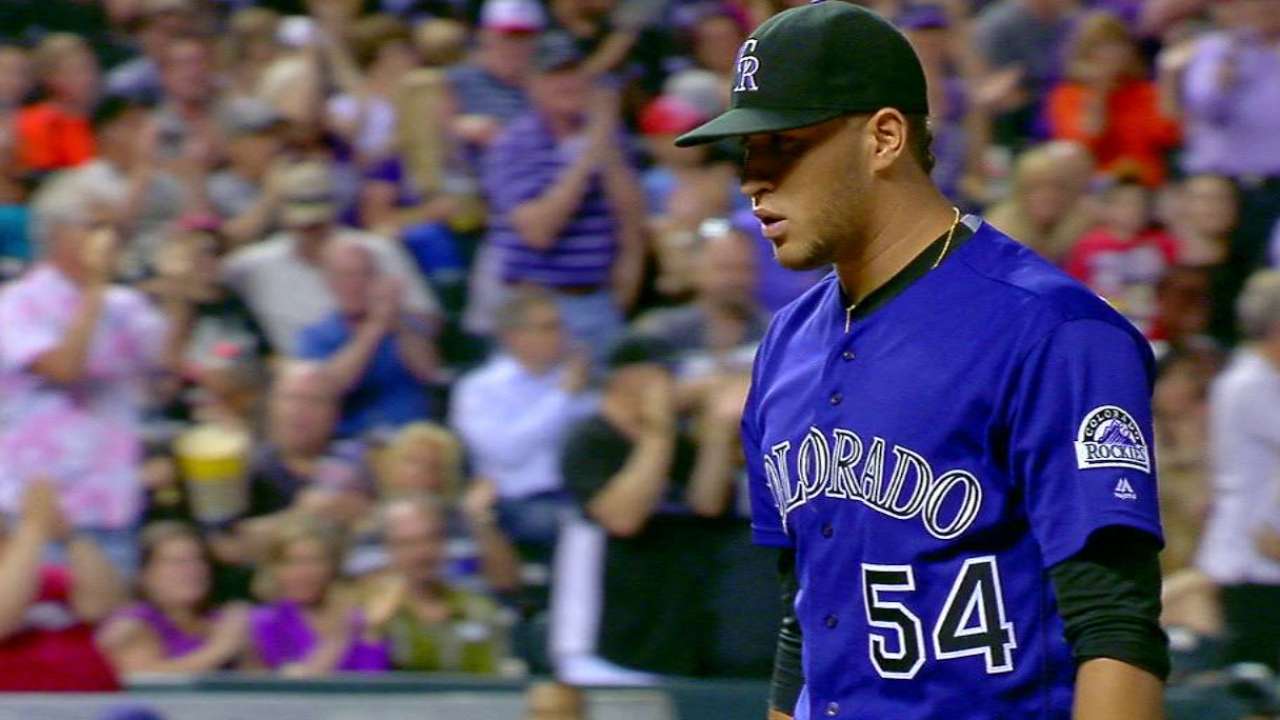 Grounding Jay: Down by two with two outs in the top of the ninth with the closer on the mound, Ramirez sparked a game-winning rally with a single to right. Amarista kept it going with a single to left, and Jay's seven-pitch double down the left-field line tied it -- briefly -- until third-base umpire Mark Carlson ruled it a ground-rule double and sent Amarista back to third. Pulling the tying run could have been a crushing blow, but instead the Padres used Jay's double to set up the winning blow from the barrel of Myers' bat.
"He is so good against left-handed pitching," Green said of the left-handed Jay's key at-bat. "I know that defies the wisdom of the day. He stays in so well against lefties., He fouled off a number of pitches. That was bad luck for him, that ball bouncing out of the ballpark. But it was a great at bat. Same for Alexi, same for Amarista. Those were great at-bats."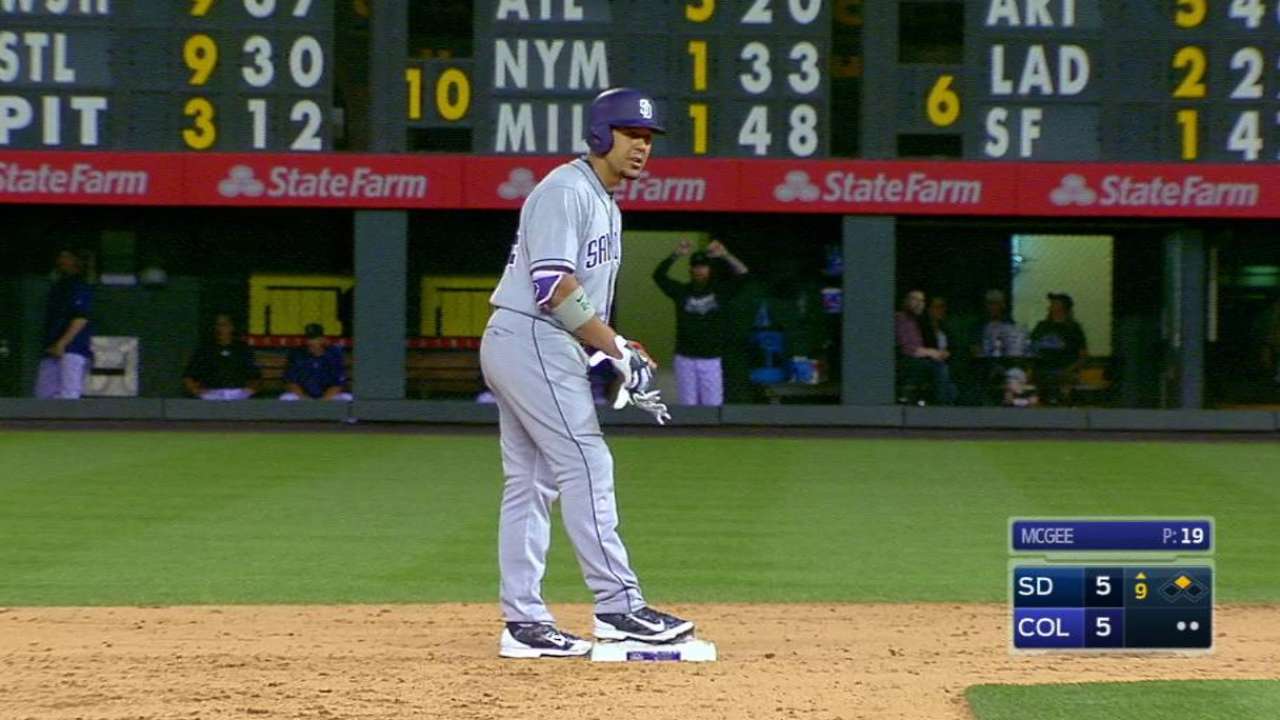 QUOTABLE
"He was upset by letting a couple pitches go by that he probably should have pulled the trigger on early in the count. Didn't let it discourage him too much, because that was a huge swing for him. Those are fun games to come back in. You're down to your last out, you got nobody on base, you're down two runs to a great closer on the mound, you string together three consecutive hits and you kind of have a bad break on Jon Jay's swing, and it turns into a ground-rule double over a 25-foot fence in the corner. To get Wil to step up in that moment and get a big hit for us, that was fun." --Green, on Myers' patience at bat and the two-out ninth inning rally to set it up
"I just missed middle, in. I threw a fastball before that. It was make him hit it or if I walk him, then I have Kemp up next, and it's not like I have an easier hitter up next. I kind of missed my location on that, and I don't know if it would have worked out if I had walked him and I could have gotten Kemp." -- McGee, on his approach against Myers when he gave up the go-ahead home run on a 3-2 count
SOUND SMART WITH YOUR FRIENDS
Perdomo's 5 2/3 innings out of the 'pen marked the longest relief outing in the Major Leagues this season. Perdomo gave up four runs (three earned) on eight hits, striking out seven and walking one. It was the longest Padres relief stint since Tim Stauffer also went 5 2/3 innings on May 22, 2013, vs. St. Louis. The last Major League reliever to go longer was the A's Felix Doubront, who pitched 6 1/3 innings against the Blue Jays on Aug. 12, 2015. The Twins' Pat Dean (May 16 vs. Tigers) and the Royals' Darren Gee (May 9 vs. Yankees) held the previous high this season at 5 1/3 innings.
"You lose sight of this -- he's 23 years old," Green said of Perdomo, a Rule 5 acquisition. "We just took kids in the Draft that are 22. If you saw a kid in the Draft throwing 95, 96 [mph] with heavy sink and a good slider, a split changeup up -- he's a top-10 pick."
WHAT'S NEXT
Padres: Newly acquired pitcher Erik Johnson makes his Padres debut Saturday. The right-hander came from the White Sox in the trade for Shields. He made a couple spot starts for the Sox, but has spent the rest of the season at Triple-A Charlotte, where he compiled a 2.94 ERA in eight starts. Johnson pitched once before at Coors Field, back in April 2014 when he allowed four runs on nine hits and a walk in 5 ⅔ innings, earning no decision in the loss.
Rockies: Tyler Chatwood was brilliant in his last start, holding the Dodgers to one run on one hit over eight inning in LA. He was even more brilliant against the Padres earlier this season in San Diego, throwing eight shutout innings with seven strikeouts. However, he has struggled at home, where he has a 5.30 ERA compared to a Major League-leading 0.65 ERA on the road.
Watch every out-of-market regular-season game live on MLB.TV.
Owen Perkins is a contributor to MLB.com based in Denver. He covered the Padres on Friday.

Ben Weinribis a reporter for MLB.com based in Denver.

This story was not subject to the approval of Major League Baseball or its clubs.