One spring day, Tribe pick Civale set down Red Sox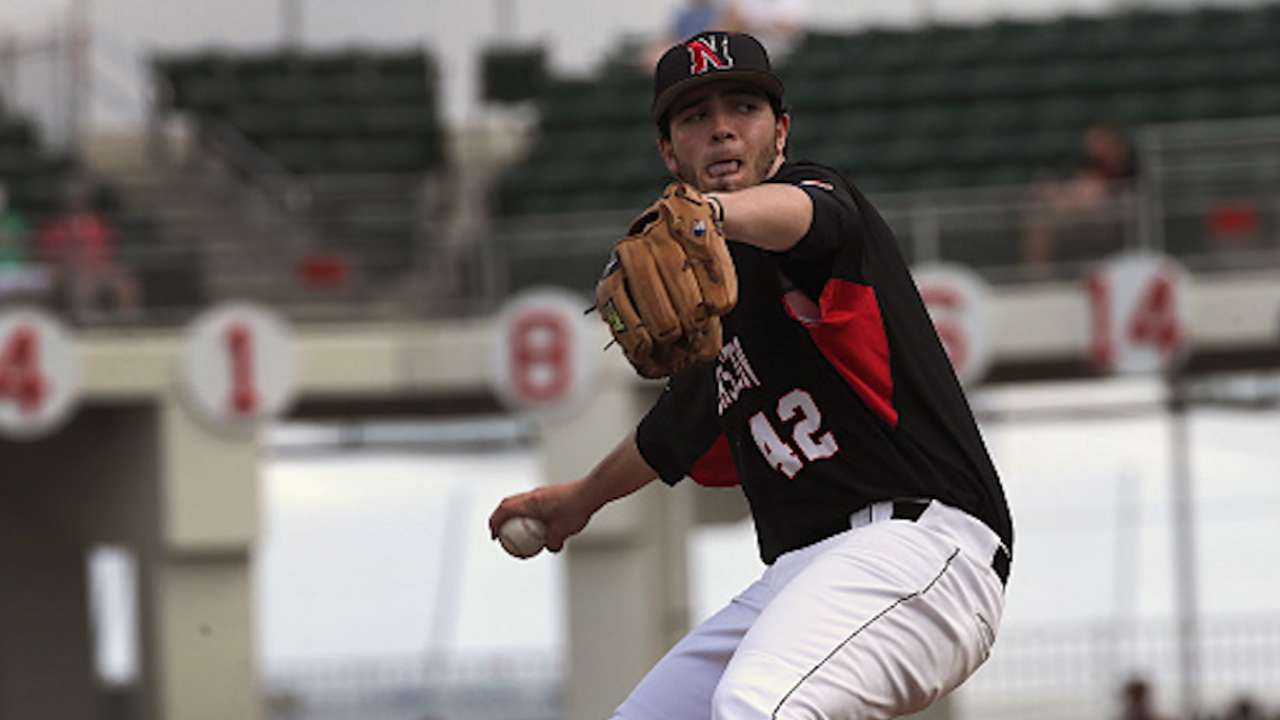 CLEVELAND -- Things did not really sink in until Dustin Pedroia fouled a pitch off, sending it up the third-base line. When Northeastern pitcher Aaron Civale followed the ball, he saw Red Sox slugger David Ortiz warming up in the on-deck circle at JetBlue Park.
That was the moment Civale grasped the size of the stage he was on.
"I saw Papi on deck," Civale said. "I was just like, 'Oh my God. What is going on?'"
That exhibition game against the Red Sox was an experience that Civale will never forget -- much like the moment that arrived for him on Friday afternoon. Sitting with his parents and brother, Civale heard his name announced in the third round of the 2016 MLB Draft (92nd overall). He was picked by the Indians, who made the right-hander their top pitcher selected in this year's Draft.
There were shouts of joy, hugs and tears.
"All of the above," Civale said.
And then, a phone call from Mike Kanen, Cleveland's area scout for New England.
• 14th overall: Will Benson
• 55th overall: Nolan Jones
• 72nd overall: Logan Ice
• Indians lean on right-hand men on Day 2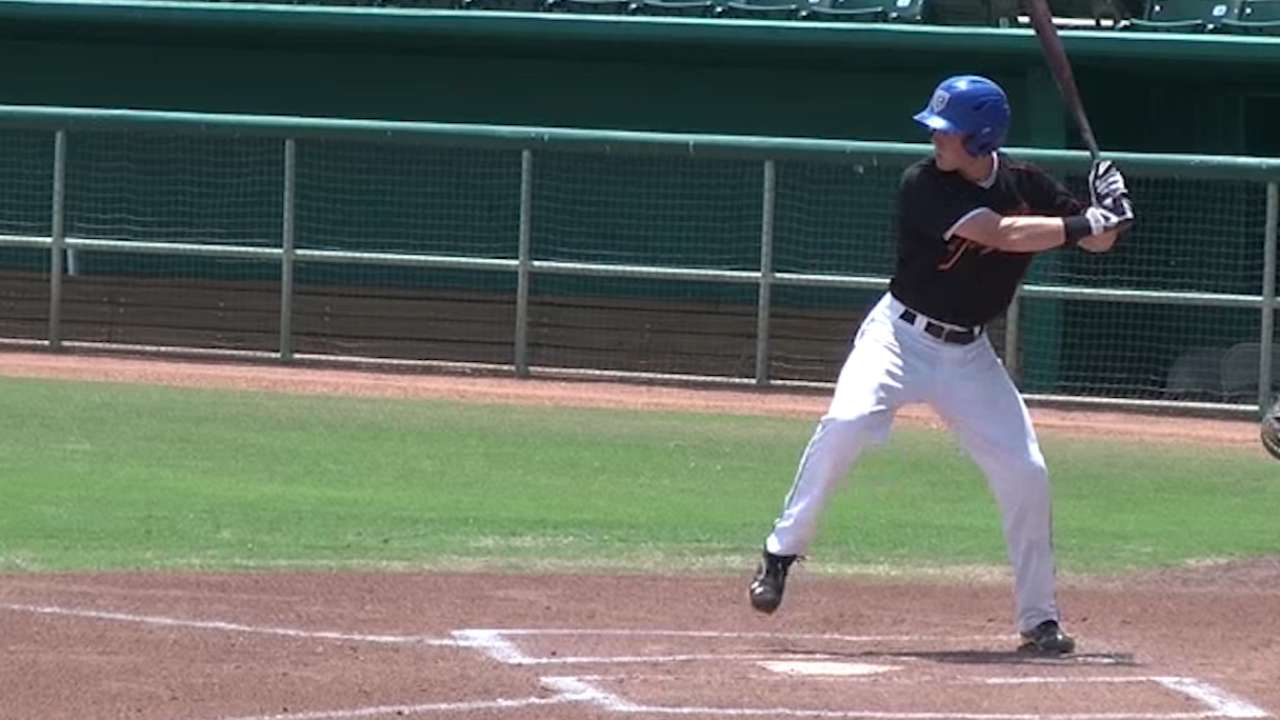 The Indians picked Civale, 20, after the right-hander tried his hand at starting during his junior season, following two years working as a reliever for the Huskies. In his most recent campaign, Civale posted a 9-3 record with a 1.73 ERA and 121 strikeouts (a school single-season record) against 22 walks in 114 1/3 innings. For his work, he was named the Colonial Athletic Association's co-Pitcher of the Year.
Civale went at least seven innings in each of his starts, featuring a cutter, two-seamer, slider, curveball and changeup. While the righty's velocity played up out of the bullpen (93-94 mph), Civale said he was pleased with how he was able to adjust to the pacing of starting, while not losing too much life on his pitches. Out of the rotation, his cutter sat around 88 mph on average.
"I didn't drop off too much, so that was good," Civale said. "In high school, I always felt like I got stronger as the game went on, and that kind of stayed the same this past year."
Brad Grant, Cleveland's director of amateur scouting, said how Civale handled the move to starting helped push him up the team's Draft board.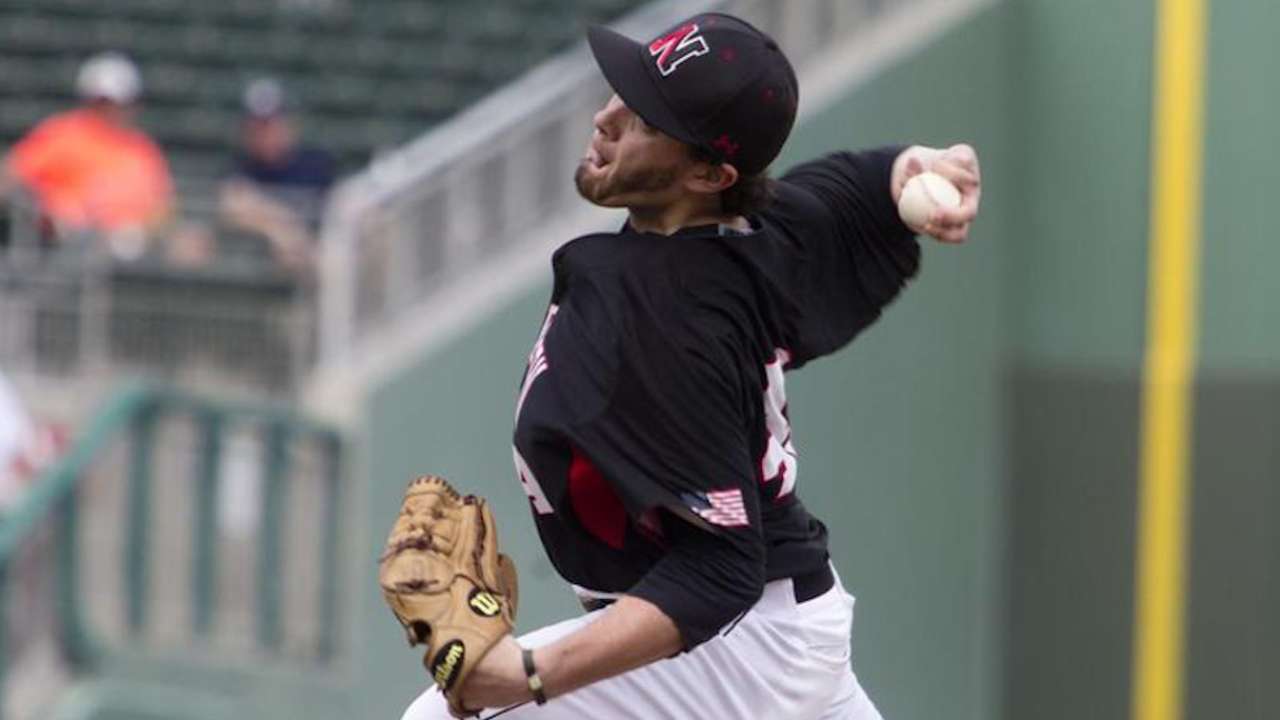 "We view him as a right-handed starter, a guy that can really throw strikes," Grant said. "Switching into the starter role was definitely a big advantage. Any time you can add a guy that has the potential to start, especially in those early rounds, that separates for us. That's a big thing. That switch was big for us."
Civale really made an impression two seasons ago.
The young pitcher learned on the eve of Northeastern's spring exhibition against the Red Sox that he would start against Boston, which is the team he rooted for growing up. It was not until that March 3 meeting with the Red Sox in spring 2015 that Civale realized that he would be facing something close to Boston's planned Opening Day lineup.
The lineup included a pair of former Rookie of the Year winners (Pedroia and Hanley Ramirez), a past AL MVP recipient (Pedroia), a World Series MVP (Pablo Sandoval) and a nine-time All-Star with 500-plus career home runs (Ortiz). The Boston order was filled with All-Stars and Silver Sluggers, and Civale was tasked with taking them all on.
"That was crazy," Civale said. "As you can imagine, that's a little bit intimidating."
Civale said everything went away once he was on the mound and he opened his two-inning appearance by getting Mookie Betts to pop out to third base. After Pedroia drew a nine-pitch walk, Civale faced Ortiz, who fell into a 1-2 count. The right-hander fired a curveball and Big Papi swung through it for a strikeout. As the pitcher watched Ortiz walk back to the dugout, the reaction of the fans caught him by surprise.
"The crowd went nuts," he said. "Usually, it's for the Red Sox. That was unbelievable."
Civale struck out four batters -- Ortiz, Ramirez, Mike Napoli and Xander Bogaerts -- and allowed no hits.
"He didn't back away from the name in the box or the name on the jersey," Red Sox manager John Farrell told reporters after that game. "He had a good late cutter and attacked the strike zone. From a sheer baseball standpoint, it was good to see."
"That game against the Red Sox really opened some eyes," said Northeastern head coach Mike Glavine, who is the brother of Hall of Famer Tom Glavine and was picked by the Indians in the 22nd round of the 1995 MLB Draft. "I think [that] pole vaulted him into an outstanding sophomore season."
It also helped lead to hearing his name called by Cleveland on Friday.
"It's an unbelievable experience," Civale said. "Everything you've done throughout your whole life kind of comes to fruition at this moment."
Jordan Bastian has covered the Indians for MLB.com since 2011, and previously covered the Blue Jays from 2006-10. Read his blog, Major League Bastian, follow him on Twitter @MLBastian and listen to his podcast. This story was not subject to the approval of Major League Baseball or its clubs.