Halos focus on shortstops on Day 2 of Draft
Club takes SS Williams in 3rd round, SS Justus in 5th; RHPs also a focal point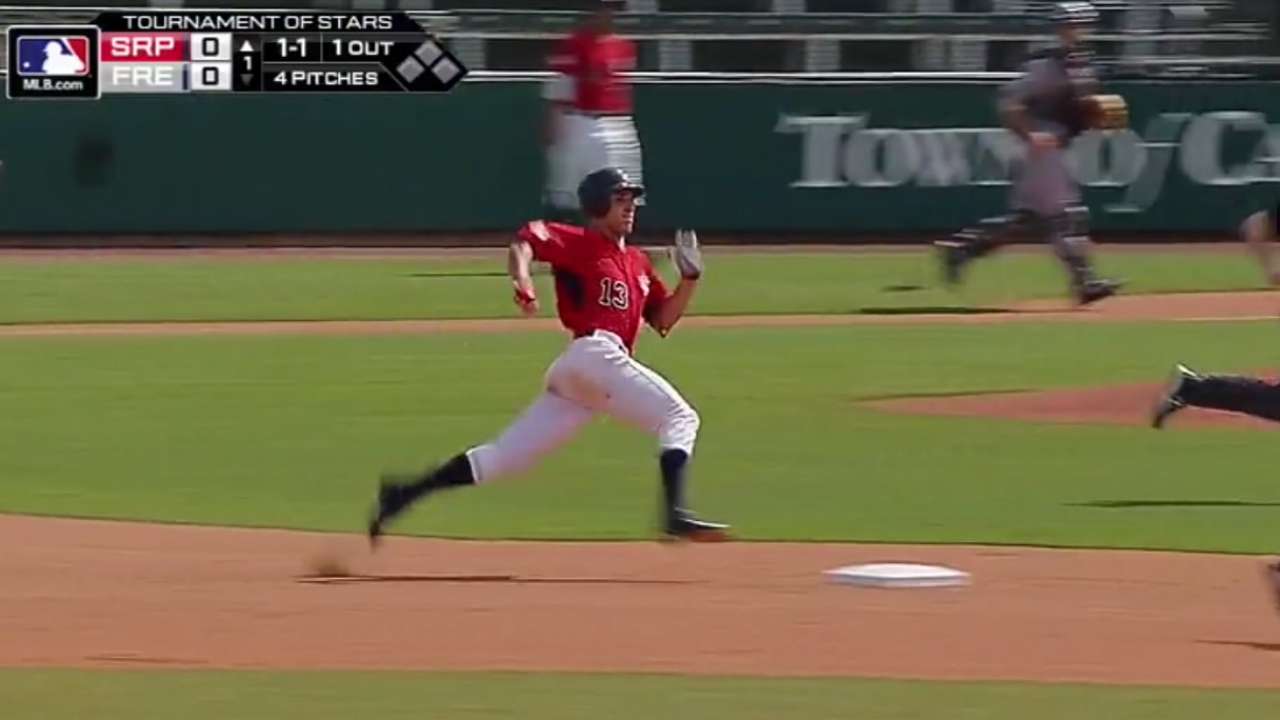 ANAHEIM -- The Angels continued to go heavy on position players in Day 2 of the Draft and have now selected one with seven of their first 10 picks, following the trend from a 2015 Draft in which they took a position player with 12 of their first 14 picks.
The Draft concludes on Saturday, with exclusive coverage of Rounds 11-40 beginning on MLB.com at 9 a.m. PT. Below is a look at each of the Angels' picks from Friday: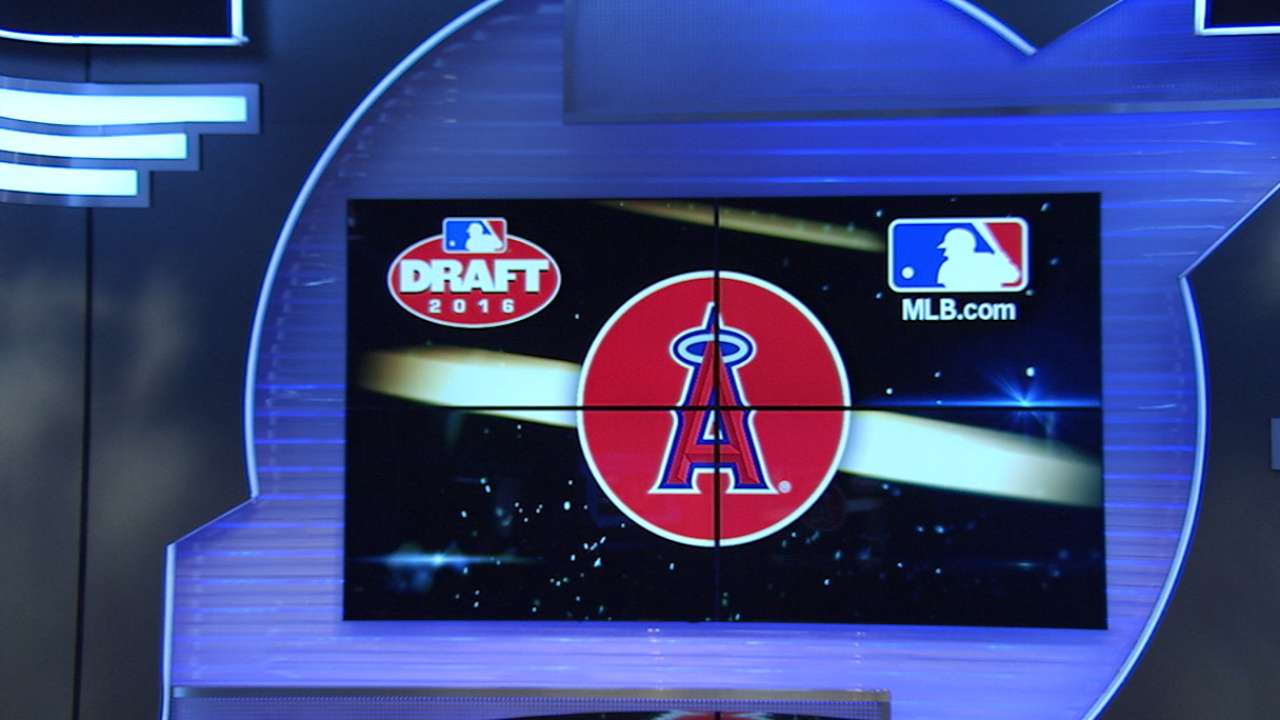 Round 3 (96th overall), Nolan Williams, SS
Williams is a home-schooled student who turned 18 in May and played out of Turner High School in Kansas City, Kan. He has a commitment to Louisiana State University and is considered the state's best position-player prospect since Bubba Starling went fifth overall to the Royals in 2011.
• 16th overall: Matt Thaiss
• 60th overall: Brandon Marsh
• Angels betting on high-ceiling high schoolers
Williams has a lot of projectable tools, including blazing speed, a great arm, plus bat speed and raw power. He is listed at 6-foot-2, 195 pounds and is committed to switch-hitting. Scouts question his ability to stay at shortstop, but believe he has the quickness to play second and the arm strength to play third. He may even move to center field.
MLBPipeline.com ranked Williams the 60th-best prospect heading into the Draft. He was the No. 4-ranked player in the Perfect Game 2017 ranking, but chose to re-classify for the 2016 class.
Angels scouting director Ric Wilson is "very" confident Williams will sign and projects him as a future leadoff hitter in the big leagues. Asked about Williams' upside, Wilson said: "A strong everyday player."
Round 4 (126th overall), Chris Rodriguez, RHP, Monsignor Edward Pace HS (Miami Gardens, Fla.)
Rodriguez -- 6-foot-1, 185 pounds -- sports a low-90s fastball and a solid slider/cutter, two pitches that he can throw for strikes. His delivery requires a lot of effort, which makes it difficult to repeat and may prompt him to eventually move to the bullpen, but the Angels like his projectability.
Rodriguez is raw, but he has plenty of time to grow. He won't turn 18 until July 20. He's three weeks removed from leading his Spartans team to the Class 5A state championship game with a shutout that required only 90 pitches. Rodriguez finished the regular season 7-2 with a 0.40 ERA.
"He has a really quick arm, he's very aggressive and he attacks hitters with multiple weapons," Wilson said. "We also think he has some really good upside."
Round 5 (156th overall), Connor Justus, SS, Georgia Tech
Justus, a three-year starter, has always been considered a solid defender. He came around with the bat this spring, making him one of the best all-around amateurs at his position.
The 21-year-old doesn't necessarily boast a plus tool, but the Angels can feel confident with his ability to stick at shortstop at the pro level. He has good anticipation, a quick first step and a solid arm on defense. And though he isn't a burner on the basepaths, he is instinctive.
From 2015-16, Justus' slash line went from .249/.349/.308 to .324/.442/.486, prompting MLBPipeline.com to consider him the 131st-best prospect available.
Round 6 (186th overall), Cole Duensing, RHP, Blue Valley Northwest HS (Overland Park, Kan.)
Duensing is listed at 6-foot-4 and is deemed a "developmental project" by MLB.com prospects expert Jim Callis. Duensing sits 92-93 mph with his fastball and sports a changeup that is a little bit ahead of his curveball right now. The teenager is part of a major flux of baseball talent coming out of Kansas in this year's Draft. Asked about Duensing, listed at only 175 pounds, Wilson said: "It's just going to take him some time to gain his man strength, but he's got some projectability."
Round 7 (216th overall), Jordan Zimmerman, 2B, Michigan State University
Zimmerman is a plus offensive player who is deemed a little shaky with the glove and may eventually fit best in an outfield spot. A junior who bats right-handed and is listed at 6-foot-1, Zimmerman batted .374/.461/.594 for the Spartans this season, adding nine home runs, 10 steals and 130 total bases in 56 games. Zimmerman is "a versatile guy," Wilson said, one the Angels would eventually like to see play multiple positions.
Round 8 (246th overall), Troy Montgomery, CF, Ohio State University
Montgomery batted .297/.423/.466 in his junior season with the Buckeyes, adding eight home runs, 21 steals, 50 walks and 41 strikeouts in 62 games. A left-handed hitter, Montgomery is listed at only 5-foot-8, 188 pounds. He has some pop, but his swing tends to get a little bit long. His best tools are his speed, arm strength and defense.
Round 9 (276th overall), Michael Barash, C, Texas A&M
Barash, a senior sign, is a defensive-minded catcher, with plus receiving skills but a fringy arm. The 21-year-old batted .328/.397/.436 for the Aggies this past spring, with four home runs, 18 walks and 20 strikeouts in 57 games.
Round 10 (306th overall), Andrew Vinson, RHP, Texas A&M
Vinson, Barash's teammate with the Aggies, is a 6-foot relief pitcher with a knack for throwing strikes. Vinson finished his senior year with a 2.40 ERA, striking out 55 batters and issuing only eight walks in 48 2/3 innings. All but one of his 21 appearances came out of the bullpen, but the Angels will probably start him off as a starting pitcher next summer.
Alden Gonzalez has covered the Angels for MLB.com since 2012. Follow him on Twitter and Facebook, and listen to his podcast. This story was not subject to the approval of Major League Baseball or its clubs.