MLB.com Columnist
Jonathan Mayo
Draft drama ahead: Big names available
Heading into the 2016 Draft, the talk about this class of amateur talent was that perhaps there was more depth than impact talent at the top. That, of course, bodes well as the Draft continues on Friday, with Rounds 3-10 carried live on MLB.com, starting with a preview show at 12:30 p.m. ET.
Another strength of the class was high school pitching. MLBPipeline.com had put seven prep pitchers among the top 16 prospects on the Top 200 Draft Prospects list. That made things extremely difficult to predict. High school pitchers are the riskiest endeavor in the Draft, and, typically, that means they often slide down a bit as teams aren't willing to take that risk, at least not on Day 1.
This year, however, it appears teams played to the strength of the Draft. There were six high school pitchers taken in the first round, five in the first 17 picks. Three prep arms in the top 10 went, something that happened just twice in the 10 previous Drafts -- 2013: Kohl Stewart (4), Trey Ball (7), Phil Bickford (10); 2009: Matt Hobgood (5), Zack Wheeler (6), Jacob Turner (9). A total of 13 high school pitchers, all but one in the Top 100, went on Day 1 of the Draft.
While it might be a bit surprising to see so many high school hurlers go so early, there's still a ton of available talent left for teams to consider when Round 3 starts at 1 p.m. on Friday. The top 10 players, according to the rankings, still on the board, are:
34. Jared Horn, RHP, Vintage (Calif.) HS
36. Drew Mendoza, 3B, Lake Minneola (Fla.) HS
39. Corbin Burnes, RHP, St. Mary's
44. Jon Duplantier, RHP, Rice
47. Cole Stobbe, 3B, Millard West HS, Omaha, Neb.
53. Thomas Jones, OF, Laurens (S.C.) HS
55. Heath Quinn, OF, Samford
58. Kyle Funkhouser, RHP, Louisville
60. Nonie Williams, SS, Turner (Kan.) HS
64. Bryson Brigman, SS, San Diego
There is a total of 35 players remaining who were on the Top 100 list, and as the list above proves, there is plenty of talent that many considered to be Day 1 candidates still on the board. Some might be because of signability issues, as is the case with the top two names. Horn, a right-hander from wine country in Northern California, had floated out a $3 million price tag to sign him away from heading to California for college, though some thought he might go as high as the end of the first round. Florida prep third baseman Mendoza was known to have a very strong commitment to Florida State, and he might not be signable. If that's the case, he may not be drafted on Day 2 at all.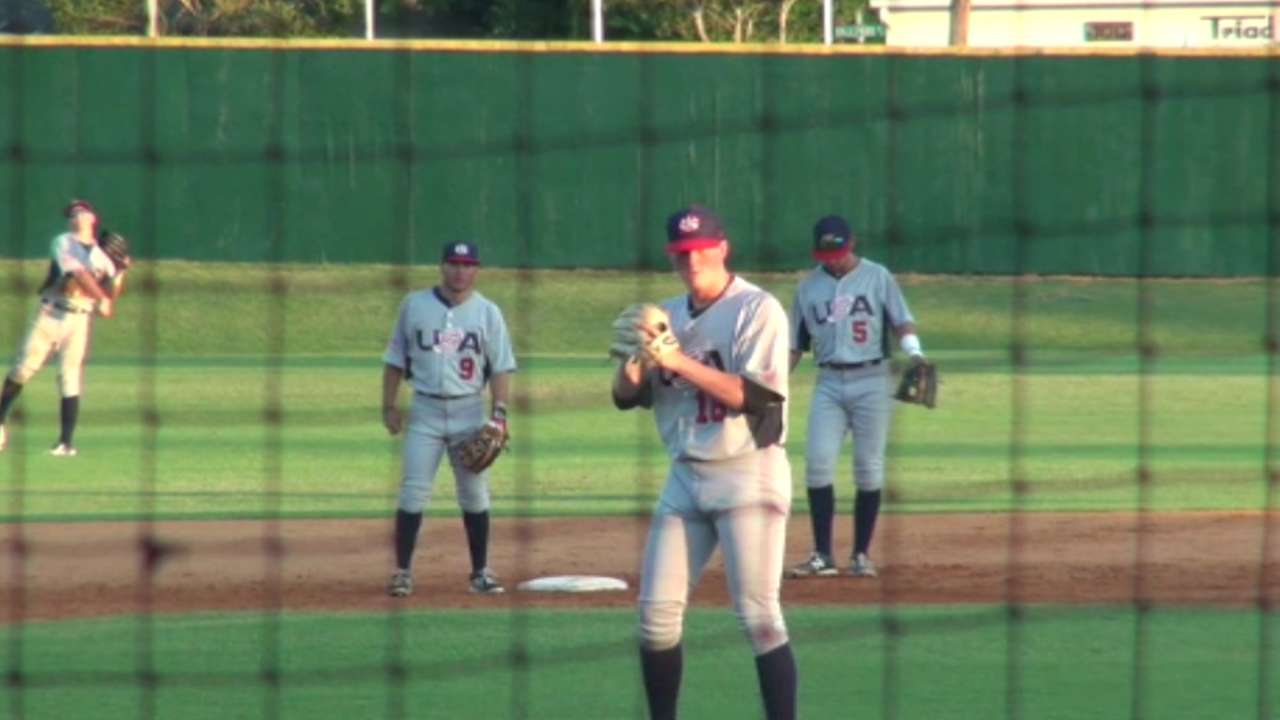 With the way the Draft bonus-pool system works now, if Horn or Mendoza are taken in Rounds 3-10, there's a good chance they will sign. If a player taken at any point in the top 10 rounds doesn't sign, the team loses the value assigned to the pick from their total bonus pool, which could hamper the ability to sign other picks.
Beyond those two, there is something for everyone. College arms like Burnes and Duplantier have good track records, and Funkhouser was a first-round pick a year ago who pitched very well down the stretch for Louisville, which already had four players taken from its program on Day 1. Want an offensive college performer? How about outfielder Quinn from Samford, a power bat with 20-plus homers this season.
There's still high school upside, too, particularly at the plate. Third baseman Stobbe, outfielder Jones and shortstop Williams all have some ceiling. And even with the run on high school pitching, teams still looking to invest in that commodity can go after Ryan Rolison from Tennessee, and the injured Jesus Luzardo or raw Braeden Ogle, both lefties from the Florida prep ranks.
Jonathan Mayo is a reporter for MLBPipeline.com. Follow him on Twitter @JonathanMayo and Facebook, and listen to him on the weekly Pipeline Podcast. This story was not subject to the approval of Major League Baseball or its clubs.