Finnegan's balk puts blemish on stellar start
Lefty disagrees with umpire as call leads to Cardinals tying game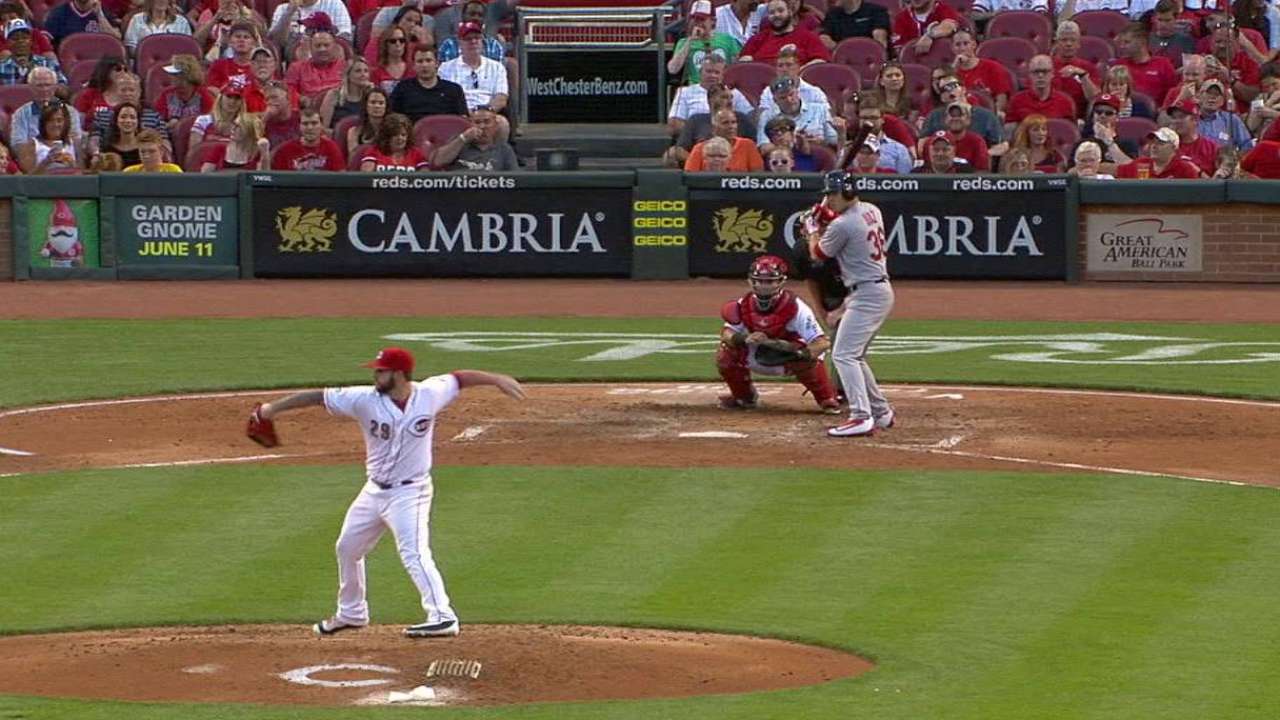 CINCINNATI -- Brandon Finnegan swears his pickoff move to first base hasn't changed all season. Jerry Meals begged to differ, and it was Meals' opinion that mattered most.
Meals, the home-plate umpire, called a balk against the Reds' left-handed starter in the sixth inning of Thursday night's 3-2 loss to St. Louis at Great American Ball Park, a balk that the Cardinals took advantage of to tie the game. Matt Carpenter, who had led off the inning with a walk, advanced to second base and then scored on a single to right-center field by Aledmys Diaz to erase what had been a 2-1 Reds lead.
The Cardinals went ahead for good on a bases-loaded single by Yadier Molina in the eighth inning off reliever Ross Ohlendorf.
Finnegan said it was the first time he'd ever been called for a balk at any level of baseball. He said that Meals told him he had stepped toward home plate when he delivered his pickoff throw to first baseman Joey Votto.
"It's something I don't think a home-plate umpire can call, but he did and it went against us. It's something that hurt us, but you can't do anything about it," said Finnegan. "At the same time, I threw a good pitch after that and a broken-bat single scored him. It ended up hurting us, but at the end of the day, it was a fun game. I think we played really well."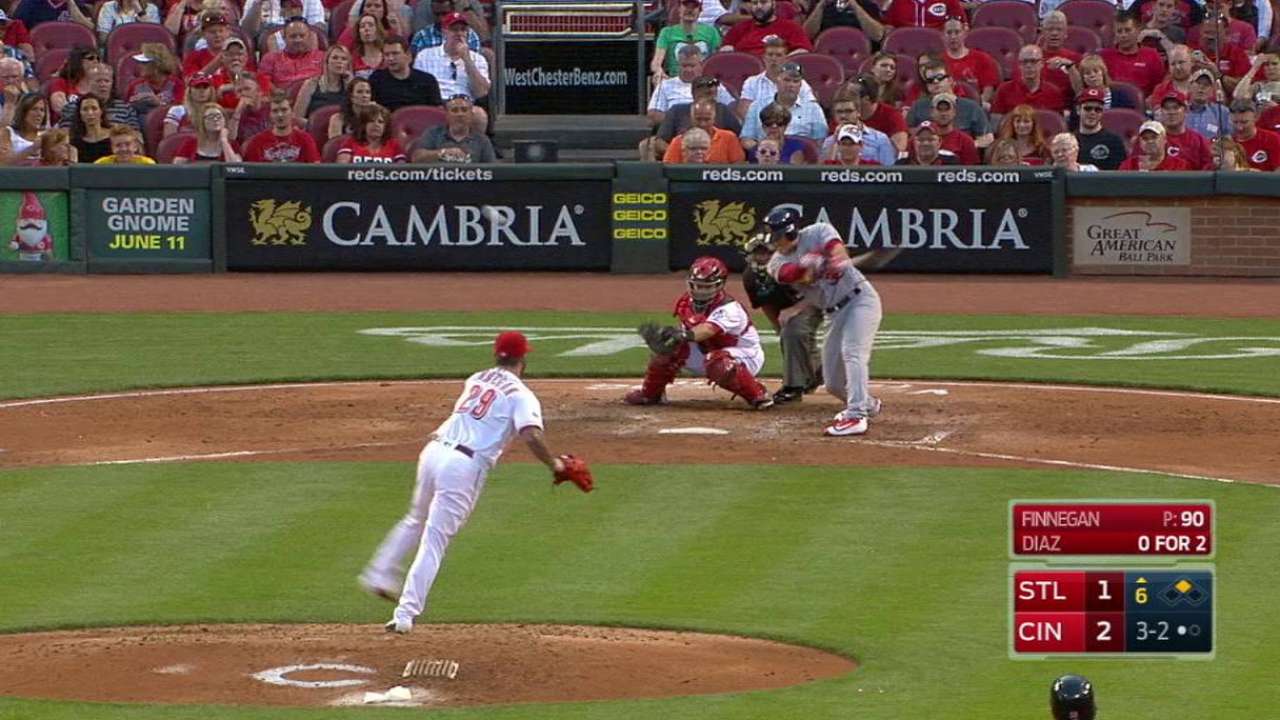 Finnegan ended up allowing two runs on five hits over seven innings. It was his team-leading seventh quality start in 13 outings. He equaled a career high with 111 pitches and worked his way out of a two-on, none-out jam in the seventh inning that kept the game tied at 2. It was the fourth consecutive start in which Finnegan finished at least 6 1/3 innings.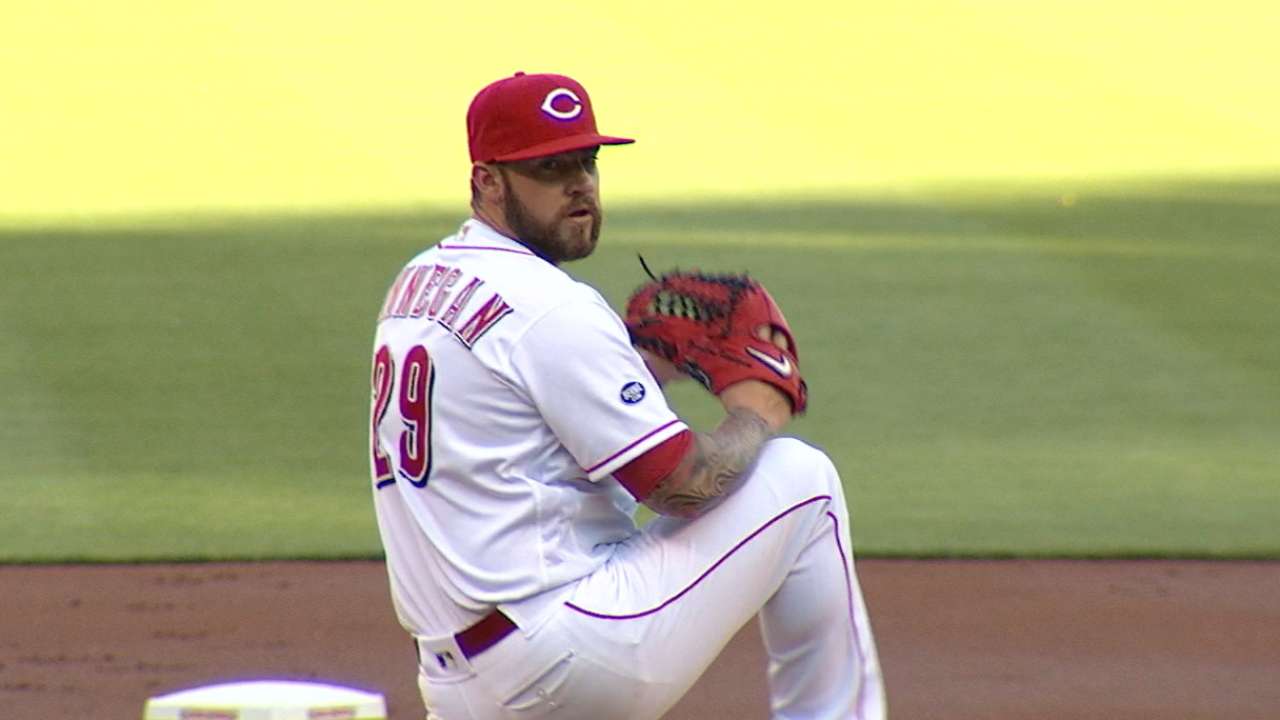 "He's a competitor, and he wears the competitiveness on his sleeve, but he doesn't let it affect his ability to make good pitches," said manager Bryan Price. "He's built a lot of confidence in me and the coaching staff, and I think in his teammates as well. He gets after it. He competes. When you have someone who competes for you, I'll always err on the side of leaving him out there too long instead of too briefly."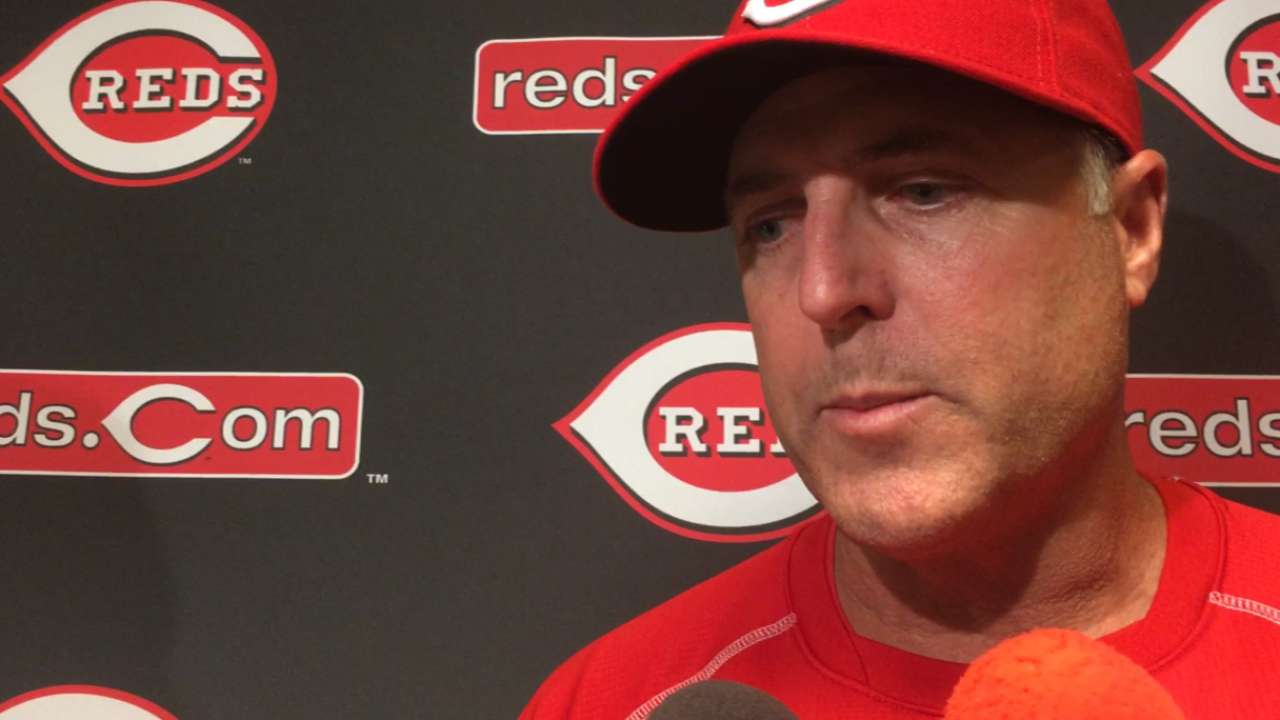 Price came out to talk with Meals about the balk, but there would be no overturning the call.
"It didn't look different to me than the other ones, to the naked eye," said Price. "He'd thrown over a lot already. I'm not saying he didn't balk. I'm just saying I didn't see anything different, and Diaz gets the base hit that scores the run. But a beautifully pitched game there by Finnegan."
Kevin Goheen is a contributor to MLB.com based in Cincinnati. This story was not subject to the approval of Major League Baseball or its clubs.