Astros go with top bat Dawson in 2nd round
Houston selects left-handed hitter out of Ohio State at No. 61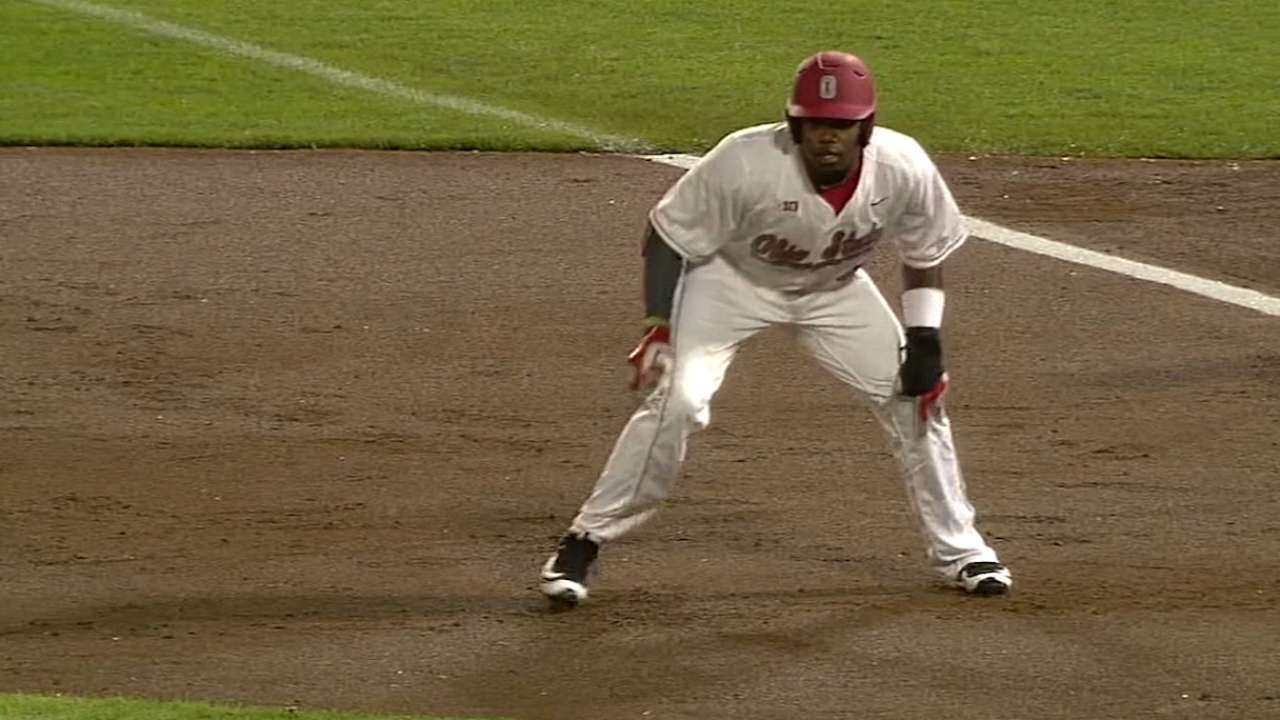 HOUSTON -- After taking a high school pitcher with their first-round pick on Thursday, the Astros shifted gears in the second round and selected Ohio State outfielder/first baseman Ronnie Dawson with the No. 61 overall pick in the 2016 Draft.
Dawson, who hits left-handed, batted .331 with 25 doubles, four triples, 13 homers, 51 RBIs and struck out only 43 times in 257 at-bats this year for the Buckeyes. He stole 21 of 25 bases and had a .419 on-base percentage.
• No. 17 overall: Forrest Whitley
"He's one of the top bats in the country on the collegiate side," Astros amateur scouting director Mike Elias said. "He's a left-hander with a really good blend of power and hitting for average, and not a big strikeout guy. That's something we like to see."
With their first pick, the Astros drafted Texas prep right-hander Forrest Whitley out of Alamo Heights High School in San Antonio at No. 17 overall.
The Draft continues on Friday with Rounds 3-10. The MLB.com preview show begins at 11:30 a.m. CT, with exclusive coverage of Rounds 3-10 beginning at noon CT.
Last year, the Astros drafted Ohio State outfielder Pat Porter in the 15th round. Dawson considers him one of his mentors, and he said Porter had good things to say about the Astros' organization.
"I'm ready to play now," Dawson said. "I'm ready to get started. My ultimate goal is to have a career in the big leagues, and this is a stepping stone toward it. I can't sit on this for the rest of my life. I have to get back to work. That's the only thing I'm thinking about right now."
Dawson was an accomplished football player who turned to baseball after blowing out his knee in high school. He was a bat boy for the Triple-A Columbus Clippers as a junior and senior in high school, and he sought advice from the likes of Matt LaPorta, Corey Kluber and Michael Bourn.
"I'm a fun-to-watch type of player," Dawson said. "Lots of energy. You watch me before or after games, I'm smiling, singing, dancing. I feel like I'm a fan's type of player. I play the game hard. I sign autographs for kids. I just feel you have to give back. I remember I was a little kid and asking for autographs. That can change someone's day, just talking and giving autographs or taking a picture. I just like to have fun."
The Astros started following Dawson at Ohio State as an underclassman in the Cape Code League, where he had a good summer for the Orleans Firebirds in 2015.
"He's a plus runner, he's a good defender in left field and he's a guy that can play a little first base if needed as well," Elias said. "We're mostly excited about the bat. This is one of our favorite college bats in the class."
Brian McTaggart has covered the Astros since 2004, and for MLB.com since 2009. Follow @brianmctaggart on Twitter and listen to his podcast. This story was not subject to the approval of Major League Baseball or its clubs.