Rays grab athletic two-way star Lowe at No. 13
Club views third baseman/pitcher from Georgia as position player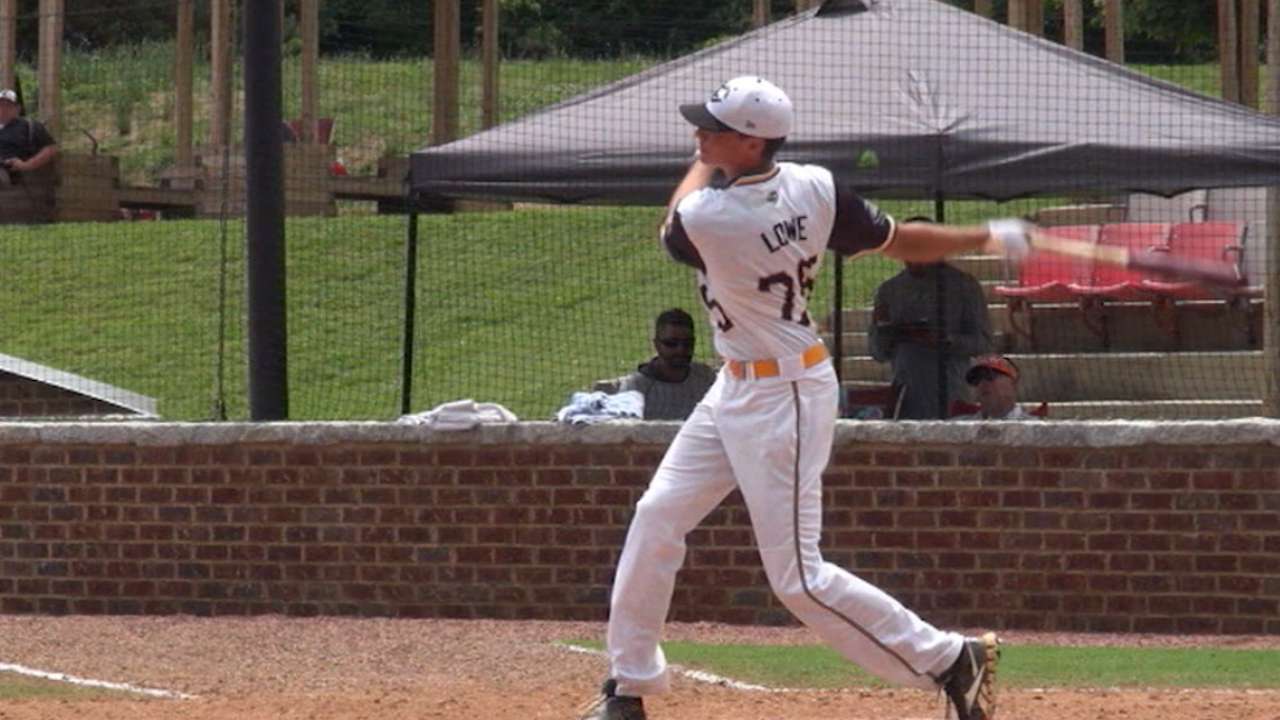 ST. PETERSBURG -- Joshua Lowe entered the 2016 MLB Draft regarded as the most talented two-way player.
But the Rays like Lowe as a third baseman -- and potentially an outfielder due to his strong arm, which compelled them on Thursday to pick the prepster from Pope High in Marietta, Ga., with the 13th pick of the Draft.
"He has really good physical attributes," Rays scouting director Rob Metzler said. "He's a big, strong athlete. Foot speed and power -- and we think he has good ingredients to progress through our system. Long, long road, but we think he's a good bet to make that journey. ...
"We view him as a position player. We're going to give third base a try and go from there. He has really good athletic ability. We think he has a good chance to be a defensive asset at some position on the field."
• 53rd overall: Ryan Boldt
• 77th overall: Jake Fraley
The Draft continues on Friday with Rounds 3-10. The MLB.com preview show begins at 12:30 p.m. ET, with exclusive coverage of Rounds 3-10 beginning at 1 p.m. ET.
Lowe was the first of three position players the Rays took on Day 1. They selected Nebraska outfielder Ryan Boldt with the 53rd selection and Louisiana State outfielder Jake Fraley with the 77th pick.
Lowe, 18, is committed to Florida State. He was named the Gatorade Player of the Year in Georgia after leading Pope High to the Georgia 6-A finals.
"I'm excited," said Lowe, who hit .391 with 11 home runs and 39 RBIs. "If the organization feels I can help them best as a third baseman and help them win, that's what I'm looking forward to do.
"I know that I'm going to work as hard as I possibly can to be the best third baseman in the entire organization and the league, eventually. If that's where they think I can help them and bring championships to them, then I'll do that. But if they need me to do something else and go to different positions, then I'll be just as happy to do that as well."
He stands 6-foot-4, 190 pounds. As a position player, he can be streaky at the plate, but his quick, controlled left-handed swing and the leverage in his long frame produce considerable raw power.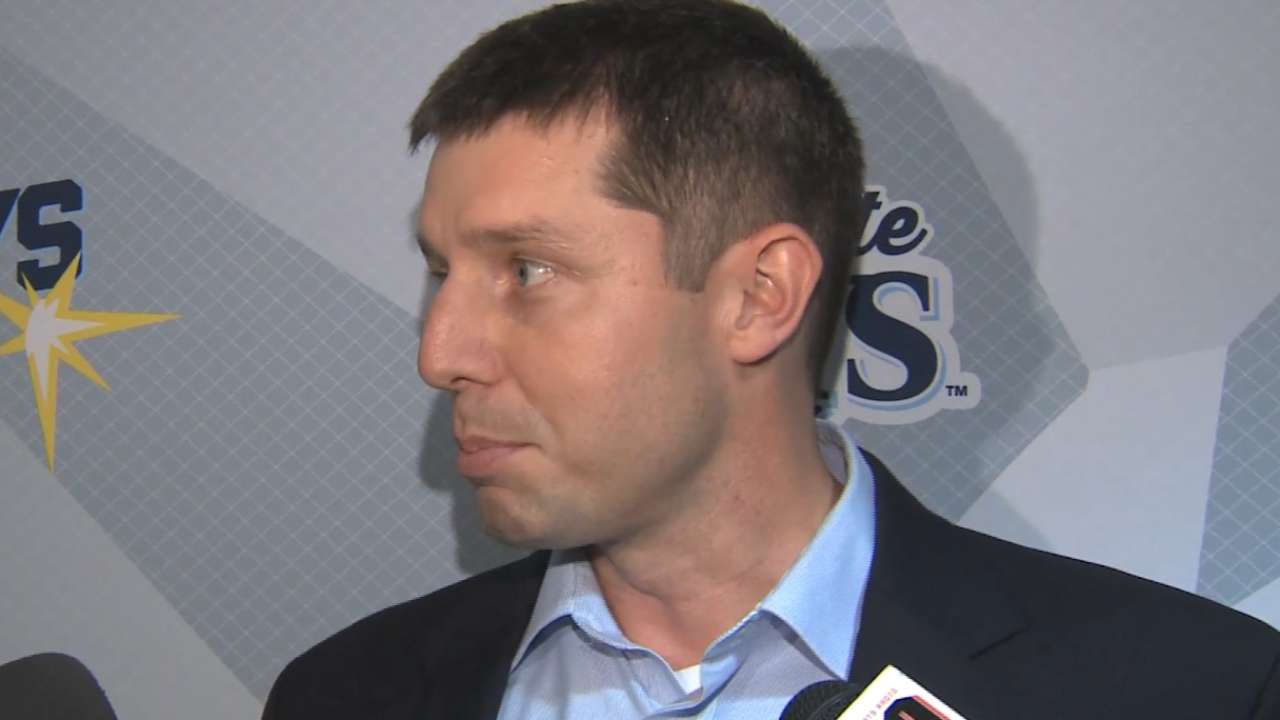 Metzler allowed that he "was fortunate enough to spend a lot of time with Josh this spring."
"It's not possible [to do that] with all the players on the board and all the options," Metzler said. "But just the way it worked out, I spent a lot time at Pope High School this year and we had the opportunity to spend a good amount of time with Josh between multiple workouts. We were able to prepare very well.
"I had that opportunity, but I would give most of the credit to our scouting staff. Milt Hill in the area. Kevin Elfering, the regional man, really put us in a good position on this player and the entirety of the scouting staff really spent a lot of time. I feel like we had a really good process."
Lowe also has plus speed, which should translate into solid defense at third base or in center field. He's also a left-handed hitter, a commodity the Rays have struggled to get into their system.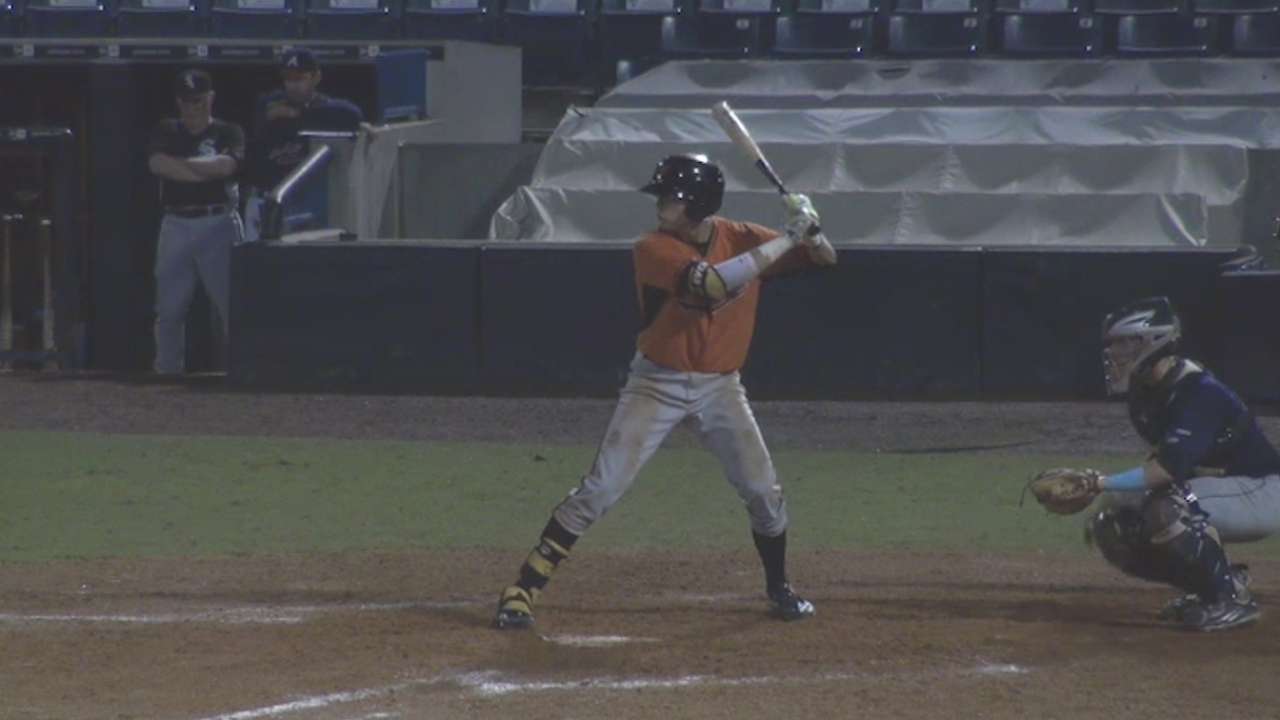 "When we look at these players, handedness obviously comes into play," said Matt Silverman, Rays president of baseball operations. "The left-handed power, that's something that distinguishes him from a number of players that we're looking at. The hit, the power grade, those are things that matter. I don't think it's one of those things where we necessarily look for left-handed bats, but the more you have in your system, the better off you are.
"When we're drafting high school players, it's a long road. We're not talking about specific timing with these guys. But we hope in a few years from now, he's going to be in position to be an asset and put us in position to succeed."
Metzler said they "feel strongly" that Lowe has the "good mental ingredients along with the physical ingredients, adding, "I think he comes from good athletic roots."
Lowe said he hit 6 HR in his workout Tuesday at the Trop: "5 went off the garage in CF, 1 to RF hit the plastic on the walkway back there."

— #VoteRays (@RaysBaseball) June 10, 2016
Lowe's father, who was a pitcher, was drafted out of Satellite Beach (Fla.) High School by the Mariners in 1986. Rather than sign, he chose to accept an appointment to the U.S. Naval Academy, where he played football and baseball before serving as a Navy pilot.
Lowe's brother, Nathaniel, is a first baseman at Mississippi State, and, according to Metzler, "He's a good player as well."
If Lowe doesn't make it as a position player, he could fall back on his pitching ability. He is considered to be the best high school arm to come out of Georgia since Zack Wheeler went sixth overall to the Giants in 2009.
Metzler said the Rays are hopeful of signing Lowe quickly.
Lowe, who recently worked out for the Rays at Tropicana Field, said he did not know what the time was for signing.
"I know I'll come out there whenever we have the first home game," Lowe said. "But I'm looking forward to playing. I'm excited, I'm ready to get this on the road, to get this thing going."
Bill Chastain has covered the Rays for MLB.com since 2005. This story was not subject to the approval of Major League Baseball or its clubs.