Rockies take Pint with fourth pick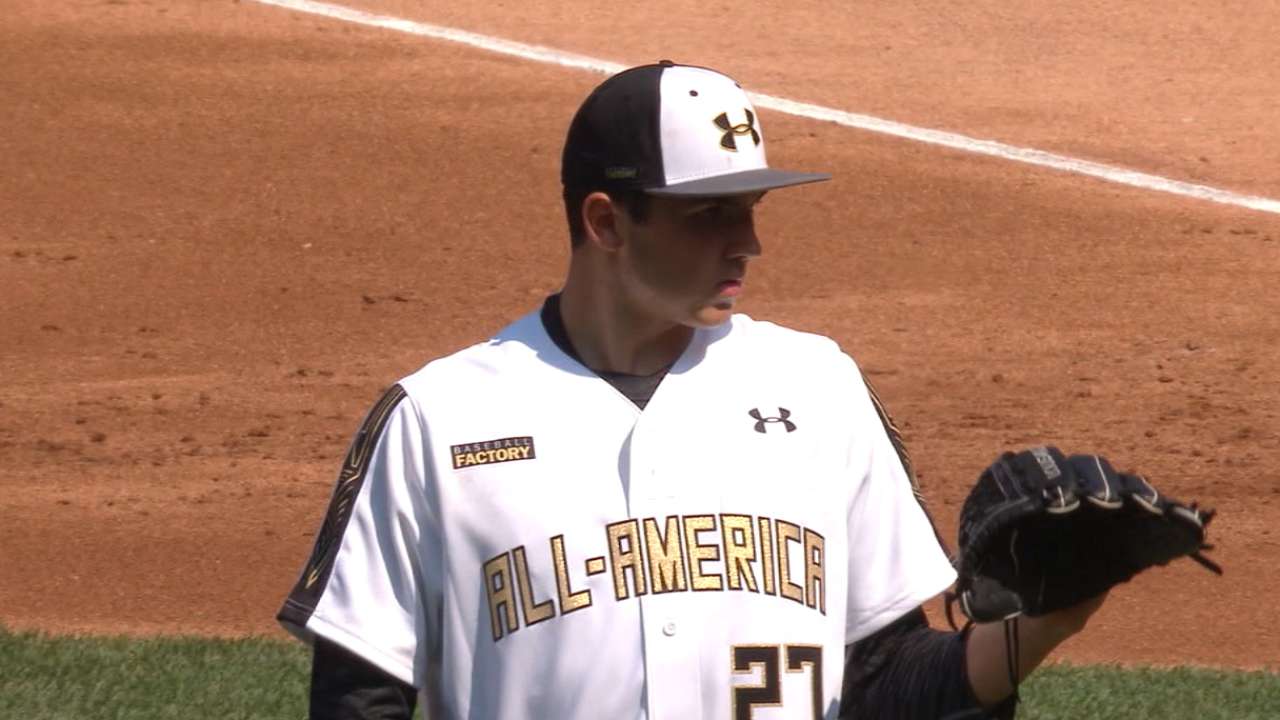 DENVER -- The Rockies selected right-hander Riley Pint from Overland Park, Kan., with the fourth overall pick Thursday in the first round of the Draft, making him the first high school pitcher taken with their top pick in the Draft since lefty Tyler Matzek in 2009.
Pint, 18, the MLB.com No. 2 prospect, led St. Thomas Aquinas High to the Kansas 5A state championship by posting a 0.43 ERA, with 87 strikeouts in 49 innings. An LSU signee, Pint has a fastball that has been clocked at 102 mph this spring, although he has consistently sat 93-97 mph. Pint first hit triple digits during an indoor showcase event.
"That's one of the most things I'm asked, 'How hard do you throw?'" Pint said. "But I really just go out and just try to pitch. I'm not trying to light up radar guns or anything."
• 38th overall: Robert Tyler
• 45th overall: Ben Bowden
The Draft continues on Friday with Rounds 3-10. The MLB.com preview show begins at 10:30 a.m. MT, with exclusive coverage of Rounds 3-10 beginning at 11 a.m.
Pint, the highest high school pick out of the state of Kansas, also has a changeup and knuckle-curve that are his most-developed pitches, and a traditional curve that he began throwing this year.
The last time the Rockies used a top choice on a pitcher with a triple-figures fastball was 2013, when they took budding star righty Jon Gray out of the University of Oklahoma.
Gray, the first pitcher selected after the hiring of director of pitching operations Mark Wiley after the 2012 season, entered pro ball willing to harness his mechanics, even if it meant giving up velocity. Now a Major League rookie, Gray has displayed qualities that could make him a rotation leader for the future.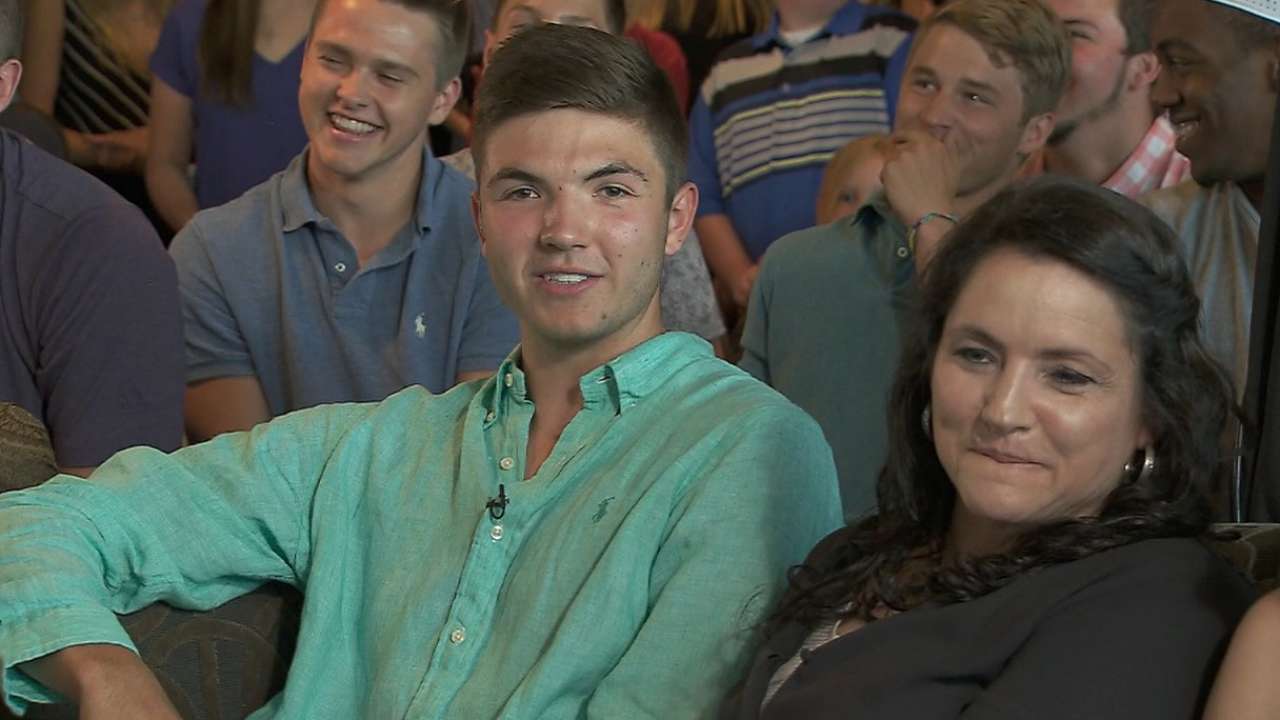 According to scouting reports, Pint will have to develop consistency with his mechanics. But the Rockies have youthful depth, with four of their five starters 27 and younger, and recent college Draft picks Tyler Anderson (2010), Jeff Hoffman and Harrison Musgrave ('14) at Triple-A Albuquerque, and Kyle Freeland ('14) at Double-A Hartford. So there is time, although it'll be more refinements as he matures physically. Currently, he says he is 6-5 and 210-212 pounds.
"We're not talking about some sort of remake or overhaul situation here," Rockies general manager Jeff Bridich said. "We have to remember this is still a young kid. As well as we feel like we know him, we haven't lived with him. We feel like we need to live with him first before we start making decisions like that."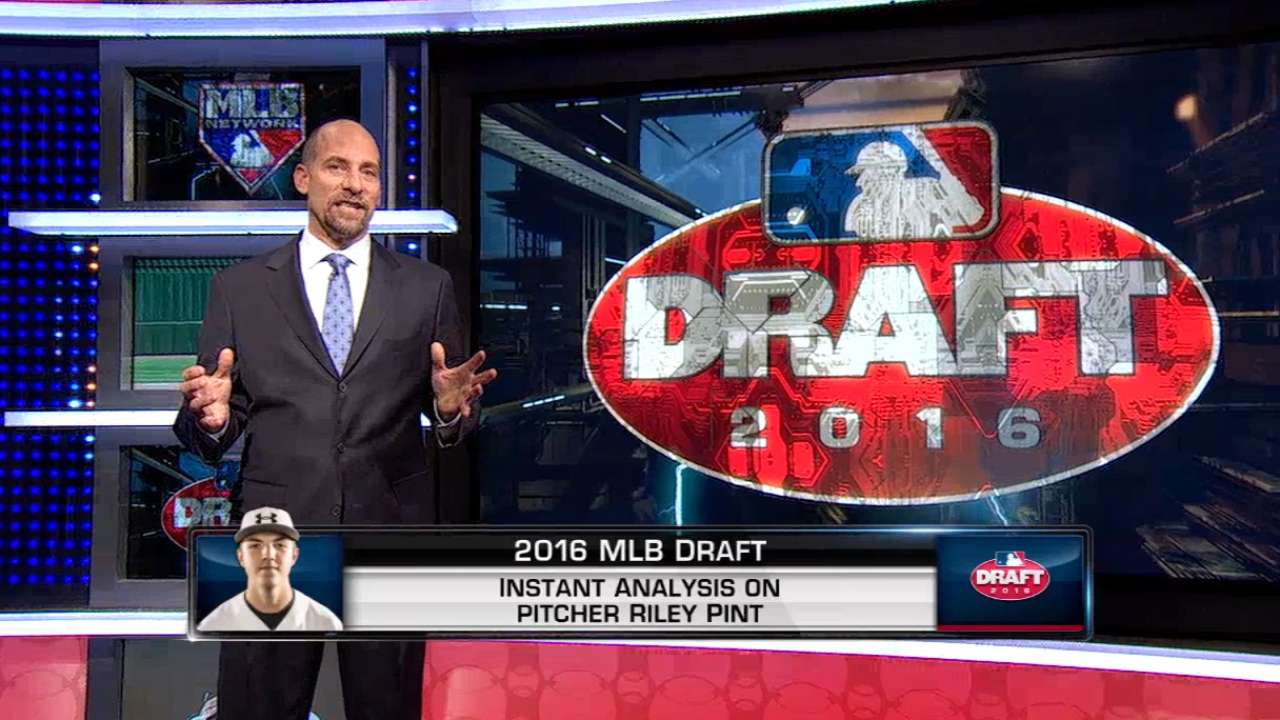 Pint impressed scouts with his athletic ability. He played basketball well enough to draw college interest from the University of Iowa, but Pint said that sport has always been a fun hobby. He didn't play his senior year, because he didn't want to risk an injury that could affect his baseball career.
"You watch him play first base, swing the bat and run the bases, how he moves off the mound, his quickness in his feet when he's picking to bases, making a [pitchers' fielding practice] play, those things show you his athleticism," Rockies scouting director Bill Schmidt said.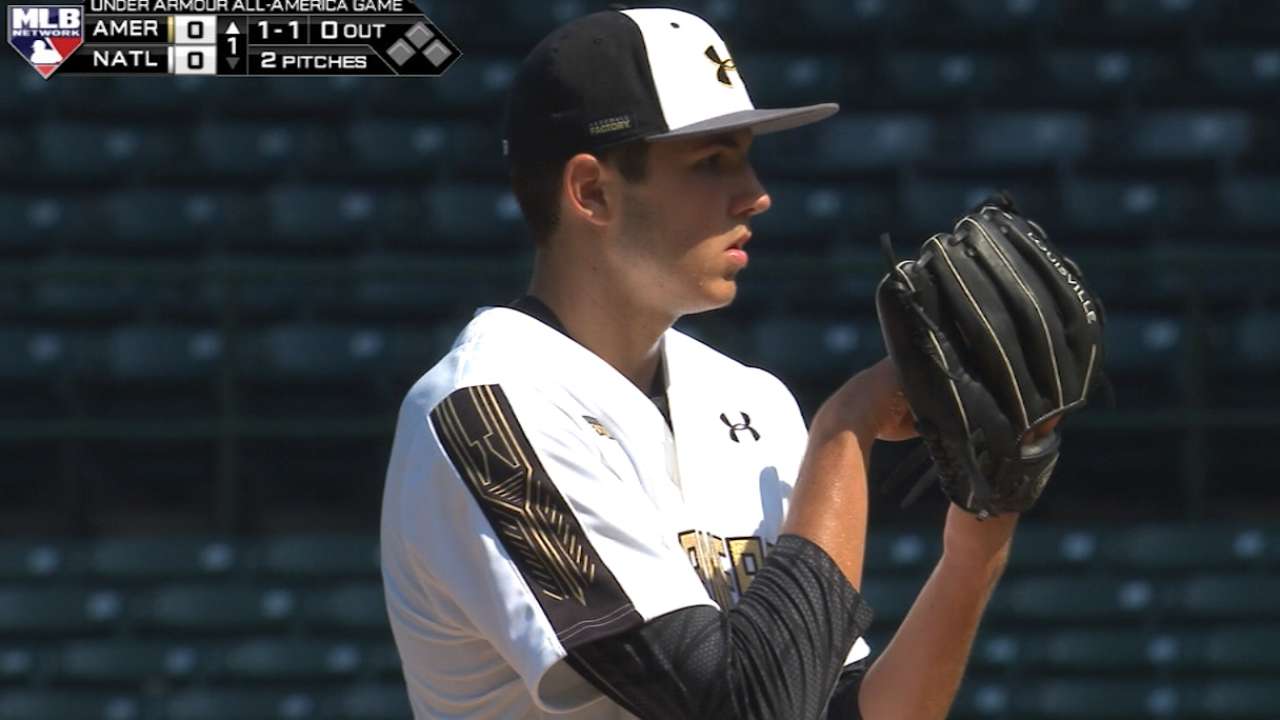 Pint's high school coach, Lorne Parks, said Parks handled the attention that went with being a potential high first-round pick.
"His poise is off the charts," said Parks, who used Pint at first base and third base, and even played him some at second base. "He didn't let anything distract him, and that tells you a lot about who he is."
Thomas Harding has covered the Rockies since 2000, and for MLB.com since 2002. Follow him on Twitter @harding_at_mlb, listen to podcasts and like his Facebook page. MLB.com reporter Jason Beck contributed to this story.
This story was not subject to the approval of Major League Baseball or its clubs.