Hours after Johnson trade, Flores the hero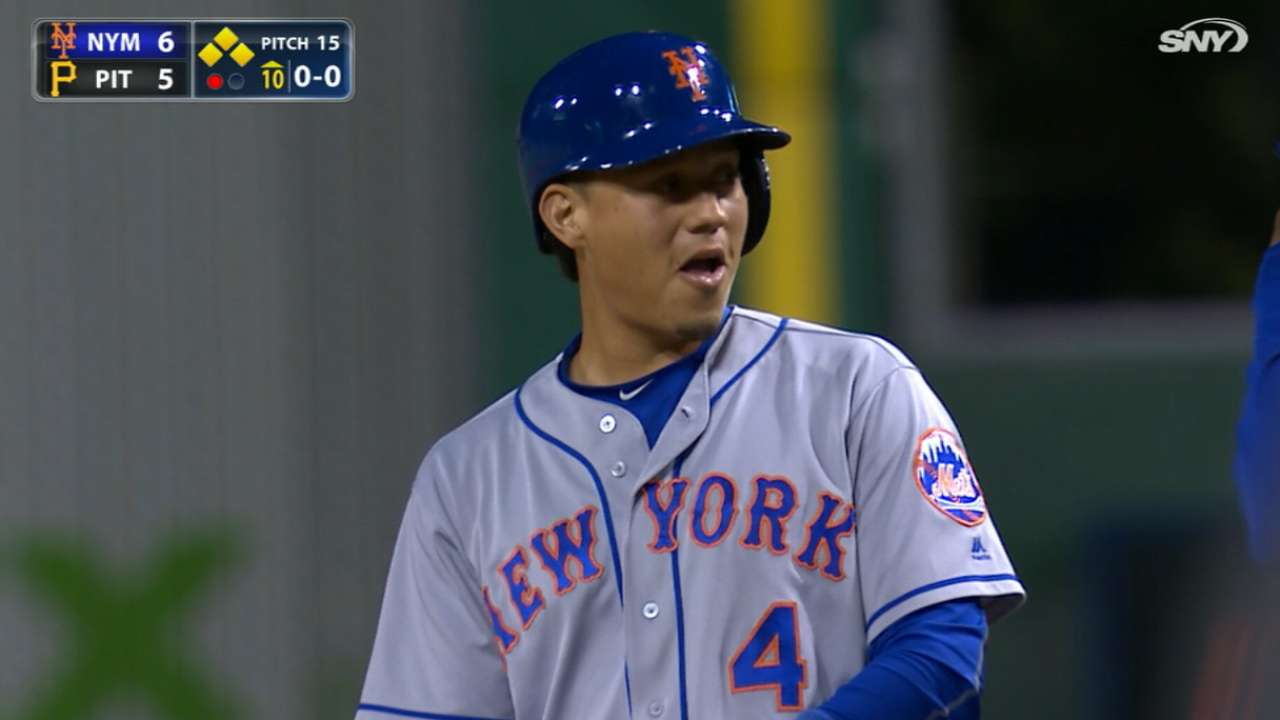 PITTSBURGH -- Of all the players on the Mets' active roster, no one stands to lose more from Kelly Johnson's presence than Wilmer Flores. It was just last weekend that the Mets named Flores their starter at third base, supplanting the injured David Wright. A trade for Johnson means that, if nothing else, the Mets now have a trusted veteran presence to push Flores from behind.
So it was another puff of comfort for Flores to hit the go-ahead, pinch-hit RBI single in the 10th inning of Wednesday's 6-5 win over the Pirates, allowing the Mets to avoid a three-game series sweep against a possible October opponent. Since officially taking over for Wright last weekend, Flores is batting .412 with a .500 on-base percentage.
"It was definitely big," Flores said of his hit. "Winning this game was huge for us. We stayed right there. We kept pushing, and we got the result."
Sometimes, Flores went on to say, it is better to be lucky than good. Though Flores executed his preferred approach against Pirates left-hander Corey Luebke with the bases loaded in the 10th -- stay up the middle, he told himself -- he did not hit the ball as squarely as he would have liked. The result was a soft liner that dunked in front of center fielder Andrew McCutchen to plate the winning run.
"They didn't throw that exit velocity up [on the scoreboard], did they?" manager Terry Collins quipped afterward.
They didn't, though the answer to that trivia question was 64.6 mph, according to Statcast™, the Mets' softest-hit of the night (excluding bunts). It did not matter. The Mets celebrated a win in which starting pitcher Noah Syndergaard was not perfect, and for once, did not need to be.
"We know that we're a little bit struggling," Flores said. "But I think everything right now is mental, staying strong out there. Keep pushing, and that's what we did today."
For as long as Flores keeps producing, he will remain the starting third baseman regardless of what Johnson, who is due to join the Mets on Friday, does upon his arrival. This wasn't the plan the Mets hatched over the winter, when they envisioned Flores as a super sub capable of backing up every infield position. But it's their current reality, and they can use his production.
"It's a long season," assistant general manager John Ricco said. "You have ups and downs. Early in the year, we were hitting. I have a lot of confidence … in the guys we have in there."
Anthony DiComo has covered the Mets for MLB.com since 2008. Follow him on Twitter @AnthonyDiComo and Facebook, and listen to his podcast. This story was not subject to the approval of Major League Baseball or its clubs.