Beltre leaves game with tight left hamstring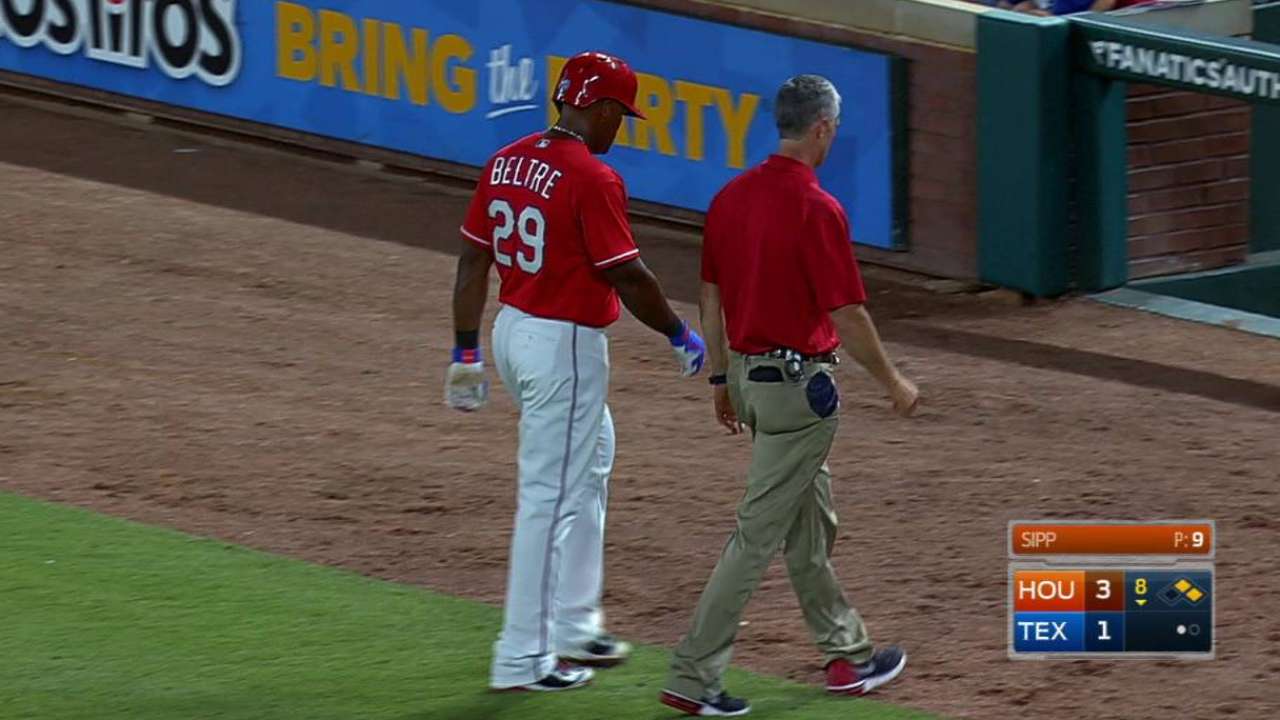 ARLINGTON -- Adrian Beltre became the second member of the Rangers to leave Wednesday's 3-1 loss to the Astros, exiting the game in the eighth inning with tightness in his left hamstring. He'll be re-evaluated on Thursday.
Beltre reached base that inning on a fielder's choice, and after Prince Fielder singled, he grabbed the hamstring after reaching second base. While the Astros changed pitchers, he was escorted to the dugout by athletic trainer Kevin Harmon and was replaced by pinch-runner Jurickson Profar.
At that point the Rangers were playing without starting pitcher Yu Darvish, who had left after the fifth with stiffness in his right shoulder.
"Similar thing [to Darvish]. A little tightness and precautionary [exit]," manager Jeff Banister said. "I trust what Adrian says when it comes to his body. He knows his body better than anybody else. So it's best to get him off the diamond any time something like that goes on."
Beltre was not available for comment after the game. Profar, who worked out at third before Wednesday's game, will likely get the start on Thursday, which was already a planned day off for Beltre.
"That's never good," first baseman Mitch Moreland said of both Darvish and Beltre making early exits. "Hopefully, we'll get good news from them, and they'll be back out there as soon as possible. We'll see what happens, but I'm not too worried about it. I think those guys are strong guys, they work hard."
Beltre spent more than a month on the disabled list in 2011 due to a strain in the same hamstring. He had started every game this season -- 57 at third base and one at designated hitter. He's the only player on the Rangers to have started every game so far.
He leads the Rangers in RBIs, with 40, and is tied for the team lead with 10 home runs.
Ryan Posner is a reporter for MLB.com based in Texas. This story was not subject to the approval of Major League Baseball or its clubs.