MLB.com Columnist
Fred Zinkie
10 waiver-wire options to pick up right now
Could your fantasy team use more power? What about saves? Steals? Runs, RBIs or wins?
Regardless of your holes, the fantasy waiver wire has a plug or long-term fix to pick up today. Check the following 10 men -- all sitting in waivers in many leagues, and all ready to help you win.
Logan Morrison, first baseman:
Morrison was hitting .119 when he got out of bed on May 16, but he has gone on a tear in recent weeks. The streaky slugger -- who compiled 17 homers across 457 at-bats in 2015 -- is hitting .390 with seven homers and 18 RBIs across his past 77 at-bats. Those in need of a short-term power source should give Morrison a chance.
Consider in: 10-team mixed leagues
Jurickson Profar, 2B/SS:
Once MLB's top-ranked prospect, Profar made his big league debut way back in 2012. Still just 23, he is back in the Majors after logging just 43 Minor League at-bats due to injuries across the '14-15 seasons. Hitting .380 with a pair homers across 50 at-bats since joining the big club on May 27, Profar could fill a semi-regular role by using his versatile fielding skills to bounce among a variety of positions.
Consider in: 12-team mixed leagues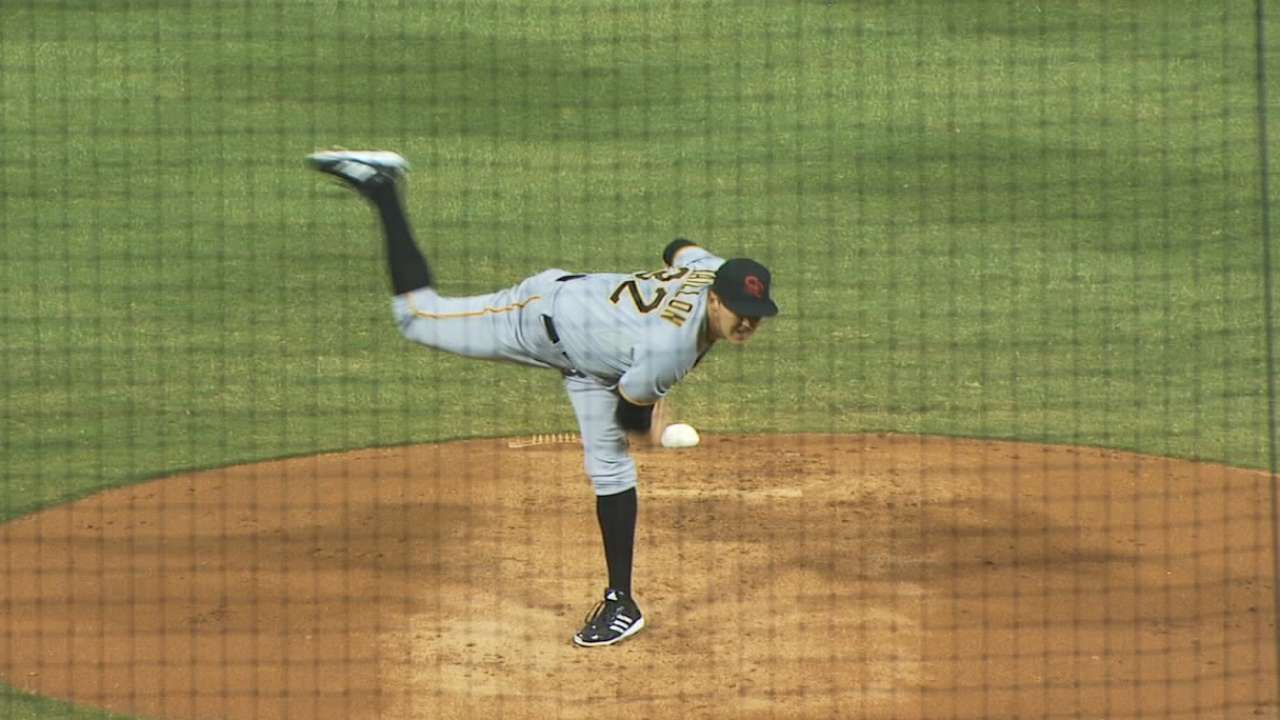 Jhonny Peralta, shortstop:
Having recently returned from left thumb surgery, Peralta -- who averaged 19 homers per season across 2014-15 -- is set to serve as the club's regular third baseman. Soon to have multi-position eligibility in most leagues, the 34-year-old could offer a power boost as part of a lineup that ranks second in the Majors with 313 runs scored this season.
Consider in: 12-team mixed leagues
Leonys Martin, outfielder:
Despite being on the disabled list since May 26, Martin is one of five players in baseball with at least nine homers and eight steals this season. Having hit atop the Mariners' productive lineup before his injury, the 28-year-old could be a significant contributor in all four counting-stat categories upon his return Friday.
Consider in: 10-team mixed leagues
Tyler Naquin, outfielder:
A first-round pick in the 2012 Draft, Naquin has demonstrated solid plate skills and plus speed in the Minors. Having hit .338 across 77 at-bats with the Indians this season, the 25-year-old could be in line for a significant role in an outfield that currently includes Jose Ramirez, Rajai Davis and Lonnie Chisenhall. Naquin is unlikely to make a notable long-term impact in a single category, but he could provide across-the-board contributions for those in deep formats.
Consider in: 15-team mixed leagues
Trayce Thompson, outfielder:
A once-deep Dodgers outfield currently consists of Thompson, Joc Pederson, Enrique Hernandez and Scott Van Slyke. Hernandez and Van Slyke are mostly specialists against lefties, and Pederson struggles vs. southpaws. Hitting .283 with 15 homers across 251 career at-bats, Thompson could make a long-term impact in mixed leagues if he can maintain a regular role when Yasiel Puig and Andre Ethier make expected returns from the disabled list in late June or early July.
Consider in: 10-team mixed leagues
Archie Bradley, starter:
Once a notable prospect, Bradley lost the faith of fantasy owners when he posted a 6.26 ERA and a 1.72 WHIP across 10 starts from his big league debut on April 11, 2015, to May 9 of this season. But with a 1.99 ERA and a 1.08 WHIP in Triple-A this year, the right-hander has shown signs that he has finally harnessed his enormous potential. With a 2.70 ERA, a 0.90 WHIP and a 12.8 K/9 rate across two starts since joining the rotation on May 29, Bradley belongs on a roster in all mixed leagues.
Consider in: 10-team mixed leagues
Jon Gray, starter:
Rarely is a Rockies starter recommended in this space, but if we omit one rough outing against the Cardinals on May 19, Gray has allowed 11 runs with 46 K's across 40 1/3 innings (2.45 ERA) in his past six starts. Gray may be worth avoiding when he is at his hitter-friendly home park, but he has earned a roster spot in many mixed formats.
Consider in: 12-team mixed leagues
Chase Anderson, starter:
Having pitched into the seventh inning in one of his 11 starts this year, Anderson has yet to warrant shallow-league attention. But with a 2.97 ERA and a 0.73 WHIP across his past five starts, the right-hander can be considered in 12-team formats. And while they are not expected to make the postseason in 2016, the Brewers can still support Anderson with a lineup, defensive unit and bullpen that have been close to Major League average.
Consider in: 12-team mixed leagues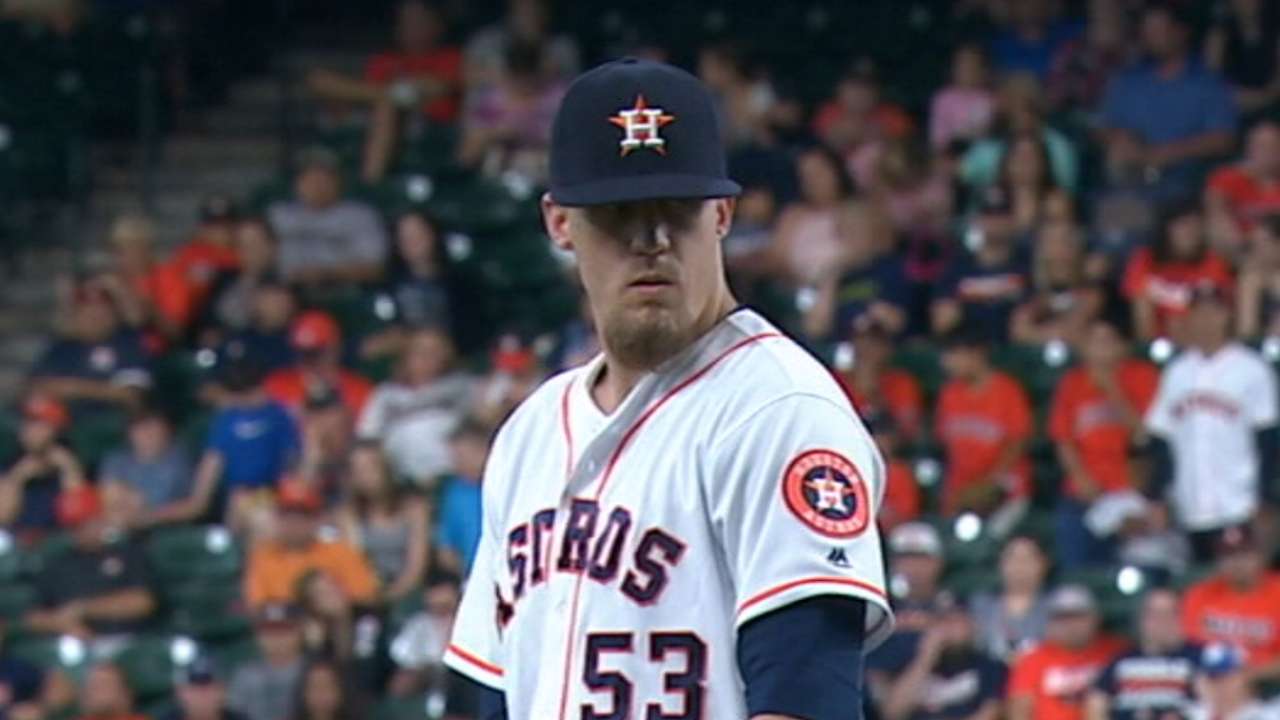 Will Harris, reliever:
With the Astros considering options other than Luke Gregerson in the closer's role, Harris could turn his impressive 1.47 ERA and 0.85 WHIP since the outset of 2015 into a ninth-inning gig. The right-hander picked up a save on Sunday, and manager A.J. Hinch may have been saving Harris for another save chance on Monday when he used closer-candidate Ken Giles in the ninth inning of a tie game on the road in Texas. Giles gave up the winning run in that contest, furthering the case to support Harris as the best option to settle an unstable Astros bullpen.
Consider in: 10-team mixed leagues
Fred Zinkie is the lead fantasy baseball writer for MLB.com. Follow him on Twitter at @FredZinkieMLB This story was not subject to the approval of Major League Baseball or its clubs.