Molina-Posey race tightens in NL ASG voting
Fowler takes lead over outfielders as Harper slips to second place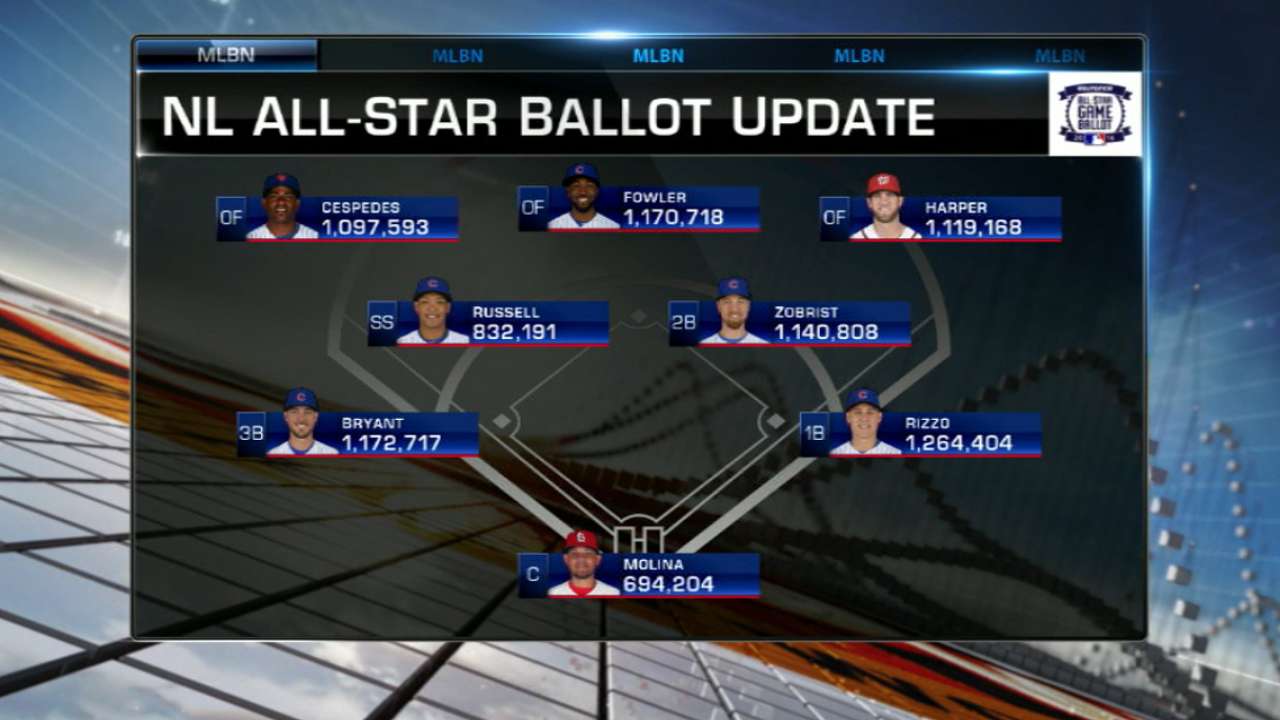 All-Star Week festivities will formally open one month from today in San Diego, and already the 87th All-Star Game presented by MasterCard has its first study in contrasts between the American and National League teams.
Just look behind the plate. While Salvador Perez of the Royals is Major League Baseball's top overall vote-getter so far in the 2016 Esurance MLB All-Star Game Ballot and is comfortably leading AL catchers, it is the opposite situation in the NL as Yadier Molina's lead over Buster Posey has decreased amid the tightest race in all MLB voting to decide who the starting position players will be on July 12 at Petco Park.
MLB announced the NL balloting leaders on Wednesday, and the Cardinals catcher was still ahead in his bid to extend his MLB-leading active streak of All-Star selections to eight. But his lead of 78,586 votes over the Giants' three-time All-Star in last week's first update was whittled to 62,405 in this one. The two backstops have had notable close races in previous years, and at this rate it won't be surprising if they go down to the wire.
• Cast your Esurance MLB All-Star Game Ballot for #ASGWorthy players
The Cubs continue to soar in the NL balloting with five players still in starting position, including their entire infield: top NL vote-getter Anthony Rizzo (1,264,404 votes) at first, Ben Zobrist (1,140,808) at second, Kris Bryant (1,172,717) at third and Addison Russell (832,191) at shortstop. Their fifth leader, Dexter Fowler, not only is in position to start in the outfield with 1,170,718 votes but also has overtaken Washington's Bryce Harper (1,119,168) for the overall outfield lead, with Yoenis Cespedes of the Mets (1,097,593) still holding the third spot.
AL voting update: Bradley Jr. moves into OF starting spot
In other words, everyone who was in position last week in the NL to start in San Diego is still in position. In fact, Russell made a big move at short on Rockies rookie Trevor Story, growing a tiny lead of 9,990 votes last week to a 118,031-vote cushion now. Another Cubs outfielder, Jason Heyward, remains fourth and is 393,682 votes behind Cespedes compared to 315,800 last week.
Daniel Murphy saw Zobrist's lead over him at second base increase from 244,051 votes to 388,883, despite continued mind-boggling numbers in his first year with the Nationals. Entering Wednesday's game against the White Sox, Murphy was leading the Majors with a .379 average and in multihit games (27), and was second in hits (81), OPS (1.032) and slugging (.617). He was leading all NL second basemen in doubles (15) and RBIs (37), and was second in homers (10) and runs (35). Zobrist was leading the Majors with a .435 on-base percentage but entered Tuesday on an 0-for-16 skid.
As for the tightest race, Molina and Posey have combined to win each of the past four and six of the past seven fan elections to be the NL's starting catcher. With a fan election, Molina would become just the third Cardinals player to collect five in his career, joining Hall of Famer Ozzie Smith (12) and former teammate Albert Pujols (five).
In addition, Molina, 33, would become the fourth NL catcher to garner at least five fan elections, joining 2016 Hall of Fame electee Mike Piazza (11) and Hall of Famers Johnny Bench (10) and Gary Carter (eight). Molina entered Wednesday's game at Cincinnati batting .256 with 21 RBIs, 12 doubles and 19 runs, but he was just 3-for-41 (.207 OPS) over his past 11 games. Posey was batting .257 with eight homers, 26 RBIs, 11 doubles and 29 runs.
Fans can cast their votes for starters at MLB.com and all 30 club sites -- on their computers, tablets and smartphones -- exclusively online using the 2016 Esurance MLB All-Star Game Ballot until Thursday, June 30, at 11:59 p.m. ET. Vote up to five times in any 24-hour period for a maximum of 35 times.
Fans may also receive the ballot by texting VOTE to 89269 (USA) or 101010 (Canada). Or text VOTA for a ballot in Spanish. Message and data rates may apply. Up to five messages. No purchase required. Reply STOP to cancel. Reply HELP for info.
Following the announcement of the 2016 All-Stars, be sure to return to MLB.com and cast your 2016 Esurance MLB All-Star Game Final Vote for the final player on each league's All-Star roster. On Tuesday, July 12, watch the 2016 All-Star Game presented by MasterCard live on FOX, and during the game visit MLB.com to submit your choice for the Ted Williams Most Valuable Player Award presented by Chevrolet via the 2016 MLB All-Star Game MVP Vote.
The 87th All-Star Game, in San Diego, will be televised nationally by FOX, in Canada by Rogers Sportsnet and RDS, and worldwide by partners in more than 160 countries via MLB International's independent feed. ESPN Radio and ESPN Radio Deportes will provide national radio coverage of the All-Star Game. MLB.com, MLB Network and SiriusXM will also provide comprehensive All-Star Week coverage. For more information, please visit allstargame.com.
NATIONAL LEAGUE ALL-STAR BALLOTING LEADERS
CATCHER
1. Yadier Molina, Cardinals: 694,204
2. Buster Posey, Giants: 631,799
3. Miguel Montero, Cubs: 417,224
4. Wilson Ramos, Nationals: 366,531
5. Welington Castillo, D-backs: 283,345
FIRST BASE
1. Anthony Rizzo, Cubs: 1,264,404
2. Brandon Belt, Giants: 402,271
3. Adrian Gonzalez, Dodgers: 360,539
4. Paul Goldschmidt, D-backs: 350,308
5. John Jaso, Pirates: 210,748
SECOND BASE
1. Ben Zobrist, Cubs: 1,140,808
2. Daniel Murphy, Nationals: 751,925
3. Neil Walker, Mets: 328,101
4. Joe Panik, Giants: 267,088
5. Josh Harrison, Pirates: 225,668
THIRD BASE
1. Kris Bryant, Cubs: 1,172,717
2. Nolan Arenado, Rockies: 841,147
3. Matt Carpenter, Cardinals: 270,458
4. David Wright, Mets: 234,185
5. Matt Duffy, Giants: 233,563
SHORTSTOP
1. Addison Russell, Cubs: 832,191
2. Trevor Story, Rockies: 714,160
3. Brandon Crawford, Giants: 358,045
4. Asdrubal Cabrera, Mets: 311,968
5. Zack Cozart, Reds: 307,616
OUTFIELD
1. Dexter Fowler, Cubs: 1,170,718
2. Bryce Harper, Nationals: 1,119,168
3. Yoenis Cespedes, Mets: 1,097,593
4. Jason Heyward, Cubs: 703,911
5. Ryan Braun, Brewers: 643,527
6. Jorge Soler, Cubs: 476,053
7. Andrew McCutchen, Pirates: 421,788
8. Hunter Pence, Giants: 344,441
9. Carlos Gonzalez, Rockies: 329,761
10. Starling Marte, Pirates: 324,950
11. Michael Conforto, Mets: 288,837
12. Stephen Piscotty, Cardinals: 268,976
13. Giancarlo Stanton, Marlins: 248,662
14. Curtis Granderson, Mets: 247,357
15. Gregory Polanco, Pirates: 222,348
Mark Newman is enterprise editor of MLB.com. Read and join other baseball fans on his MLB.com community blog. This story was not subject to the approval of Major League Baseball or its clubs.