Top GIFs: Baltimore melee leads way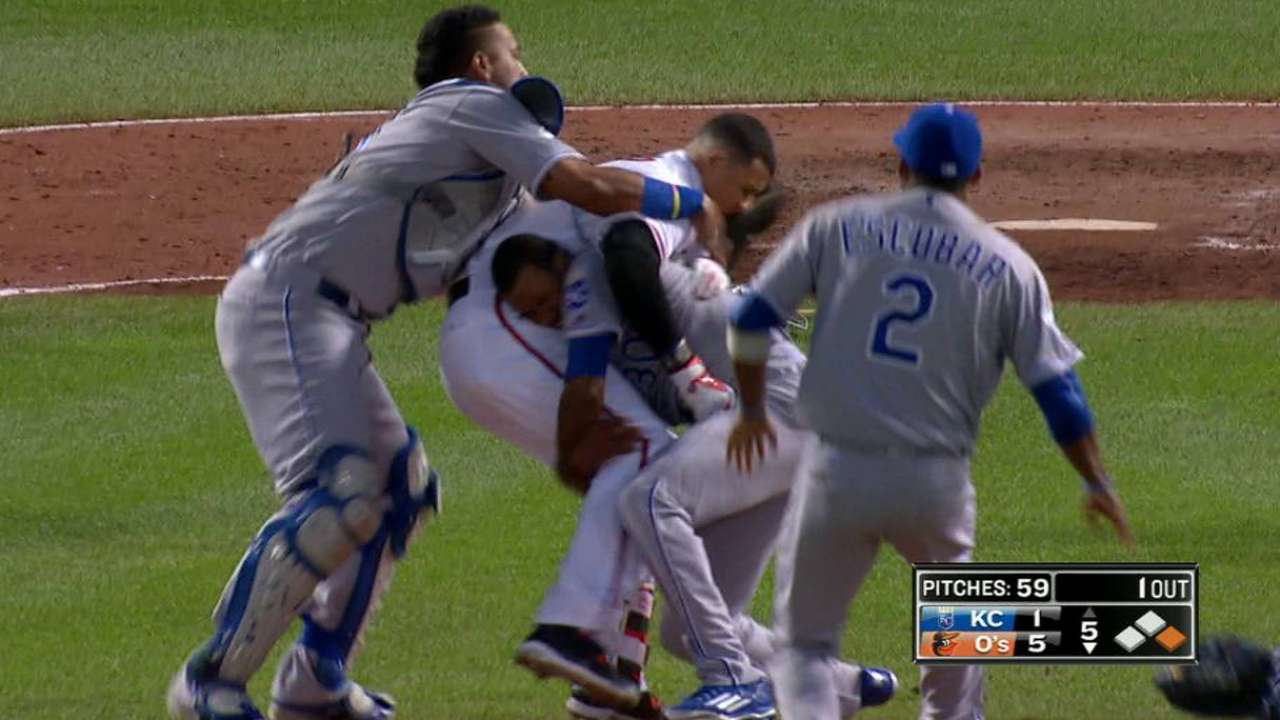 Here are the Top 7 GIFs from Tuesday's games, courtesy of @MLBgifs:
1. Ready to rumble
After hitting Orioles shortstop Manny Machado with a fastball in the fifth inning of the Royals' contest in Baltimore. starter Yordano Ventura throws down his glove in anticipation of Machado charging the mound.
2. The sincerest form of flattery
Just because Elvis Andrus decides to get the force at second himself after gloving a grounder to short, that doesn't mean second baseman Rougned Odor can't practice the throw he would have made to first right alongside his double-play partner.
3. LoCain goes sky high
Lorenzo Cain makes a spectacular catch to rob Pedro Alvarez of a home run at Camden Yards, sprinting full-speed toward the wall in left-center and extending his arm over the fence to bring the ball back.
4. Stretch!
Jurickson Profar at first base? The middle infielder shows his mettle at the corner infield position with a great stretch to complete a double play against the Astros in Arlington.
5. What's up doc?
We've seen squirrels, cats, and hey, why not a rabbit? This fella hopped around the field causing a delay in the Triple-A contest between the Memphis Redbirds and the Iowa Cubs.
6. You gonna finish that?
Apparently Indians third baseman Juan Uribe missed his pregame meal, because a hot dog being held by a fan in the front row down the third-base line at Safeco Field looked pretty appetizing to him.
7. Look what I found
Now this is what you call cat-like reflexes -- and good thing for Giants reliever Hunter Strickland, because this baseball off the bat of Mookie Betts was smoked.
Manny Randhawa is a reporter for MLB.com based in Denver. This story was not subject to the approval of Major League Baseball or its clubs.