Tigers bide time for first walk-off of season
Handcuffed by Blue Jays' Sanchez for eight innings, players confident in chance at end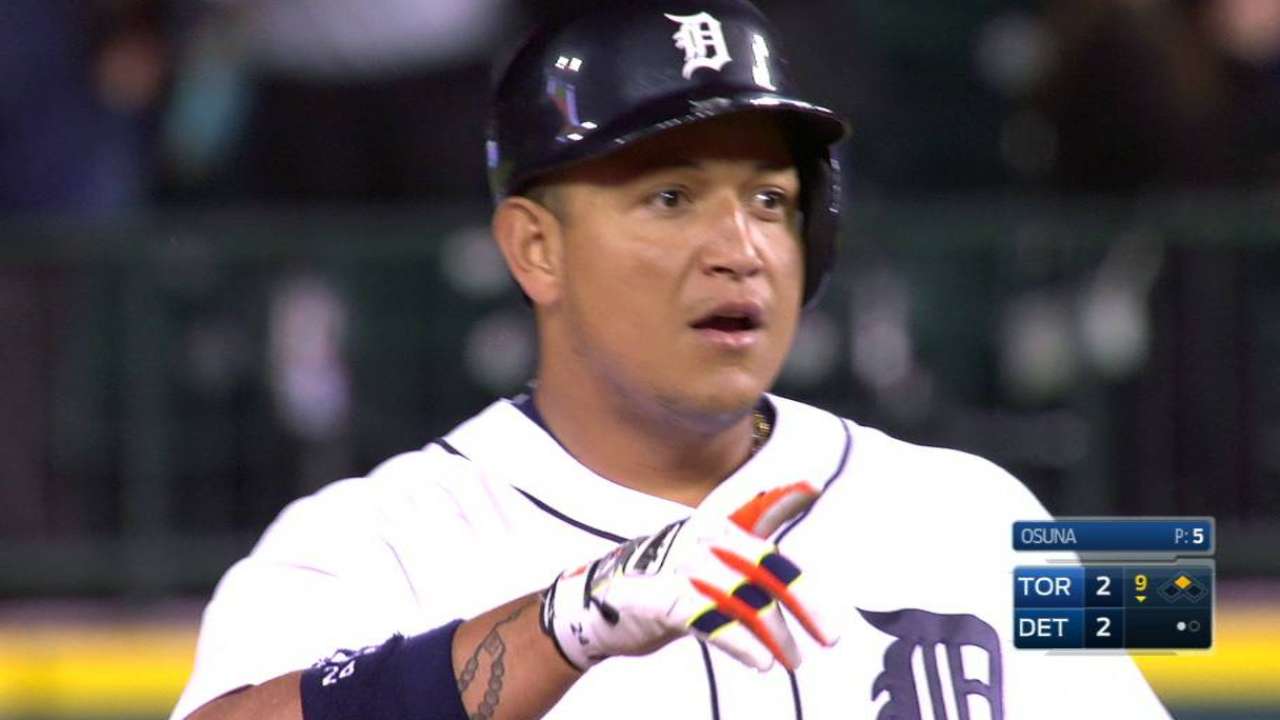 DETROIT -- The sight of Aaron Sanchez mowing down the Tigers' lineup Tuesday night at Comerica Park had the same feeling Max Scherzer created during his 20-strikeout gem against his old team last month.
"Oh my God," Miguel Cabrera said of the Blue Jays right-hander. "Unbelievable."
• Cast your Esurance All-Star ballot for Kinsler, Miggy and other #ASGWorthy players
The sight of Justin Upton dashing home as Ian Kinsler's 10th-inning single sailed over third baseman Josh Donaldson into left field, completing the Tigers' comeback for a 3-2 win, was similarly incredible. Except the Tigers believed they could do it.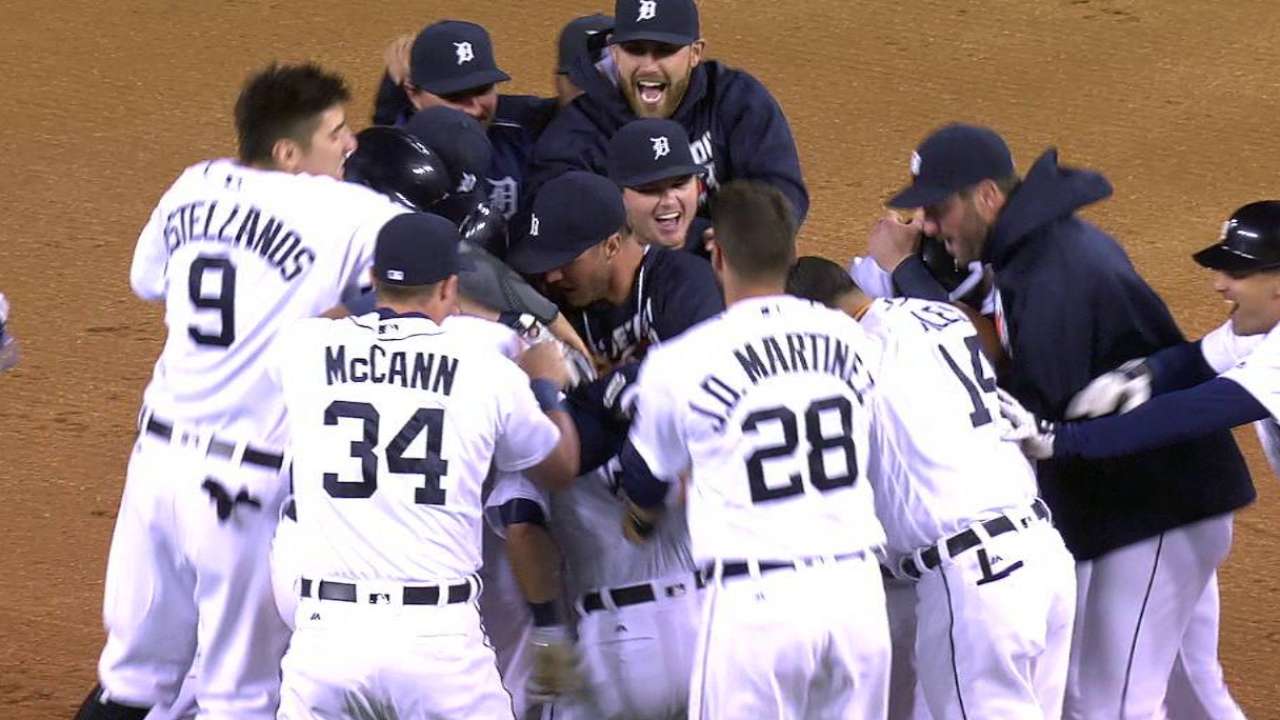 "We were grinding out at-bats the whole night," Upton said. "[Sanchez] just had great stuff. We were seeing the ball OK, but his stuff was moving all over the place."
Or as Kinsler put it: "We were waiting for our offense to kind of get going at some point in that game. He was tough to solve tonight. But the key is that our pitchers kept us right there."
Sanchez took the mound for the ninth inning with 93 pitches and a one-hit shutout going, with 12 strikeouts. But he had just a 2-0 lead thanks to former teammate Matt Boyd and Detroit's bullpen, including a ninth-inning escape from Bobby Parnell to strand the bases loaded by working through the tenacious top of the Toronto lineup.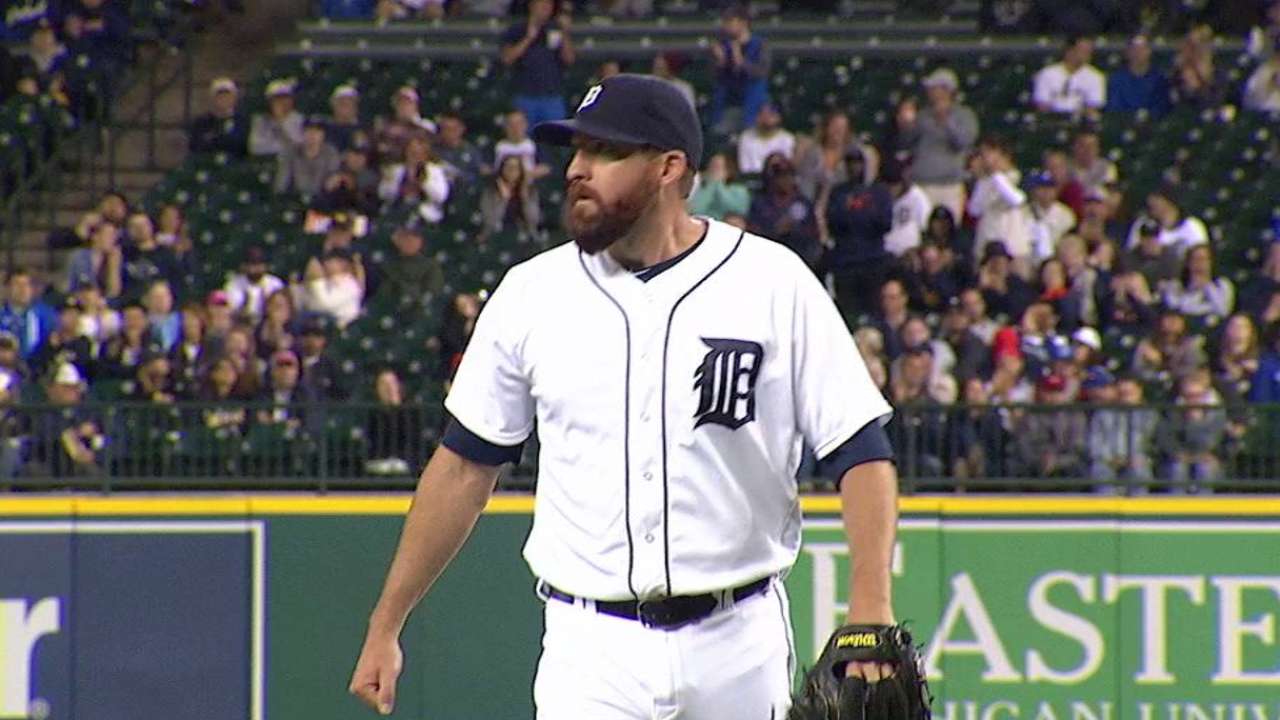 Five pitches into the bottom of the ninth, Sanchez was done, and the Tigers had the tying run in scoring position. The optimism in the Detroit dugout when Jose Iglesias slapped a leadoff single in the ninth trumped the eight innings of misery Sanchez heaped upon him.
"There wasn't a sense of defeat because the game was still close, a two-run game," manager Brad Ausmus said. "I will say that Iglesias getting the hit injected some energy immediately into the dugout."
Said Upton: "Iggy sparked us, and when there's pressure situations, that makes it tough on pitchers. We were able to get to him in the ninth."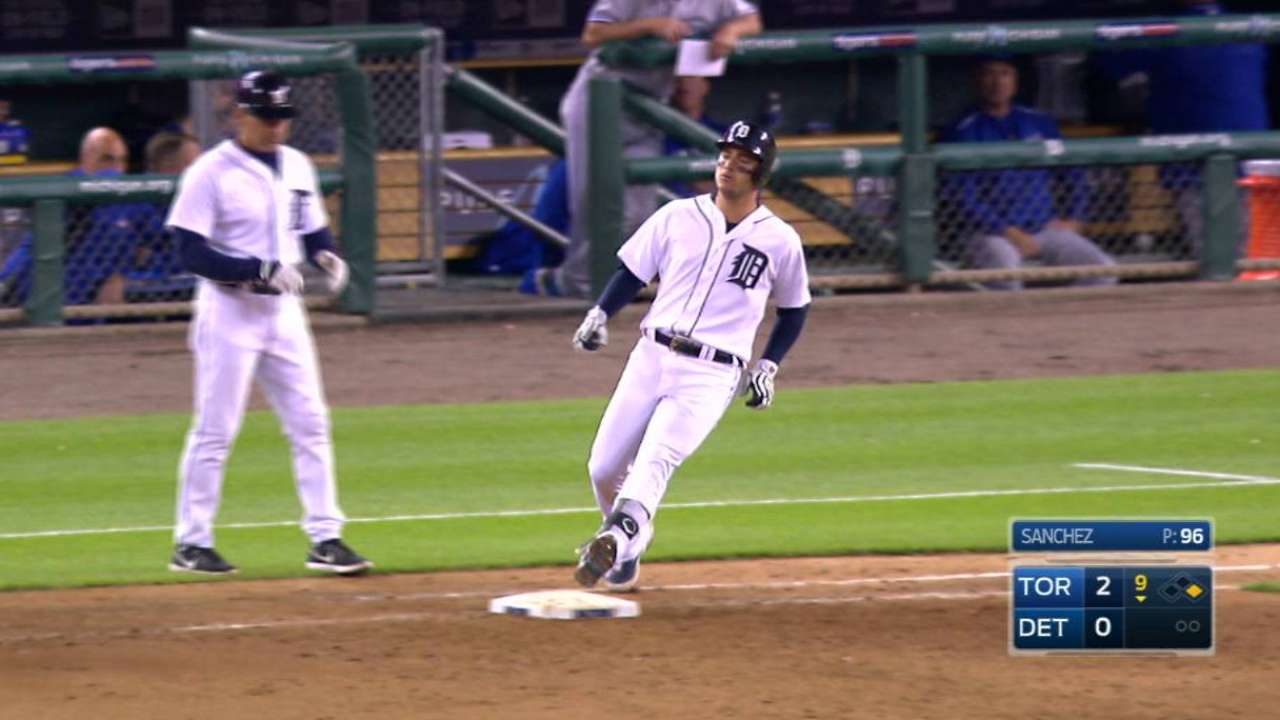 That put a runner on and turned the lineup over, giving Kinsler a fourth look at Sanchez. As tough as he still was, the extra looks and ability to time pitches makes a difference.
"It does help," Kinsler said.
Kinsler fouled off a 94-mph fastball, then sent another into the gap in left-center field. Iglesias read it immediately and took off, scoring from first without a play. The ball had barely gotten back into the infield when Blue Jays manager John Gibbons emerged from the dugout to pull Sanchez.
In came closer Roberto Osuna. And after Andrew Romine's sacrifice bunt moved Kinsler to third, up came Cabrera.
Osuna threw Cabrera four fastballs. The second went up and in, barely missing his head.
"I don't care what he did. I don't care what he's going to do to me," Cabrera said. "I've got to be ready to take one pitch and try to drive the ball."
He tried that with the next pitch, but missed. The fourth fastball was the one.
In a lot of ballparks, it might have been a walk-off homer. In Comerica Park, it was a game-tying double off the out-of-town scoreboard.
The game wasn't over, and Osuna recovered to retire J.D. Martinez and Nick Castellanos to keep the game going. Four consecutive baserunners in the 10th, however, finished Detroit's first walk-off win of the season, and its first win when trailing in the ninth.
Jason Beck has covered the Tigers for MLB.com since 2002. Read Beck's Blog, follow him on Twitter @beckjason and listen to his podcast. This story was not subject to the approval of Major League Baseball or its clubs.