Padres flourishing with RISP at home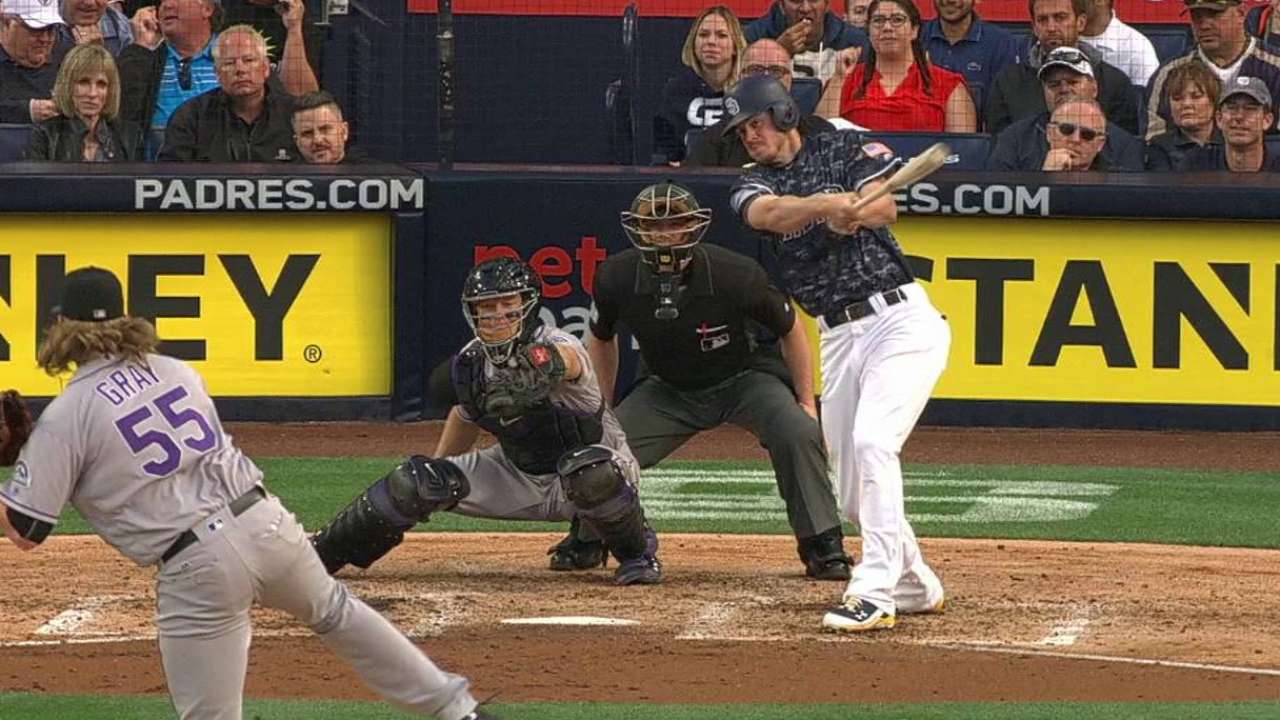 SAN DIEGO -- Since the start of the Padres' split-series with the Mariners last Monday, San Diego hitters have combined to score 49 runs -- which ties them with the Tigers for the most in the big leagues during that stretch.
While the entire lineup has been swinging the bat well, first baseman Wil Myers specifically pointed to how well the team has hit lately with runners in scoring position.
"[We're] playing a little bit better baseball right now, and I think the biggest thing is we've hit with runners in scoring position really well," Myers said. "So anytime you can do that it's obviously going to result in runs."
Through the first six games of this home stand, the Padres have excelled with runners in scoring position, combining to hit .305 (18-for-59) in those situations. For some context, the Cardinals .304 average with runners in scoring position is the best mark in baseball so far this season.
Leadoff hitter Jon Jay has helped create those chances by posting a .448 (13-for-29) average over the past six games, but he's also capitalized when the back end of the lineup has gotten on base in front of him.
"Jon Jay, for a leadoff guy, has been very successful in RBI opportunities this year," said Padres manager Andy Green. "He's driven in quite a few runs given the limited amount of times he's had those chances. So as we see those chances kind of ratchet up over the last week, now he's driving in runs.
"It's been clicking better recently. I don't think we're ever going to be where we really want to get to, but we're going to keep working on it and grinding."
Edwards still waiting
The Padres are still waiting to make a decision on right-handed pitcher Jon Edwards, after he experienced a setback in his rehab process Sunday and was scheduled for another MRI.
"He's definitely pulled off of his rehab at this moment and I think in the next day we'll get some clarity," Green said. "I know it's been a frustrating process for him, he's very much wanted to be on the field, and pitch for us this year. And there's been plenty of times we could have used him... He was going to be a big part of our bullpen.
"It's been a tough year for him personally, and hopefully we'll gain some clarity in the next day or so."
Edwards was on the road to recovering from a flexor strain in his right shoulder before he experienced discomfort in a warm up session Sunday that shut him down.
Worth mentioning
• While it has not been officially announced, the Padres are still planning on having Erik Johnson -- who was acquired in the trade that sent James Shields to the White Sox -- make his San Diego debut on Saturday at Coors Field against the Rockies. Andrew Cashner is expected to pitch the Friday night opener against the Rockies.
Carlos Collazo is a reporter for MLB.com based in San Diego. Follow him on Twitter @CarlosACollazo. This story was not subject to the approval of Major League Baseball or its clubs.