Davies coming up big, flirts with no-no vs. A's
Righty states case for spot in Brewers' rotation with latest gem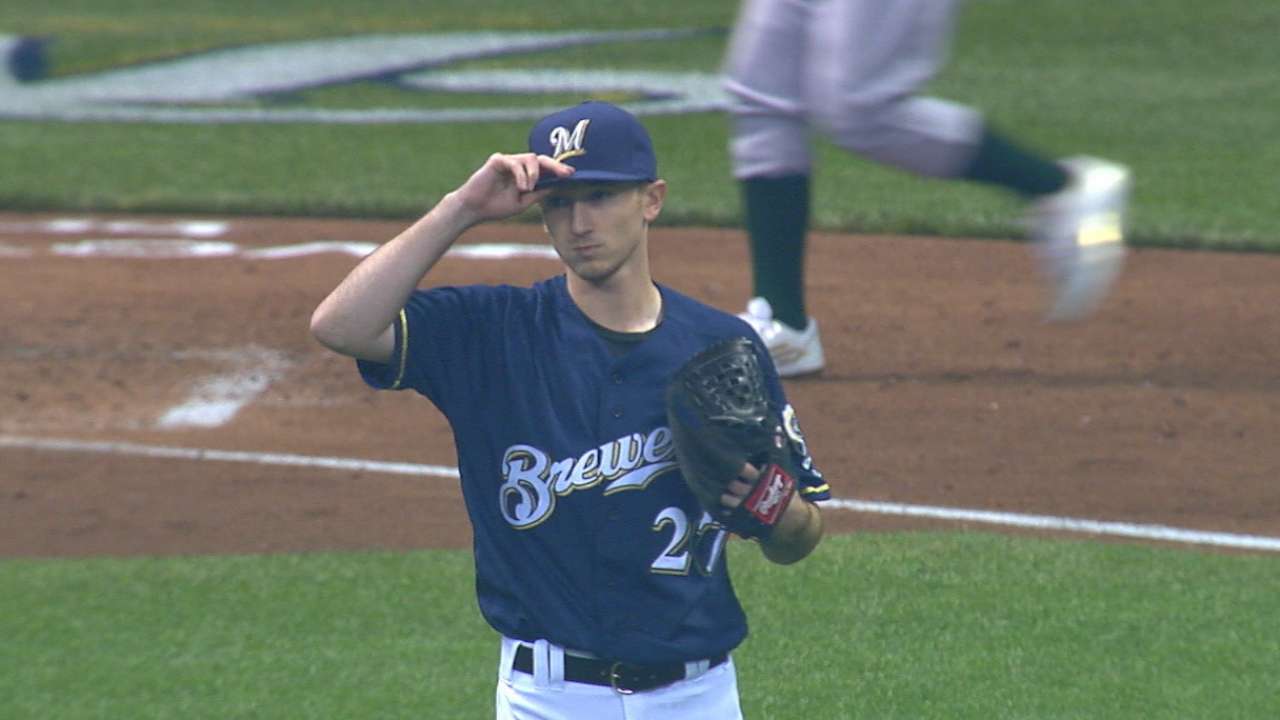 MILWAUKEE -- You don't have to look like Clayton Kershaw or Jose Fernandez to get results like them.
Brewers right-hander Zach Davies proved it again on Tuesday night in a 5-4 win over the A's, in the 23-year old's latest statement that he deserves a permanent place in Milwaukee's starting rotation. Working fast and keeping the A's off balance with his signature changeup, Davies carried a no-hitter into the seventh and settled for his third straight victory.
"If you look at him, physically, you probably think he's a batboy, and not a dominant pitcher right now," Ryan Braun said. "He looks young, he's not big, and he's able to make up for it. It's one of the beautiful things about our game."
Six days after holding the Cardinals scoreless through eight innings on three singles, Davies was even better against the A's. He issued his third walk in the seventh inning, but still hadn't given up a hit, until a fastball that was supposed to be in on Billy Butler's hands leaked back over the plate. Butler hit it to the Brewers' bullpen for a two-run homer.
Before that pitch, Davies had recorded 34 straight outs over parts of two starts without yielding a hit.
"You know, I think just coming up my mentality is that I kind of just want to show that I belong here," said Davies, listed as 6-foot, 155 pounds in the Brewers' media guide. "I don't think the mentality has changed to that I'm confident now, and I wasn't earlier. I think just getting on a roll, getting kind of things going, just a snowball effect kind of thing."
The Brewers have a decision upcoming when Matt Garza returns from the disabled list after one more rehab start on Thursday. Davies is doing his part to ensure the Brewers give Garza another pitcher's spot.
Davies, acquired in a July 2015 trade with the Orioles for Gerardo Parra, has won three straight starts, and he owns a 2.78 ERA in his last five starts.
"He's a young starter that is learning as he goes and proving as he goes," manager Craig Counsell said. "Gaining confidence, getting comfortable with his stuff and how it plays to hitters, what he needs to be good.
"He's getting it through experience, really. It's not easy to go out there for a young guy, you know? What's good is he is taking everything that has happened before and applying it to next time."
What else is good, according to Braun? Davies works at a breakneck pace.
"As defenders, you wish every pitcher had that pace. He's the model of what we wish everybody did," Braun said. "I think you get better defense behind you because you're working so quickly. You're in a rhythm. Hitters will tell you, it's uncomfortable when guys are working that quickly. You rarely have a chance to step out and think of what you want to do. ...
"You can just see from the outfield, guys aren't getting very many good swings on him. He's on a great run."
Adam McCalvy has covered the Brewers for MLB.com since 2001. Follow him on Twitter @AdamMcCalvy, like him on Facebook and listen to his podcast. This story was not subject to the approval of Major League Baseball or its clubs.