MLB.com Columnist
Phil Rogers
Bear maximum: Cubs on pace for 116 wins!
That would tie record set by 1906 Cubs and 2001 Mariners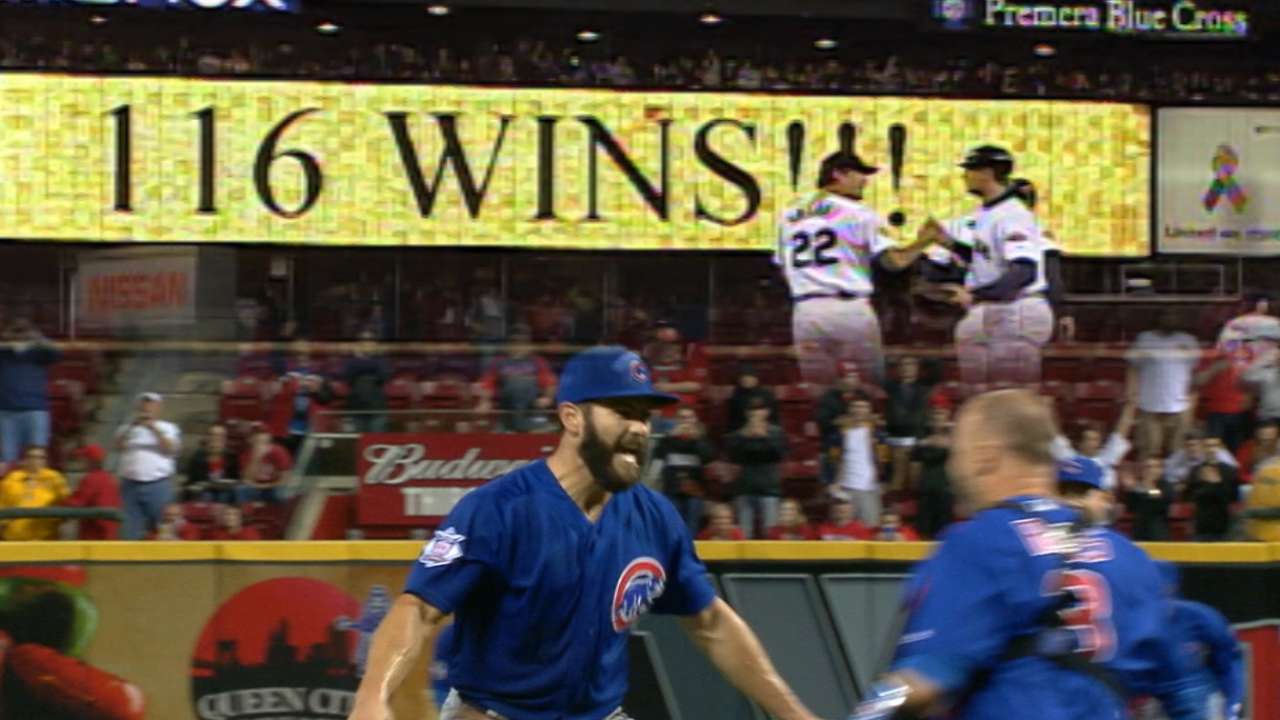 How good are the Cubs? They're good enough that they've rendered the power rankings a weekly anticlimax, just the way the Yankees did in 1998 and the Mariners did in the second half of 2001.
For the power rankings to really matter this year, we'd have to be examining the best teams of all time, not just the best ones this season. That's how good Joe Maddon's Cubs are.
• Cast your Esurance All-Star ballot for #ASGWorthy players
They're the fastest team to 40 wins since since Lou Piniella's 2001 Mariners, and unlike that team -- which had just lost Alex Rodriguez, if you remember -- they are not surprising anyone with their play this season.
After beating the Phillies, 6-4, on Monday, the Cubs are 40-16. That's a .714 winning percentage, which translates to 116 wins over a 162-game season. That would be the most ever in the Majors, matching the mark set by Frank Chance's Cubs in 1906 and tied by the 2001 Mariners.
As crazy as it might sound, I believe they're going to break that record. They'll win 117 games or more in the regular season.
That's how much talent they have, and how much fun they are having playing together, with Maddon wringing the absolute best out of everyone who comes in contact with him.
Then, of course, comes the final exam, in October. That's when the Cubs' year will be defined.
Will they be like the 1998 Yankees, who won 114 games and then blitzed through the Rangers, Indians and the Padres in the postseason, winning the second of their five championships behind Derek Jeter and Mariano Rivera? Or will they be like the 2001 Mariners, who couldn't put away the Yanks in the American League Championship Series?
That's the delicious question that will hang in the air over Wrigley Field and wherever else the Cubs play for the next four months. There are no guarantees in baseball, even for the best teams.
In many ways, these Cubs are the perfect baseball storm -- a complete team of complete players who play for each other, not their own statistics.
Theo Epstein, Jed Hoyer and Jason McLeod built the Cubs just about as well as a team can be built. They hit in the Draft on guys like Kris Bryant and Kyle Schwarber, bought low in trades for Anthony Rizzo and Jake Arrieta, and scored in the Rule 5 Draft with Hector Rondon, the closer who has converted his past 22 save opportunities.
3 years ago today I was drafted by the @Cubs. Crazy how time flies!

— Kris Bryant (@KrisBryant_23) June 7, 2016
But the Cubs are surprising even Epstein, who nervously waits for the eight-game losing streak that will bring them to earth. He and his staff exchanged knowing looks during a 4-8 stretch that included losing series in Milwaukee and San Francisco, because they knew their team wouldn't always have smooth sailing.
Guess what has happened since then? The Cubs have won 11 of 13, with the only two losses coming in starts by Arrieta, who has gone 25-2 with a 1.19 ERA over his past 32 starts.
Arrieta, of course, is only a part of what's right with the Cubs' pitching staff. The Cubs are strong 1 through 5 this season, with Jon Lester, John Lackey, Jason Hammel and Kyle Hendricks joining Arrieta in having a sub-3 ERA (and ranking among the National League's top 18 starters in ERA).
Lester shut out the Phillies for eight innings Monday, lowering the starters' ERA to 2.33. The lowest ERA by a starting staff since 1920 was the '68 Cardinals at 2.40.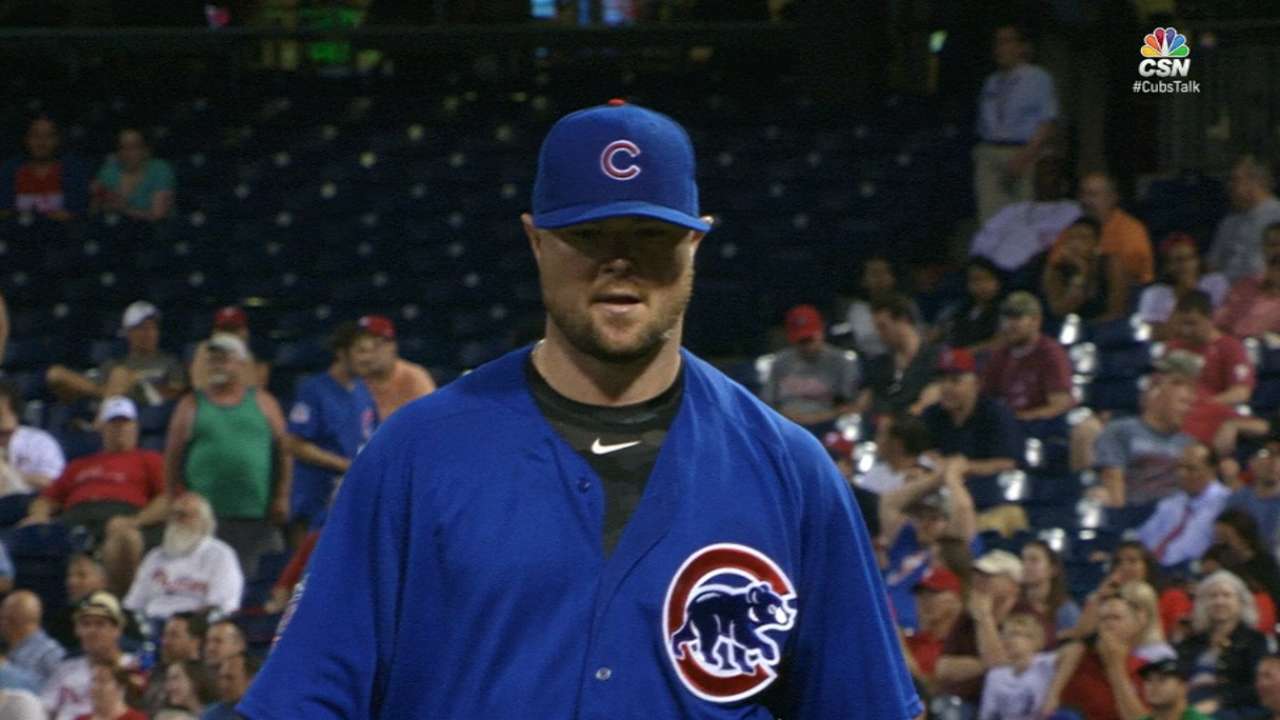 That's just one of the crazy things being done by these Cubs, who lead the NL in scoring 5.4 runs per game while allowing an average of 2.9 runs, the lowest in the league. They're on pace to allow 393 runs, which would be the fewest ever in a 162-game season -- by a margin of 79 runs.
After Bob Gibson and the 1968 Cards held their opponents to 472 runs, rookie Commissioner Bowie Kuhn and owners voted to lower the height of the mound the next season. The record for a 154-game season is held by the 1918 Red Sox, who with Babe Ruth on the mound allowed only 380 runs.
The Cubs have outscored their opponents by 143 runs. That more than doubles the total of the second-most dominant team, the Red Sox. They're at +69.
No matter how great the Cubs have played for the first 56 games of the season, it sounds a little nuts to predict they'll win 117 games or more. But they've given themselves a chance to make history.
No team ever sets out to win more than 100 games. Those kind of seasons just sort of appear. Even Epstein, if you press him, will tell you that when he ran the Red Sox his goal was to win 95 games a year, because that's what he thought he needed to compete against the Yankees.
Winning 100 in a season? That's crazy stuff. It happens every now and then, but you'd never predict it.
But step back from the 2016 Cubs, and what do you have? You see the ahead-of-schedule Cubs of a year ago, who eliminated the Cardinals and Pirates before running into the buzzsaw that was the Mets' starting rotation in the NL Championship Series.
That team went 45-18 down the stretch to win 97 games.
Take those 63 games in July, August and September and add them to the 56 this year. You get a run of 85-34. That's a .714 winning percentage, and that gets you to 116 wins over 162 games.
That is the powerhouse that Epstein, Maddon & Co. have built, and guess what? They're not done yet.
They'll add pieces in midseason deals, strengthening the bullpen in front of Rondon or upgrading in left field or somewhere that you won't see coming until it happens. And they'll be playing a lot of teams that will be subtracting, with 27 of their last 55 against the A's, Angels, Brewers, Rockies, Padres and Reds.
How great is this Cubs team going to be in the regular season? It could wind up as the best team we've ever seen.
Phil Rogers is a columnist for MLB.com. This story was not subject to the approval of Major League Baseball or its clubs.