Each franchise's best homegrown Draft pick
A look at the drafted player who has accrued the most value for all 30 clubs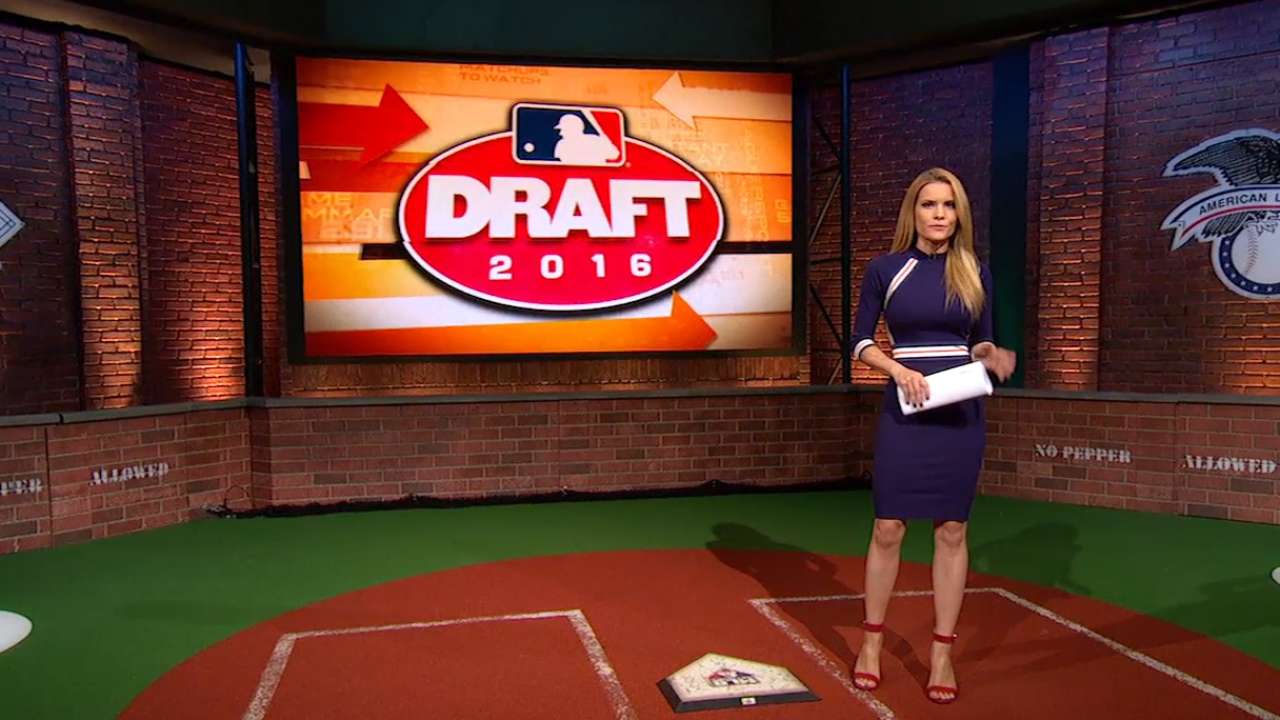 Since 1965, the MLB Draft has served as the most significant opportunity for big league teams to acquire talent. The annual bonanza begins again on Thursday, when the Phillies will make the No. 1 overall selection, which you can watch live on MLB Network and MLB.com beginning at 6 p.m. ET. More than a thousand picks will follow, each one representing a chance for a franchise to alter its future.
Not every pick will pan out. That much is certain. But sometimes teams strike gold, selecting cornerstone players that star in the organization for decades.
What follows is a list of the ultimate homegrown players -- the best ever drafted and developed by each Major League team based on the value they accrued for the team that drafted them. And remember: Any player signed before 1965 --- the first year of the Draft -- or who signed internationally will not be included here. The rankings are based on Baseball-Reference.com's career wins above replacement (WAR). Scroll down to see which player tops your favorite team's rankings.
Arizona Diamdondbacks: Brandon Webb, 2000, 8th round, 33.3 WAR
The three-time All-Star and 2006 National League Cy Young Award winner used a devastating sinker to pitch to a 3.27 ERA over six full seasons with the D-backs.
Honorable mentions: Paul Goldschmidt, 2009, 8th round, 26 WAR; A.J. Pollock, 2009, 1st round, 14.8 WAR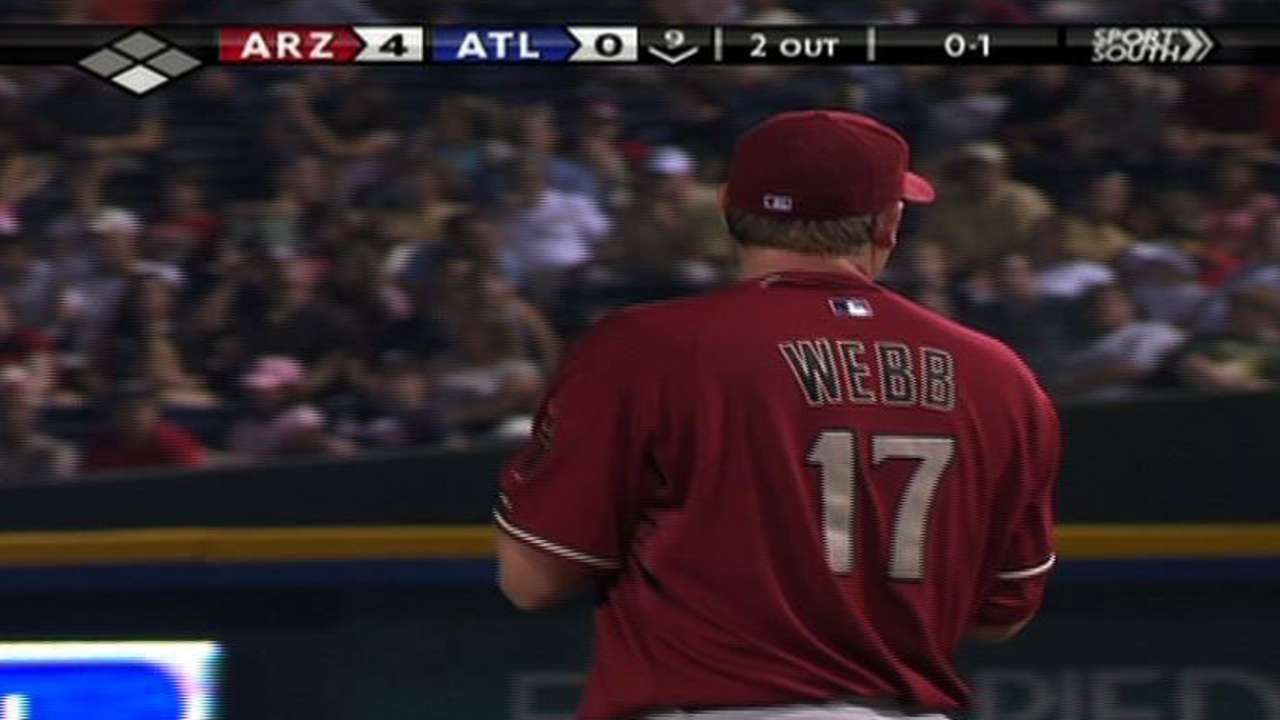 Atlanta Braves: Chipper Jones, 1990, 1st round, 85 WAR
One of the best homegrown first-rounders ever, Jones was the top overall pick in 1990 and played 19 seasons for Atlanta.
Honorable mentions: Tom Glavine, 1984, 2nd round, 64.2 WAR; Dale Murphy, 1974, 1st round, 46.9 WAR
Baltimore Orioles: Cal Ripken, Jr., 1978, 2nd round, 95.5 WAR
Baltimore didn't draft the best player in its history until the second round that year, opting for Robert Boyce in the first round instead.
Honorable mentions: Eddie Murray, 1973, 3rd round, 56.3 WAR; Mike Mussina, 1990, 1st round, 47.8 WAR
Boston Red Sox: Roger Clemens, 1983, 1st round, 81.6 WAR
Clemens went 192-111 with a 3.06 ERA over 13 seasons with Boston before signing as a free agent with Toronto, tying Cy Young as the franchise's wins leader in the process.
Honorable mentions: Wade Boggs, 1976, 7th round, 71.6 WAR; Dwight Evans, 1969, 5th round, 66.2 WAR
Chicago Cubs: Rick Reuschel, 1970, 3rd round, 49.4 WAR
The Western Illinois right-hander joined the Cubs' rotation midway through the 1972 season and remained there until a June '81 trade to the Yankees, posting five seasons with at least 5 WAR along the way.
Honorable mentions: Mark Grace, 1985, 24th round, 43.9 WAR; Rick Wilkins, 1986, 23rd round, 12.2
Chicago White Sox: Frank Thomas, 1989, 1st round, 68.2 WAR
Roughly 14 months after the Sox made him the seventh overall pick out of Auburn, Thomas was in the Majors. He was an immediate force in the lineup, later winning back-to-back American League MVP Awards in 1993-94 and hitting 448 of his 521 homers for Chicago before leaving in 2006.
Honorable mentions: Mark Buehrle, 1998, 38th round, 48.3 WAR; Robin Ventura, 1988, 1st round, 39.3 WAR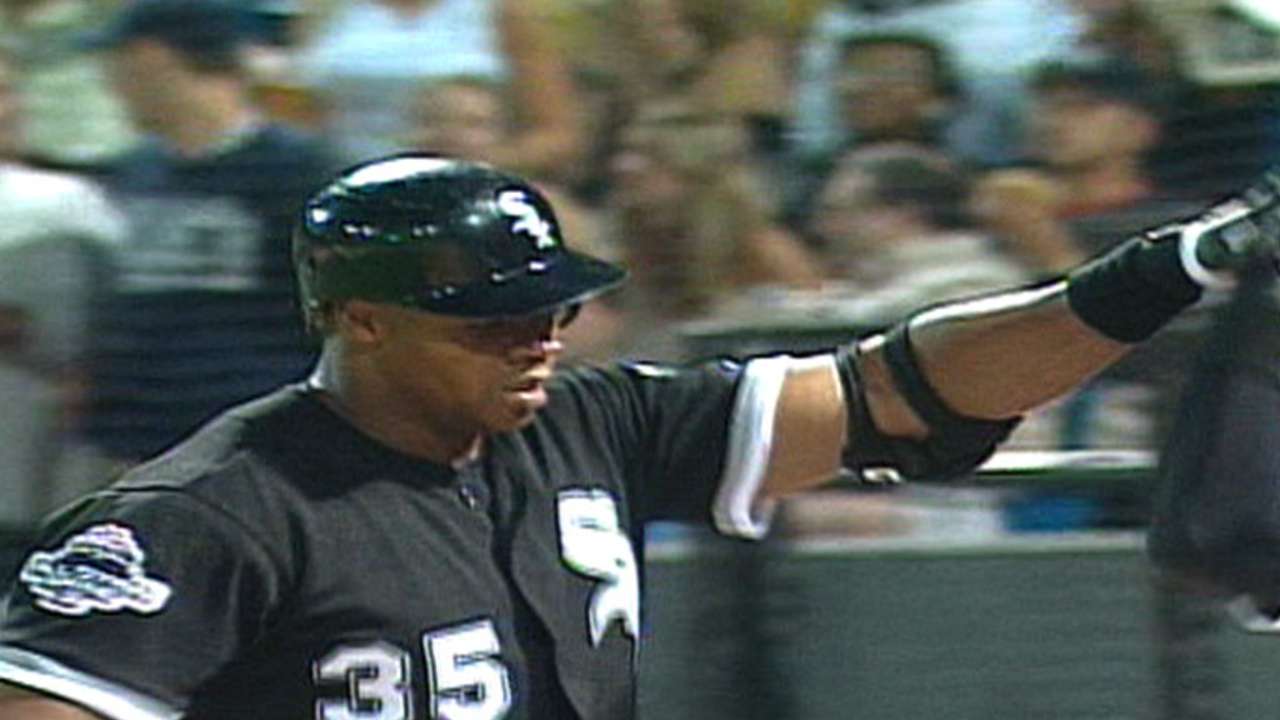 Cincinnati Reds: Johnny Bench, 1965, 2nd round, 75 WAR
In the first year of the Draft, Bench was the 36th overall pick as a high school catcher out of Binger, Okla. He generated more career WAR than any other catcher and ranks second in Cincinnati history to Big Red Machine teammate Pete Rose.
Honorable mentions: Barry Larkin, 1985, 1st round, 70.2 WAR; Joey Votto, 2002, 2nd round, 43.1 WAR
Cleveland Indians: Jim Thome, 1989, 13th round, 47.9 WAR
It's amusing to note now that Thome was listed as a shortstop when Cleveland plucked him from an Illinois junior college 12 rounds after Thomas. The left-handed slugger, who returned to the Indians for 22 games in 2011, ranks seventh all-time with 612 homers -- 337 with his original club.
Honorable mentions: Manny Ramirez, 1991, 1st round, 29.9 WAR; Albert Belle, 1987, 2nd round, 27.3 WAR
Colorado Rockies: Todd Helton, 1995, 1st round, 61.2 WAR
Taken eighth overall out of Tennessee, where he also dabbled in football, Helton was the fourth first-round pick in Rockies history, and he is likely to remain the most successful for quite awhile following last year's trade of Troy Tulowitzki.
Honorable mentions: Tulowitzki, 2005, 1st round, 39.1 WAR; Matt Holliday, 1998, 7th round, 18.4 WAR
Detroit Tigers: Lou Whitaker, 1975, 5th round, 74.9 WAR
The second baseman formed half of one of baseball's greatest double-play combos with shortstop Alan Trammell (70.4 WAR), who was selected one year later. Both players spent their entire career with Detroit, and they now rank fourth and fifth, respectively, on the franchise's all-time WAR list, behind only Hall of Famers Ty Cobb, Al Kaline and Charlie Gehringer.
Honorable mentions: Trammell, 1976, 2nd round; Justin Verlander, 2004, 1st round, 44.9 WAR
Houston Astros: Craig Biggio, 1987, 1st round, 65.1 WAR
The 22nd overall pick out of Seton Hall, Biggio spent his entire 20-year career with Houston and ranks 22nd all-time with 3,060 hits, and he is one of six players to collect at least 400 steals and 250 homers. Only longtime collaborator Jeff Bagwell (79.6), acquired from the Red Sox as a Minor Leaguer, has more WAR in Astros history.
Honorable mentions: Lance Berkman, 1997, 1st round, 48 WAR; Roy Oswalt, 1996, 23rd round, 45.9 WAR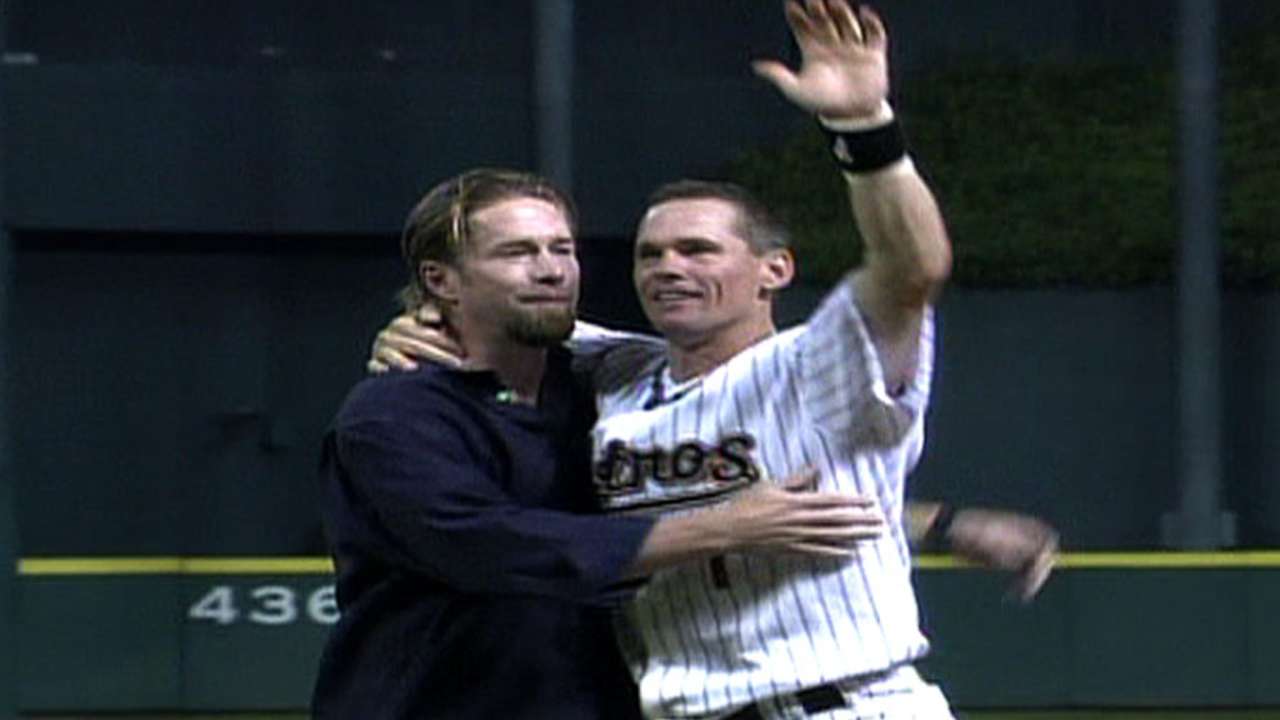 Kansas City Royals: George Brett, 1971, 2nd round, 88.4 WAR
Brett has almost twice as many WAR as any other player in Royals history and ranks fourth all-time among third basemen.
Honorable mentions: Kevin Appier, 1987, 1st round, 47.3 WAR; Willie Wilson, 1974, 1st round, 42.2 WAR
Los Angeles Angels: Chuck Finley, 1985, 1st round, 52.2 WAR
The left-hander remains atop the franchise's all-time WAR list, although Mike Trout is gaining on him rapidly. Finley, selected fourth overall in the now-defunct January phase of the Draft, pitched 14 of his 17 seasons for the Halos.
Honorable mentions: Trout, 2009, 1st round, 41.1 WAR; Tim Salmon, 1989, 3rd round, 40.5 WAR
Dodgers: Clayton Kershaw, 2006, 1st round, 52.7 WAR
Despite turning only 28 in March, Kershaw already ranks eighth in WAR in the long history of the Dodgers' franchise, less than 15 WAR behind all-time leader Don Drysdale. It's difficult to fathom now, but the left-hander was the seventh player off the board in 2006, with the five pitchers selected before him combining for roughly 13 WAR thus far.
Honorable mentions: Ron Cey, 1968, 3rd round, 47.5 WAR; Orel Hershiser, 1979, 17th round, 39.9 WAR
Miami Marlins: Giancarlo Stanton, 2007, 2nd round, 25.7 WAR
A total of 75 players were drafted before the Marlins grabbed Stanton out of a Southern California high school. Since debuting in 2010, the 6-foot-6 right fielder has posted a .900 OPS and smacked 193 homers, some of which might not have landed yet.
Honorable mentions: Josh Johnson, 2002, 4th round, 25.4 WAR; Jose Fernandez, 2011, 1st round, 11.6 WAR
Milwaukee Brewers: Robin Yount, 1973, 1st round, 77 WAR
The Hall of Famer played a grand total of 64 Minor League games, at Class A, before starting for Milwaukee on Opening Day 1974. A shortstop and center fielder, Yount finished with 3,142 hits and won the AL MVP Award in 1982 and '89.
Honorable mentions: Paul Molitor, 1977, 1st round, 59.6 WAR; Ryan Braun, 2005, 1st round, 41.9 WAR
Minnesota Twins: Kirby Puckett, 1982, 1st round, 50.9 WAR
The third pick of the January Draft out of an Illinois junior college, Puckett was a 10-time All-Star and a six-time Gold Glove Award-winning outfielder who captured a batting title and two World Series rings.
Honorable mentions: Joe Mauer, 2001, 1st round 49.4 WAR; Bert Blyleven, 1969, 3rd round, 49.3
New York Mets: David Wright, 2001, 1st round, 50 WAR
The Mets nabbed Wright 38th overall, with a supplemental pick gained when pitcher Mike Hampton left for the Rockies. Wright is the Mets' career leader in at-bats, runs, hits, doubles, total bases, walks and RBIs. He trails only Tom Seaver -- whom the Mets lucked into signing as an amateur free agent -- on the franchise's all-time WAR list.
Honorable mentions: Dwight Gooden, 1982, 1st round, 46.5 WAR; Darryl Strawberry, 1980, 1st round, 36.5 WAR
New York Yankees: Derek Jeter, 1992, 1st round, 71.8 WAR
There is no shame in trailing the quartet that Jeter does on the Yankees' all-time WAR list: Babe Ruth, Lou Gehrig, Mickey Mantle and Joe DiMaggio, all of whom debuted well before the Draft.
Honorable mentions: Andy Pettitte, 1990, 22nd round, 51.7 WAR; Ron Guidry, 1971, 3rd round, 48.1 WAR.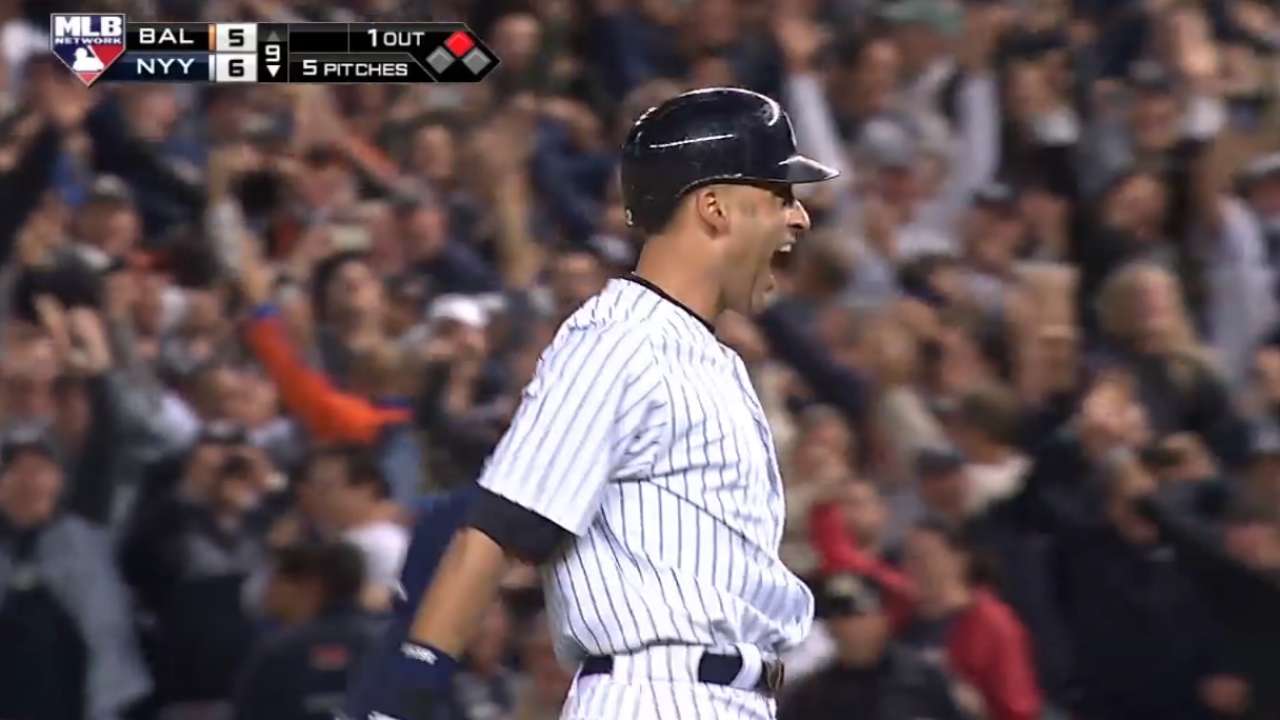 Oakland A's: Rickey Henderson, 1976, 4th round, 72.5 WAR
The stolen-base king's placement here carries an asterisk, as only 34.1 WAR came during the first of his four stints with Oakland, prior to his December 1984 trade to the Yankees. In his second go-round with the A's, Henderson won the 1989 World Series and then the AL MVP Award the following year.
Honorable mentions: Sal Bando, 1965, 6th round, 52 WAR; Reggie Jackson, 1966, 1st round, 48 WAR
Philadelphia Phillies: Mike Schmidt, 1971, 2nd round, 106.5 WAR
Schmidt holds the distinction of having accrued the most WAR for the club that drafted him, and in one of baseball's great coincidences, he was selected 30th overall, immediately after the Royals took Brett, a fellow Hall of Fame third baseman.
Honorable mentions: Chase Utley, 2000, 1st round, 61.5 WAR; Jimmy Rollins, 1996, 2nd round, 46.1 WAR
Pittsburgh Pirates: Barry Bonds, 1985, 1st round, 50.1 WAR
Picked sixth overall out of Arizona State, Bonds played only seven seasons in Pittsburgh before leaving for San Francisco, but he won two of his seven NL MVP Awards during that time.
Honorable mentions: Andrew McCutchen, 2005, 1st round, 38.5 WAR; Dave Parker, 1970, 14th round, 34.7 WAR
San Diego Padres: Tony Gwynn, 1981, 3rd round, 68.8 WAR
No other player in Padres history has reached even half of Gwynn's WAR total with the franchise.
Honorable mentions: Dave Winfield, 1973, 1st round, 31.9 WAR; Jake Peavy, 1999, 15th round, 26.9 WAR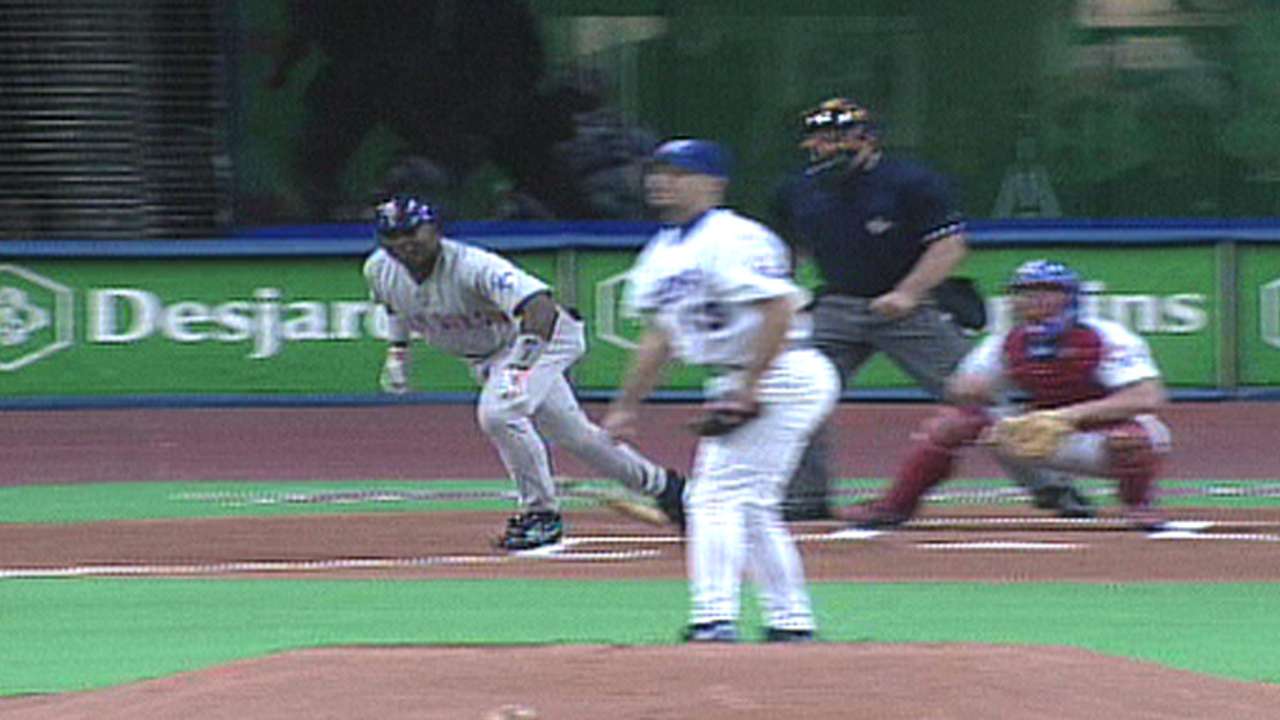 San Francisco Giants: Will Clark, 1985, 1st round, 35.5 WAR
Though Clark ranks a mere 20th in Giants history in WAR, with about one-fifth the total of leader Willie Mays, he does lead this list -- at least for now, with Buster Posey on his tail.
Honorable mentions: Matt Williams, 1986, 1st round, 33.9 WAR; Posey, 2008, 1st round, 30 WAR
Seattle Mariners: Ken Griffey Jr., 1987, 1st round, 70.4 WAR
Griffey, who will be enshrined in Cooperstown this summer, was in the Majors by age 19, less than two years after he was the top pick. Starting the next season, he made 10 straight All-Star teams and won 10 straight Gold Glove Awards with Seattle.
Honorable mentions: Alex Rodriguez, 1993, 1st round, 38 WAR; Alvin Davis, 1982, 6th round, 19.9 WAR
St. Louis Cardinals: Albert Pujols, 1999, 13th round, 86.4 WAR
In one of the Draft's biggest oversights, 401 picks came and went before the Cardinals took a certain third baseman from Kansas City's Maple Woods Community College.
Honorable mentions: Ted Simmons, 1967, 1st round, 44.8 WAR; Ray Lankford, 1987, 3rd round, 37.5 WAR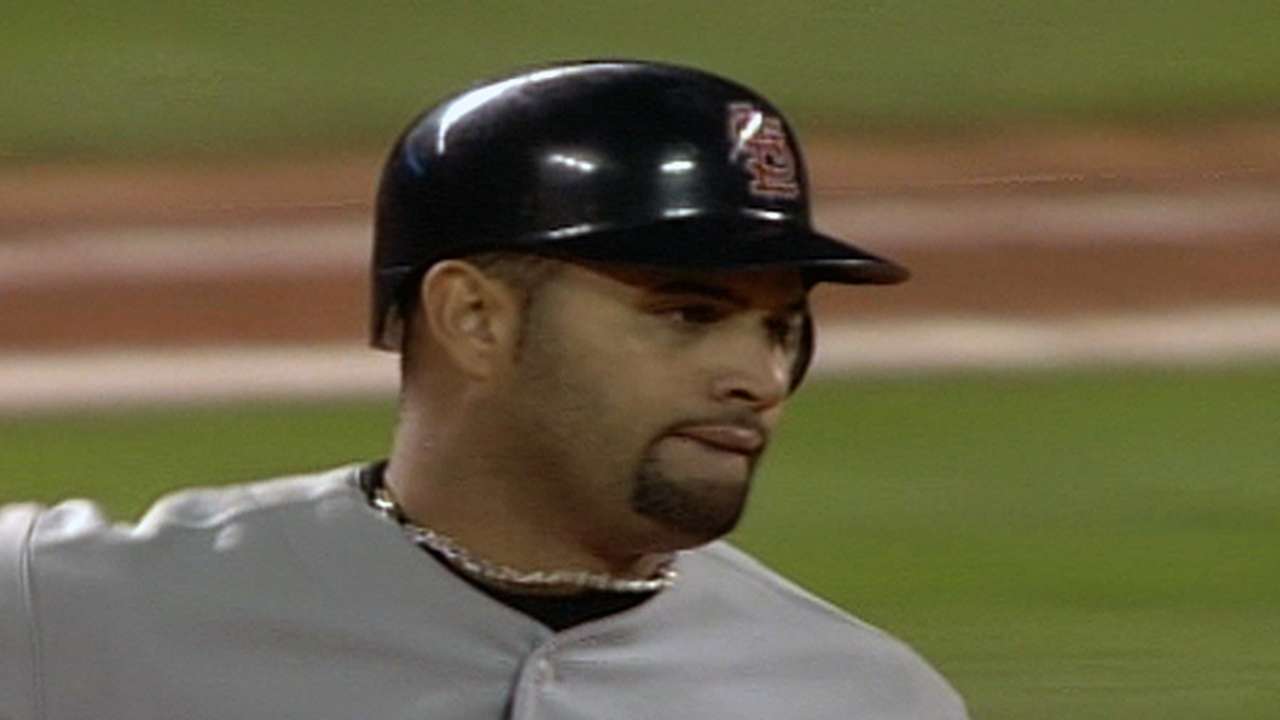 Tampa Bay Rays: Evan Longoria, 2006, 1st round, 44.3 WAR
Two years after Tampa Bay took him third overall out of Long Beach State, Longoria won the AL Rookie of the Year Award, helping the team reach the World Series. He now leads the young franchise not only in WAR, but also doubles, homers and RBIs.
Honorable mentions: Carl Crawford, 1999, 2nd round, 35.5 WAR; David Price, 2007, 1st round, 21.3 WAR
Texas Rangers: Ian Kinsler, 2003, 17th round, 35.1 WAR
Texas got a huge bargain when it selected the Missouri product 496th overall. By the time Kinsler was traded to Detroit after the 2013 season, he ranked fourth on the franchise's WAR list, behind only Ivan Rodriguez, Rafael Palmeiro and Buddy Bell.
Honorable mentions: Jim Sundberg, 1973, 1st round, 34.7 WAR; Kenny Rogers, 1982, 39th round, 31.6 WAR
Toronto Blue Jays: Dave Stieb, 1978, 5th round, 57.4 WAR
Toronto's all-time WAR leader was drafted 106th overall out of Southern Illinois and debuted in the Majors the following June. Stieb pitched all but four of his 443 games in a Jays uniform, and he still ranks first in franchise history in starts, complete games, shutouts, innings, wins and strikeouts.
Honorable mentions: Roy Halladay, 1995, 1st round, 48.3 WAR; Jimmy Key, 1982, 3rd round, 30.1 WAR
Washington Nationals: Ryan Zimmerman, 2005, 1st round, 35.2 WAR
If we include the Expos years, then Gary Carter, who was taken in the third round of the 1972 Draft, vaults to the top with 55.6 WAR. But going with the franchise's history since moving to D.C. in 2005, we have Zimmerman, the fourth overall pick from the loaded Draft that same year.
Honorable mentions: Bryce Harper, 2010, 1st round, 21.6 WAR; Jordan Zimmermann, 2nd round, 2007, 20.2 WAR
Joe Trezza and Andrew Simon are reporters for MLB.com. This story was not subject to the approval of Major League Baseball or its clubs.