Kazmir (thigh) on track for next start vs. Giants
Dodgers starter exited last outing early with cramp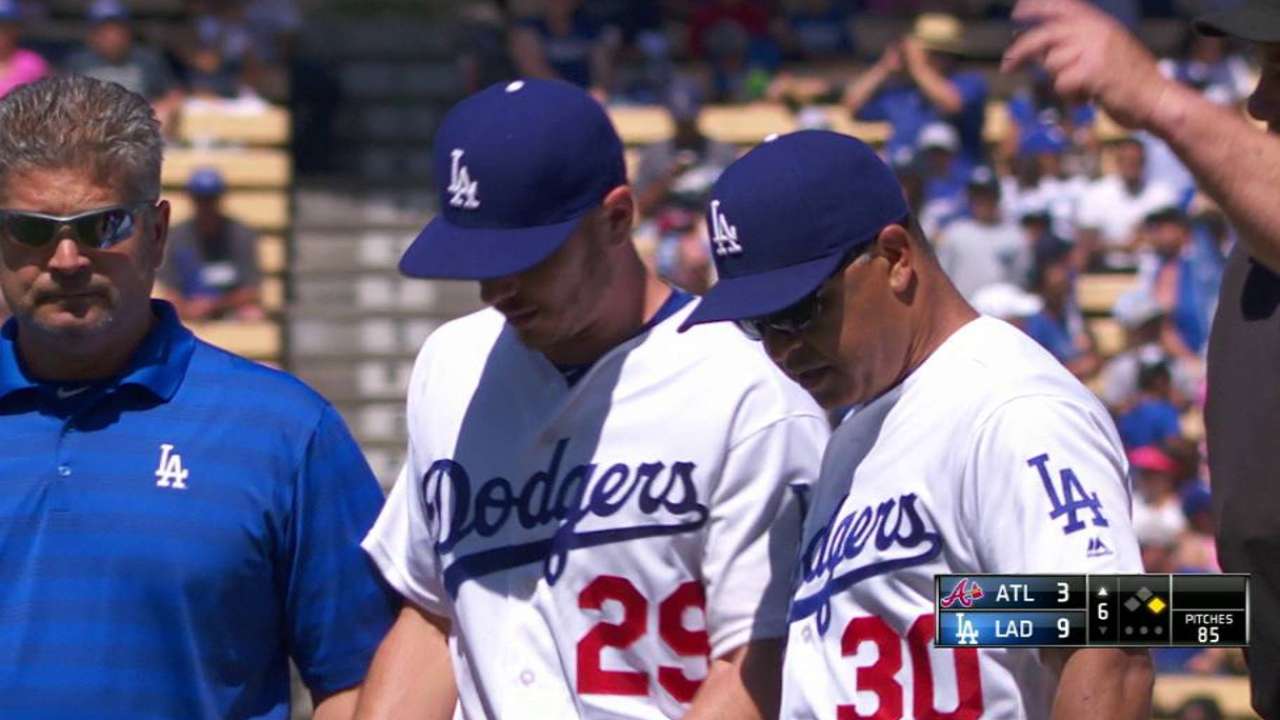 LOS ANGELES -- Dodgers starting pitcher Scott Kazmir, who left Sunday's game in the sixth inning with a left thigh cramp, will get an extra day of rest with a day off on Thursday and said he still expects to make his next scheduled start on Saturday in San Francisco.
Kazmir, who had two hits Sunday, said he and the training staff still have not conclusively determined the cause of Sunday's discomfort, which he said he felt during pregame warm-ups. He said he wasn't dehydrated, but suspected that extra running might have been the culprit.
Manager Dave Roberts provided more good pitching news, saying that Brandon McCarthy will begin a Minor League rehab assignment this week after an impressive three-inning simulated game Monday against, among other hitters, Roberts himself.
"He got up to 50 pitches," Roberts said. "I survived, confirmed the fact that I'm happy sitting here and not an active Major League player. It was good for me to get in the batter's box and see the ball coming out of Brandon's hand. The velocity was maybe 89-92. He repeated his delivery, the breaking ball was sharp."
McCarthy remains on schedule for an early July return from last year's Tommy John surgery.
Roberts, however, offered little in the way of positive news regarding Hyun-Jin Ryu, more than a year after his shoulder surgery. Ryu, who was supposed to be ready for the start of Spring Training, had his rehab stint shut down with no timetable to resume.
"He's in a buildup, not back to square one, but not to the point of throwing to hitters," Roberts said of Ryu. "He's ramping up. He's anxious and disappointed with certain setbacks, but we have to let it run its course."
Ken Gurnick has covered the Dodgers since 1989, and for MLB.com since 2001. This story was not subject to the approval of Major League Baseball or its clubs.