Walker returns home for 1st time since trade
Mets second baseman played first 7 MLB seasons in Pittsburgh, his hometown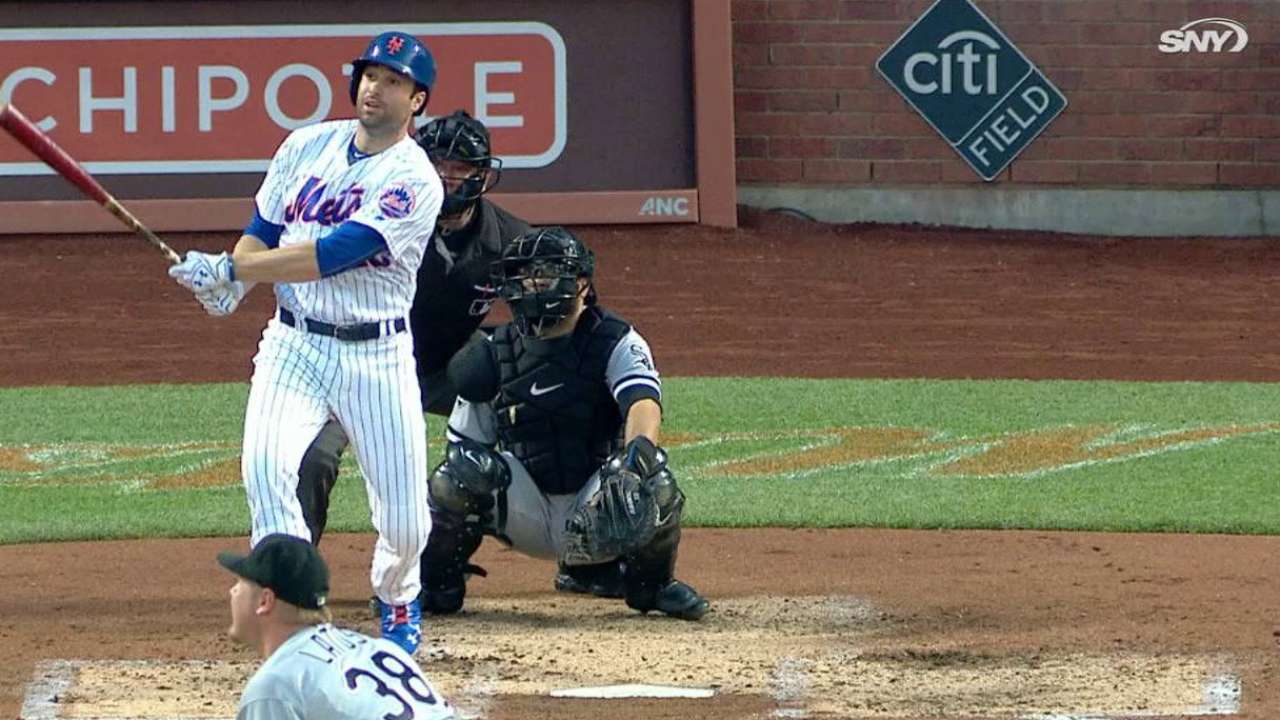 PITTSBURGH -- A few hours after arriving Monday at the clubhouse in Pittsburgh, both his hometown and longtime Major League home, Neil Walker hopped out of the PNC Park dugout for batting practice. As Walker ascended the steps, a group of several dozen stadium employees began clapping, whistling and cheering, their private ode to a native son.
"This is a place that I have a lot of great memories, a lot of great friendships on the field, off the field, in the community," Walker said at a news conference earlier in the day, his blue-and-orange Mets uniform a stark contrast to the Pirates' colors adorning a backdrop behind him. "I bled black and gold for a long, long time. It will still run through my veins for a long, long time. I can't say enough about the fans and about the city and about the community and about the organization."
Walker's official return will have to wait a day, as Monday's scheduled game was postponed due to rain. But Walker did not have to wait to experience the first waves of adulation.
Walker's trade from Pittsburgh to New York last offseason did not particularly surprise him, given his contract situation -- he's making $10.5 million this season, his last before free agency -- and the fact that the Pirates never made an aggressive move to sign him to a long-term deal. But the move was nonetheless jarring for Walker, who grew up in the area, recently bought a house 20 minutes north of the city and still considers Pittsburgh home.
Only over the course of months has Walker settled in with the Mets, hitting nine home runs in April to endear himself to a fan base mourning the loss of one of its own favorites, Daniel Murphy.
"I don't need to retell any stories about the business," said Walker, who will face the man for whom he was traded, Jonathon Niese, on Tuesday. "Here I am in a Mets uniform, and they've embraced me with open arms. I couldn't be happier with where I've landed."
Because the Mets didn't face the Pirates in Spring Training and the two clubs have yet to play their series in New York, Monday marked Walker's first chance since the trade to greet old friends and teammates -- he spent time chatting up everyone from security guards to cameramen -- while his family soaked in the scene.
"I look forward to getting the time with him, to say hello, give him a hug," Pirates manager Clint Hurdle said. "I've talked to his dad over the last couple weeks, so I've been connected. ... I'm sure it's a good time in the house for everybody."
Anthony DiComo has covered the Mets for MLB.com since 2008. Follow him on Twitter @AnthonyDiComo and Facebook, and listen to his podcast. This story was not subject to the approval of Major League Baseball or its clubs.