Draft profile: Mickey Moniak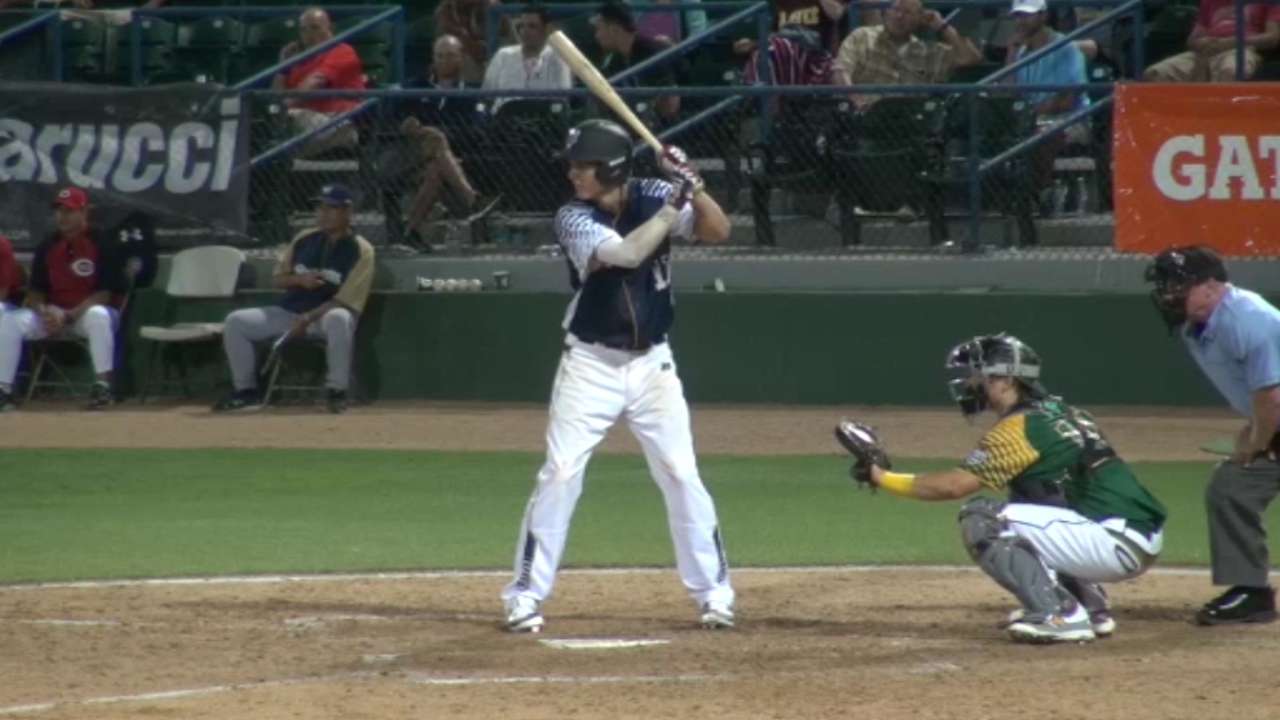 With the 2016 Draft fast approaching, we take a closer look at the top prospects in this year's class.
Name: Mickey Moniak
Position: CF
School: La Costa Canyon HS, Calif.
Rank on Draft Top 100: 5
DOB: 5/13/1998
Bats: L
Throws: R
Height: 6'2"
Weight: 190 lbs.
College commitment: UCLA
Tools
(Future grades on 20-80 scouting scale)
Hit: 55
Power: 45
Run: 60
Arm: 50
Field: 60
Overall: 55
Stats
Games: 29
Avg: .476
AB: 105
2B: 4
HR: 12
RBI: 46
OBP: .540
Scouting report
At the start of the summer, Moniak was thought of as a decent high school prospect from Southern California. By the time the showcase circuit was over, the outfielder had emerged as one of the best high school bats in the nation. He cemented that reputation by continuing to rake all spring. While Blake Rutherford was thought as the top SoCal high school outfielder, there are now scouts who feel Moniak has caught up, if not passed him. That's largely because of Moniak's hit tool and his ability to stay in center field long-term. Moniak makes consistent hard contact against high levels of competition. He has a good approach at the plate and can spray line drives to all fields. Moniak has more doubles power that he did previously, but there's room in his frame to add strength. His above-average speed works on both sides of the ball, and some see a future Gold Glove caliber center fielder. Moniak gets high marks for his baseball instincts and effort. The UCLA commit has shown an ability to slow the game down as the competition improves. That should bode well for him at the next level and it would shock few if he ended up being the first high school hitter taken in the first round.
MLB comp: Christian Yelich
Fun fact: Moniak is just the fourth player to make his high school's varsity team as a freshman. It might have helped that his grandfather had a five-year professional career of his own, and learned under the hitting wisdom of Ted Williams.
He said it: "I started in the YMCA tee-ball leagues when I was two years old. Ever since then I kept playing, played little league -- never played any other sport. It's always been baseball. And I've never thought to play any other sport."
They said it: "He runs well, he has an incredible nose for the baseball in the outfield. His instincts, first step are amazing. And then you get the speed and his hitting ability -- that's off the charts. I've never seen a guy that's been able to barrel the ball so many times consistently. Even his outs are well struck."
-- La Costa Canyon High School varsity baseball coach Justin Machado
Carlos Collazo is an associate reporter for MLB.com. Follow him on Twitter @carlosacollazo. This story was not subject to the approval of Major League Baseball or its clubs.