After setting bold goal, Lewis could be 1st pick
Mercer center fielder set sights on being top-five player following 2015 season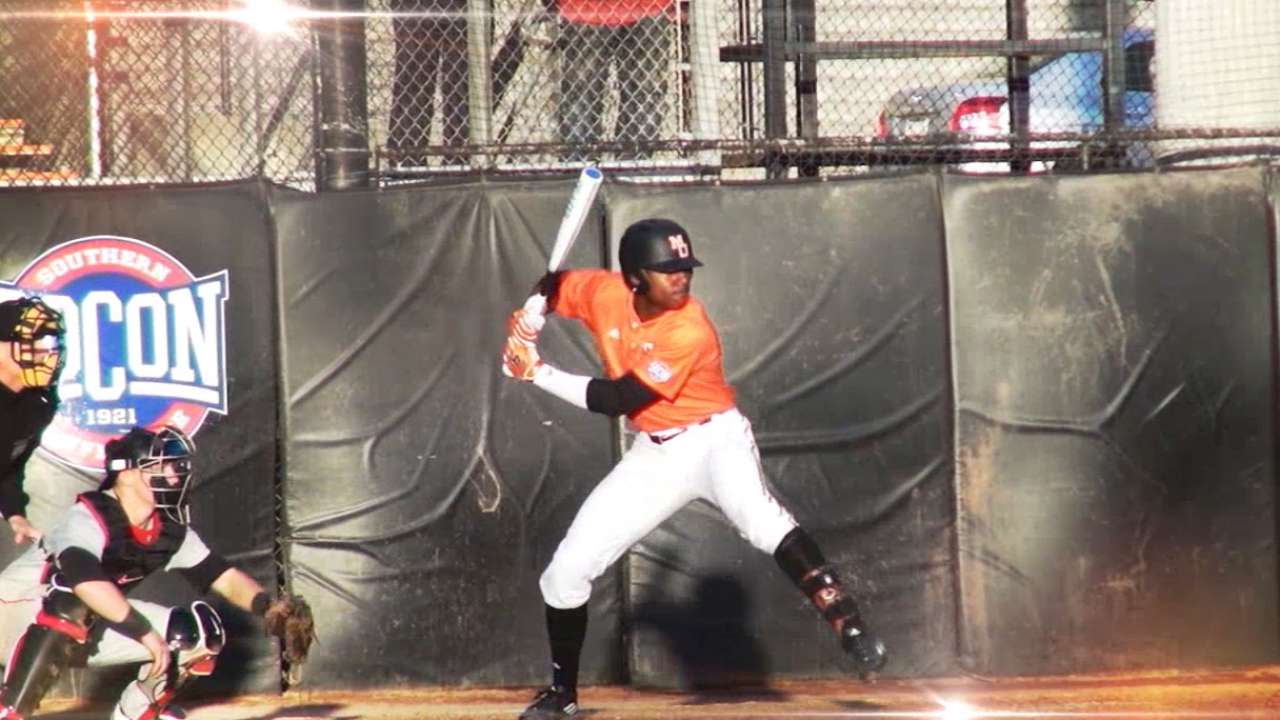 ATLANTA -- Craig Gibson avoids talking about individual goals with his players.
But while conducting end-of-season meetings after the 2015 campaign, Mercer University's baseball coach had only one question for Kyle Lewis, his star center fielder and the reigning Southern Conference Player of the Year.
"What's next for you now?" Gibson asked.
"'Coach,'" Lewis said. "'I want to be one of the top five players in the country.'"
A statement of such magnitude might have surprised Gibson, or incited further questioning. But he knew, just like Lewis, that the day would come.
Almost a year later, Lewis has not only established himself as a standout at Mercer -- a school with just over 4,000 undergraduates in Macon, Ga. -- but also as one of the best players in college baseball who could be the first player selected in the 2016 MLB Draft, which starts Thursday.
First-round picks don't traditionally come from mid-major programs like Mercer. But Lewis, who went unnoticed by the ACC and SEC when he came out of Shiloh High School in Snellville, Ga., defies that notion.
"If God created a baseball player," Gibson said, "He reached out and created a 6-foot-4, 210-pound guy who can do what he does."
Lewis played basketball and baseball at Shiloh, but he fully committed to baseball the summer before his senior year in hopes of attaining a scholarship. He ultimately accepted a 25 percent scholarship with the Bears. He played in 42 games as a freshman and made 17 starts on a senior-laden team while transitioning from first base to the outfield.
"I remember telling all of the older guys," Gibson said, "'Watch back in a couple of years and see how he develops. He's going to be fun to watch.' I wish we were smart enough to say we knew this was coming, but he certainly has put himself in a good position."
That progression began the following summer, when Lewis earned the Great Lakes League Player of the Year Award and a callup to the prestigious Cape Cod League.
Upon his return to Mercer for his sophomore season, Lewis' ascension continued. He dominated the Southern Conference while hitting .367 with 17 home runs and 56 RBIs.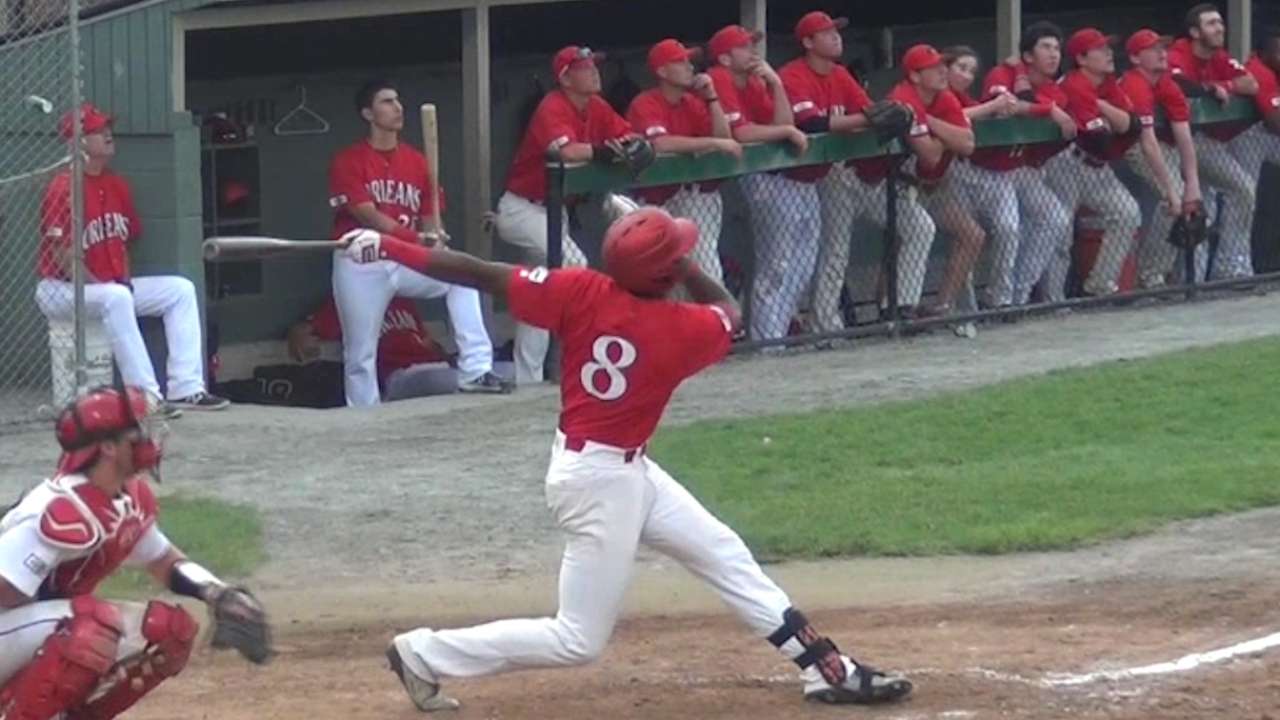 But with Lewis' success came questions. Concerns about the level of competition he faced in the Southern Conference led to doubts about his skills translating to the Majors -- or even the ACC or SEC. Those worries peaked in the fall of 2014, when no Cape Cod League team offered Lewis a full-time spot on its roster for the upcoming summer.
"I felt like they were overlooking me a little bit, like they were underestimating what I could do," Lewis said. "Offering the temporary [contract] after I'd already been up there, I felt like I was worthy of more than that."
Gibson refused to settle. Lewis would either be awarded a full-time spot, or he wouldn't play there that summer.
The Orleans Firebirds eventually signed Lewis to a full-time contract in the spring. And against some of the top college pitchers, he maintained his production, hitting .300 with seven home runs and seven doubles in 39 games using a wood bat.
"I think it proved to him he could compete against the best and that he was one of the best players in the country," said Kelly Nicholson, who's now in his 15th summer managing the Firebirds. "And I would tell him that. I'd say, 'K-Lew, you're as good as any position player in the United States. Just go out there next year at Mercer and be who you are.'
"And holy cow, what a year he had."
Lewis parlayed his memorable summer into an unforgettable spring, as he reclaimed Southern Conference Player of the Year honors, this time after batting .395 with 20 home runs and 72 RBIs as a junior.
Scouts flocked to Mercer. For away games, fans lined up outside the gates before batting practice, hoping to see him walk off the bus. One person, Gibson recalled, drove five hours to an away game just to get Lewis' autograph.
"He's shed a lot of light on our program," Gibson said. "He's handled it just like a champ, and he's a great teammate, he's a great role model and we couldn't have anyone out in front who represents our program any better than him and his family."
Charles and Ruth Lewis, Kyle's parents, never looked beyond Kyle's career at Mercer. His education always came first. But the whirlwind that's ensued leading up to the Draft has swept them away emotionally.
"Even though he's 6-foot-4 and [210 pounds], he's still our little boy …" Charles said. "So it's hard to really grasp he could be one of the top picks or the top pick."
But for Kyle, this moment, just like his vision of becoming one of the top five players in the country, always seemed plausible.
"It's something I always felt like I was able to accomplish," he said. "I felt like if I would just apply myself and become a student of the game, try to learn as much as I can and work as hard as I can, that I felt like I had the talent and the ability to be somebody who could be selected.
"To start to see things come together, it's just satisfying to see myself grow into the type of person I always wanted to be and the type of player I always felt like I could be."
Pat James is a reporter for MLB.com based in Atlanta. This story was not subject to the approval of Major League Baseball or its clubs.