Turner optioned as Nats reinstate Zimmerman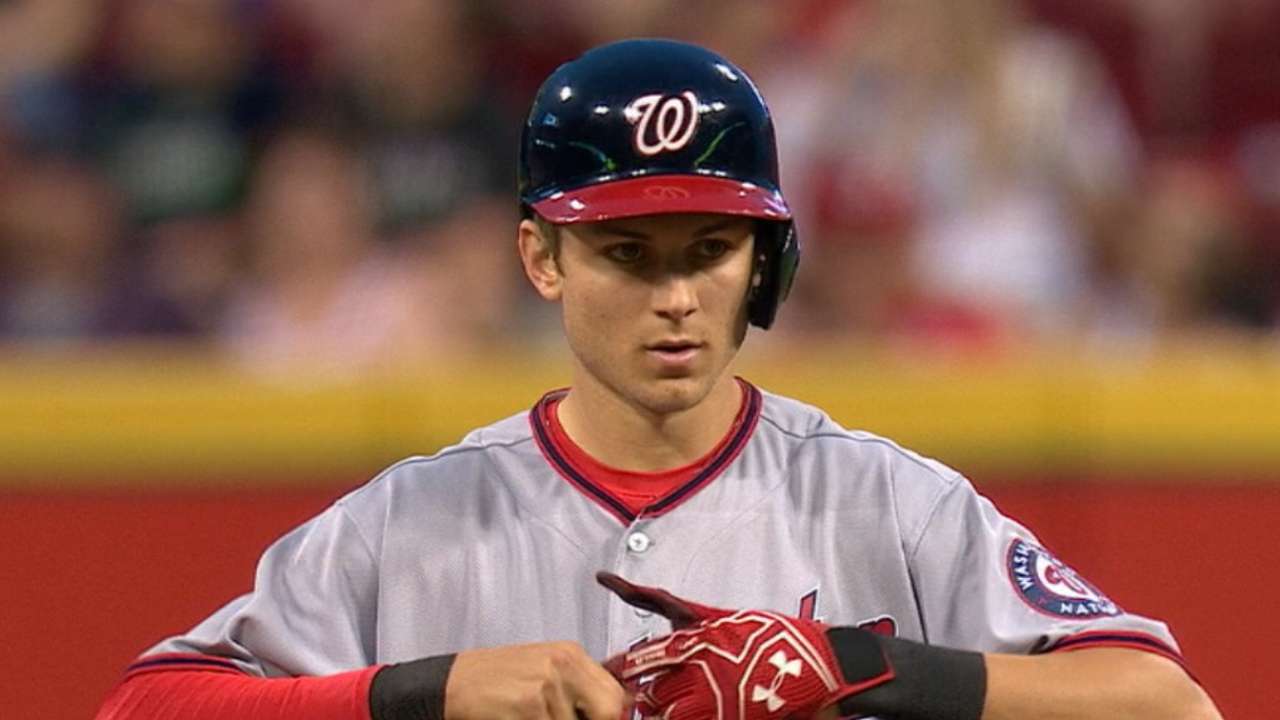 CHICAGO -- This past weekend in Cincinnati offered only a brief glimpse of what Trea Turner, the Nationals' No. 2 prospect as rated by MLBPipeline.com, could potentially bring to the Majors.
Turner made an immediate impact in his only start of the weekend on Friday night, when he played second base, batted second and went 3-for-3 with a double and a walk. His only other appearance in the series was as a pinch-runner in the eighth inning on Saturday. On Monday morning, Washington reinstated Ryan Zimmerman from the paternity list and optioned Turner back to Triple-A Syracuse.
"Exciting player; he's got a lot to offer," left fielder Jayson Werth said. "He's young, he's fast. He can hit a little bit, too. He showed good signs [Friday] and in Spring Training. I think the sky's the limit for this kid."
The Nats were clear from the start of the weekend that Turner's stay was going to be brief -- "unless Zimmerman has another baby in the meantime," manager Dusty Baker joked. But Turner's exciting 2016 debut will only increase speculation for when his stay in the Majors becomes long term.
"It's everywhere. It's hard not to see it," Turner said of the speculation. "But you can't think about that [or] I'm going to go out there and play pretty bad. You have to play defense for the pitchers. It's a team game. If you're not ready mentally, it can hurt your team just as much physically."
Turner, 22, is hitting .310/.376/.472 with 17 stolen bases at Triple-A, and he would almost certainly provide an upgrade to an offense that ranks 16th in the Majors in runs. The Nationals' everyday lineup has struggled to produce consistently and has at least four players who have played below replacement level for much of the season. However, the Nats want Turner to improve defensively before he takes over the starting shortstop role for Washington.
Even though the Nationals' current shortstop, Danny Espinosa, has played below replacement level on offense and owns an OPS+ of 69, he is a stellar defensive shortstop. They value his glove right now more than they do an upgrade on his bat.
And Espinosa's season at the plate has been a bit unusual. He believes he has been plagued by some bad luck, supported by a .220 batting average on balls in play. Although Espinosa's average is below .200, he does have eight home runs, including five in the past 10 games. That normally would indicate a sign of progress; however, he only has six hits during that time period.
"Obviously, I'd like more base hits," Espinosa said. "The power, I'm not up there trying to do it. I think I'm just taking advantage of a few mistakes. My goal is to just keep hitting the ball hard, stay with my approach, keep grinding."
Turner admitted on Friday that although he is competitive and wants to be in the Majors, there were still some things that he wants to work on as well, including erasing what he called dumb errors. But as long as Espinosa struggles, the calls for Turner to return to the Majors will only grow louder.
"He's still got some things to learn, and let's let him learn it," Baker said of Turner. "Besides, right now there's no room. ... I told him, 'Hey, time is on your side.' I've been where he's been already. We're always in a hurry, but his future is very bright and it's ahead of him."
Jamal Collier covers the Nationals for MLB.com. Follow him on Twitter at @jamalcollier. This story was not subject to the approval of Major League Baseball or its clubs.