Draft profile: Delvin Perez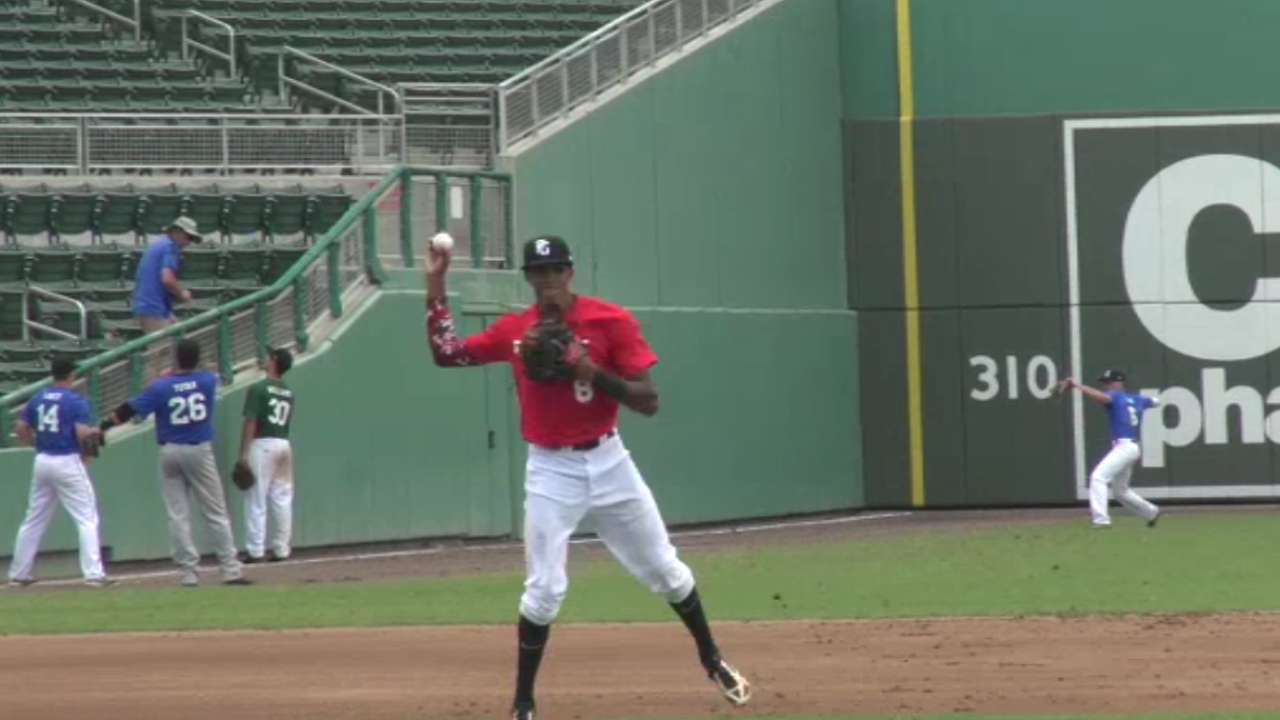 With the 2016Draft fast approaching, we take a closer look at the top prospects in this year's class.
Name: Delvin Perez
Position: SS
School: International Baseball Academy (Puerto Rico)
Rank on Draft Top 200: 8
DOB: 11/24/1998
Bats: R
Throws: R
Height: 6'3"
Weight: 165 lbs.
Tools
(Future grades on 20-80 scouting scale)
Hit: 50
Power: 40
Run: 60
Arm: 60
Field: 60
Overall: 55
Stats: From International Baseball Academy and High School during summer 2015
Average: .370
At-bats: 46
Doubles: 5
Triples: 2
Home runs: 3
Stolen bases: 8
HBP: 5
Strikeouts: 8
Scouting report:
The 2012 Draft was a banner one in Puerto Rico, with shortstop Carlos Correa going No. 1 overall and four players going in the top three rounds. Since then, however, a Puerto Rican player hasn't been drafted before the third round. That will change in 2016, once again with a talented shortstop leading the way.
Perez has everything needed to stay at shortstop long term. He has good speed and instincts, allowing him to have outstanding range. Perez's plus arm works very well from everywhere, and his hands work extremely well. Able to make the flashy play, perhaps his only flaw defensively is that he tries to do too much on occasion. Perez's bat is behind his glove, but there are tools to work with. He can ambush a fastball early in the count, but his approach at the plate and pitch recognition need refinement. Perez's speed works on offensive, and he could grow into more power as he matures.
Premium middle infielders are hard to come by. While Perez has been a bit inconsistent this spring, he's flashed enough raw tools to have him placed very firmly in top 10 picks conversations.
MLB comp: Manny Machado, Alfonso Soriano
Fun fact: Perez literally grew up in the church. In 2005, Perez's father transformed the building that housed the family-owned cockfighting ring into a two-story church and apartment. Perez and family live on the second floor. The church -- Casa del Alfarero -- is on the first floor.
He said it: "I want to get to big leagues and be an All-Star and be in the Hall of Fame one day. I want to be like [Houston Astros shortstop] Carlos Correa. He's my favorite player. He knows what he wants and he loves baseball. I do, too."
-- Perez
They said it: "I've seen him play a few times. He has a lot of talent and he has what it takes to make it to the Major Leagues. It's about talent and attitude and focus. There are a lot of things that go hand-in-hand with being a Major League player."
-- Correa
Jesse Sanchez is a national reporter for MLB.com based in Phoenix. Follow him on Twitter @JesseSanchezMLB and Facebook. This story was not subject to the approval of Major League Baseball or its clubs.