MLB.com Columnist
Bill Ladson
Nationals hope to strike gold in 1st round of Draft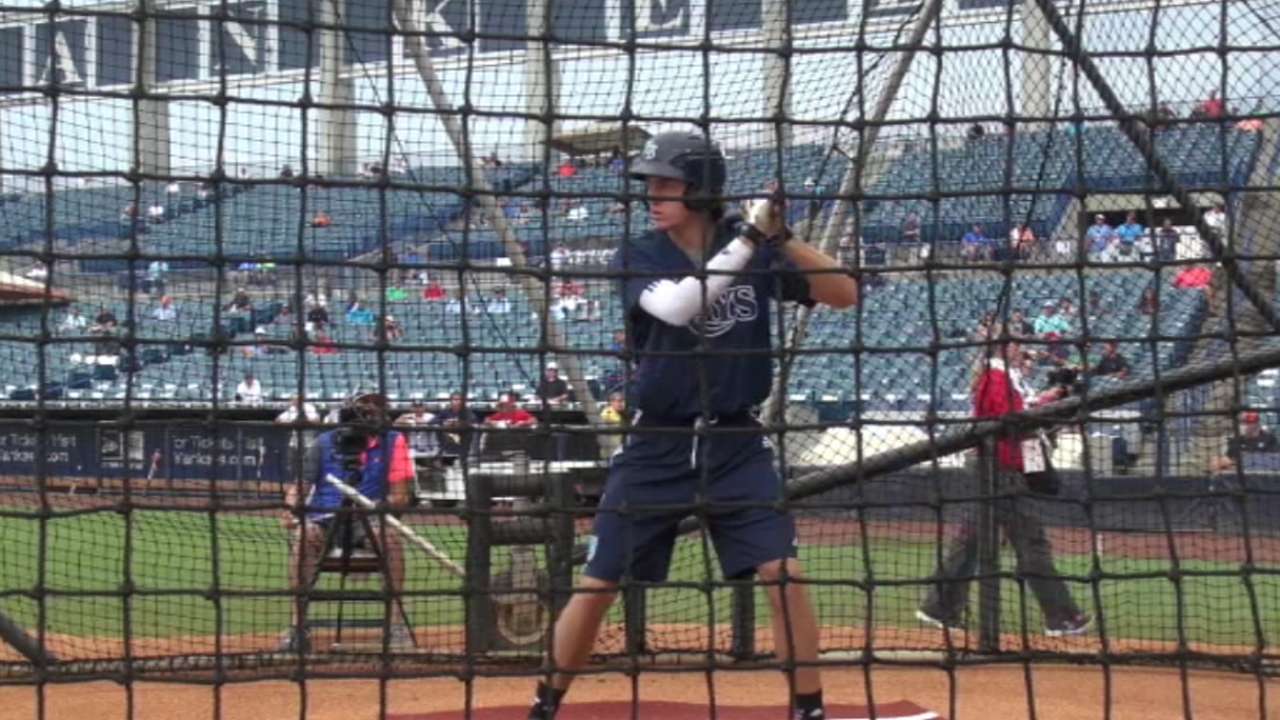 WASHINGTON -- Since joining the Nationals in 2006, general manager Mike Rizzo and his staff seem to always find quality players in the MLB Draft, and this year will be no different. Their history shows they can pick future Major Leaguers, like Bryce Harper, Anthony Rendon and Stephen Strasburg.
The 2016 Draft will take place today through Saturday, beginning with the Draft preview show on MLB Network and MLB.com at 6 p.m. ET. Live Draft coverage from MLB Network's Studio 42 begins at 7 p.m., with the top 77 picks being streamed on MLB.com and broadcast on MLB Network. MLB.com's exclusive coverage of Day 2 begins with a live Draft show at 12:30 p.m. on Friday, with exclusive coverage of Day 3 beginning at 1 p.m. on Saturday.
MLB.com's coverage includes Draft Central, the Top 200 Draft Prospects list and Draft Tracker, a live interactive application that includes a searchable database of over 1,500 Draft-eligible players. Every selection will be tweeted live from @MLBDraftTracker, and you can also keep up to date by following @MLBDraft. And get into the Draft conversation by tagging your tweets with #mlbdraft.
Here's how the Draft is shaping up for the Nats, whose first selection is the No. 28 overall pick.
In about 50 words
Rizzo and his staff are at their best when they replenish the farm system with Draft picks. Unlike last year, when they were looking for position players who hit from the left side with power, assistant general manager Kris Kline said the Nationals are looking for the best player available.
The scoop
According to Kline, there isn't a player who has separated himself from the pack. It's not like in 2009, when Strasburg was clearly the best player in the Draft. The Nats have been known to get quality players from the second round on down. Last year, they did pretty well with Andrew Stevenson, who is now hitting over .300 for Class A Advanced Potomac.
First-round buzz
The Nationals have two compensation picks (28th and 29th) in the first round for losing right-hander Jordan Zimmermann and shortstop Ian Desmond to free agency. Kline said the Nats wouldn't find power hitters from the left side. Infielder Drew Mendoza seems to be a popular consensus. He is a left-handed hitter with doubles power. But that could turn into home run power once Mendoza gets into professional baseball. With their second pick, it would not come as a surprise if the Nationals selected a pitcher.
Money matters
Under the Collective Bargaining Agreement, each team has an allotted bonus pool equal to the sum of the values of that club's selections in the first 10 rounds of the Draft. The more picks a team has, and the earlier it picks, the larger the pool. The signing bonuses for a team's selections in the first 10 rounds, plus any bonus greater than $100,000 for a player taken after the 10th round, will apply toward the bonus-pool total.
Any team going up to 5 percent over its allotted pool will be taxed at a 75 percent rate on the overage. A team that overspends by 5-10 percent gets a 75 percent tax plus the loss of a first-round pick. A team that goes 10-15 percent over its pool amount will be hit with a 100 percent penalty on the overage and the loss of a first- and second-round pick. Any overage of 15 percent or more gets a 100 percent tax plus the loss of first-round picks in the next two Drafts.
To sign their first 10 picks, the Nationals have been allocated a pool total of $7,635,500, which is up from the $4,102,700 they had last year. Washington has two compensatory picks this year for Zimmermann and Desmond, who signed with the Tigers and Rangers, respectively. The Nats have an allocation of $2,065,900 to spend on their top choice.
Shopping list
There isn't much of one like last year. It wouldn't come as a surprise if the Nationals loaded up on pitchers like they always do during the Draft. The Nats could also be looking for catchers for the system. As of now, Pedro Severino is the only catcher in the system who has a chance to be a star in the big leagues.
Trend watch
The Nationals are known to take risks on players who are injured. Rendon and right-hander Lucas Giolito are two examples of players who were hurt before they were drafted. Rendon had shoulder and ankle problems before he was taken in 2011, and Giolito needed Tommy John surgery before he was selected by the Nats. Both are healthy now. Rendon is the starting third baseman for the Nationals, while Giolito is on the cusp of joining the big league team. He is currently with Double-A Harrisburg and has been consistent on the mound.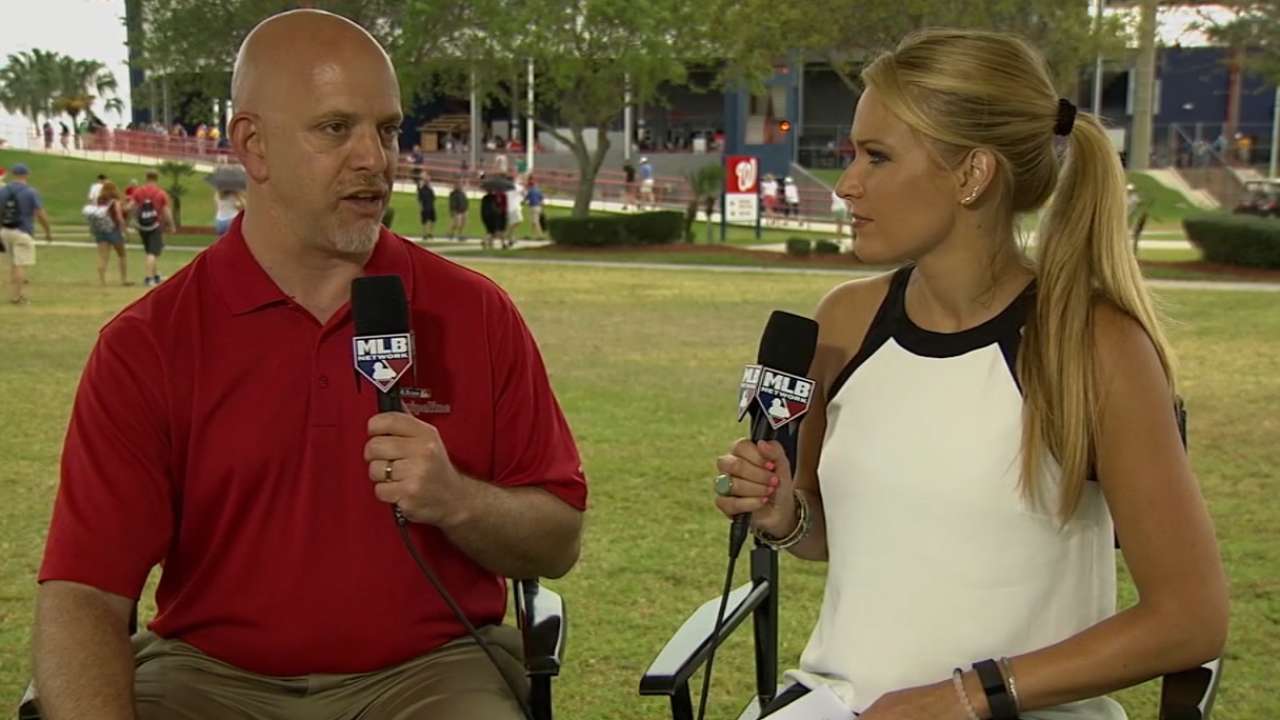 Recent Draft history
Rising fast
Right-hander Koda Glover was taken in the eighth round of last year's Draft, and one scout believes he could be a September callup and make the bullpen even better. Glover started this season with Potomac and is now with Harrisburg. After a slow start with Harrisburg, Glover has settled down and has seen his ERA drop to 2.87. Glover has averaged 13.1 strikeouts per nine innings this season.
Cinderella story
Left-hander Bryan Harper doesn't get the publicity like his younger brother, Bryce. But there is no denying that he is one of the best relievers in the system. Bryan has had an up-and-down career in professional baseball until now. Taken in the 30th round of the 2011 Draft, Harper has allowed four earned runs in 24 innings for Harrisburg with six saves.
In the Show
There are currently six players on their 25-man roster who were drafted by the Nationals. The best one, of course, is Harper, who was the No. 1 overall pick in the 2010 Draft. After all, he is the reigning National League MVP Award winner.
Besides Harper, the Nats have Strasburg (first round, '09), Rendon (first round, '11), Sammy Solis (second round, 2010), Danny Espinosa (third round, '08), Michael Taylor (sixth round, '09) and Ryan Zimmerman (first round, fourth pick, 2005).
The Nationals' recent top picks
2015: Stevenson, OF, Potomac
2014: Erick Fedde, RHP, Potomac
2013: Jake Johansen, RHP, Potomac
2012: Giolito, RHP, Harrisburg
2011: Rendon, 3B, Nationals
Bill Ladson has covered the Nationals/Expos for MLB.com since 2002 and writes an MLBlog, All Nats All the Time. He also can be found on Twitter @WashingNats. This story was not subject to the approval of Major League Baseball or its clubs.