O's focused on taking best-available player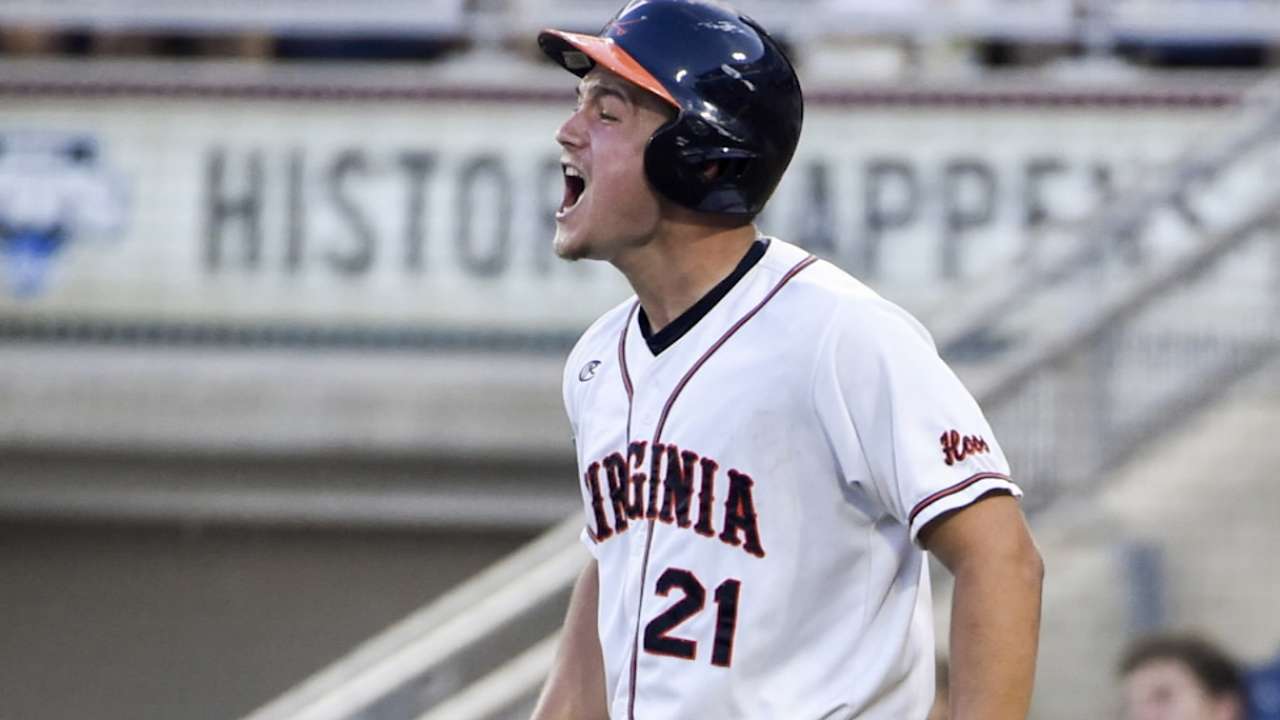 BALTIMORE -- The 2016 Draft will take place today through Saturday, beginning with the Draft preview show on MLB Network and MLB.com at 6 p.m. ET. Live Draft coverage from MLB Network's Studio 42 begins at 7 p.m., with the Top 77 picks being streamed on MLB.com and broadcast on MLB Network. MLB.com's exclusive coverage of Day 2 begins with a live Draft show at 12:30 p.m. on Friday, with exclusive coverage of Day 3 beginning at 1 p.m. on Saturday.
MLB.com's coverage includes Draft Central, the Top 200 Draft Prospects list and Draft Tracker, a live interactive application that includes a searchable database of over 1,500 Draft-eligible players. Every selection will be tweeted live from @MLBDraftTracker, and you can also keep up to date by following @MLBDraft. And get into the Draft conversation by tagging your tweets with #mlbdraft.
Here's how the Draft is shaping up for the Orioles, whose first selection is the 27th-overall pick.
In about 50 words
Baltimore will have four picks in the top 100, the first two of which are compensation picks -- one for departed lefty Wei-Yin Chen (No. 27) and one for not signing last year's No. 68 pick Jonathan Hughes (No. 69).
They also have picks 54 and 91, having traded away No. 76 to Atlanta in the recent deal involving Brian Matusz.
The scoop
The Orioles won't be able to zero in one or two players because of where they pick in the first round. They are focused on the best-available player, regardless of position, when it does come to their turn at pick 27.
First-round buzz
The Orioles have been most recently linked to Kent State left-handed pitcher Eric Lauer, as well as a pair of Pennsylvania high school products -- shortstop Nolan Jones and outfielder Alex Kirilloff.
Other names they've been connected with in previous weeks include high school third baseman Joe Rizzo, Oakton HS (Vienna, Va.), high school outfielder William Benson (Atlanta, Ga.) and University of Connecticut left-hander Anthony Kay.
Money Matters
Under the Collective Bargaining Agreement, each team has an allotted bonus pool equal to the sum of the values of that club's selections in the first 10 rounds of the Draft. The more picks a team has, and the earlier it picks, the larger the pool. The signing bonuses for a team's selections in the first 10 rounds, plus any bonus greater than $100,000 for a player taken after the 10th round, will apply toward the bonus-pool total.
Any team going up to 5 percent over its allotted pool will be taxed at a 75 percent rate on the overage. A team that overspends by 5-10 percent gets a 75 percent tax plus the loss of a first-round pick. A team that goes 10-15 percent over its pool amount will be hit with a 100 percent penalty on the overage and the loss of a first- and second-round pick. Any overage of 15 percent or more gets a 100 percent tax plus the loss of first-round picks in the next two Drafts.
The Orioles have been assigned a pool amount of $7,545,800, which ranks 15th in the Majors. The value assigned to the first-round pick is $2,097,200.
Shopping list
Baltimore's Draft philosophy under scouting director Gary Rajsich has primarily been about adding pitching depth, which has been an organization-wide approach with executive vice president of baseball operations Dan Duquette. While nothing will drastically change, the O's should be able to also add some solid position-player options.
Baltimore won't draft based on Major League need, so much as talent and athleticism. As manager Buck Showalter likes to say, "There's an impact player in every round." The O's will do their best to hit big early on.
Trend Watch
Three of the past four years that Baltimore has had a first-round pick, it has gone with a pitcher. But, again, given where it picks first, it may be more worthwhile to take a position player with upside.
Recent Draft history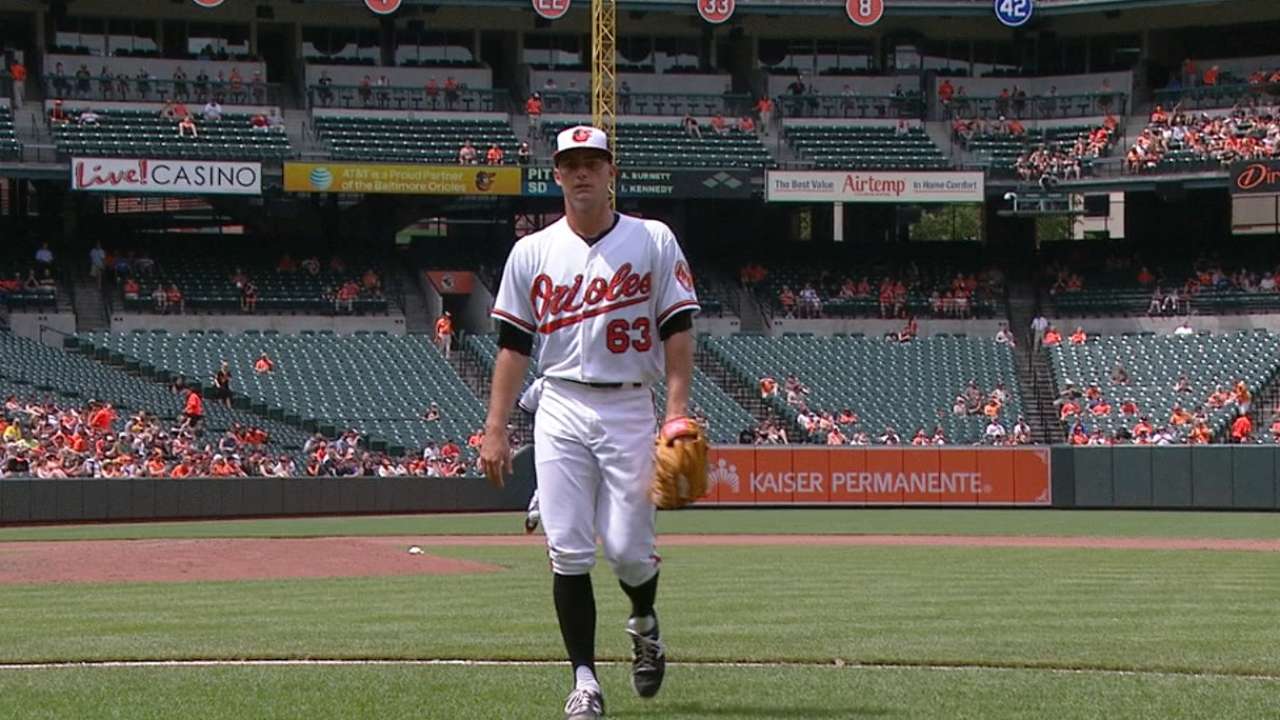 Cinderella story
Tyler Wilson, the O's 10th-round pick in 2011, has steadily climbed the ranks and made his Major League debut this year. Wilson, who got his first big league start in the May 28 doubleheader, has been a winner at every level and should return to Baltimore at some point later this season.
In the Show
Former top pick Manny Machado and Matt Wieters are among the homegrown position players on the active roster. On the pitching side of things, Baltimore has had more success with Wilson, Mike Wright, Zach Britton, Kevin Gausman and Dylan Bundy.
Orioles recent top picks
2015: D.J. Stewart, OF, Class A
2014: No first-round pick
2013: Hunter Harvey, RHP, Class A (disabled list)
2012: Gausman, RHP, Orioles
2011: Bundy, RHP, Orioles
2010: Machado, 3B, Orioles
Brittany Ghiroli has covered the Orioles for MLB.com since 2010. Read her blog, Britt's Bird Watch, follow her on Facebook and Twitter @britt_ghiroli, and listen to her podcast. This story was not subject to the approval of Major League Baseball or its clubs.