Thornburg sets franchise record out of 'pen
Right-hander retired 23rd straight batter during Saturday's win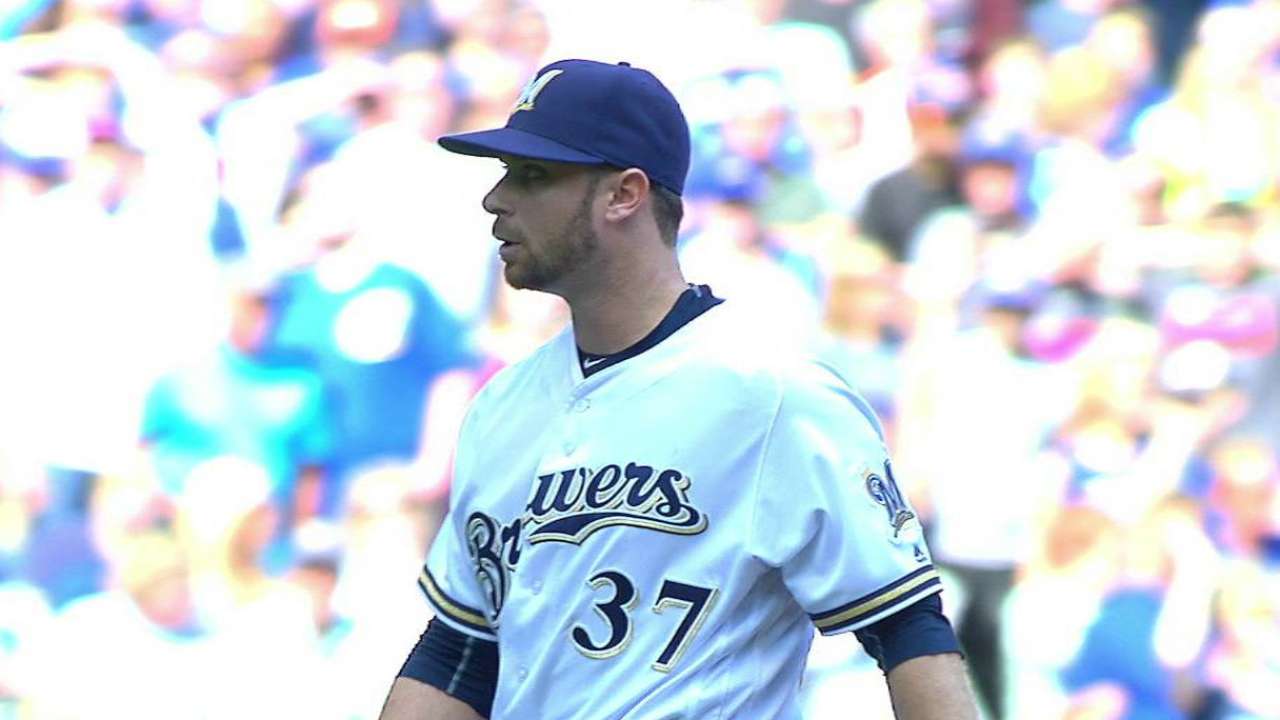 PHILADELPHIA -- Tyler Thornburg quietly set a franchise record in Saturday's 6-3 win over the Phillies when he retired his 23rd consecutive batter, most in Brewers history for a relief pitcher.
Thornburg, who carried the streak into Sunday's series finale at Citizens Bank Park, also had a 21-batter streak in 2014. As of Sunday morning, the only longer streaks in club history belonged to starters; Jamie Navarro set the franchise record in 1992 by retiring 28 hitters in a row over two games.
Through Saturday, Thornburg's run of 23 in a row spanned 12 games. The last hit against him was Melvin Upton Jr.'s line drive single in the 10th inning at Miller Park on May 14. Thornburg retired the next two batters, and the streak was on.
"Tyler has been pitching as good as someone can pitch," manager Craig Counsell said.
Some data driving Thornburg's season to date:
• Thornburg's average fastball velocity this season is up --significantly -- from 92.9 mph last season to 95.7 mph this season, according to Pitch f/x data on BrooksBaseball.net. So he's throwing it at the highest rate (62.7 percent of the time) since his small-sample 2012.
• His release point is down from last season, as are the resulting pitches. Thornburg's ground-ball rate (40.4 percent) is its highest since '12, and his "soft-hit" rate (21.2 percent) is his highest ever.
• At the same time, Thornburg's strikeouts are way up. Among relievers who have pitched at least 20 innings, Thornburg's 12.58 strikeouts per nine innings is 10th in the Majors and fourth in the National League.
"He's just really settled into what he's doing," Counsell said. "We tried to make it pretty clear on how he's being used, and it's got to a point where I think it's really comfortable, and he knows what he needs to do to be successful."
Thornburg's role has long been a point of debate. He once ranked as Milwaukee's top pitching prospect, and for the first two partial seasons of his big league career, Thornburg bounced between starting and relief. In 2014, the Brewers made him a reliever for good, partly out of necessity at the time, and partly because Thornburg seized the job before developing a sore elbow in late May that cost him the rest of that season.
The question today is: Would the Brewers be better off with Thornburg in their starting rotation?
"You can do that with a lot of successful relievers," Counsell said. "The issue really was that everybody knew Tyler was a big leaguer, but we didn't have a spot in the rotation for him. So what do you do? That was a team in 2014 that was trying to win, and contending. It happens."
Adam McCalvy has covered the Brewers for MLB.com since 2001. Follow him on Twitter @AdamMcCalvy, like him on Facebook and listen to his podcast.

Curt Hogg is a reporter for MLB.com based in Milwaukee. This story was not subject to the approval of Major League Baseball or its clubs.