Tigers aiming to cash in on highest pick since 2009
New front-office regime ready to make its mark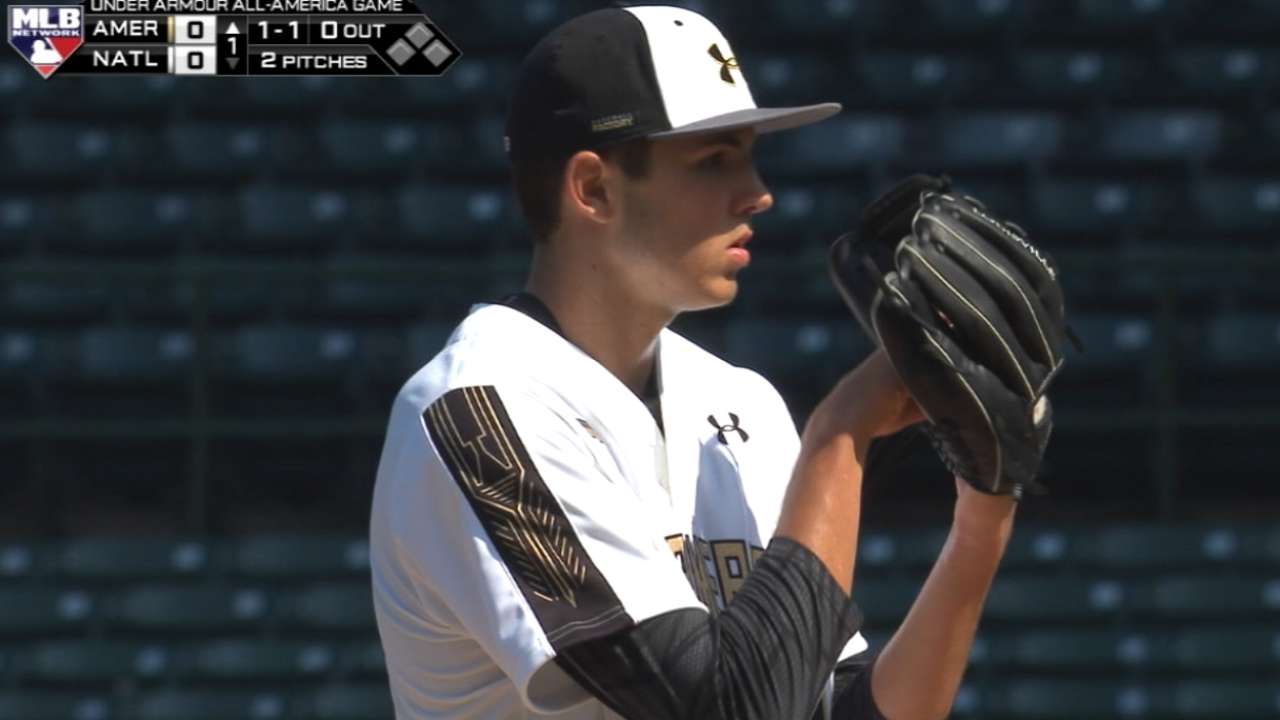 DETROIT -- The 2016 Draft will take place today through Saturday, beginning with the Draft preview show on MLB Network and MLB.com today at 6 p.m. ET. Live Draft coverage from MLB Network's Studio 42 begins at 7 p.m., with the top 77 picks being streamed on MLB.com and broadcast on MLB Network. MLB.com's exclusive coverage of Day 2 begins with a live Draft show at 12:30 p.m. on Friday, with exclusive coverage of Day 3 beginning at 1 p.m. on Saturday.
MLB.com's coverage includes Draft Central, the Top 200 Draft Prospects list and Draft Tracker, a live interactive application that includes a searchable database of over 1,500 Draft-eligible players. Every selection will be tweeted live from @MLBDraftTracker, and you can also keep up to date by following @MLBDraft. And get into the Draft conversation by tagging your tweets with #mlbdraft.
Here's how the Draft is shaping up for the Tigers, whose first selection -- and only selection in the first three rounds -- is the ninth-overall pick.
In about 50 words
Thanks to last year's last-place finish, the Tigers have their highest pick since 2009. It's a major chip for a Tigers front office that has placed a renewed emphasis on player development under general manager Al Avila and top assistant David Chadd, who ran Detroit's Draft for a decade.
The scoop
The Tigers trended toward the "best player available" under former GM Dave Dombrowski, and that's not likely to change under the new regime. Before the Draft pool era, they'd be in prime position to snag a top-rated player with contract concerns. Instead, they're in a good spot to pluck a potential top-five talent if there's a run at another position, or ride the wave of top-tier pitchers and snare whoever doesn't go earlier.
First-round buzz
The Tigers have been tied with top high school pitchers, notably Riley Pint of Overland Park, Kan., not far from Chadd's home base. Matt Manning, another hard-throwing high school righty from Sacramento, has also been rumored. If Detroit goes the college route, Louisville reliever Zack Burdi could be an intriguing option, much like Andrew Miller was a decade ago.
Money matters
Under the Collective Bargaining Agreement, each team has an allotted bonus pool equal to the sum of the values of that club's selections in the first 10 rounds of the Draft. The more picks a team has, and the earlier it picks, the larger the pool. The signing bonuses for a team's selections in the first 10 rounds, plus any bonus greater than $100,000 for a player taken after the 10th round, will apply toward the bonus-pool total.
Any team going up to 5 percent over its allotted pool will be taxed at a 75 percent rate on the overage. A team that overspends by 5-10 percent gets a 75 percent tax, plus the loss of a first-round pick. A team that goes 10-15 percent over its pool amount will be hit with a 100 percent penalty on the overage and the loss of a first- and second-round pick. Any overage of 15 percent or more gets a 100 percent tax plus the loss of first-round picks in the next two Drafts.
The Tigers have a bonus pool of $5,424,300 for the first 10 rounds -- the sixth-lowest amount. Though their top pick, the ninth-overall selection, carries an assigned value of $3,505,800, they lose about $2 million in bonus-pool money by forfeiting their second- and third-round picks as compensation for free-agent signings Jordan Zimmermann and Justin Upton.
Detroit has signed top picks to slot value in recent years, saving money to take a chance or two later on.
Shopping list
With recent Drafts replenishing the Tigers' system with hitters, notably outfielders, this could be a year for Detroit to go back to pitching -- notably relief-type arms. The Tigers have enough depth at the upper levels of the Minors to wait out high school players if the talent is there. But a limited Draft pool could have them leaning toward college products.
Trend watch
The Tigers have taken high school players with their top pick in two of the last three years. However, they've trended heavily toward college players in ensuing rounds. Fifteen of 16 picks last year were college players after high school hurler Beau Burrows went with Detroit's top selection. Two years ago, the Tigers followed high school outfielder Derek Hill with 29 consecutive college picks.
Recent Draft history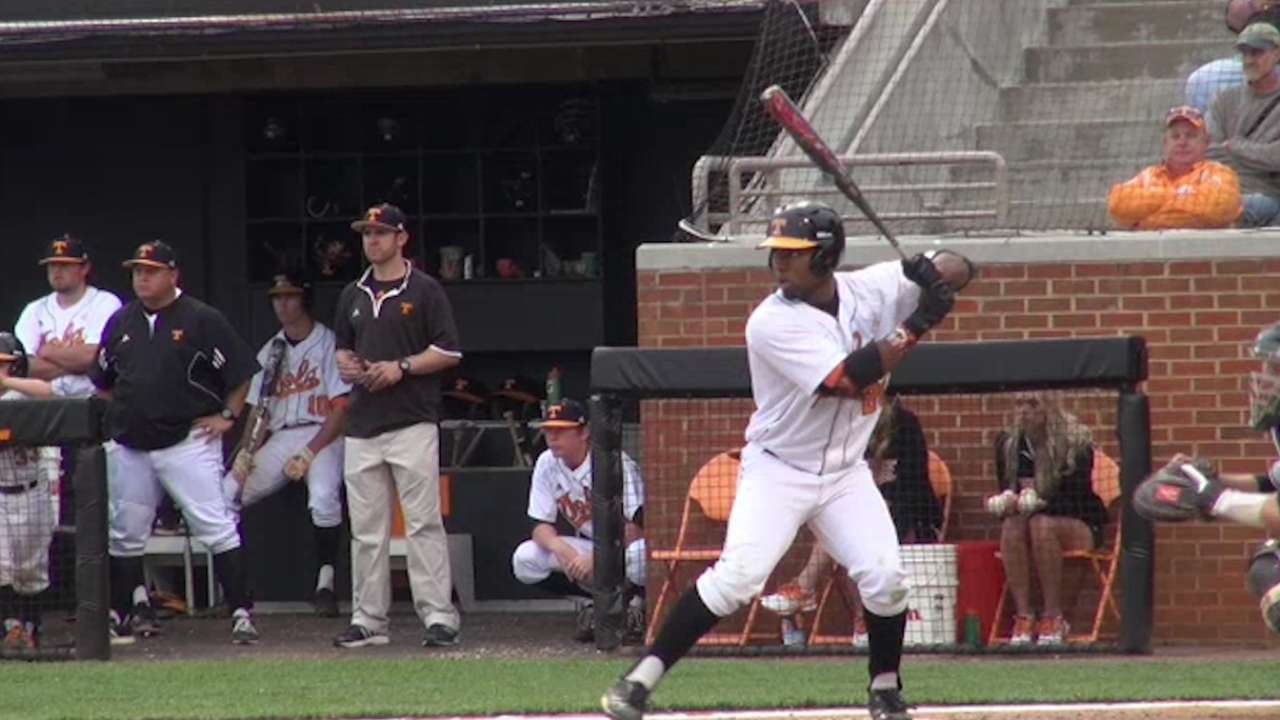 Rising fast
Christin Stewart was a supplemental first-round pick last year before he provided a late-season boost for Class A West Michigan. The former University of Tennessee standout then powered through the Florida State League this spring -- leading all of Minor League Baseball in home runs entering May, before earning a midseason All-Star selection.
Cinderella story
Outfielder Michael Gerber, a 15th-round selection out of Creighton two years ago, was a Midwest League All-Star last year at West Michigan, helping lead the Whitecaps to a league title, then made an impression in the Arizona Fall League before earning a non-roster invitation to big league Spring Training. The 23-year-old has had his growing pains at Class A Advanced Lakeland.
In the show
The Tigers have top former top picks as regulars in their starting lineup. Third baseman Nick Castellanos was a first-round pick in 2010, and James McCann was a second-round selection the following year. Drew VerHagen, a fourth-round pick in '12, and Kyle Ryan, a 12th-round selection in '10, were part of the Tigers' bullpen to open the season, as was '13 fifth-round pick Buck Farmer.
Recent top picks
2015: Burrows, RHP, Class A West Michigan
2014: Hill, OF, Class A West Michigan
2013: Jonathon Crawford, RHP, Reds organization (traded for Alfredo Simon)
2012: Jake Thompson, RHP, Rangers organization (traded for Joakim Soria)
2011: McCann, C, Detroit
2010: Castellanos, 3B, Detroit
Jason Beck has covered the Tigers for MLB.com since 2002. Read Beck's Blog, follow him on Twitter @beckjason and listen to his podcast. This story was not subject to the approval of Major League Baseball or its clubs.