Yanks scoring on double steal looms large in end
Ellsbury's swipe of home gives club 7-run lead, but turns out to be deciding run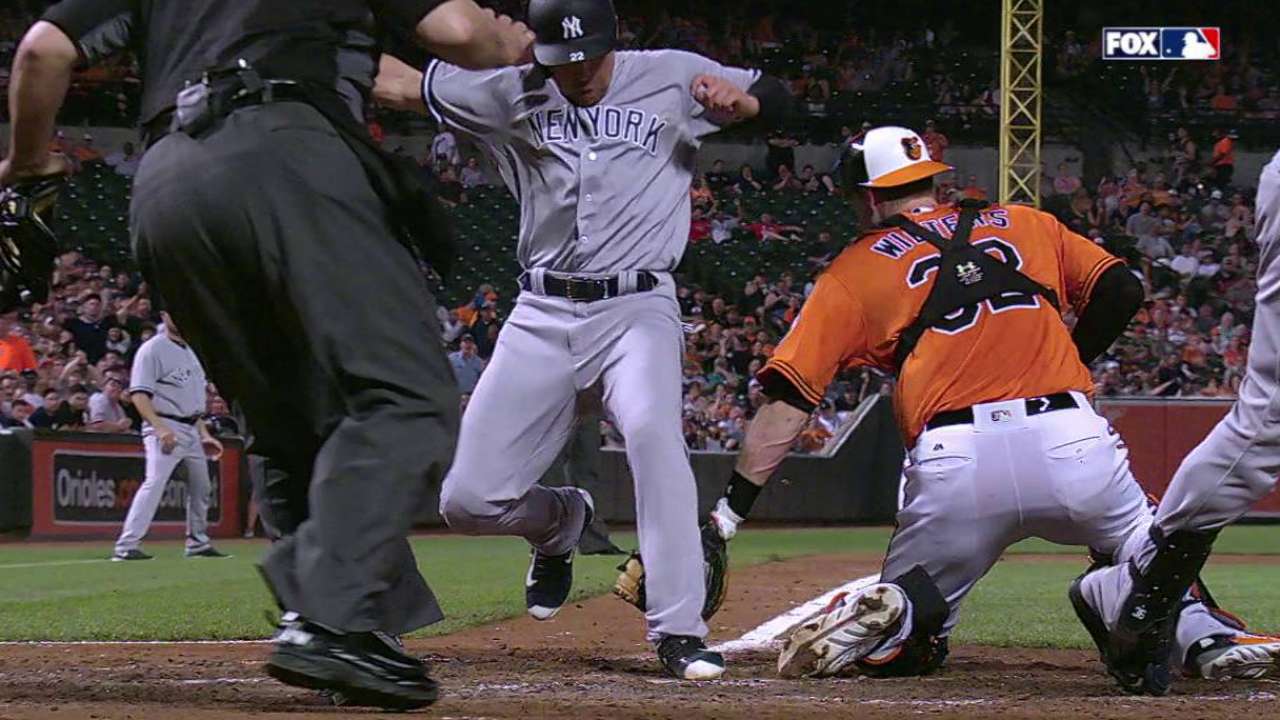 BALTIMORE -- The Yankees had their first six-run lead in 11 games and starter Ivan Nova was cruising with five shutout innings and just two hits allowed to the Orioles during Saturday night's 8-6 win over Baltimore at Camden Yards.
That's when, with two outs in the top of the sixth, the Yankees turned aggressive and added to their cushion. With Brett Gardner on first and Jacoby Ellsbury on third, the Yankees pulled off a successful double steal on Dylan Bundy's 0-1 pitch to Carlos Beltran, with Gardner swiping second and Ellsbury just beating the throw home to give New York a 7-0 lead.
"It worked out for us," said Gardner, who picked up his 10th steal of the season. "I had the green light, I felt like I had a decent jump. Most of the time in that situation they don't throw through, but [Matt Wieters] threw me out [Friday] so I guess he thought he could again, and Jacoby made a good read and went home."
At the time, it seemed like little more than an insurance run. By the end of the Yankees' win over the Orioles, it proved to be the deciding run.
"We're talking about one of the most potent offenses in the game," infielder Rob Refsnyder said of the Orioles, "and a ballpark that definitely plays into their strengths. So any runs we can get, anything we can do, I think that's good. The guys did a really good job tonight, and [Ellsbury] and [Gardner] can be pretty lethal out there."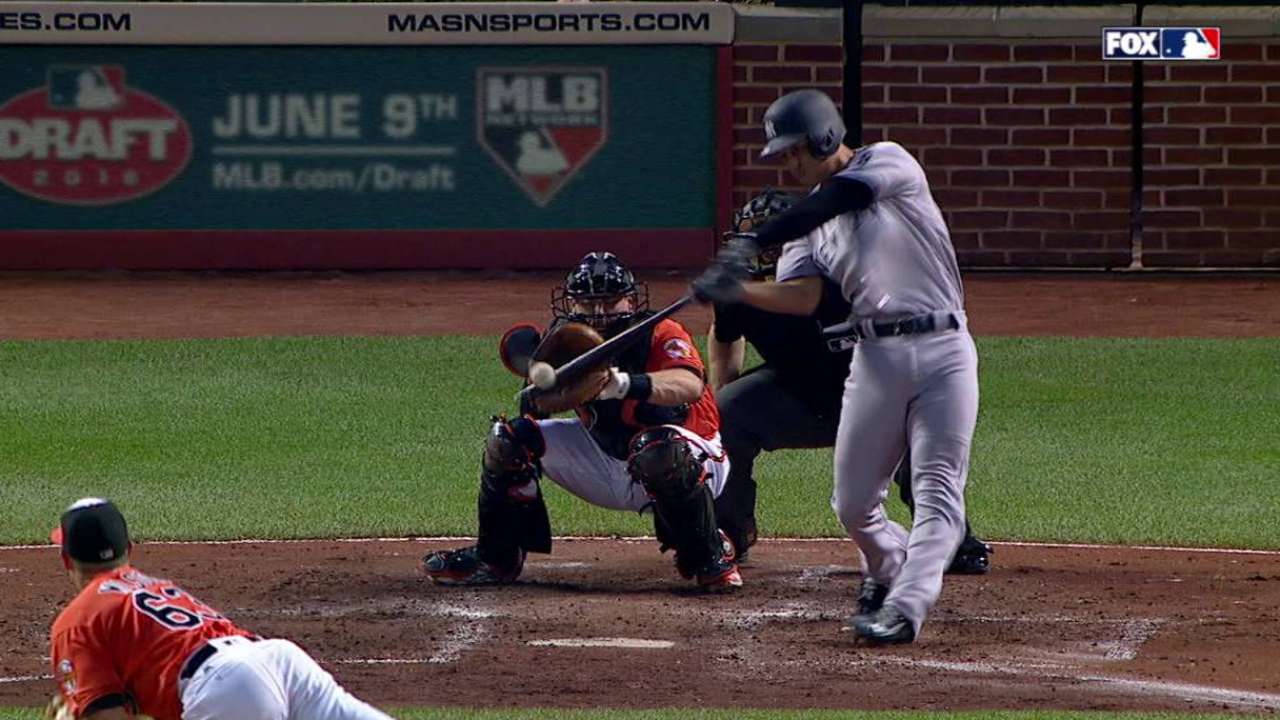 The Orioles' six-run seventh inning served as a reminder to the Yankees that few leads are safe at Camden Yards.
"It was tough," Yankees manager Joe Girardi said of protecting the lead. "That's why we kept playing and we kept trying to score runs, because we know how explosive they are. We get the seventh run on a double steal, we get the eighth run [in the ninth], which was really important to tack on, but they're an explosive lineup and they've had a lot of come-from-behind wins."
A night after the Yankees hit three home runs, New York was aggressive on the basepaths, scoring eight runs and hammering out 16 hits, only four of which were extra-base hits.
Alex Rodriguez and Starlin Castro led the way with three hits each on a night when all nine Yankees starters had a base hit. Even Aaron Hicks, a late-game replacement for Beltran in right field, doubled in his only at-bat in the ninth. Hicks scored the insurance run on Rodriguez's RBI single one batter later.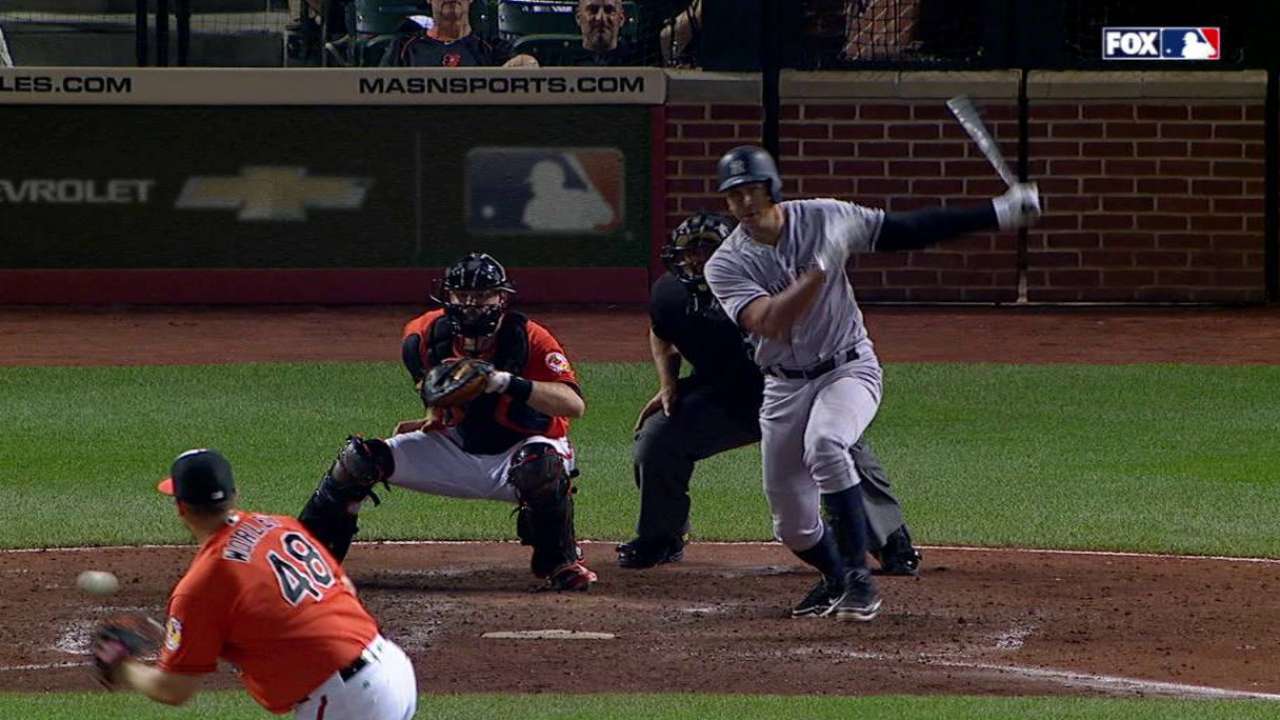 "It's good," said Rodriguez, who has now hit safely in four straight games for the first time this season. "We want contributions from everyone."
"We've got some guys in the lineup that are capable of swinging the bats and driving in runs," said Gardner, "but for the most part, we haven't been doing a good job of getting on base, so tonight that was good to see and hopefully there's more of that to come."
Ben Raby is a contributor to MLB.com based in the Washington, D.C./Baltimore region. This story was not subject to the approval of Major League Baseball or its clubs.