Astros ready to replenish Minors in Draft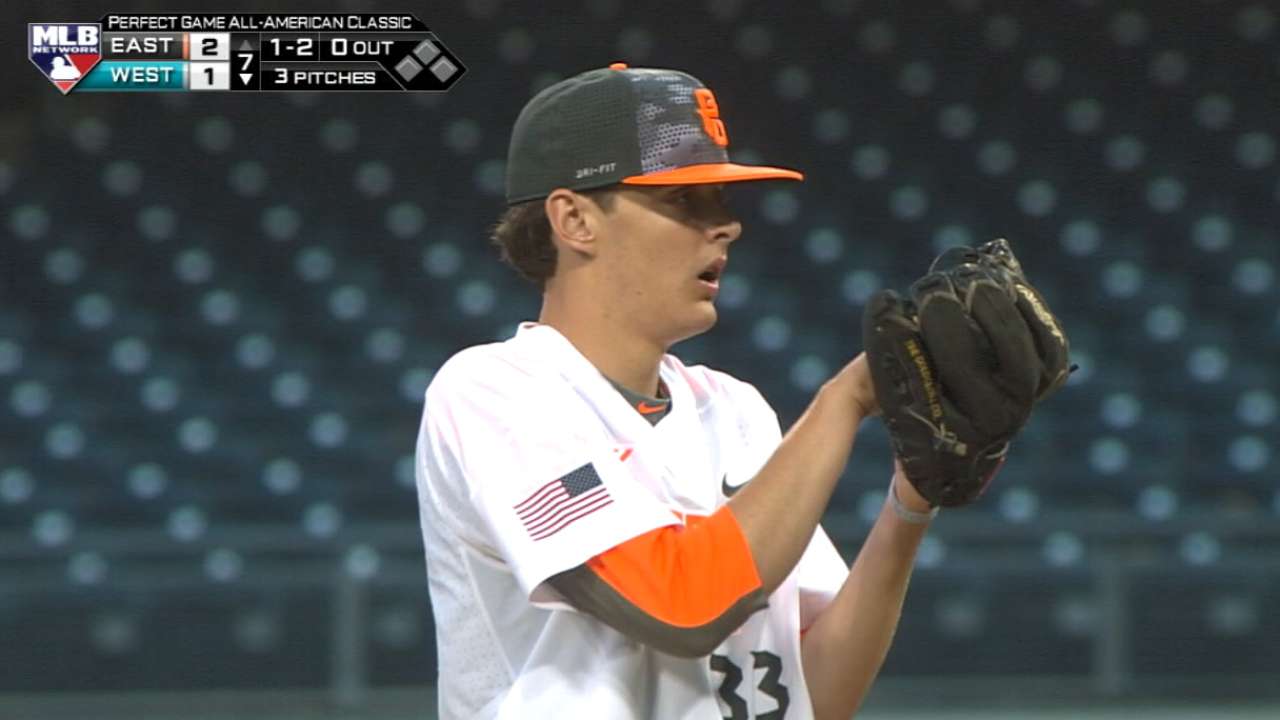 HOUSTON -- For the first time in five years, the Astros will enter the MLB Draft with a longer list of available players to pick than in years past. After picking first three years in a row (2012-14) and second last year, the Astros hold the No. 17 overall pick this year.
"It's different because it's not obvious who's going to be gone and who's going to be there," Astros general manager Jeff Luhnow said. "There's certain players you know have a high likelihood of being gone, but there's enough that might be there for whatever reason that we've got to be prepared. There's a lot more names we're going through, and it really does feel like a second-round preparation as opposed to the first round because we've been used to taking the guy we want and not worry about whatever everyone else is doing. It's a different dynamic this year."
The 2016 Draft will take place from Thursday through Saturday, beginning with the Draft preview show on MLB Network and MLB.com on Thursday at 6 p.m. ET. Live Draft coverage from MLB Network's Studio 42 begins at 6 p.m., with the top 77 picks being streamed on MLB.com and broadcast on MLB Network. MLB.com's exclusive coverage of Day 2 begins with a live Draft show at 11:30 a.m. on Friday, with exclusive coverage of Day 3 beginning at 12 p.m. on Saturday.
MLB.com's coverage includes Draft Central, the Top 200 Draft Prospects list and Draft Tracker, a live interactive application that includes a searchable database of over 1,500 Draft-eligible players. Every selection will be tweeted live from @MLBDraftTracker, and you can also keep up to date by following @MLBDraft. And get into the Draft conversation by tagging your tweets with #mlbdraft.
Here's how the Draft is shaping up for the Astros, whose first selection is the No. 17 overall pick.
In about 50 words
The Astros could use this Draft to restock depth at positions hit hard by trades in recent years. After trading away any veteran player who wasn't bolted down when Luhnow took over as GM prior to the 2012 season, the Astros have used some of their top Minor League talent as trade chips in the last year.
The scoop
The Astros, as always, maintain they're going to take the best player available, but drafting for an organizational need could lead them to stock up on catchers and left-handed pitchers, and likely college players over high school players.
"That doesn't mean we won't look at high school guys, because some of those guys can be up in three years and have long careers," Luhnow said.
First-round buzz
The Astros are tied mostly to college arms like Mississippi State right-hander Dakota Hudson, Illinois right-hander Cody Sedlock, Louisville right-hander Zack Burdi, Pittsburgh right-hander T.J. Zeuch and Kent State lefty Eric Lauer. A college position player like Wake Forest third baseman Will Craig or Virginia catcher Matt Thaiss is possible.
Money Matters
Each pick in the top 10 rounds comes with an assigned value, and the total for each of a team's choices covers what it can spend without penalty in those rounds. Any bonus money in excess of $100,000 given to an individual player selected in rounds 11-40 also counts against a club's bonus pool. The amounts rise each year in accordance with Major League Baseball's revenue growth and increased by 4.62 percent compared to 2015.
If a player chosen in the first 10 rounds doesn't sign, his pick's value is subtracted from his club's pool. If a team surpasses its allotment, it faces penalties.
A club that exceeds its pool by 0-5 percent pays a 75 percent tax on the overage. At higher thresholds, teams forfeit future picks: a first-rounder and a 75 percent tax for going beyond their pool by more than 5 and up to 10 percent; a first- and a second-rounder and a 100 percent tax for more than 10 and up to 15 percent; and two first-rounders and a 100 percent tax for more than 15 percent.
The Astros have a draft bonus pool of $5,928,300 with the following slot values -- $2,504,200 (first round), $1,056,800 (second round), $614,000 (third round), $459,700 (fourth round), $344,300 (fifth round), $257,900 (sixth round), $193,300 (seventh round), $176,600 (eighth round), $164,900 (ninth round) and $156,600 (10th round).
Shopping list
Again, left-handed pitchers and catchers could be drafted high to fill an organizational need, though the Astros will likely strike on some power arms, as well.
"We haven't drafted a catcher up high since Jason Castro [in the first round in 2008] and that worked out pretty well. He's going to be a free agent after this year, so hopefully we can get another one," Luhnow said. "Left-handed pitching, we've got guys in our system we like, but we haven't drafted a left-handed pitcher high except for [Brady] Aiken, [who went unsigned after going No. 1 overall in 2014] and that turned into [infielder Alex] Bregman."
Trend watch
The Astros went college heavy last year the last few years, which isn't surprising when you're trying rebuild your system. Last year, 18 of their top 22 picks were college players, though they haven't been shy about taking top-notch high school talent high. They took Florida high schooler Kyle Tucker at No. 5 overall last year and Georgia outfielder Daz Cameron at No. 37 before going on a run of college players.
Recent Draft history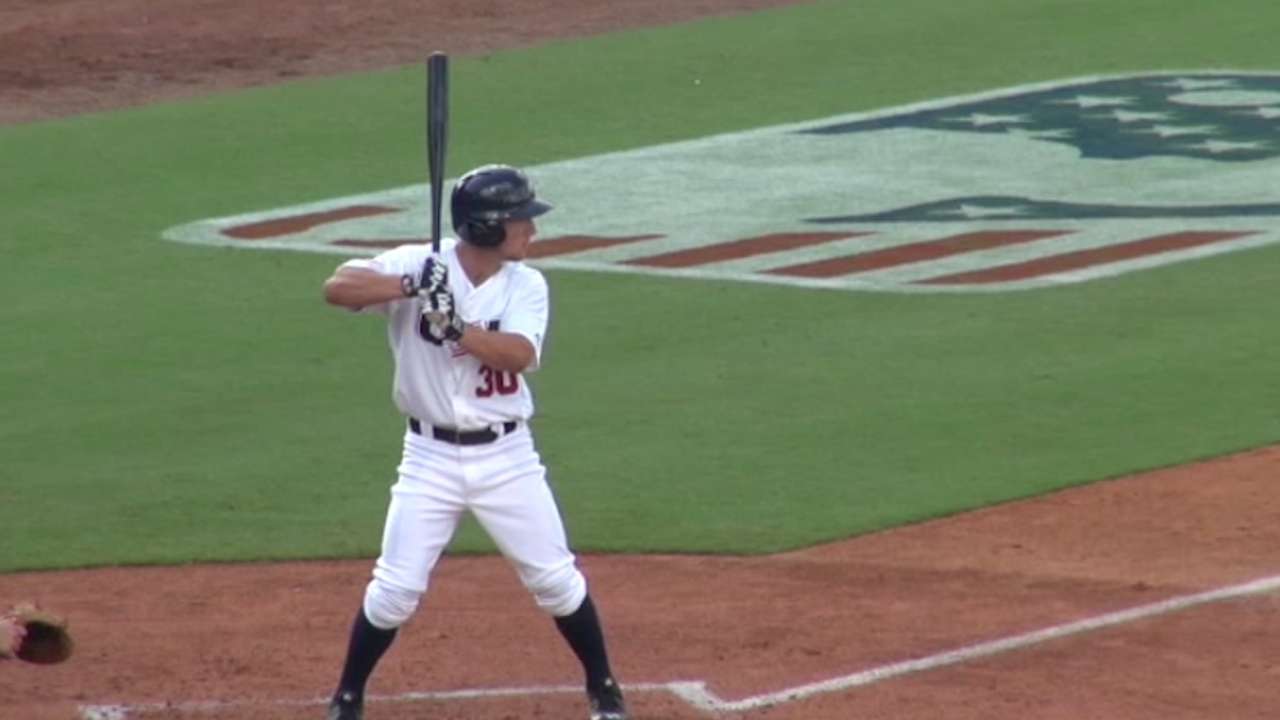 Rising fast
Bregman, the No. 2 overall pick last year out of LSU, is putting up big numbers at Double-A Corpus Christi and could be headed to Triple-A at some point soon, and perhaps even the big leagues later this year. He recently started playing third base, signaling the Astros are thinking of where he would fit in the Major League club.
"He's continuing to do a nice job both ways and that team really had an incredible month of May," Luhnow said. "They're right in the pennant race for the first half and we'd really like to see them win the first half, and Bregman is going to be receiving a lot of accolades in the Texas League, so there will be an appropriate time to bring him up."
Cinderella story
A pair of JUCO products from Northeastern Oklahoma A&M that were drafted in 2014 -- outfielder Ramon Laureano and right-hander Dean Deetz -- have made good early impressions. Laureano, a 16th-round pick, can do it all. He can run, hit and plays plus defense. Deetz, an 11th-round pick, has a Major League fastball/slider combination and needs reps to fine tune his command and control.
In The Show
Seven players on the Astros' 25-man roster are products of their Drafts, including former first picks Carlos Correa and Lance McCullers (2012), George Springer (2011) and Castro (2008). Tony Kemp was taken in the fifth round in 2013, Tyler White in the 33rd round in 2013 and Dallas Keuchel in the seventh round in 2009.
The Astros' recent top picks
2015: Bregman, IF, Double-A Corpus Christi
2014: Aiken, LHP, Cathedral Catholic HS, San Diego (did not sign)
2013: Mark Appel, RHP, Stanford (Traded to Phillies in December)
2012: Correa, SS, Puerto Rico, 2015 AL Rookie of the Year
2011: Springer, OF, UConn
Brian McTaggart has covered the Astros since 2004, and for MLB.com since 2009. Follow @brianmctaggart on Twitter and listen to his podcast. This story was not subject to the approval of Major League Baseball or its clubs.