Lowrie tags ex-team with 9th-inning blast
A's infielder forces extras with first homer of season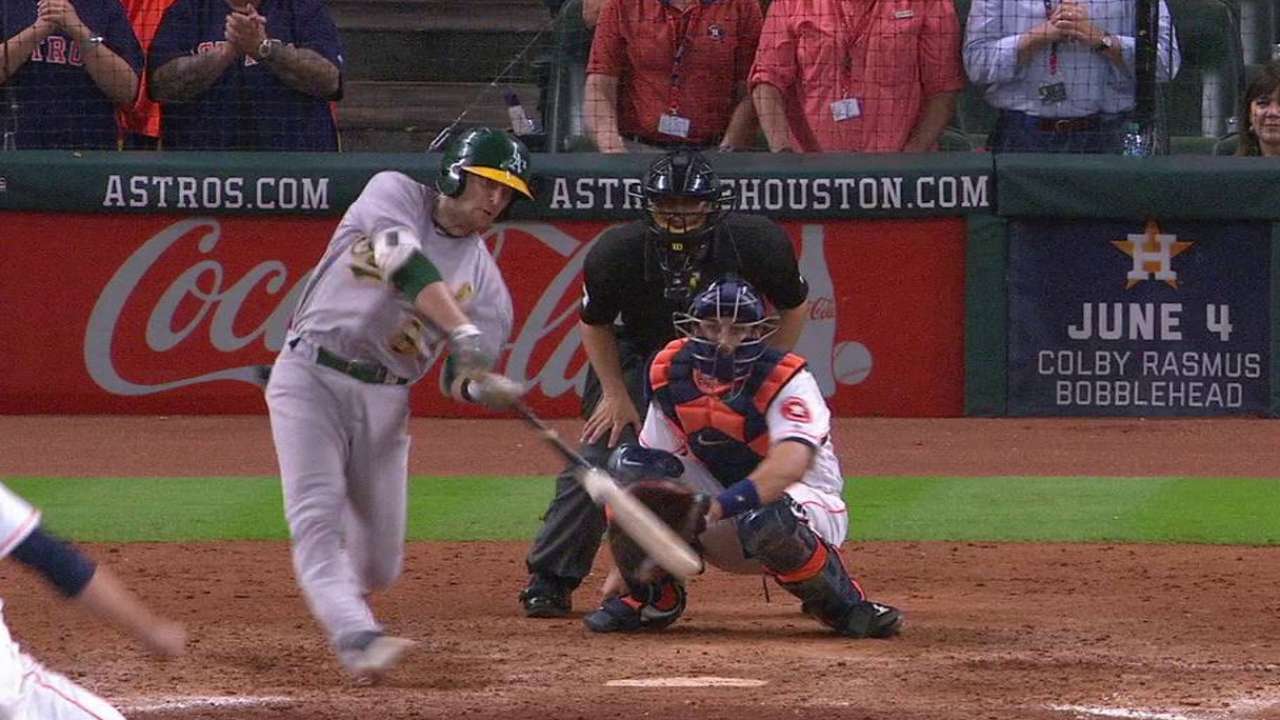 HOUSTON -- The A's walked out of Minute Maid Park on Saturday evening with another loss in tow, this one by a 6-5 margin after a 12-inning escapade with the Astros that was as deflating as it was lengthy.
There was at least pause for celebration on the A's side, though, when Jed Lowrie greeted his twice-former team with a game-tying home run with two outs in the ninth inning.
"It's always fun to get your former team, and you add in the fact it was top of the ninth, two outs and down by one, it was kind of icing on the cake," Lowrie said.
For Lowrie, who has hit as many as 16 home runs in a season, it was his first of the year, a solo shot off right-hander Luke Gregerson that snapped his season-opening homerless streak at 40 games -- the longest of his career.
Gregerson and Lowrie were teammates on both the A's and Astros but had never faced each other. They signed on with Houston ahead of the 2015 season, inking three-year contracts for a team on a mission. Lowrie, after only one season in his second tour in Houston, was yet again dealt to Oakland in the offseason.
Coming to terms with the trade was no easy task for Lowrie, who lives in Houston with his wife and daughter in the offseason.
"That's part of the business, right? It certainly wasn't expected," Lowrie said. "That's probably the best way to put it. At the end of the day, I did get to come back to a place I was familiar with. It's the business."
The A's acquired him to be their everyday second baseman -- marking another form of transition for Lowrie, who in recent years has played shortstop and third -- and provide their lineup with a productive switch-hitting bat.
Lowrie has delivered, exiting Saturday's affair with a .316 average. He's 13-for-36 (.361) in nine starts since being reinstated from the disabled list May 25.
Following his game-changing home run, Lowrie nearly notched his second extra-base hit in the 11th inning, instead settling on a single after getting tagged out at second base on an exceptional throw from left fielder Colby Rasmus to end the inning.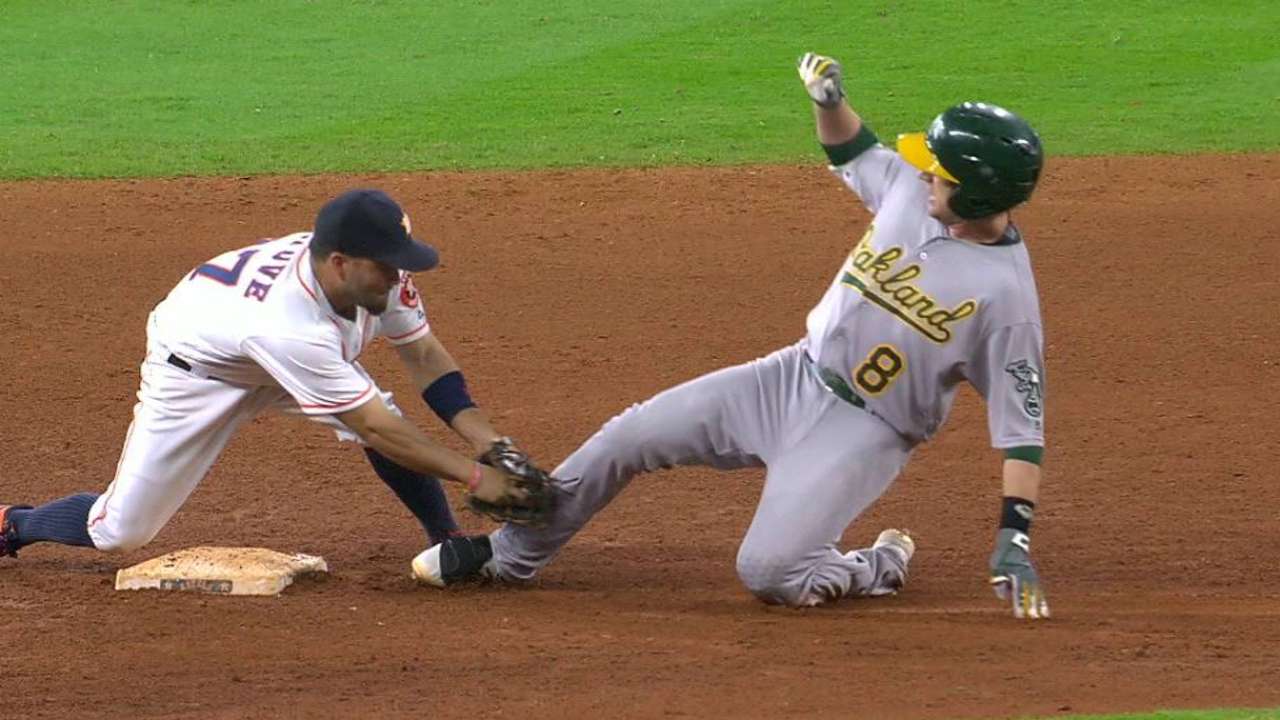 "That's one of the best plays I think I've ever seen an outfielder make," Lowrie said. "He's on a full sprint, he stops on a dime, picks up the ball barehanded and throws a strike on the base. As soon as it got past him, I thought I had a double for sure. I watched the replay, and I don't think you can do it any better than he did it right there.
"The ball's kicking off the wall, so it's spinning funny, so for him to barehand the ball and throw like he did, he can't do it better. With two outs, I've got to force the issue right there, try to get in scoring position. That was a heck of a play."
Jane Lee has covered the A's for MLB.com since 2010. This story was not subject to the approval of Major League Baseball or its clubs.