Stras OK after exiting early, netting 1,000th K
Right-hander says calf issue arose from dehydration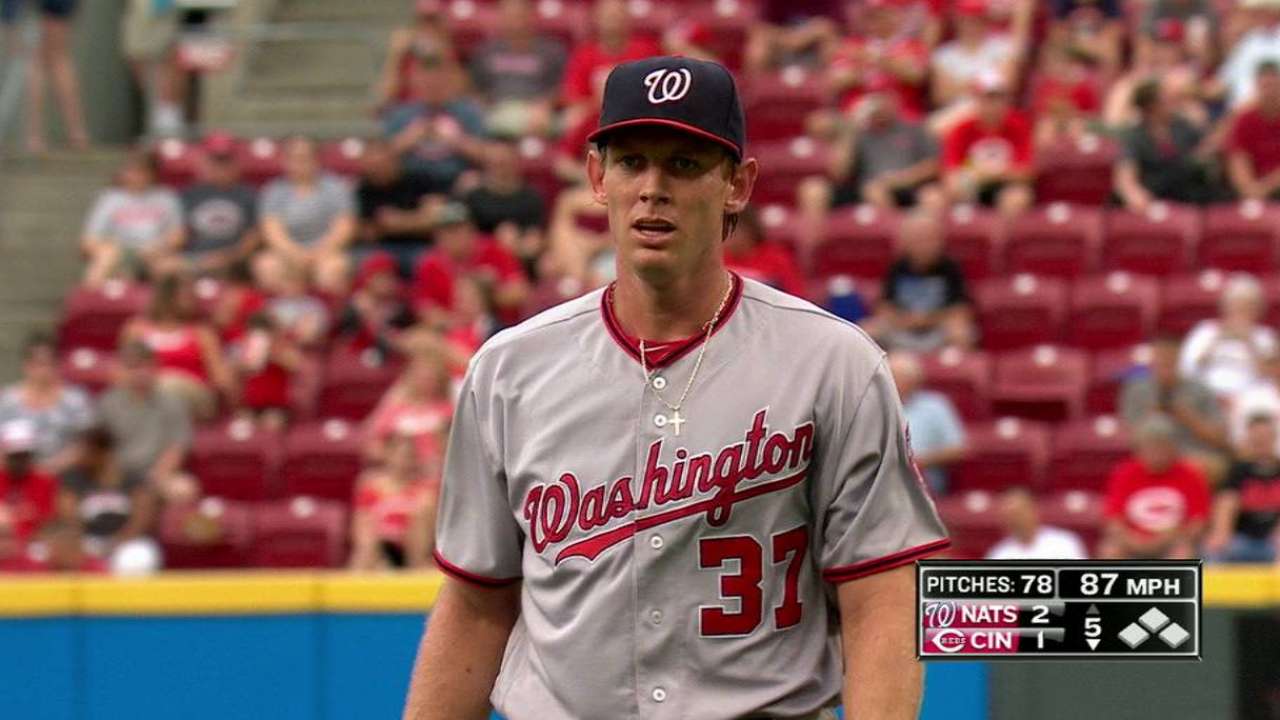 CINCINNATI -- What began as a strong start for Stephen Strasburg, coupled with a milestone strikeout, had an abrupt ending when a cramp in his right leg forced him out of the game with one out in the sixth inning of the Nationals' 6-3 loss to the Reds on Saturday.
Strasburg, who has dealt with cramps in his calf before, said the injury develops from dehydration, but he felt fine after getting some treatment.
During an at-bat against Brandon Phillips in the sixth inning, Strasburg felt a grab in his hamstring, prompting manager Dusty Baker, pitching coach Mike Maddux and trainer Paul Lessard to come out of the dugout to check on him. Strasburg spent time stretching out his leg in between pitches, and even though he regained his form enough to strike out Phillips, the injury was clearly bothering him. He surrendered a single to the next batter, Jay Bruce, that ended Strasburg's day.
"I was like testing it, walking around behind the mound when Bruce was up," Strasburg said. "I was testing it, and it kind of locked up on me again, but I did everything I could to get through that inning. It just didn't work out that way."
Baker added: "He was kinda short-legging it. You could sorta see it. It's kinda self-explanatory. He was grabbing it and rubbing it so it was time to go. I think he had 90 pitches so he was pretty close to his limit anyway. It was just time to take him out."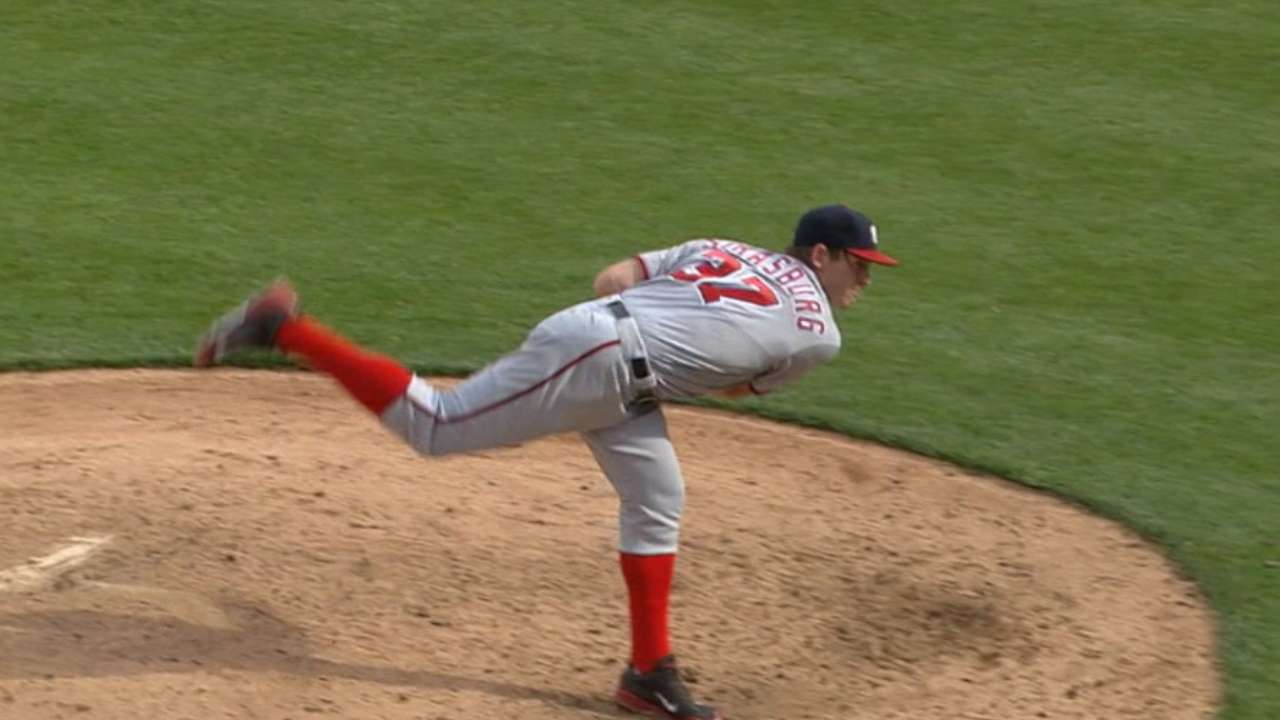 Through the first five innings, Strasburg appeared to be in the midst of another sharp start as he looked to improve his record to 10-0. He struck out the 1,000th batter of his career in the fifth inning. The milestone came against opposing pitcher Dan Straily, who represented the ninth of Strasburg's 10 punchout victims of the day.
"It seems like I have a few balls that have pitchers as strikeouts on there," Strasburg said with a laugh. "So I don't know, maybe I'll just save the milestones to have a pitcher on there."
Strasburg already holds the Nationals record for most career strikeouts, and he also became the first pitcher in franchise history to tally 1,000 career strikeouts with Washington (2005-present). The 855 1/3 innings it took for Strasburg to reach the 1,000-strikeout mark is the second fewest in MLB history to Kerry Wood's 853 2/3 innings.
Strasburg had cruised through the first five innings, the lone damage coming on a solo homer by Bruce. But the sixth inning would not go as smoothly. He walked the leadoff batter then allowed a two-run homer to Joey Votto. Then the calf issue developed and Strasburg was out of the game two batters later. He allowed three runs on four hits in 5 1/3 innings with 10 strikeouts and two walks.
"I'm executing the pitch that I want to throw, so I think a number of the pitches thrown were pretty good," Strasburg said. "It's just the hitters are just really battling right now, so I just got to keep fighting through it and battle with them."
Jamal Collier covers the Nationals for MLB.com. Follow him on Twitter at @jamalcollier. This story was not subject to the approval of Major League Baseball or its clubs.