Indians look to reload with 3 Draft picks on Day 1
Tribe has had as many as 13 homegrown draftees on MLB roster this year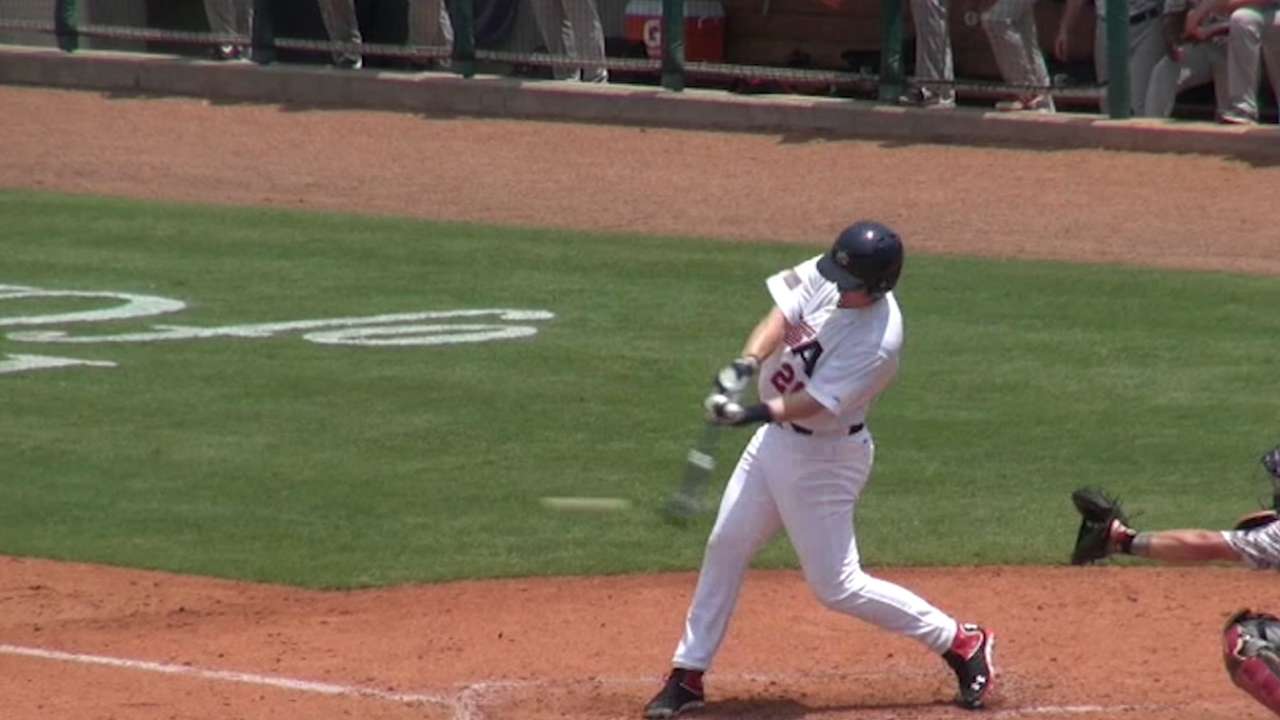 The 2016 Draft will take place today through Saturday, beginning with the Draft preview show on MLB Network and MLB.com today at 6 p.m. ET. Live Draft coverage from MLB Network's Studio 42 begins at 7 p.m., with the top 77 picks being streamed on MLB.com and broadcast on MLB Network. MLB.com's exclusive coverage of Day 2 begins with a live Draft show at 12:30 p.m. on Friday, with exclusive coverage of Day 3 beginning at 1 p.m. on Saturday.
MLB.com's coverage includes Draft Central, the Top 200 Draft Prospects list and Draft Tracker, a live interactive application that includes a searchable database of over 1,500 Draft-eligible players. Every selection will be tweeted live from @MLBDraftTracker, and you can also keep up to date by following @MLBDraft. And get into the Draft conversation by tagging your tweets with #mlbdraft.
Here's how the Draft is shaping up for the Indians, whose first selection is the 14th overall pick:
In about 50 words
Coming off an 81-win season, the Indians will pick in the middle of the first round of this summer's Draft. Cleveland will then have the 55th overall pick in the second round and the 72nd overall pick in Lottery Round B. The Indians have four picks within the Top 100 selections.
The scoop
There is not only a lot of uncertainty surrounding how the top of the Draft will play out, but there is also more unknowns when a team is picking in the middle of the first round. As has been the case annually under Brad Grant, Cleveland's director of amateur scouting, the Indians plan on taking a best-player-available approach in order to respond quickly to how the chips fall.
"You have to be prepared to react to whatever is there," Grant said. "Our approach, as you have seen the last four or five years, is take the best player available. We're not trying to focus in on a pitcher, or a college player versus a high school player. We are going to react to see who is there and who is the best player for the Cleveland Indians at that time."
First-round buzz
As would be expected for a team picking in the middle, there have been a variety of names linked as possibilities for the Indians. One to keep an eye on is 18-year-old shortstop Delvin Perez of the International Baseball Academy in Ceiba, Puerto Rico. MLB.com's Jonathan Mayo pegged outfielder Alex Kirilloff of Plum High School (Pittsburgh) as an option in a recent mock Draft, while MLB.com's Jim Callis felt catcher Zack Collins of Miami might fall to the Tribe. Others linked to Cleveland include outfielder Blake Rutherford (Chaminade Prep in Calif.), third baseman Nolan Jones (Holy Ghost Prep in Pa.), left-hander Braxton Garrett (Florence H.S. in Ala.), righty Justin Dunn (Boston College) and lefty Kyle Muller (Jesuit College Prep in Dallas), among others. Last year, the Indians took lefty Justus Sheffield in the first round (31st overall). His brother, right-hander Jordan Sheffield of Vanderbilt, projects to go in the first round this year.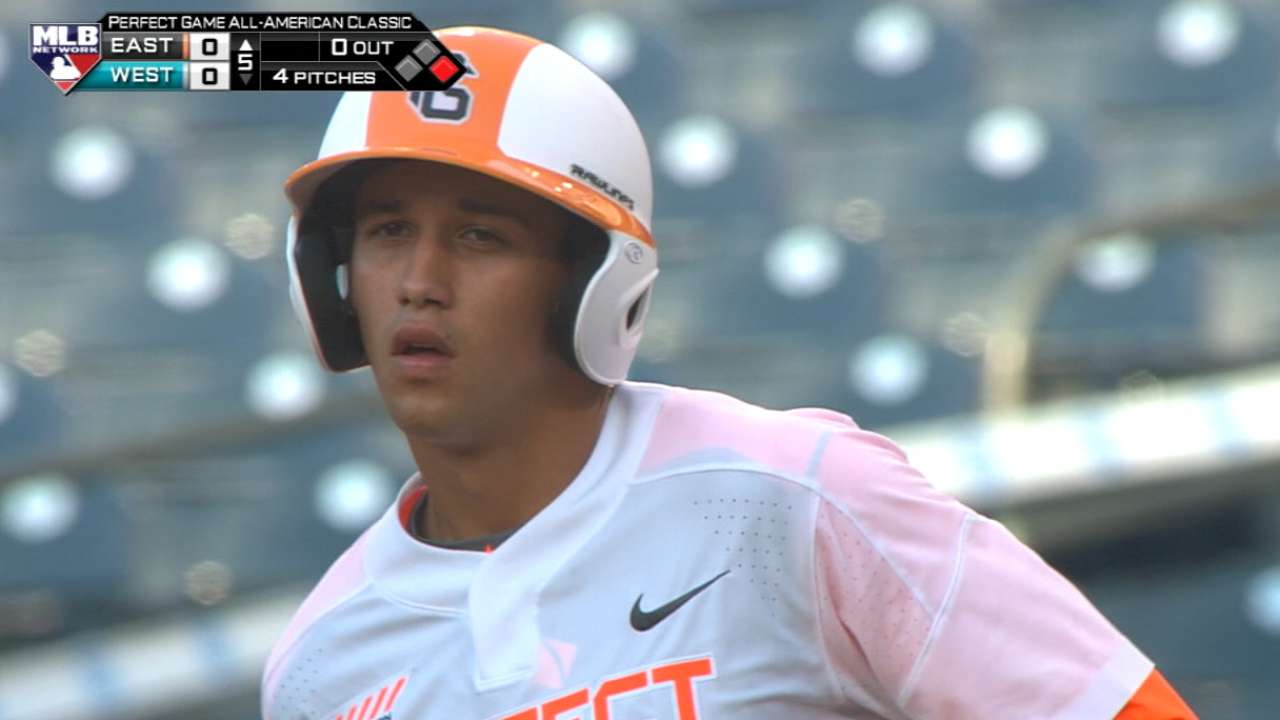 Money matters
Under the Collective Bargaining Agreement, each team has an allotted bonus pool equal to the sum of the values of that club's selections in the first 10 rounds of the Draft. The more picks a team has, and the earlier it picks, the larger the pool. The signing bonuses for a team's selections in the first 10 rounds, plus any bonus greater than $100,000 for a player taken after the 10th round, will apply toward the bonus-pool total.
Any team going up to five percent over its allotted pool will be taxed at a 75 percent rate on the overage. A team that overspends by 5-10 percent gets a 75 percent tax plus the loss of a first-round pick. A team that goes 10-15 percent over its pool amount will be hit with a 100 percent penalty on the overage and the loss of a first- and second-round pick. Any overage of 15 percent or more gets a 100 percent tax plus the loss of first-round picks in the next two Drafts.
The Indians have been assigned a pool of $7,499,600, which ranks 16th in the Majors. The value assigned to the Indians' first-round pick is $2,973,700.
Shopping list
The Indians did well in stocking up on high-ceiling arms in last summer's Draft, but as the old adage goes, a team can never have enough pitching. Look for Cleveland to continue to add to its pitching crop, while also targeting up-the-middle types as the Draft progresses. The Indians have also had a knack in recent years of grabbing some strong relief candidates in the middle-to late rounds. A big need within the system remains power. Beyond first baseman Bobby Bradley (Class A Lynchburg), Cleveland does not boast many raw power hitters down on the farm.
Trend watch
Last season, the Indians used their top three picks on prep arms, but the club leaned more on college players in the first 10 rounds (seven of 11 selections). Once thought of as an organization that played it safe with collegiate prospects, Cleveland has shown more willingness to gamble on prep stars in recent years. In 2015, the Indians took it a step further, selecting lefty Brady Aiken with their top pick, even though he was rehabbing from Tommy John surgery. Aiken has been rehabbing in Arizona and could be joining an affiliate in the near future.
"Brady is doing great," Grant said. "All the reports have been really good. It's been really encouraging that he's commanding his fastball very well. That's the last thing that comes back from Tommy John. All the reports have been that he's almost advanced on that already."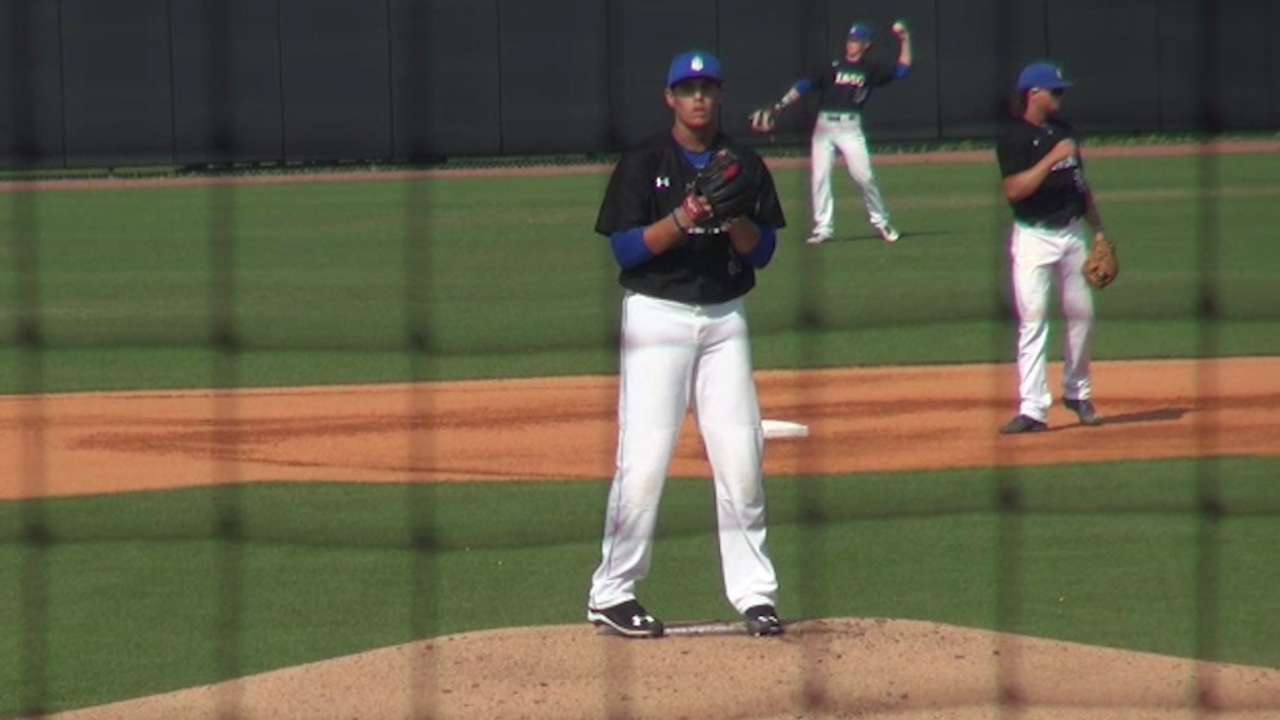 Recent Draft history
Rising fast
The Indians selected outfielder Mike Papi in the first round (38th overall) out of the University of Virginia during the 2014 MLB Draft. The 23-year-old Papi, who has logged time in all three outfield spots and at first base this year, was recently promoted to Double-A Akron. In 40 games with advanced Class A Lynchburg prior to the move up the ladder, Papi posted a .370 on-base percentage and .450 slugging percentage, while collecting 16 extra-base hits and 30 walks for the Hillcats.
Cinderella story
Lefty Shawn Morimando was picked by Cleveland in the 19th round (578th overall) during the 2011 Draft. This past offseason, the 23-year-old starter was added to the Indians' 40-man roster, and the team got a close look at him during Spring Training. Now, Morimando has emerged as one of the best stories within the system. Through 11 starts, the left-hander led all of Minor League Baseball in wins (9-0) and his 1.64 ERA ranked fourth overall at the Double-A level (first in the Eastern League). Through 66 innings for Akron, Morimando had 47 strikeouts, 23 walks and a 1.03 WHIP.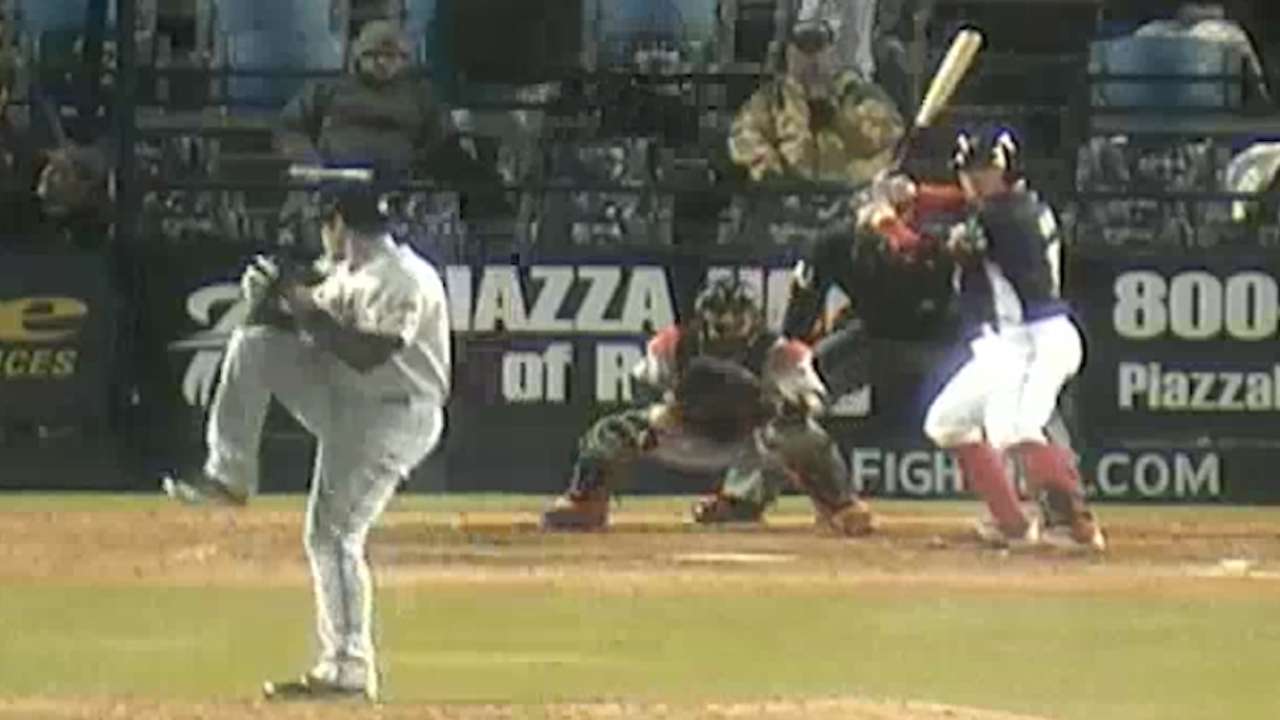 In The Show
At various points this season, the Indians' Major League roster has featured 13 players who were picked by the Tribe in the MLB Draft. That includes a trio of first-round picks, including outfielder Lonnie Chisenhall (2008), shortstop Francisco Lindor ('11) and outfielder Tyler Naquin ('12). Second baseman Jason Kipnis (second round in '09) and closer Cody Allen (23rd round in '11) have become key parts of the roster's core. Others include catcher Chris Gimenez (19th round in '04), righty Josh Tomlin (19th round in '06), catcher Roberto Perez (33rd round in '08), righty Austin Adams (fifth round in '09), righty Cody Anderson (14th round in '11), lefty Ryan Merritt (16th round in '11), righty Shawn Armstrong (18th round in '11) and lefty Kyle Crockett (fourth round in '13).
"It's exciting for our scouts. It's exciting for our development. It's exciting for our organization," Frant said. "It took a lot of hard work. It's what our scouting staff has done, where our development staff is now, and what they're doing with those players. We are getting them young. Then, we are getting them better, and we are getting them to have an impact here. That's what we need to do to be successful."
The Indians' recent top picks:
2015: Aiken, LHP, Arizona League (Rookie)
2014: Brad Zimmer, OF, Double-A Akron
2013: Clint Frazier, OF, Double-A Akron
2012: Naquin, OF, Indians
2011: Lindor, SS, Indians
Jordan Bastian is a reporter for MLB.com. Read his blog, Major League Bastian, follow him on Twitter @MLBastian and listen to his podcast. This story was not subject to the approval of Major League Baseball or its clubs.