New braintrust gets first shot at Draft with Blue Jays
President Shapiro, GM Atkins to oversee replenishment of farm system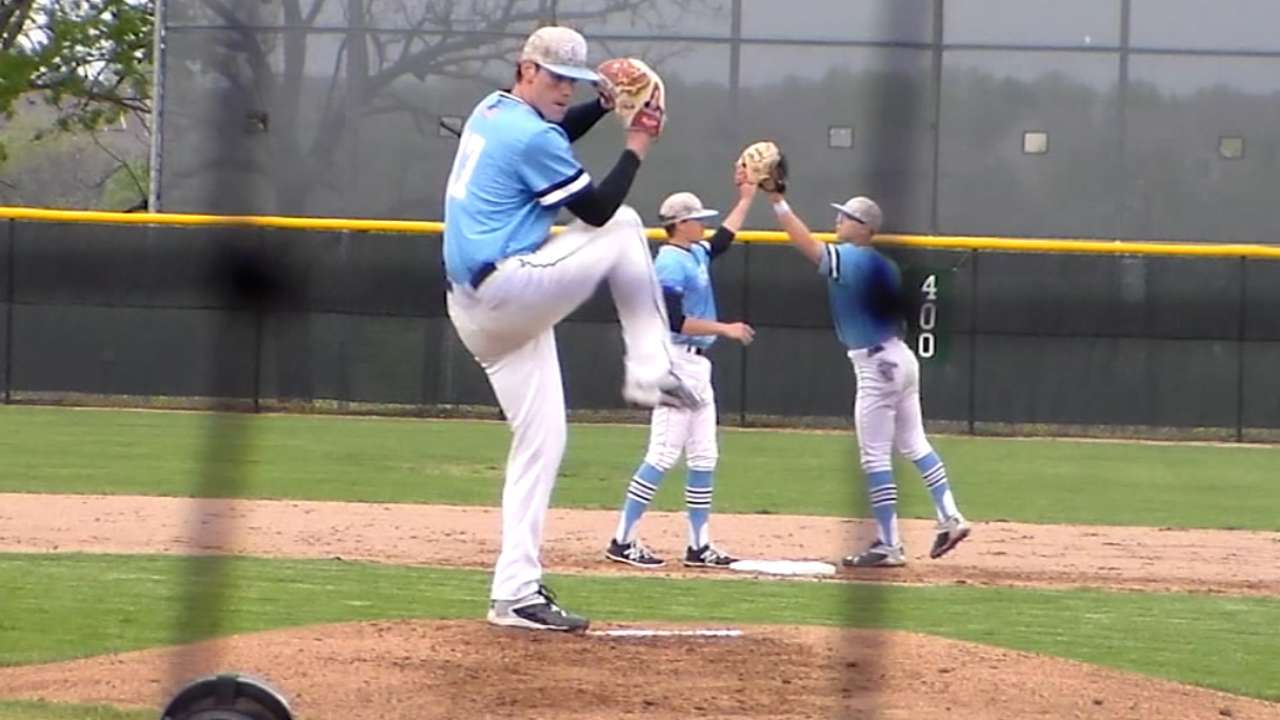 BOSTON -- The 2016 Draft will take place from tonight through Saturday, beginning with the Draft preview show on MLB Network and MLB.com tonight at 6 ET. Live Draft coverage from MLB Network's Studio 42 begins at 7 p.m., with the top 77 picks being streamed on MLB.com and broadcast on MLB Network. MLB.com's exclusive coverage of Day 2 begins with a live Draft show at 12:30 p.m. on Friday, with exclusive coverage of Day 3 beginning at 1 p.m. on Saturday.
MLB.com's coverage includes Draft Central, the Top 200 Draft Prospects list and Draft Tracker, a live interactive application that includes a searchable database of over 1,500 Draft-eligible players. Every selection will be tweeted live from @MLBDraftTracker, and you can also keep up to date by following @MLBDraft. And get into the Draft conversation by tagging your tweets with #mlbdraft.
Here's how the Draft is shaping up for the Blue Jays, whose first selection is the 21st overall pick.
In about 50 words
This will be the Blue Jays' first Draft under the new regime of president Mark Shapiro and general manager Ross Atkins. Despite the new faces at the top, director of amateur scouting Brian Parker remains in the fold, and this is his fourth year overseeing Toronto's picks.
The scoop
The Blue Jays enter this Draft needing a little bit of everything. Toronto mortgaged some of its future when the club made a series of blockbuster deals prior to last year's non-waiver Trade Deadline. The price was worth it, because the club eventually advanced to the American League Championship Series, but the Minor League system did take a noticeable hit.
Former GM Alex Anthopoulos traded 10 prospects last July, including top talent such as Daniel Norris and Jeff Hoffman. Now, the club must go about replenishing its farm system. And while pitching always seems to be a priority, there is just as much of a need for elite-level position players.
"I would say best baseball player available, not necessarily best athlete," Atkins said when asked which type of players he likes to target. "But I do think athleticism is a huge part of the best baseball player available. Typically in the first round you're getting an elite athlete.
"It's an individual philosophy. I certainly believe in athleticism, because it opens you up, it mitigates risk, for conversions or whatever they may be. Typically guys that are starting on the middle of the diamond have a little bit larger margin for error."
First-round buzz
According to MLBPipeline's Jonathan Mayo and Jim Callis, the Blue Jays have been linked to a pair of college right-handers in the first round. Cal Quantrill of Stanford and Jordan Sheffield of Vanderbilt have both caught the club's attention and could be candidates for the 21st-overall selection.
Quantrill should be a familiar name to most Blue Jays fans, because his father, Paul, pitched for Toronto from 1996-2001. Cal was initially projected as a possible early first-round selection, but he underwent Tommy John surgery last year, which hurt his value a little bit.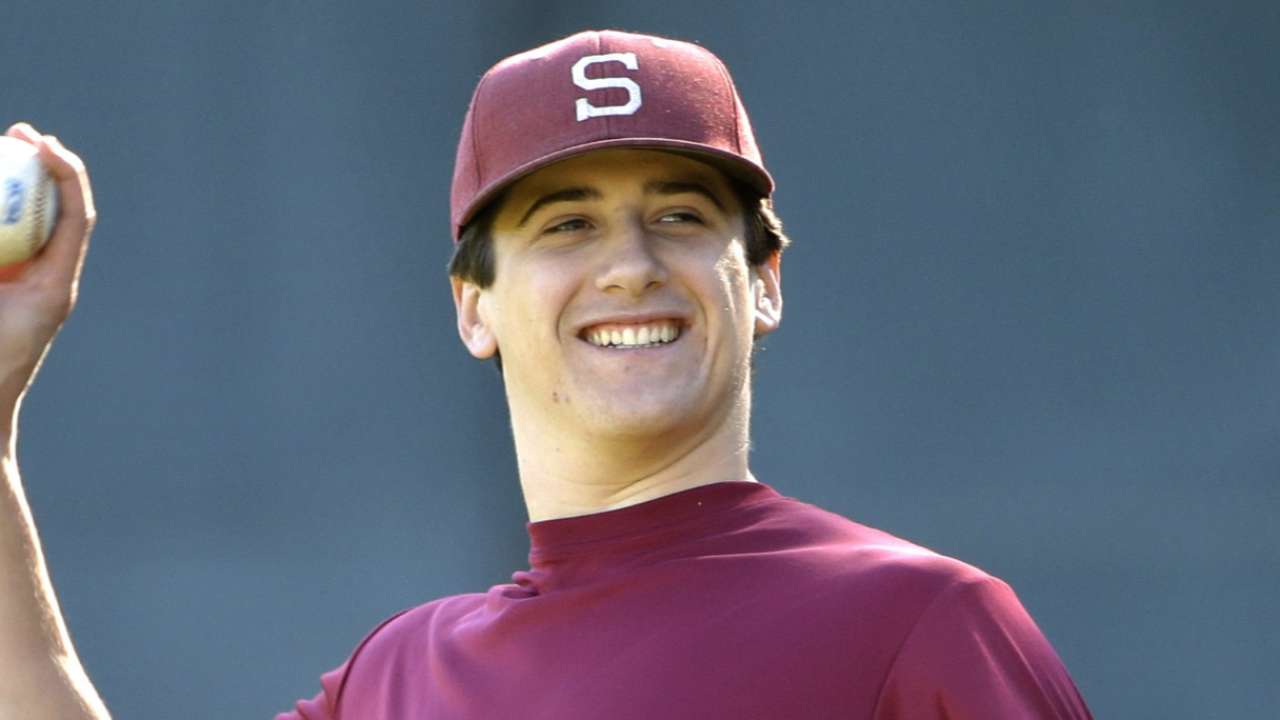 Mayo and Callis also previously reported Toronto's potential interest in high school left-hander Joey Wentz and high school outfielder Taylor Trammell. Other outlets have suggested players such as high school right-hander Forrest Whitley and Vanderbilt outfielder Bryan Reynolds.
Money matters
Under the Collective Bargaining Agreement, each team has an allotted bonus pool equal to the sum of the values of that club's selections in the first 10 rounds of the Draft. The more picks a team has, and the earlier it picks, the larger the pool. The signing bonuses for a team's selections in the first 10 rounds, plus any bonus greater than $100,000 for a player taken after the 10th round, will apply toward the bonus-pool total.
Any team going up to 5 percent over its allotted pool will be taxed at a 75 percent rate on the overage. A team that overspends by 5-10 percent gets a 75 percent tax, plus the loss of a first-round pick. A team that goes 10-15 percent over its pool amount will be hit with a 100 percent penalty on the overage and the loss of a first- and second-round pick. Any overage of 15 percent or more gets a 100 percent tax plus the loss of first-round picks in the next two Drafts.
To sign their first 10 picks, the Blue Jays have been allocated a pool total of $6,665,900, which ranks 20th among MLB teams. Toronto has a recommended slot value of $2,285,100 for its first-round pick (21st overall) and does not have a selection in the supplemental first round.
Shopping list
The Blue Jays will be on the hunt for high-upside players early in the Draft, but the middle to late rounds could be just as important for this franchise. Toronto needs the top talent, but it also needs to identify a large number of candidates who could eventually turn into role players at the big-league level.
These are the so-called "glue guys" that every team needs to have, but Toronto currently appears to be missing them in the Minors. The Blue Jays likely will be targeting both high school and college players, because every level of the system could use a boost.
"I think where we're lacking is the depth of those guys that could turn into Major League players," Atkins said. "That larger number of what we call in the industry a 'Role 4 player,' so someone who is maybe not an everyday player, but a solid contributing player who could turn into a 'five.'
"That's where we're lacking a little bit of depth, less margin for error. We have to make sure the guys that we feel are going to be great everyday Major League players become them."
Trend watch
The Blue Jays went pitcher-heavy in the Draft during each of the previous five years. The organization had a strong preference for tall, athletic pitchers who project to have more durability than some of their smaller counterparts. With the exception of Marcus Stroman in 2012 and Jose Espada in '15, all of the pitchers taken in the first 10 rounds have been at least 6-foot-1.
It's worth noting those Drafts happened under Anthopoulos' watch. As things stand, MLBPipeline.com ranked 15 pitchers, five outfielders, eight infielders and two catchers on its list of Toronto's Top 30 prospects.
Recent Draft history
Rising fast
Right-hander Jon Harris was Toronto's first-round pick a year ago, but it hasn't taken him very long to start moving up the club's depth chart. After a rocky debut in Class A Vancouver late last year, Harris has been dominant for Class A Lansing this season. At one point, Harris went through a 32 scoreless-inning streak.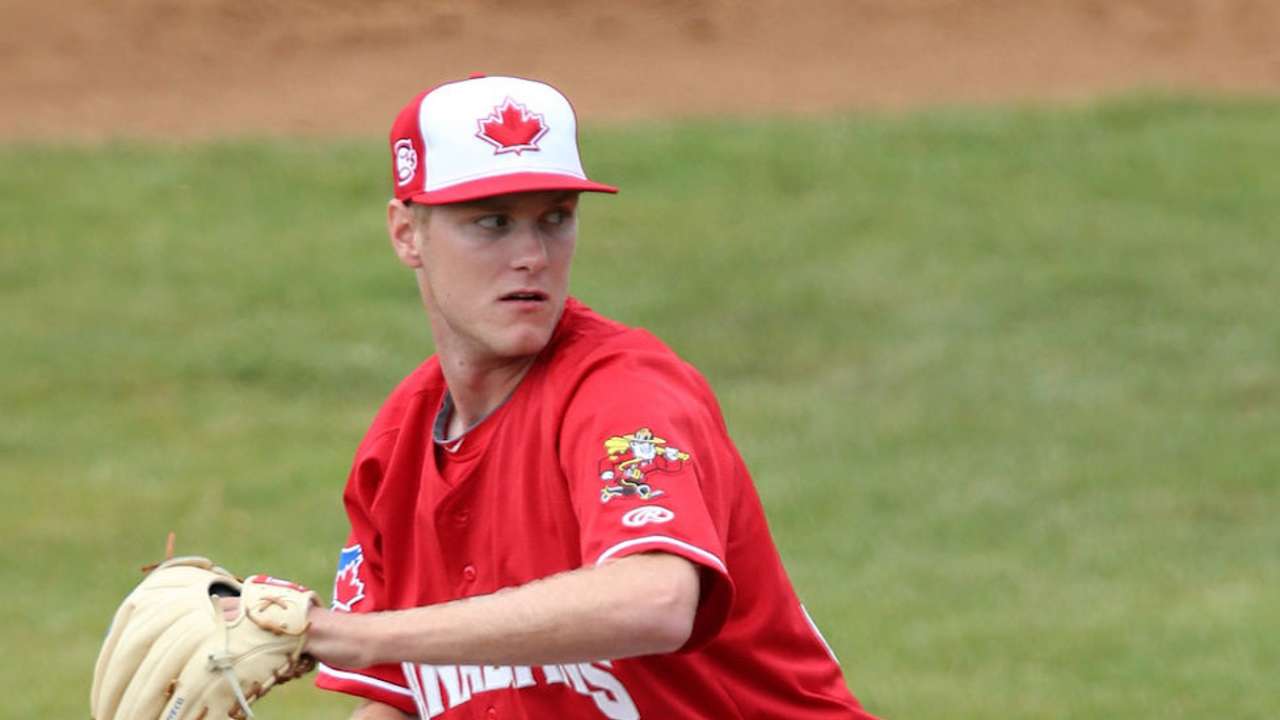 Cinderella story
First baseman Rowdy Tellez is ranked the Blue Jays' No. 8 prospect by MLBPipeline.com, but in 2013 he fell all the way to the 30th round. Part of the reason was a signability concern, but Toronto convinced Tellez to turn pro by offering him a $850,000 signing bonus. Tellez has since become one of the club's top players in the system, and he continues to excel for Double-A New Hampshire.
Outfielder Kevin Pillar is the perfect example of a player who was almost completely overlooked during his Draft year. Pillar slid all the way to the 32nd round in 2011, but he worked his way through the Minors and went on to become Toronto's everyday center fielder.
In The Show
The Blue Jays currently have six players on their roster who were originally drafted by the club: Pillar (32nd round, 2011), Ryan Goins (fourth round, '09), Stroman (first round, '12), Aaron Sanchez (first round, '10), Aaron Loup (ninth round, '09) and Ryan Tepera (19th round, '09).
The Blue Jays' recent top picks
2015: Jon Harris, RHP, Class A Lansing
2014: Jeff Hoffman, RHP, Triple-A Albuquerque (Rockies)
2014: Max Pentecost, C, Class A Lansing
2013: Phil Bickford, RHP, Did not sign
2012: D.J. Davis, OF, Class A Dunedin
2012: Marcus Stroman, RHP, Toronto
2011: Tyler Beede, RHP, Did not sign
Gregor Chisholm has covered the Blue Jays for MLB.com since 2011. Follow him on Twitter @gregorMLB and Facebook, and listen to his podcast. This story was not subject to the approval of Major League Baseball or its clubs.