Rockies keeping it simple when it comes to Draft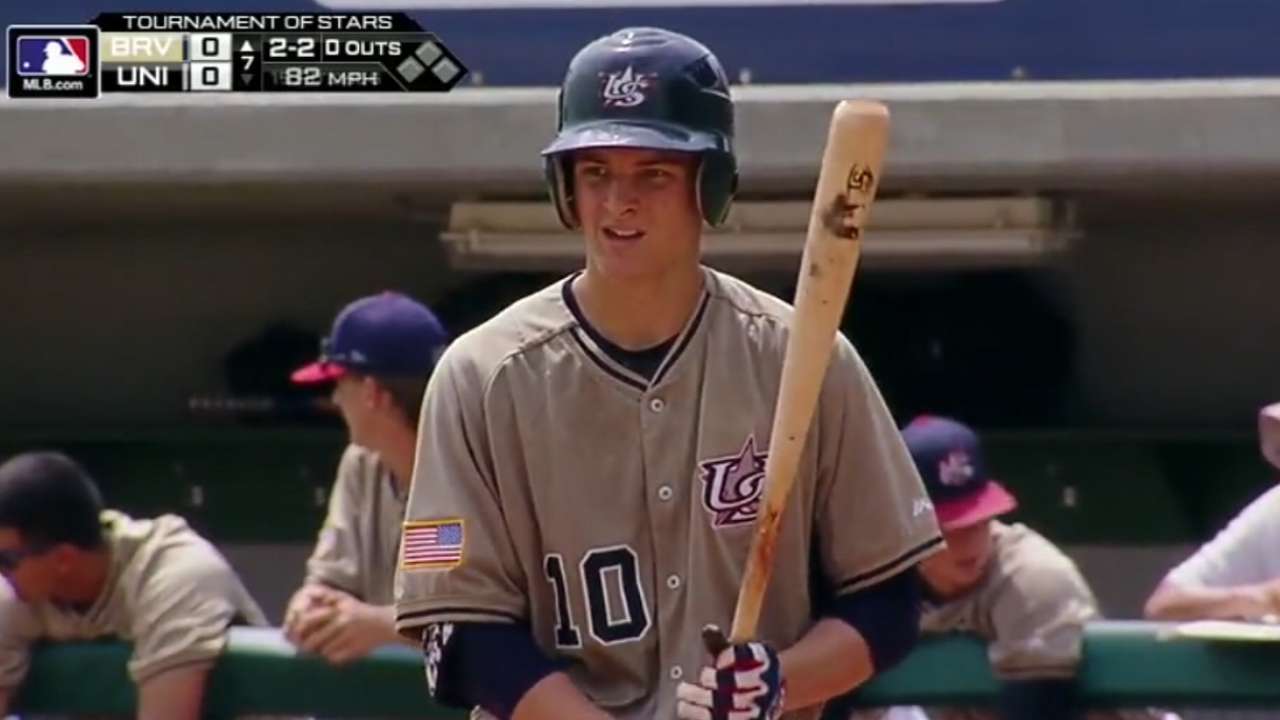 DENVER -- The 2016 Draft will take place today through Saturday, beginning with the Draft preview show on MLB Network and MLB.com today at 4 p.m. MT. Live Draft coverage from MLB Network's Studio 42 begins at 5 p.m., with the top 77 picks being streamed on MLB.com and broadcast on MLB Network. MLB.com's exclusive coverage of Day 2 begins with a live Draft show at 10:30 a.m. on Friday, with exclusive coverage of Day 3 beginning at 11 a.m. on Saturday.
MLB.com's coverage includes Draft Central, the Top 200 Draft Prospects list and Draft Tracker, a live interactive application that includes a searchable database of over 1,500 Draft-eligible players. Every selection will be tweeted live from @MLBDraftTracker, and you can also keep up to date by following @MLBDraft. And get into the Draft conversation by tagging your tweets with #mlbdraft.
An MLB Draft philosophy of taking the best player when your team's turn comes sounds cliché, but Rockies scouting vice president Bill Schmidt believes there's nothing wrong with being simple and familiar.
"There have been some disappointments and some surprises, simply because you're always dealing with human beings," said Schmidt, who will run his 17th Draft today, when the Rockies choose fourth overall. "But what we've learned to do is simplify the process -- try not to overthink at times, go with your gut instincts."
Being in charge of a Draft for so long means he has experienced the gamut of reactions. His work was lauded when the Rockies built playoff teams in 2007 and '09 and nearly made it in '10. That was followed by disapproving scrutiny during the years of struggle.
The more positive reviews are back, with the Rockies' farm system ranked No. 4 in the Majors by MLBPipeline.com. In addition to picks the Rockies have made, the club is moving forward because of players it has picked up from other teams -- such as Major League rookie catcher Tony Wolters and righty pitching phenom Jeff Hoffman (now at Triple-A Albuquerque), players the Rockies' scouts knew well as amateurs.
"You go back to the early 2000s with guys like Ryan Spilborghs and Brad Hawpe, Jeff Francis and Clint Barmes -- guys that got us to the 2007 World Series. A lot of the scouts who helped us are still around," Schmidt said. "We've had Drafts where we've had some bad luck, some guys got hurt, some guys didn't pan out. But our scouts keep working and helping us put together a good farm system."
Here's how the Draft is shaping up for the Rockies, whose first selection is the fourth-overall pick.
In about 50 words
Early slots have allowed the Rockies to grab one of the recognized stars (like right-handed pitcher Jon Gray in 2013) or take advantage of depth at a position (like shortstop Brendan Rodgers in 2015).
"There are some good players in this Draft, but usually there is a guy or two who has separated himself," Schmidt said. "I'm not sure that's the case this year. But we'll get a good player."
The scoop
This high in the Draft, the Rockies tend to go for either an impact starter or the best offensive player available. Draft rankings seem to point toward an outfielder for the Rockies at No. 4.
First-round buzz
The latest MLBPipeline.com mock Draft has the Rockies selecting Mickey Moniak, a left-handed-hitting outfielder from La Costa Canyon High School in Carlsbad, Calif., who was an impact hitter in last year's Team USA national program. Mercer University outfielder Kyle Lewis, who has made rapid development since going undrafted out of high school, is also an option. He caught scouts' eyes in the college wood-bat Cape Cod League last year.
Money matters
Under the Collective Bargaining Agreement, each team has an allotted bonus pool equal to the sum of the values of that club's selections in the first 10 rounds of the Draft. The more picks a team has, and the earlier it picks, the larger the pool. The signing bonuses for a team's selections in the first 10 rounds, plus any bonus greater than $100,000 for a player taken after the 10th round, will apply toward the bonus-pool total.
Any team going up to 5 percent over its allotted pool will be taxed at a 75 percent rate on the overage. A team that overspends by 5-10 percent gets a 75 percent tax plus the loss of a first-round pick. A team that goes 10-15 percent over its pool amount will be hit with a 100 percent penalty on the overage and the loss of a first- and second-round pick. Any overage of 15 percent or more gets a 100 percent tax plus the loss of first-round picks in the next two Drafts.
The Rockies' bonus pool for the first 10 rounds is $11,153,400, which makes them one of five teams with pools higher than $10 million. The others are the Reds ($13,923,700), Phillies ($13,405,200), Padres ($12,869,200) and Braves ($12,385,200).
Here are the assigned values for the Rockies' picks in the first 10 rounds:
First round, No. 4 overall, $5,258,700; supplemental first round, No. 38, $1,701,600; second round, No. 45, $1,422,900; third round, No. 81, $776,700; fourth round, No. 110, $541,800; fifth round, No. 140, $406,600; sixth round, No. 170, $303,700; seventh round, No. 200, $227,400; eighth round, No. 230, $183,500; ninth round, No. 260, $171,400; and 10th round, No. 290, $160,100.
Shopping list
We can push words around here and come up with something, but the concept is not within the Rockies' philosophy. The emergence of shortstop Trevor Story (supplemental first round, 2011) illustrates why.
The Rockies had Troy Tulowitzki signed through 2020 when they selected Story. Nobody envisioned Tulo being traded to the Blue Jays last July. But the Rockies saw Story as a grinder with the athletic ability to play short and the baseball acumen to change to second base, if necessary. He also had what Schmidt called a "projectable body," meaning the team could envision his 180-pound frame at the time growing into the 205 pounds he now carries.
Trend watch
The Rockies haven't selected a collegiate hitter with their top choice since outfielder Kyle Parker (2010), who now plays in the Reds' Minor League system. The last impact collegiate bat was Tulowitzki in 2005. They represent two of the three college hitters the club took in the first round.
The other was arguably the team's greatest player, Todd Helton out of Tennessee in 1995.
Recent Draft history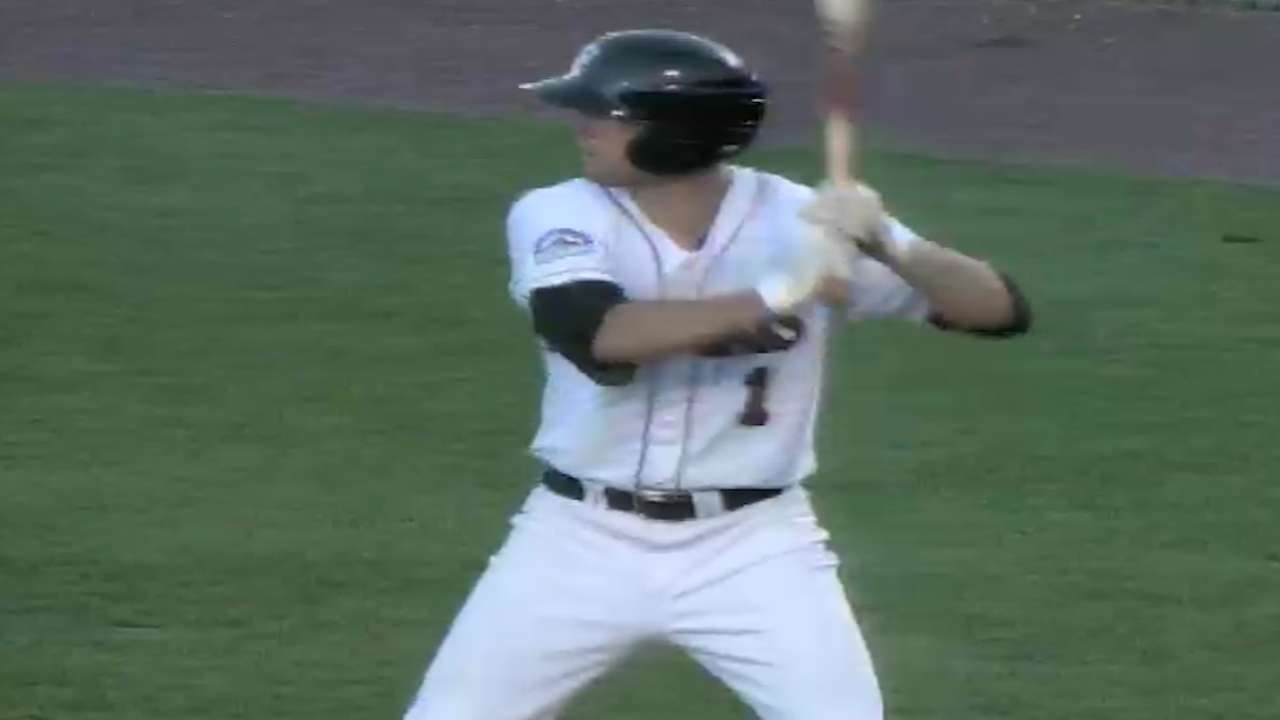 Rising fast
Double-A Hartford possesses two highly regarded high school picks -- outfielder David Dahl (first round, 2012) and corner infielder Ryan McMahon (second round, 2013). Albuquerque left-handed-hitting outfielder Jordan Patterson (fourth round, 2013) has a couple of more-heralded prospects a level behind him in Dahl and Latin American signee Raimel Tapia, but he has consistently reached base (.373 career OBP, .414 this year through Friday) and appears to be making sure he isn't forgotten.
Cinderella story
Low picks who contribute are gold to small-to-mid-market teams such as the Rockies. Catcher Dustin Garneau, a 19th-round pick in 2009 who debuted last year, has contributed this year through injuries to veteran Nick Hundley and rookie Wolters. Other than Garneau, no Rockies pick below the second round is on the squad.
In The Show
The nucleus is populated with early-round picks -- three-time Rawlings Gold Glove third baseman Nolan Arenado (second round, 2009), Story, center fielder Charlie Blackmon (second round, 2008), plus rotation members Chad Bettis (second round, 2010), Gray (first round, 2013) and Eddie Butler (supplemental first round, 2012).
The Rockies' recent top picks:
2015: Rodgers, SS, Class A Asheville
2014: Kyle Freeland, LHP, Double-A Hartford
2013: Gray, RHP, Rockies
2012: Dahl, OF, Double-A Hartford
2011: Tyler Anderson, LHP, Triple-A Albuquerque
Thomas Harding has covered the Rockies since 2000, and for MLB.com since 2002. Follow him on Twitter @harding_at_mlb, listen to podcasts and like his Facebook page. This story was not subject to the approval of Major League Baseball or its clubs.