With 30th pick, Rangers value talent over need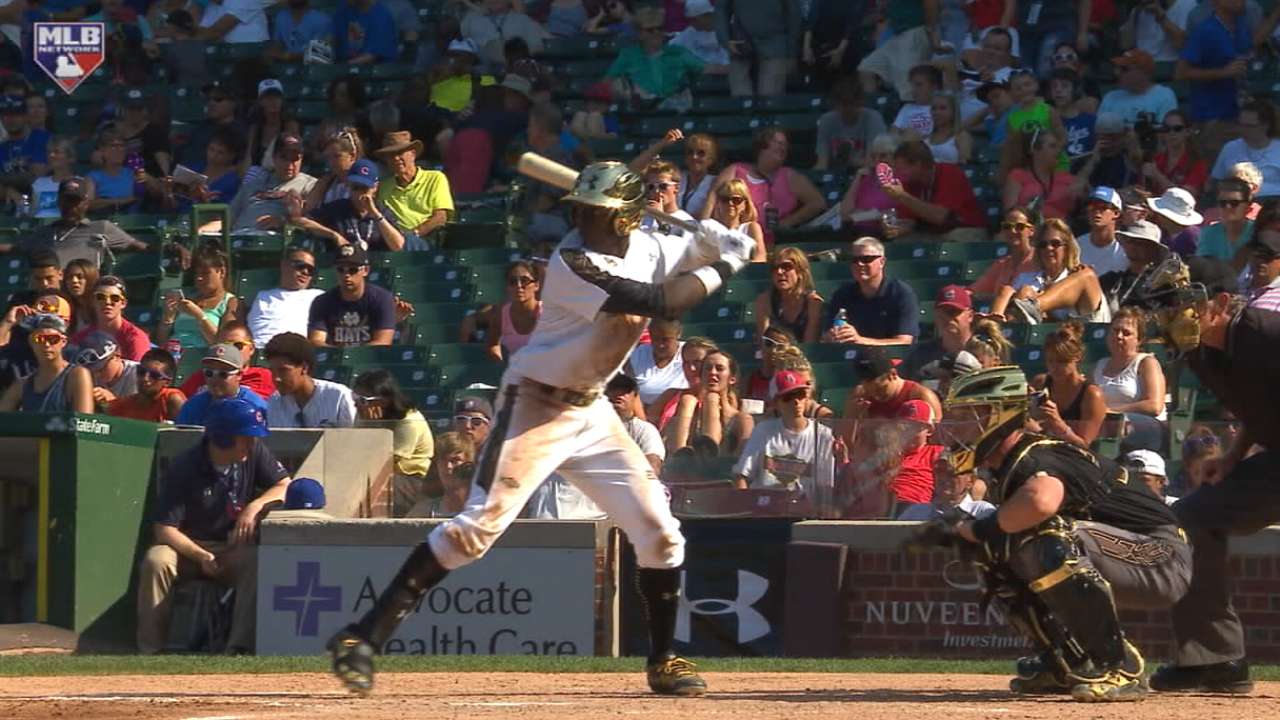 The 2016 Draft will take place from Thursday through Saturday, beginning with the Draft preview show on MLB Network and MLB.com on Thursday at 5 p.m. CT. Live Draft coverage from MLB Network's Studio 42 begins at 6 p.m., with the top 77 picks being streamed on MLB.com and broadcast on MLB Network. MLB.com's exclusive coverage of Day 2 begins with a live Draft show at 11:30 a.m. on Friday, with exclusive coverage of Day 3 beginning at 12 p.m. on Saturday.
MLB.com's coverage includes Draft Central, the Top 200 Draft Prospects list and Draft Tracker, a live interactive application that includes a searchable database of over 1,500 Draft-eligible players. Every selection will be tweeted live from @MLBDraftTracker, and you can also keep up to date by following @MLBDraft. And get into the Draft conversation by tagging your tweets with #mlbdraft.
Here's how the Draft is shaping up for the Rangers, whose first selection is the 30th overall pick.
• Rangers have had success with No. 30 pick
In about 50 words
The Rangers forfeited the 29th overall pick for signing free agent Ian Desmond, but they gained the 30th overall pick when the Orioles signed Yovani Gallardo. The Rangers don't pick again until the second round, when they make the 63rd overall pick. Two years ago, the club had the 30th overall pick and took high school pitcher Luis Ortiz, who is currently ranked as their No. 4 prospect by MLB.com.
The scoop
The Rangers like athletic players who can play in the middle of the diamond, either at middle infield or in center field. They also like power arms, and they are not afraid to take chances on pitchers who are coming back from injury. The club also leans heavily toward the southeast part of the United States. The organization's last three top picks have been pitchers.
First-round buzz
MLB.com's Jim Callis has the Rangers taking Georgia high school outfielder Taylor Trammell, who was the state's Class A football player of the year. Callis also identifies two other Georgia high school possibilities: outfielder Will Benson and third baseman Joshua Lowe. Georgia has been a favorite spot for the Rangers over the past several years.
Money matters
Under the Collective Bargaining Agreement, each team has an allotted bonus pool equal to the sum of the values of that club's selections in the first 10 rounds of the Draft. The more picks a team has, and the earlier it picks, the larger the pool. The signing bonuses for a team's selections in the first 10 rounds, plus any bonus greater than $100,000 for a player taken after the 10th round, will apply toward the bonus-pool total.
Any team going up to 5 percent over its allotted pool will be taxed at a 75 percent rate on the overage. A team that overspends by 5-10 percent gets a 75 percent tax plus the loss of a first-round pick. A team that goes 10-15 percent over its pool amount will be hit with a 100 percent penalty on the overage and the loss of a first- and second-round pick. Any overage of 15 percent or more gets a 100 percent tax plus the loss of first-round picks in the next two Drafts.
To sign their first 10 picks, the Rangers have been allocated a pool total of $5,358,000, the fourth lowest among all MLB teams.
Shopping list
The Rangers have the mantra of taking the best player available. At some point, it would be good if the best player available is a catcher. The Rangers are short behind the plate, although Triple-A catchers Patrick Cantwell and Brett Nicholas are having good seasons.
Recent Draft history
Trend watch
The Rangers have a tendency to be tepid toward Texas players, especially in the Dallas-Fort Worth area, but maybe they can land Dallas Jesuit left-hander Kyle Muller. Other later round possibilities from local high schools include Saginaw Boswell third baseman Ulysses Cantu, Southlake Carroll right-hander Hudson Sanchez, Justin Northwest right-hander Dustin May and Coppell right-hander Charles King.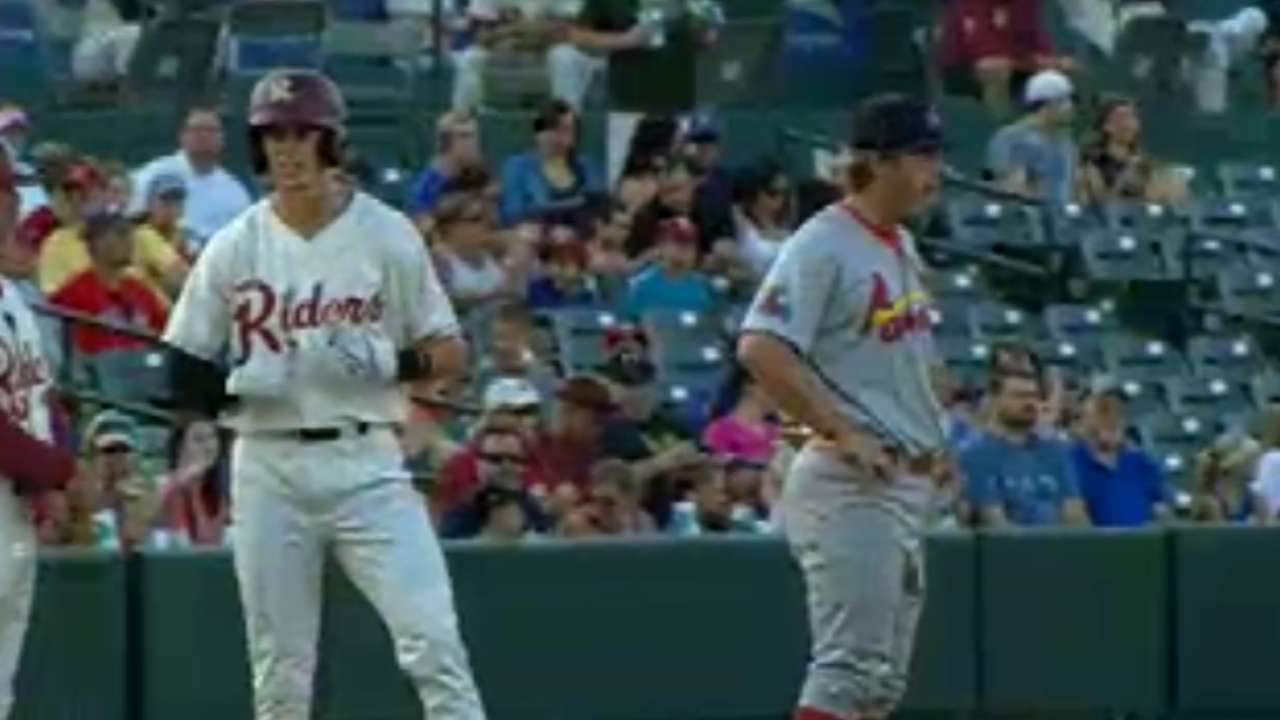 Rising fast
Outfielder Ryan Cordell was an 11th-round pick out of Liberty University in 2013. Through his first 50 games at Double-A Frisco, he was hitting .316 with a .367 on-base percentage and a .594 slugging percentage. He has shown speed, power and versatility.
Cinderella story
Right-hander Adam Parks was a 33rd-round pick out of Liberty University in 2014 who has risen quickly through the system. He is pitching in relief for Double-A Frisco and has a 1.88 ERA through his first 12 games.
In The Show
Outfielder Jared Hoying, a 10th-round pick in 2010 out of the University of Toledo, made it to the Major Leagues this season after 725 Minor League games, including 358 at Triple-A. Also on the team are first baseman Mitch Moreland (17th round, 2007), pitcher Luke Jackson (supplemental round, '09) and outfielder Ryan Rua (17th round, '11). Relievers Keone Kela (12th round, '12) and Tanner Scheppers (supplemental round, '09) are on the 60-day disabled list.
The Rangers' recent top picks
2015: Dillon Tate, RHP, Class A Hickory
2014: Luis Ortiz, RHP, Double-A Frisco
2013: Chi Chi Gonzalez, RHP, Triple-A Round Rock
2012: Lewis Brinson, OF, Double-A Frisco
2011: Kevin Mathews, LHP, Released in 2015
T.R. Sullivan has covered the Rangers since 1989, and for MLB.com since 2006. Follow him on Twitter @Sullivan_Ranger and listen to his podcast. This story was not subject to the approval of Major League Baseball or its clubs.