Padres ready to restock system in Draft
SAN DIEGO -- The 2016 Draft will take place from Thursday through Saturday, beginning with the Draft preview show on MLB Network and MLB.com on Thursday at 6 p.m. ET. Live Draft coverage from MLB Network's Studio 42 begins at 7 p.m., with the top 77 picks being streamed on MLB.com and broadcast on MLB Network. MLB.com's exclusive coverage of Day 2 begins with a live Draft show at 12:30 p.m. on Friday, with exclusive coverage of Day 3 beginning at 1 p.m. on Saturday.
MLB.com's coverage includes Draft Central, the Top 200 Draft Prospects list and Draft Tracker, a live interactive application that includes a searchable database of over 1,500 Draft-eligible players. Every selection will be tweeted live from @MLBDraftTracker, and you can also keep up to date by following @MLBDraft. And get into the Draft conversation by tagging your tweets with #mlbdraft.
Here's how the Draft is shaping up for the Padres, whose first selection is the No. 8 overall pick.
In about 50 words
Because of their many high picks, the 2016 Draft represents a major opportunity for the Padres to boost their farm system. In 2011, the last time they held six of the first 85 picks, four developed into big leaguers. The front office views this weekend as a chance to infuse the system with a wide array of young talent.
The scoop
The Padres are big on upside this year, and with so many early selections, they can afford to take risks and shuffle bonus-pool money. They own the eighth, 24th, 25th, 48th, 71st and 85th overall picks.
"It gives us a little bit more flexibility with who we're going to go for," said scouting director Mark Conner. "If somebody has a little bit more floor or ceiling, or is a high-upside type player, we can mix and match a little bit more, because we have the picks. If we go upside, then we can go conservatively."
First-round buzz
Stanford right-hander Cal Quantrill has been linked to the Padres numerous times, though it's unclear whether he'd fall to 24 -- or if the Padres would select him as high as No. 8. Quantrill fits the bill of a risk/reward type player after undergoing Tommy John surgery last year. Many had him pegged as a top-five pick before the injury. If San Diego wants to go with prep arms, Ian Anderson (Clifton Park, N.Y.), Forrest Whitley (San Antonio, Texas) and Riley Pint (Overland Park, Kansas) could be options at No. 8.
Money matters
Each team has an allotted bonus pool equal to the sum of the values of that club's selections in the first 10 rounds of the Draft.
The more picks a team has -- and the earlier it picks -- the larger the pool. The signing bonuses for a team's selections in the first 10 rounds will apply toward the bonus-pool total, as will any bonus greater than $100,000 for a player taken after the 10th round.
To sign their picks in the first 10 rounds of this year's draft, the Padres have a pool of $12,869,200 -- the third highest allotment in baseball, behind only the Reds and Phillies. It's a major jump from last season, when the Padres had less than $4 million to spend.
This year, the Padres were allotted $3,630,900 to spend on their first selection at No. 8 overall. But that doesn't mean they will spend that all on one player. With so many early selections, the Padres could end up shuffling their bonus-pool dollars around to make sure they can sign all of their early-round picks.
There are penalties for teams that overspend their allotment -- namely, any team that overspends by at least five percent will lose at least a first-round pick. An overage of at least 10 percent means a loss of at least two Draft picks.
Shopping list
With six picks in the top 85, the club could try to diversify its early selections, but first and foremost, the Padres could use an influx in organizational pitching talent. Still, the front office appears set on taking the best players available -- whether high school or college, pitcher or hitter.
Recent Draft history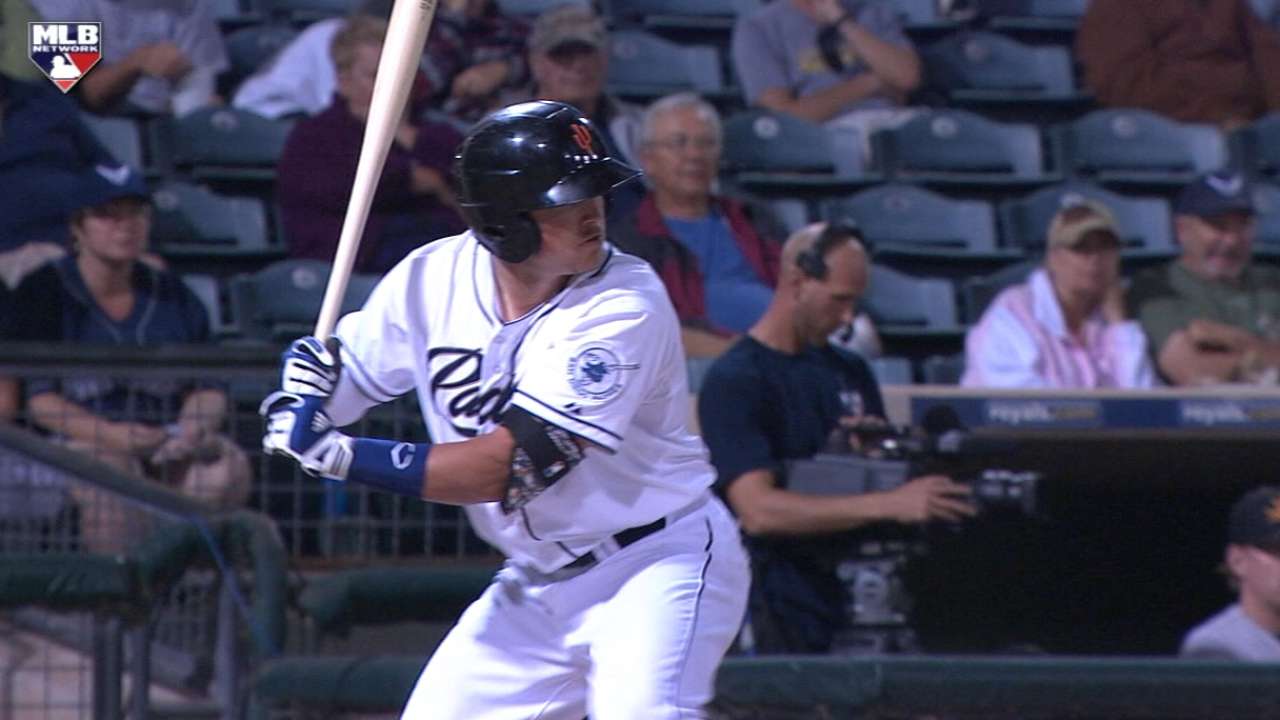 Rising fast
Since joining Triple-A El Paso at the end of last season, outfielder Hunter Renfroe has been a force at the plate. Renfroe, the Padres' first-round pick in 2013, had homered 18 times in fewer than 300 at-bats entering the weekend. According to one scout, "the power is real." He also boasts an impressive arm.
Cinderella story
The Padres third- and fourth-round selections in last June's Draft already appear to be making an impact at Class A Fort Wayne. Starter Jacob Nix has been sharp over his first 10 outings this season, while catcher Austin Allen has spent the first couple months peppering all fields with an impressive line-drive stroke. His OBP has hovered around .400 this year.
In The Show
Colin Rea (12th round, 2011 Draft) and Travis Jankowski (first comp round, 2012 Draft) are making an impact at the big league level for the Padres. Rea is still developing as a starting pitcher, but he's shown flashes of brilliance in his rookie season. Jankowski, meanwhile, is an elite defender, who is starting to show he can swing it, as well.
Padres recent top picks
2015: Austin Smith, RHP, Fort Wayne
2014: Trea Turner, SS, Traded to Washington in Wil Myers deal
2013: Renfroe, OF, El Paso
2012: Zach Eflin, RHP, Traded to Los Angeles in Matt Kemp deal
2011: Cory Spangenberg, 2B, Padres (currently on disabled list)
AJ Cassavell covers the Padres for MLB.com. Follow him on Twitter @ajcassavell. This story was not subject to the approval of Major League Baseball or its clubs.