Buxton shows off wheels vs. Rays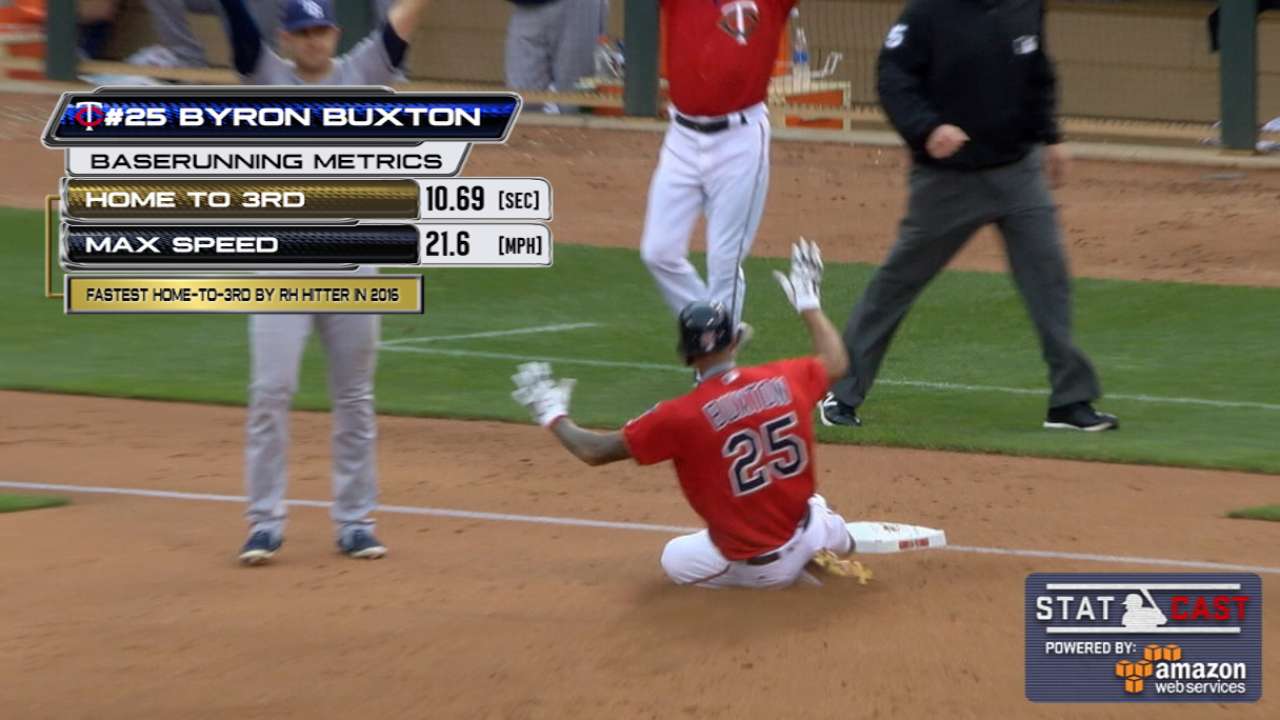 MINNEAPOLIS -- With the Twins' Byron Buxton's elite speed, the question of whether he's the fastest player in baseball comes up often.
Buxton proved he belongs in that conversation on Friday, as he tripled to lead off the third inning against Rays right-hander Jake Odorizzi, reaching third base in 10.69 seconds, according to Statcast™. It's the second-fastest mark to third this year behind only Cincinnati's Billy Hamilton, who reached third in 10.66 seconds on May 11.
The Twins lost to the Rays, 4-2.
Hamilton had the advantage of hitting left-handed during his triple. Buxton is a right-handed hitter, coming out of the box farther from first base.
"I thought they were playing deeper than we actually were," Buxton said. "Once I got past first base and saw where they were, that was my key."
The fastest time to third last year was 10.65 seconds by Tampa Bay's Kevin Kiermaier, but like Hamilton, Kiermaier's triple came while batting left-handed.
"There was not much doubt he was going three there," Twins manager Paul Molitor said. "The ball got stuck out there and it kind of sealed the deal there. But I think he was going three all the way."
Buxton also had a top speed of 21.6 mph on his triple to the left-center field gap, reaching third base easily without a throw. It was the third triple of Buxton's career and was the fastest he reached third base. He also now has at least one hit in each of his four games since being called up from Triple-A Rochester on Tuesday, batting .333 (5-for-15).
"I'm feeling pretty good," Buxton said. "I'm still up there trying to slow the game down as much as possible and put the ball in play a little bit more."
Rhett Bollinger has covered the Twins for MLB.com since 2011. Read his blog, Bollinger Beat, and follow him on Twitter @RhettBollinger. This story was not subject to the approval of Major League Baseball or its clubs.