Cards to make four picks on Day 1 of Draft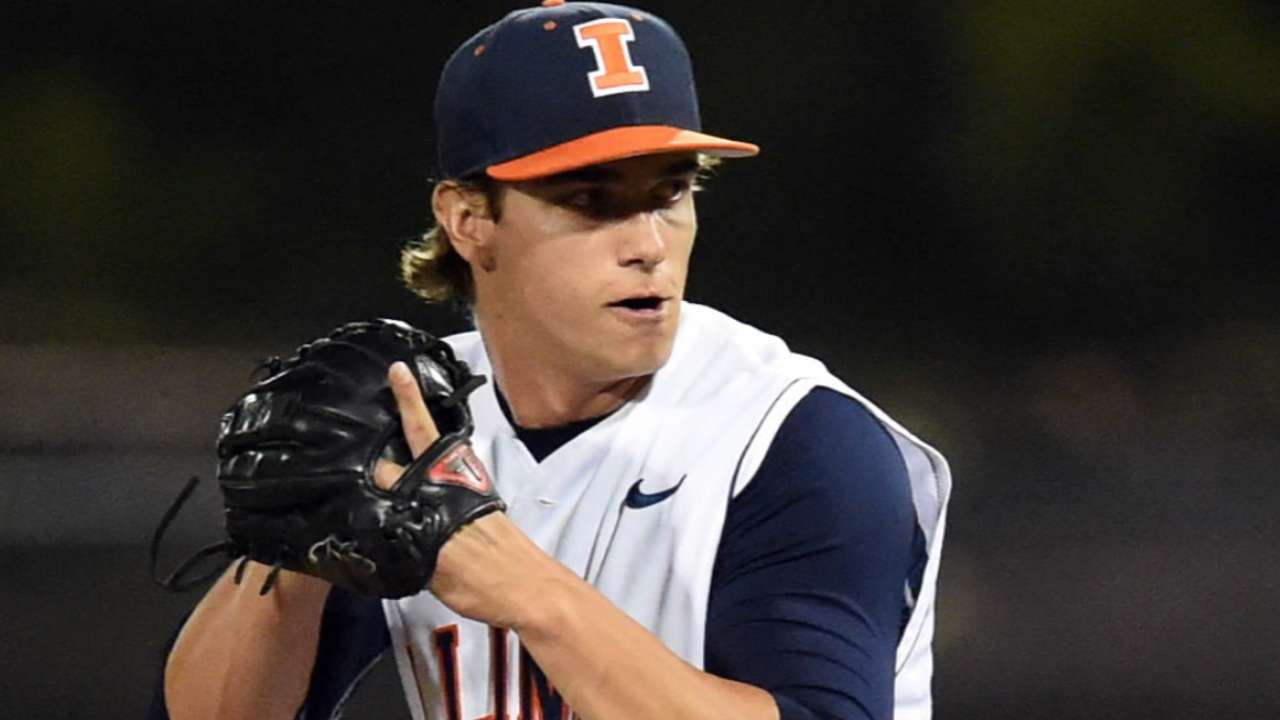 ST. LOUIS -- The 2016 Draft will take place today through Saturday, beginning with the Draft preview show on MLB Network and MLB.com today at 5 p.m. CT. Live Draft coverage from MLB Network's Studio 42 begins at 6 p.m., with the top 77 picks being streamed on MLB.com and broadcast on MLB Network. MLB.com's exclusive coverage of Day 2 begins with a live Draft show at 11:30 a.m. on Friday, with exclusive coverage of Day 3 beginning at 12 p.m. on Saturday.
MLB.com's coverage includes Draft Central, the Top 200 Draft Prospects list and Draft Tracker, a live interactive application that includes a searchable database of over 1,500 Draft-eligible players. Every selection will be tweeted live from @MLBDraftTracker, and you can also keep up to date by following @MLBDraft. And get into the Draft conversation by tagging your tweets with #mlbdraft.
Here's how the Draft is shaping up for the Cardinals, whose first selection is the 23rd overall pick.
In about 50 words
The Cardinals are one of two clubs with three first-round selections after netting additional picks as compensation for the free-agent departures of John Lackey and Jason Heyward. With four Day 1 picks in all, the Cards will enjoy an increase in the team's pool of bonus money, which will allow the club more flexibility in its spending strategy.
The scoop
For the third straight season, the Cardinals will have a different scouting director leading their Draft room. This time it will be Randy Flores, hired late last summer to replace Chris Correa, who is awaiting sentencing for his involvement in illegally accessing the Astros' database. It remains to be seen whether Flores will take a different Draft approach than any of his recent predecessors. The plethora of early picks will allow for the Cards to employ various strategic approaches, depending upon the activity ahead of them.
First-round buzz
There isn't a consensus among scouts as to how the top few picks in the Draft will shake out, but the Cardinals believe that the first round is deep in talent. That's good news for the organization, since it doesn't make its first pick until after 22 other clubs. With three first-round picks in total, the Cards have the opportunity to make a high-risk, high-reward selection early, if they'd like.
Money matters
Under the Collective Bargaining Agreement, each team has an allotted bonus pool equal to the sum of the values of that club's selections in the first 10 rounds of the Draft. The more picks a team has, and the earlier it picks, the larger the pool. The signing bonuses for a team's selections in the first 10 rounds, plus any bonus greater than $100,000 for a player taken after the 10th round, will apply toward the bonus-pool total.
Any team going up to five percent over its allotted pool will be taxed at a 75 percent rate on the overage. A team that overspends by 5-10 percent gets a 75 percent tax plus the loss of a first-round pick. A team that goes 10-15 percent over its pool amount will be hit with a 100 percent penalty on the overage and the loss of a first- and second-round pick. Any overage of 15 percent or more gets a 100 percent tax plus the loss of first-round picks in the next two Drafts.
The Cardinals have been assigned a pool of $9.1433, which ranks as the 10th most in the Majors. The value assigned to the Cards' top pick is $2.2225 million.
Shopping list
The Cardinals won't be targeting specific needs with particular picks, but they will rather take whomever they consider the best player available (keeping potential financial constraints in mind) with each selection. The organization has long made it a priority to develop pitchers, so look for the Cards to add plenty of new arms to the system.
Trend watch
After using their top pick on a college player for five straight years, the Cardinals went high-school heavy at the top last year. In fact, each of their first three picks was used on high school players. That was more a product of the Draft class than it was a change in philosophy, though, so it's hard to use that as an indicator for what might be ahead this year.
Recent Draft history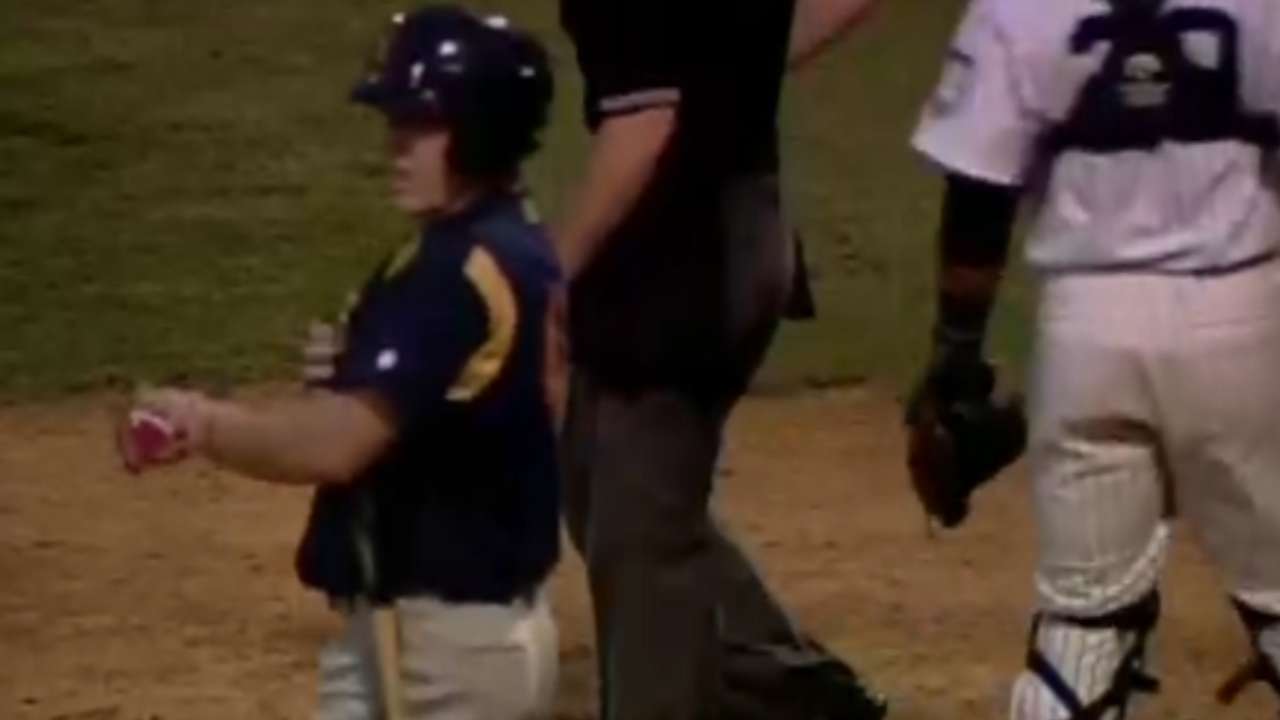 Rising fast
Outfielder Harrison Bader and third baseman Paul DeJong, both part of the Cards' 2015 Draft class, have thrived at Double-A this season and are already pushing themselves into position for a promotion. Through May, Bader ranked among the Texas League's top 5 in average (.332), on-base percentage (.380), slugging percentage (.559) and OPS (.939). DeJong, after a slow April start, hit .270/.342/.550 in May.
Cinderella story
Reliever Kevin Siegrist was drafted in a round that no longer even exists. The Cardinals made Siegrist their 41st-round pick in 2008, four years before Major League Baseball shortened the Draft to 40 rounds. Other late selectees who have made a Major League impact this year include Dean Kiekhefer (36th round, 2010), Trevor Rosenthal (21st round, 2009), Jaime Garcia (22nd round, 2005) and Matt Adams (23rd round, 2009).
In The Show
More than half of the players on the Cards' Opening Day roster were selected by the organization through the Draft. That group included six pitchers (Garcia, Tyler Lyons, Seth Maness, Rosenthal, Siegrist, Wacha), one catcher (Yadier Molina), four infielders (Adams, Matt Carpenter, Greg Garcia, Kolten Wong) and two outfielders (Tommy Pham, Stephen Piscotty).
The Cardinals' recent top picks
2015: Nick Plummer, OF, extended spring camp
2014: Luke Weaver, RHP, extended spring camp
2013: Marco Gonzales, LHP, disabled list (Tommy John surgery)
2012: Wacha, RHP, St. Louis Cardinals
2011: Wong, 2B, St. Louis Cardinals
Jenifer Langosch has covered the Cardinals for MLB.com since 2012, and previously covered the Pirates from 2007-11. Read her blog, follow her on Twitter, like her Facebook page and listen to her podcast. This story was not subject to the approval of Major League Baseball or its clubs.