Twins get good news on Sano, Gibson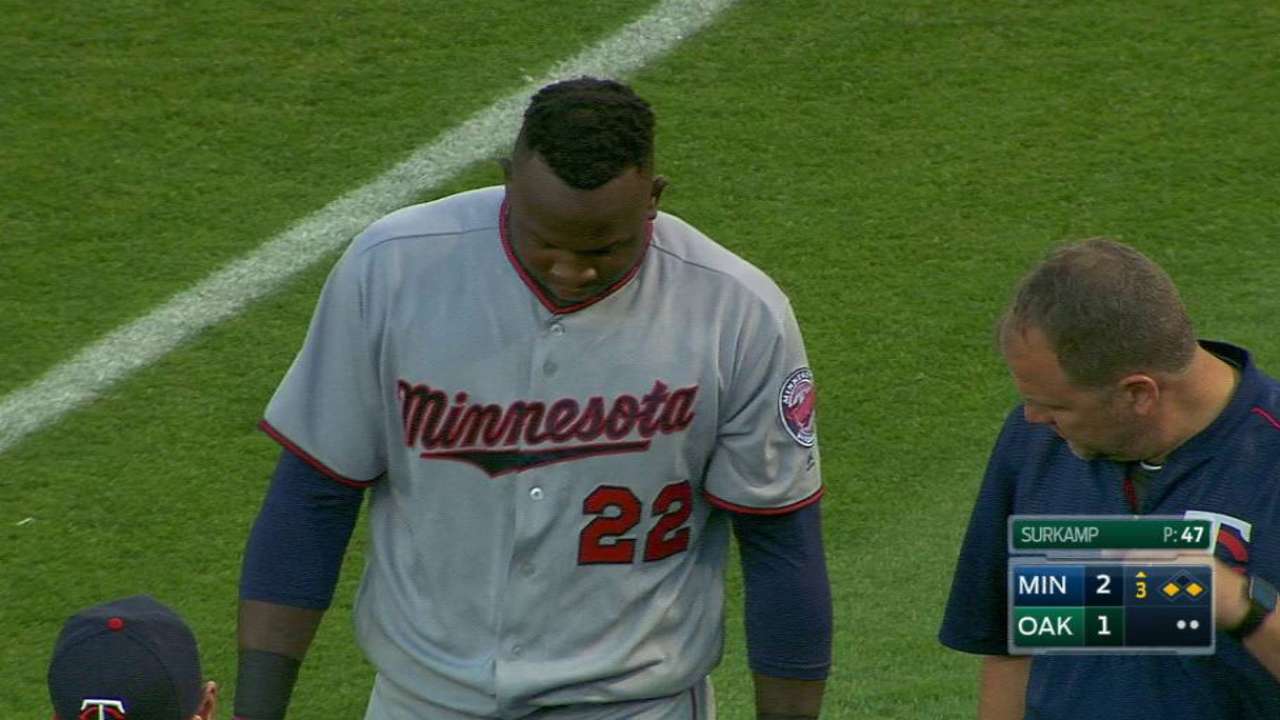 MINNEAPOLIS -- The Twins received good news on Miguel Sano and Kyle Gibson on Friday, as an MRI exam on Sano's strained left hamstring showed no significant damage, while Gibson felt fine after his bullpen on Thursday and is scheduled to make a rehab start with Triple-A Rochester on Sunday.
Sano, who suffered the hamstring strain while running to first base in Oakland on Tuesday, underwent the MRI exam as a precaution and the results came back favorable, according to manager Paul Molitor.
"There is a little bit of internal bleeding there, which isn't uncommon when you have a strain, but the good news is that it's not significant," Molitor said. "There was a little bit of slight stretching or minor tearing. There's nothing significant in terms of us believing it's going to be anything more than just recovering from a hamstring strain."
Molitor, though, wouldn't put an official timetable on Sano's return because of the fickle nature of hamstring strains, especially considering Sano's size.
"The one factor is that his hamstrings are different than other people," Molitor said. "I talked to him after the game last night and he said he's always been a quick healer. So we'll see how it goes."
Twins general manager Terry Ryan classified the strain as moderate, and like Molitor, he said there's no timetable, but that he doesn't expect him to ready to return once his 15 days on the DL are up.
"As big a guy as he is, you gotta be careful and make sure he's 100 percent when he comes back," Ryan said.
Gibson, meanwhile, saw his scheduled start with the Twins on Thursday pushed back after suffering lower back stiffness early this week. He remains on the 15-day disabled list with a right shoulder strain, but will start Sunday with Rochester before rejoining the rotation.
The Twins will go with a four-man rotation in the meantime, as they'll skip Phil Hughes with Monday's off-day, going with lefty Pat Dean on Tuesday and right-hander Ricky Nolasco on Wednesday. Hughes gave up four runs on eight hits in four-plus innings on Thursday, and will head to the bullpen.
"Kyle is doing well today," Molitor said. "He came in and we were able to confirm he'll be able to start for the Red Wings in Louisville on Sunday. It'll be good for him to have a long outing and ease any concern about his shoulder or the lower back issue that flared up earlier this week."
Additionally, outfielder Darin Mastroianni, on the 15-day disabled list with a left oblique strain retroactive to May 22, began baseball activities on Friday, playing catch for the first time since suffering the injury. He's hopeful to start hitting and running on the field this weekend.
"It feels a lot better," Mastroianni said. "The last three days I've noticed a significant improvement. So it's been good."
Rhett Bollinger has covered the Twins for MLB.com since 2011. Read his blog, Bollinger Beat, and follow him on Twitter @RhettBollinger. This story was not subject to the approval of Major League Baseball or its clubs.