Draft profile: Forrest Whitley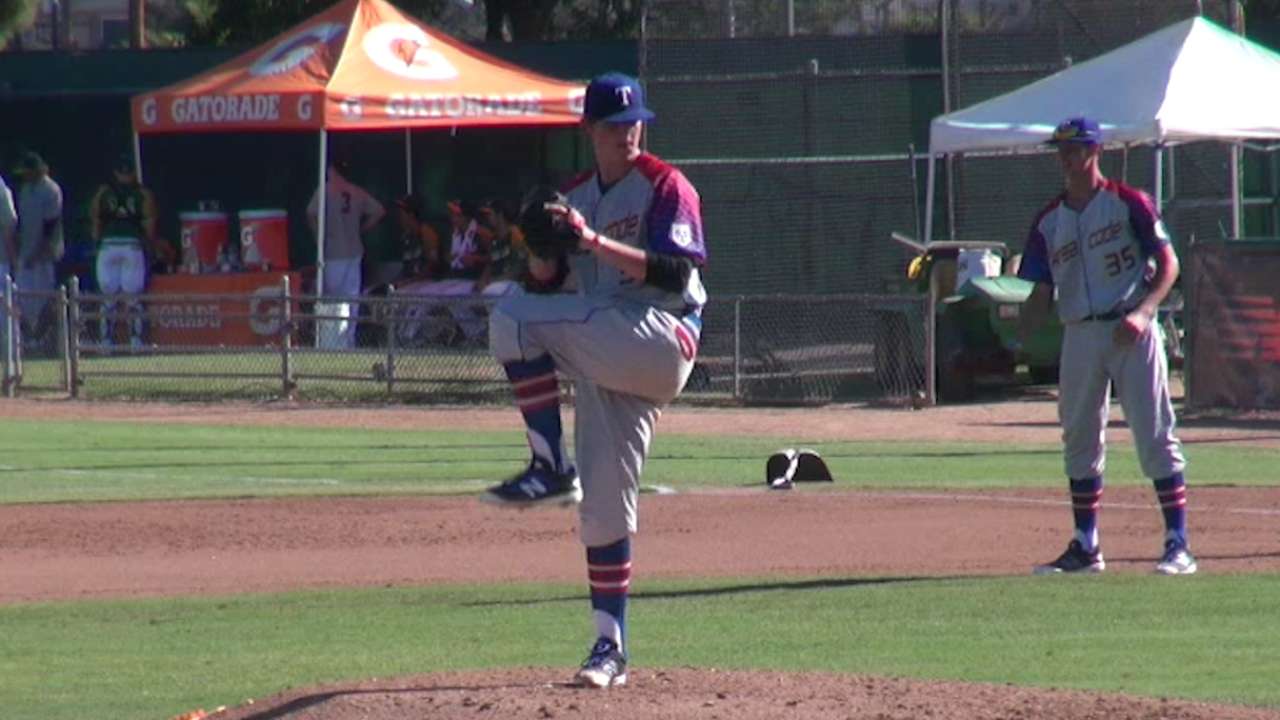 With the 2016 Draft fast approaching, we take a closer look at the top prospects in this year's class.
Name: Forrest Whitley
Position: RHP
School: Alamo Heights (Texas) High School .
Rank on Draft Top 200: 12
DOB: 9/15/1997
Bats: R Throws: R
Height: 6' 7" Weight: 225 pounds
College commitment: Florida State
Tools
(Future grades on 20-80 scouting scale)
Fastball: 65
Curveball: 60
Slider: 50
Changeup: 55
Control: 60
Overall: 55
Scouting report
Whitley rocketed from a sub-6-footer with a mid-70s fastball when he entered Alamo Heights High (San Antonio), to 6-foot-7 and low-90s heat by the time he was a sophomore. He has continued to improve, impressing on the showcase circuit and with the U.S. national 18-and-under team last year and pitching better than ever this spring. He could be the second high school right-hander drafted, behind Kansas' Riley Pint.
Whitley has a complete three-pitch arsenal, starting with a 92-97 mph fastball with some cutting action at the lower end of that range and some running life at the upper end. His power curveball tops out in the low 80s with tight spin and good depth, and he'll sometimes turn it into a harder slider. He has upgraded his changeup and used it more this spring, and it drops at the plate and shows flashes of becoming a third plus offering.
Scouts also have liked how Whitley has firmed up his large frame, which looked soft at times in 2015. He has good body control for a big kid and does a nice job of repeating a delivery that doesn't feature much effort. There were some initial concerns about the Florida State recruit's signability, but he has pushed himself high enough in the Draft to where it shouldn't be an issue.
MLB comp: Josh Johnson
Fun fact: Whitley had a six-inch growth spurt during his freshman year of high school.
He said it: "I'm not going to lie to you, I'm really good at throwing hard. I've got a pretty good head on my shoulders, and I feel like I've got pretty good composure out there on the mound too … but I (need to work) on probably getting my pitches lower in the zone. I leave a lot of pitches high. I think I have pretty good stuff, but anyone can hit a fastball at their chest. So that is one thing I have to work on, commanding the zone." (Baseball America)
They said it: "His biggest growth has been in his mental game. He's learned how to be a complete pitcher, not just rely on rearing back and throwing."
-- Alamo Heights coach Jason Thompson (San Antonio Express-News)
Cash Kruth is a reporter for MLB.com. Follow him on Twitter at @cashkruth. This story was not subject to the approval of Major League Baseball or its clubs.