MLB.com Columnist
Richard Justice
Kershaw's talent something to marvel
Dodgers ace earning place among all-time greats
When Clayton Kershaw takes the mound Saturday night against the Braves at Dodger Stadium, we will be watching someone who appears to be one of the greatest pitchers of all time. Isn't that where he has taken the conversation?
Comparisons are tricky, especially for players from different eras. For one thing, we don't want to let them distract us from the pure pleasure of watching Kershaw do his thing.
Kershaw is a reminder that great pitching is an art form. It's power and precision, finesse and grit. Very few have done it better than this 28-year-old left-hander.
Kershaw is the youngest pitcher in history to win three Cy Young Awards, and he could be on track for a fourth in 2016. If so, he'd be just the fifth pitcher to win that many and would be doing it at a younger age than any of the others were at the time of their fourth -- Roger Clemens (35), Randy Johnson (38), Steve Carlton (37) and Greg Maddux (29).
Even more impressive is that Kershaw could be headed for a second National League Most Valuable Player Award to make him the first pitcher in 71 years -- and the fourth in history -- to win two. (The three pitchers to win multiple MVP Awards are Carl Hubbell (1933-36), Hal Newhouser ('44-45) and Walter Johnson ('13-24). All are in the Hall of Fame.)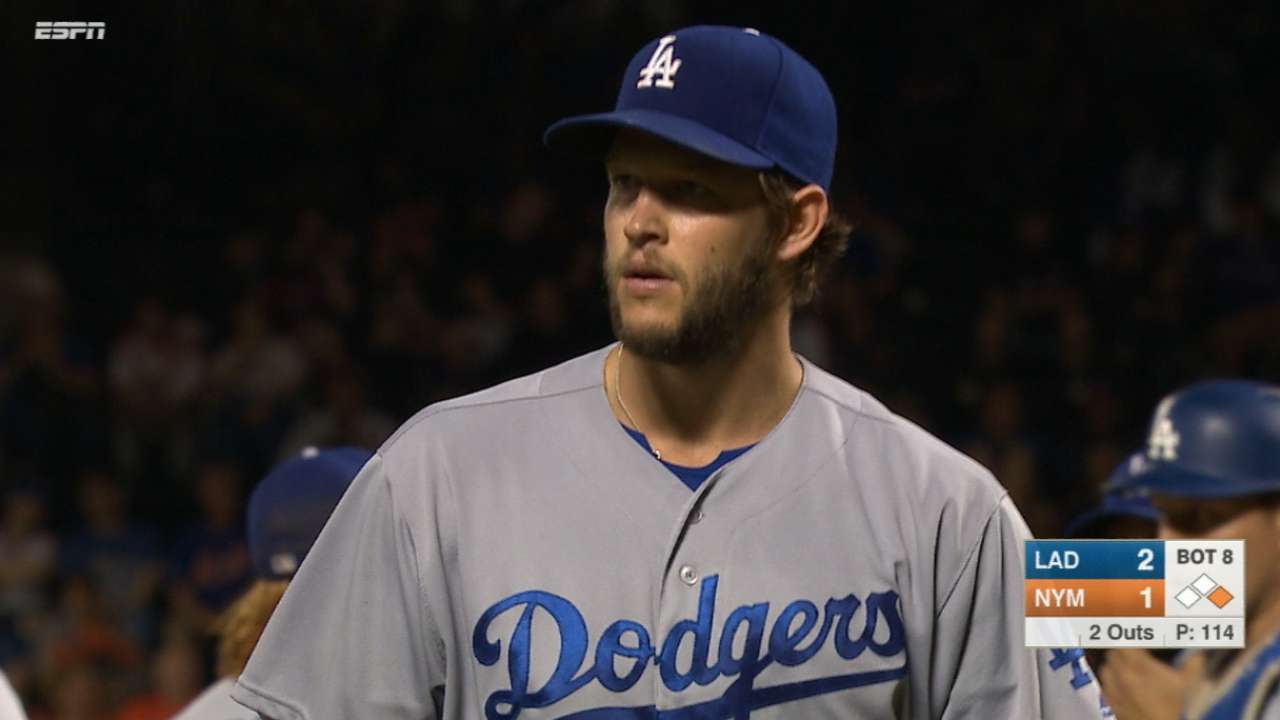 Plenty of longtime baseball writers are reluctant to cast an MVP vote for a pitcher. They reason that pitchers have their own award -- the Cy Young Award, which was first given in 1956 and was then expanded to both leagues in '67.
Also, a pitcher taking the mound 33 times can't possibly have the impact of an everyday player going out there 150-plus times. That is, unless the impact in those 33 games is overwhelming.
The Dodgers are 10-1 in Kershaw's starts, 18-26 with anyone else starting. He leads the NL in strikeouts, innings, WHIP and WAR. Kershaw's 21.0 strikeout-to-walk ratio is nearly twice what any other pitcher has accomplished over a full season.
Kershaw's 1.56 ERA is tied with Cubs ace Jake Arrieta for the NL lead. Like Kershaw, Arrieta has been historically good, going 31-6 with a microscopic 1.72 ERA the last two seasons.
Arrieta and Kershaw might finish first and second in both the NL Cy Young Award and NL MVP Award races. And depending on what happens the rest of the way, Arrieta could end up with a second Cy Young Award in his trophy case.
Still, what we're seeing with Kershaw is for the ages -- four ERA and three strikeout titles, three Cy Young Awards (and a second- and third-place finish) and an MVP Award in just the past five seasons.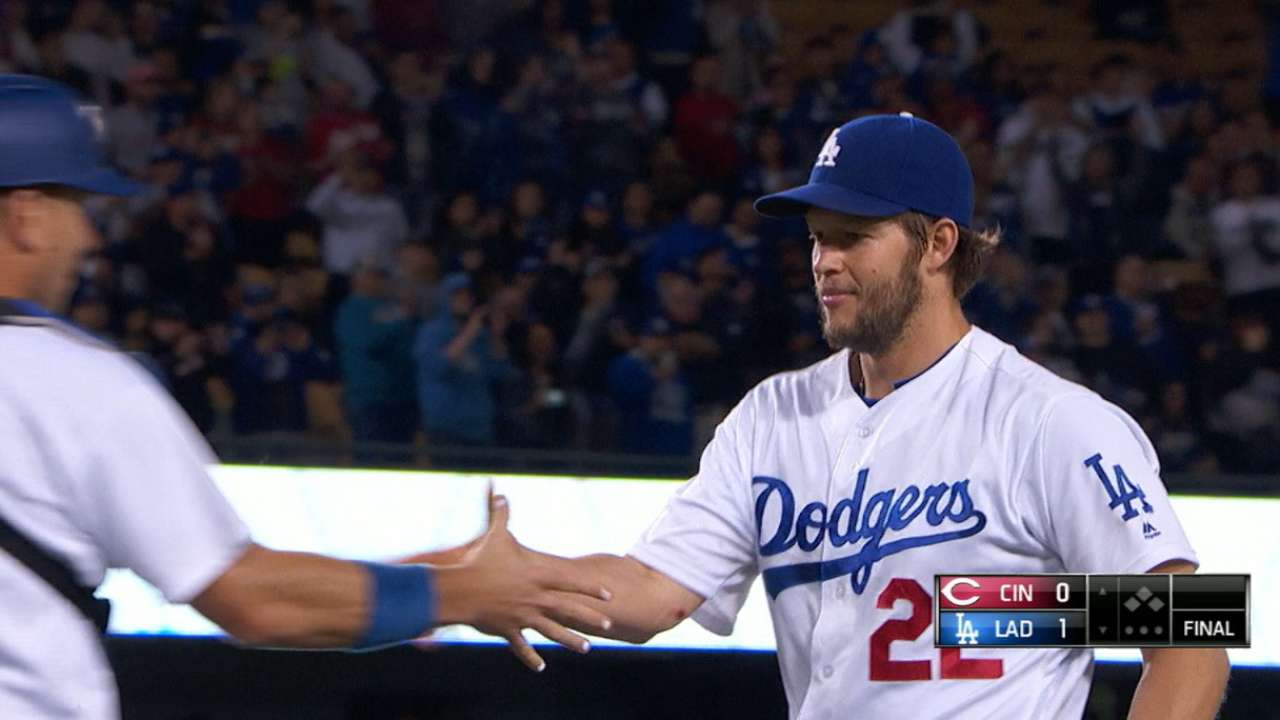 Kershaw is on a pace for a 9.4 Wins Above Replacement, according to fangraphs.com's calculations. The highest projected NL position player is Bryce Harper at 7.0.
Some will argue that it's premature to consider Kershaw's place in history since he's only in his ninth season, and at 28, he could produce at a high level for several more. That may also be what makes his body of work so dazzling.
Kershaw throws three pitches -- fastball, slider, curveball. Nothing too fancy there. He simply executes those three pitches at the highest level possible. He's not particularly overpowering, with his fastball (which he throws slightly more than 50 percent of the time), averaging 93 mph, according to fangraphs.com.
Kershaw uses his fastball to get ahead in the count or induce groundouts. His other two pitches induce swings and misses.
Because Kershaw has the command to throw all three pitches -- and the confidence -- he seems to control every at-bat. Hitters may occasionally guess right, but his execution rate of putting the ball where he wants it is off the charts.
Kershaw is not perfect, though. In 13 postseason appearances, he has a 4.59 ERA. However, that large number is primarily a result of two terrible appearances -- 15 earned runs in 10 2/3 innings in 2013 and '14.
In his past three postseason turns, Kershaw has a solid 3.20 ERA in games in which the Dodgers scored six runs total.
Command? Kershaw has issued five walks in 86 2/3 innings. He walked three batters in April, two in May. Kershaw struck out 40 in April, 65 in May. In 11 starts, he has allowed more than two earned runs once: On April 26, the Marlins scored five runs.
When the Dodgers made a seven-year, $215 million commitment to Kershaw 2 1/2 years ago, it was perhaps the ultimate compliment.
Long-term contracts come with inherent risks, particularly for pitchers. But the Dodgers had no reluctance about making Kershaw the highest-paid pitcher in history at the time.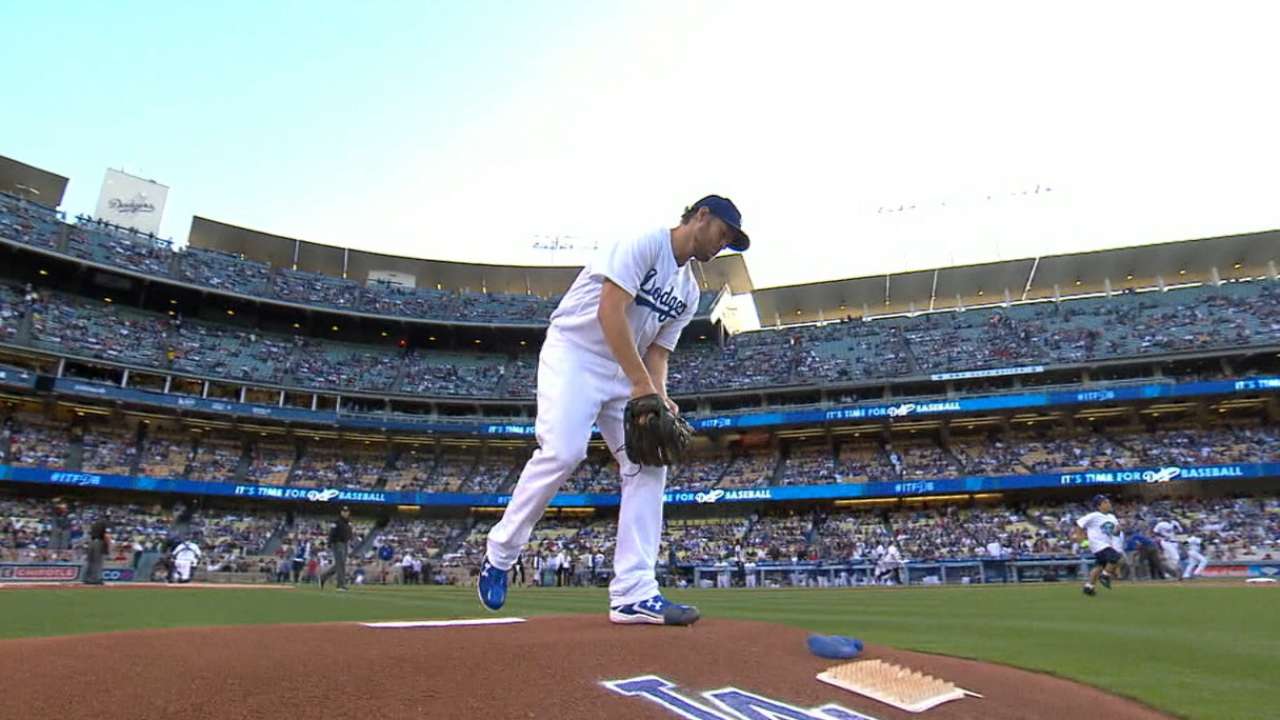 They knew that in terms of talent and work ethics and smarts, they might never have anyone better. They also knew that he wanted to represent the franchise the right way in being a good teammate and a giving member of the community.
Kershaw is 44-11 with a 1.90 ERA since signing that contract, and he has been as close to perfect as almost any pitcher in history. When they made him the seventh pick of the 2006 Draft, the Dodgers thought he had a chance to be special.
Just like Dodgers fans of another era say they saw Sandy Koufax pitch, those who've watched Kershaw surely know they are equally fortunate.
Richard Justice is a columnist for MLB.com. Read his blog, Justice4U. This story was not subject to the approval of Major League Baseball or its clubs.