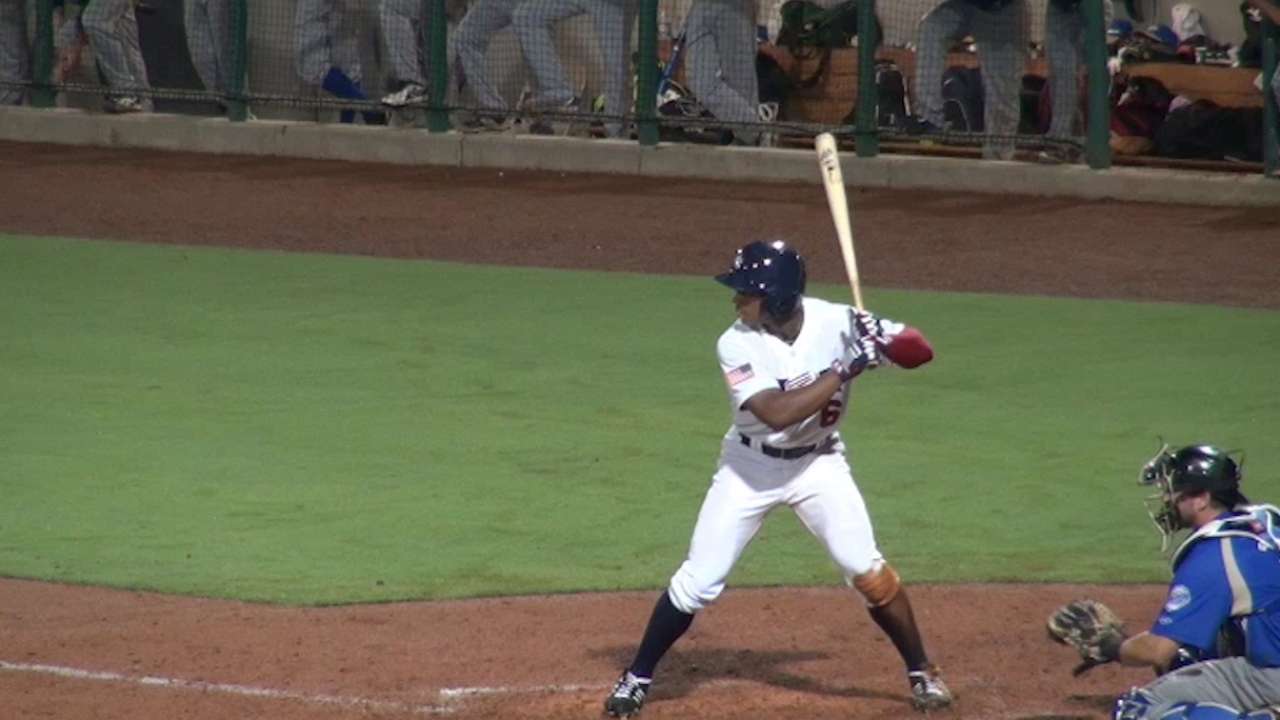 With the 2016 Draft fast approaching, we take a closer look at the top prospects in this year's class.
Name: Corey Ray
Position: OF
School: Louisville
Rank on Draft Top 200: 4
DOB: 09/22/94
Bats: L Throws: L
Height: 5' 11" Weight: 190 pounds
Tools
Future grades on 20-80 scouting scale
30: Well below average
40: Below average
50: Average
60: Above average
70-80: Well above average
Grades
Hit: 55
Power: 55
Run: 60
Arm: 50
Field: 55
Overall: 55
Stats (through May 28)
Games: 59
Average: .320
At-bats: 247
Doubles: 16
Home runs: 15
Runs batted in: 58
Stolen bases: 39
On-base percentage: .396
Scouting report
Coming out of Chicago as a high schooler with a raw skill set, Ray was selected by the Mariners in the 33rd round of the 2013 Draft before choosing to attend Louisville. He has steadily polished his game since then, showing five-tool potential that makes him one of top college hitters in this year's class.
Ray has an athletic build at 5-foot-11, 190 pounds, playing effortlessly in all phases with fast-twitch actions. At the plate, he pairs above-average bat speed with a line-drive swing path, though he tends to overextend his front arm, leaving him vulnerable on the inner half and resulting in a surplus of ground balls to his pull side. The strength in Ray's forearms and wrists really stands out, and it helps him produce above-average raw power that has translated to games.
Ray's plate approach has stepped forward in each of his past three seasons as a Cardinal, striking out in just 13 percent of his plate appearances compared to 20 percent as a sophomore and 26 percent as a freshman. Ray is a plus runner with solid-average arm strength, giving him a chance to stick in center field as he improves his instincts. With the ability to hit at the top of an order while playing a premium position, he's a strong candidate to come off the board within the first five picks.
MLB comp: Oddibe McDowell
Fun fact: Ray keeps a black book in which he records observations from his at-bats throughout each game. He says that by writing down how he's being pitched to, he's able to make adjustments for the next at-bat.
He said it: "As a freshman, everything is moving so fast and I'm trying to hit the ball over the fence with every swing of every at-bat. Now I'm taking what the pitchers give me and letting the ball travel. If he throws me away, I hit it to left. If he throws me in, I have a chance to hit the ball out of the ballpark. I'm just letting my hands work and trusting my ability."
They said it: "Corey's greatest strength is when the game's on the line, he gives you the best at-bat. When he locks in -- we talk about his home runs all the time, his extra-base hits, they're always when we're losing or the score is tied. He's at his best when we need him to be." -- Louisville head coach Dan McDonnell, in an interview with D1 Baseball
Jesse Burkhart is a contributor to MLB Pipeline and FanGraphs. This story was not subject to the approval of Major League Baseball or its clubs.