Middle-infield versatility gives Maddon options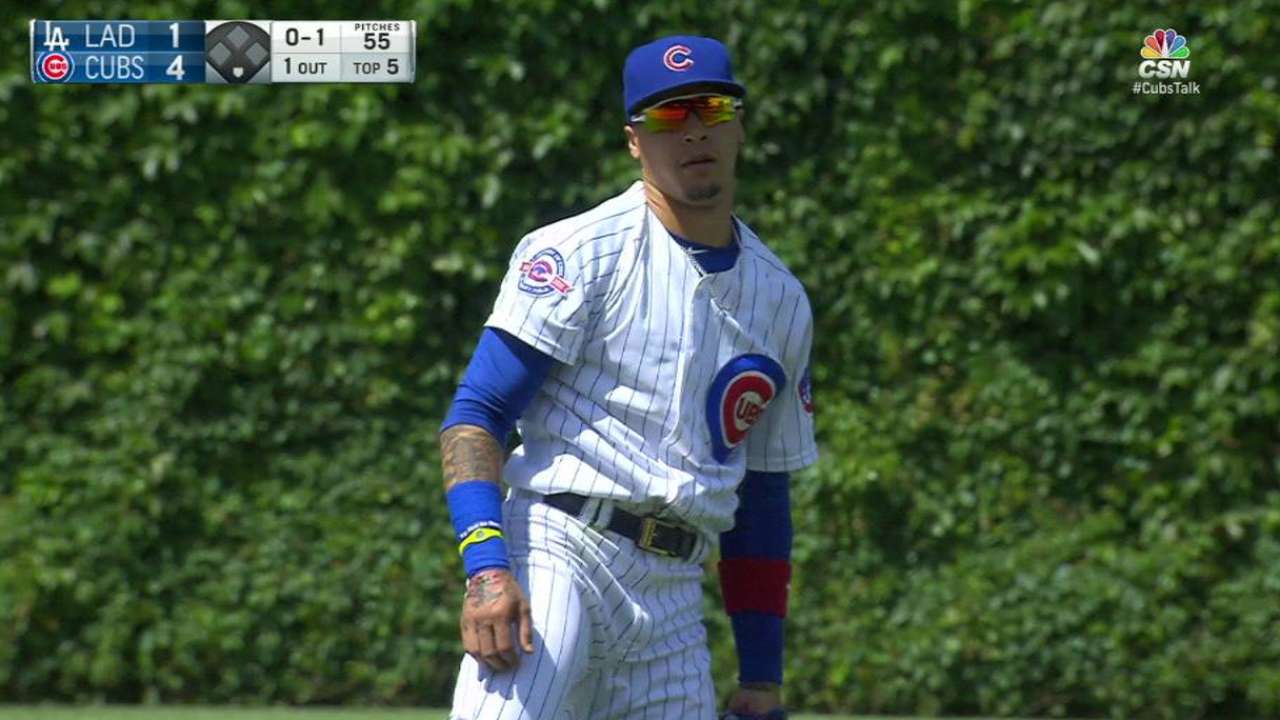 CHICAGO -- The versatility of the Cubs' roster isn't new to manager Joe Maddon, who also had flexible players with the Rays, but his current middle-infield situation is unique.
Not many teams can rest their shortstop or second baseman without losing too much defensively up the middle, especially turning double plays, but the Cubs have that luxury with Addison Russell, Ben Zobrist and Javier Baez.
Zobrist, the starter at second, is sort of a master of all trades defensively, able to adequately play a number of positions. Russell played second much of last season before transitioning to his spot as the starter at shortstop. Baez, who started for Russell in the opener Friday against the D-backs, is a natural shortstop who can also play third, second or the outfield.
"It's unusual, in general, to be able to alter your middle infielders as much as we do and feel good about it," Maddon said. "That is unusual. I can't tell you that we actually did that in the past down there [in Tampa Bay]. We gave guys days off, but I don't know if it's as comfortable as it is right here with these particular names and their abilities."
Zobrist, who entered Friday with a .339 batting average and 35 RBIs, was back in the lineup against Arizona after a day off Thursday, with Russell taking a seat for Baez, who made two outstanding defensive plays filling in for Zobrist the day before.
As a result of the middle-infield situation, third baseman Kris Bryant and first baseman Anthony Rizzo rarely get days off.
"The guys I'm taking advantage of are the corner guys, [Bryant] and [Rizzo]," Maddon said. "[Bryant] and [Rizzo] are being taken advantage of, thinking they don't need as much time off. They don't show that they do."
Worth noting
• Cubs starters entered Friday with a 2.38 ERA in 333 1/3 innings, which ranked first in baseball ahead of the Nationals (3.06).
"One of our goals or objectives before the season was to have our starters pitch 1,000 innings," Maddon said. "When that happens, you have a great bullpen, because the bullpen was rested. It's beautiful. We thought it could occur this way, and it's happening to play out."
• Right hander Jason Hammel, who left his last start Monday after just two innings with a cramp in his right hamstring, feels fine to start Saturday.
• Jason Heyward (.229) and Rizzo (.239) each came into Friday's game with batting averages well below their career marks, but Maddon said he's not concerned about either one. Maddon added that technological improvements to advance scouting are impacting hitters' averages across baseball, including Heyward and Rizzo.
"You have all these factors working against the hitter," he said. "So to just look at batting average as being the all-encompassing thing, it really can't be, because you're really at a disadvantage [as a hitter]."
• Maddon said Hector Rondon was available if needed Friday. Rondon was available in Thursday's finale against the Dodgers, after not being available Wednesday because of tightness in his lower back, but Maddon said he wouldn't have used him.
Brian Hedger is a contributor to MLB.com based in Chicago. This story was not subject to the approval of Major League Baseball or its clubs.