Draft profile: Zack Collins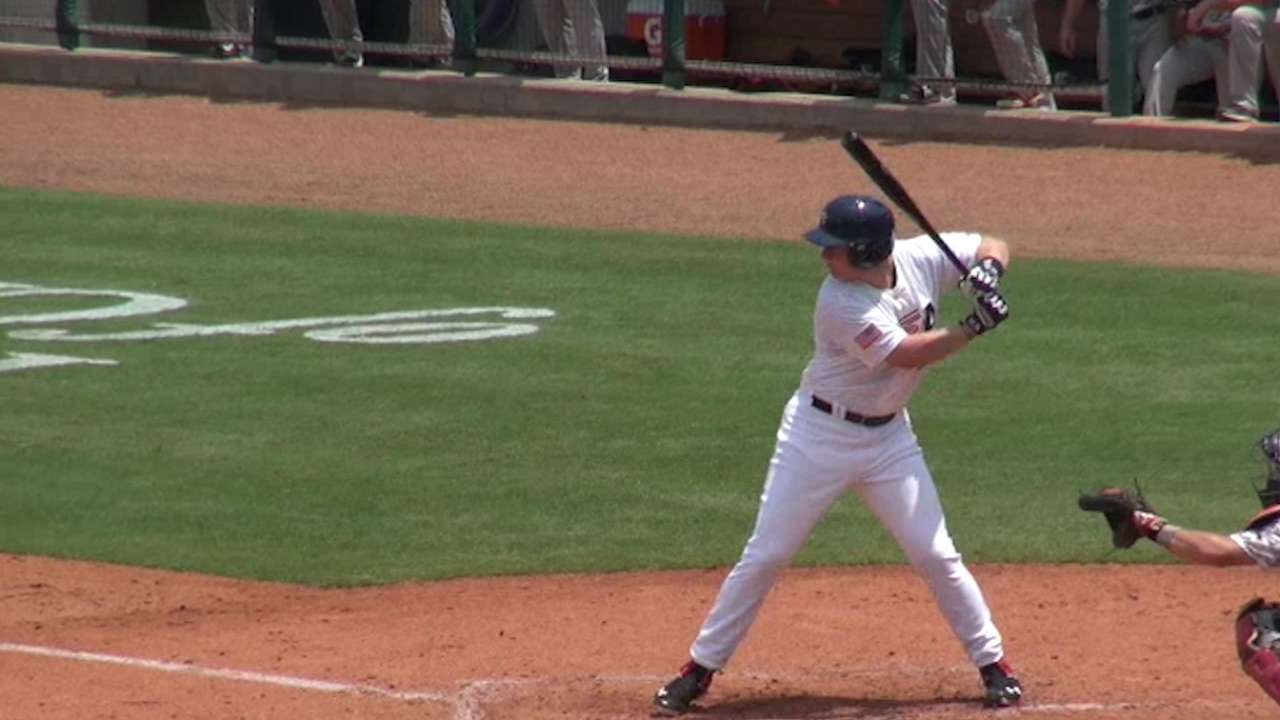 With the 2016 Draft fast approaching, we take a closer look at the top prospects in this year's class.
Name: Zack Collins
Position: C
School: Miami
Rank on Draft Top 200: 20
DOB: 2/6/1995
Bats: L Throws: R
Height: 6' 3" Weight: 220 pounds
Tools
(Future grades on 20-80 scouting scale)
Hit: 50
Power: 50
Run: 30
Arm: 45
Field: 40
Overall: 55
Stats
Games: 54
Average: .364
At-bats: 165
Doubles: 8
Home runs: 12
Runs batted in: 52
On-base percentage: .540
Scouting report
Back in 2013, Collins was a Top 100 prospect coming out of high school, sliding to the Reds in the 27th round because of his strong commitment to the University of Miami. Three years later, he's back with a proven bat that could come off the board fairly early.
In high school, Collins had a reputation as an offensive-minded backstop, one who could really hit but with an uncertain defensive future. Not much has changed from that profile. While Collins has improved defensively, the jury is still out on whether he can stick behind the plate at the next level. He throws better than he used to, though he still has a fringy average arm and he doesn't move that well behind the plate. Collins can definitely hit, though, with a chance to put up 20-homer seasons annually. He has an advanced approach at the plate and isn't afraid to take walks.
A team that thinks Collins has a shot to catch might take him in the first round. Even if he has to move, he has the offensive profile for first base and that bat should get him taken on Day 1 of the Draft.
MLB comp: Kyle Schwarber
Fun fact: Collins collects remote-control planes with his father.
He said it: "I think I'm just a guy who goes out there and works hard every day to be as good as I can. I'm a team player; I'll do whatever helps out the team. Obviously, I'm an offensive catcher, but I'm working on my defense a lot lately. I think I've gotten a lot better defensively, and I'm just trying to prove to guys I can catch at the next level." -- Collins to MLB Trade Rumors
They said it: "[Zack] has had a great year and every coach in the conference respects him. He has been walked 62 times. They pitch around him. Most of the time, they just stand up and walk him intentionally."
-- Miami coach Jim Morris
Cash Kruth is a reporter for MLB.com. Follow him on Twitter at @cashkruth. This story was not subject to the approval of Major League Baseball or its clubs.