Taillon strikes balance while waiting for callup
Pirates pitching prospect has mature perspective following injuries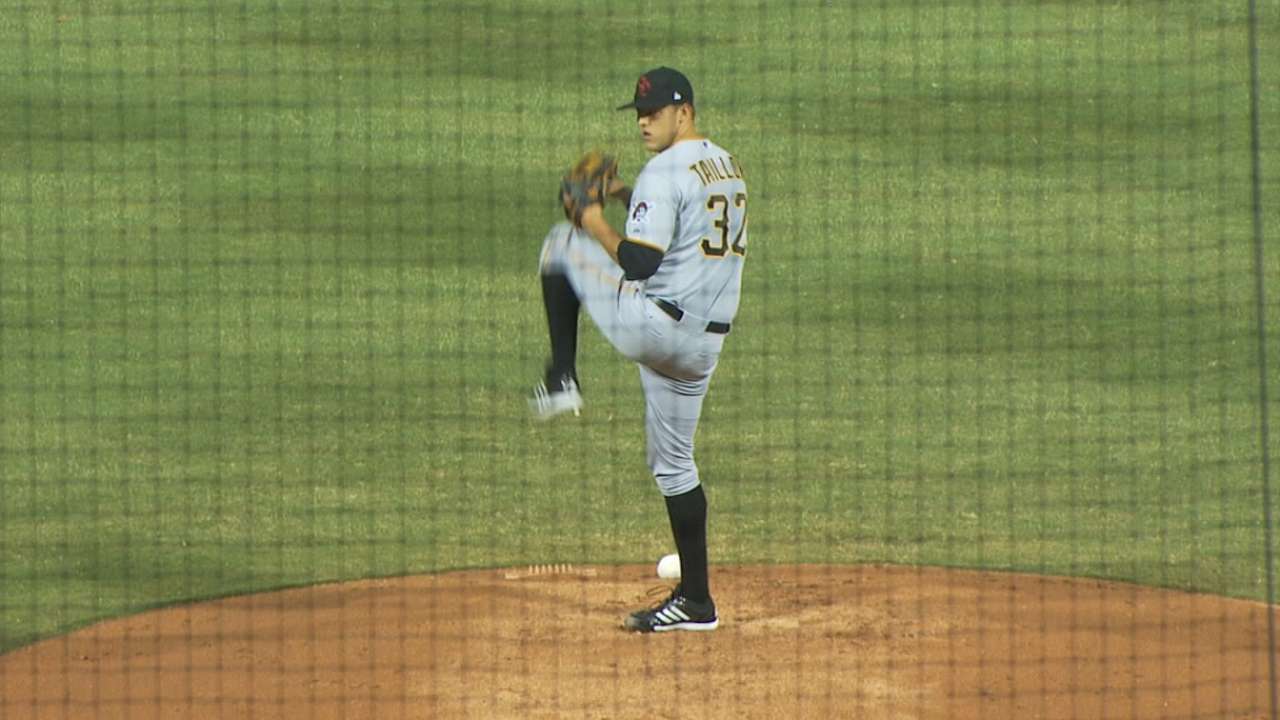 INDIANAPOLIS -- Jameson Taillon wasn't satisfied. He thought he could've been sharper. More consistent.
To everyone else, Taillon's last Triple-A outing looked like another quality start in his comeback season: six innings pitched, four hits, one earned run, three strikeouts.
To Taillon, it wasn't good enough. Regardless of opponent, his thought lingers: "What if this was Game 7 of the World Series?"
"If I get an eight-hole hitter from Toledo to hit a fly ball, maybe that doesn't work against [Chicago Cubs first baseman] Anthony Rizzo," Taillon said.
Taillon balances that perfectionist tendency with a new perspective, which he gained after suffering back-to-back injuries in two years. He had Tommy John surgery in April 2014 to repair a torn right ulnar collateral ligament. Then, just as he was nearing a return, Taillon had an inguinal hernia, which required surgery in last July. He matured during the time spent sidelined, using it to work on pitching mechanics and improve his diet and overall health.
If injuries hadn't kept Taillon down, the Pirates may have called up the 24-year-old long ago.
"I'm sure he'd probably be in the middle of a very successful Major League career right now if he hadn't been injured," Pirates general manager Neal Huntington said.
Instead of lamenting two years of injuries, Taillon used them to get better in whatever way he could. Spending that much time unable to play, much less have full control of his body, has made him less likely to panic on the mound.
"If there's a runner on third and no outs, it's not a big deal to me," Taillon said. "I've been laying on a table not able to bend my arm. So what's that guy going to do to me?"
Taillon has walked just five batters and has a 1.79 ERA in 55 1/3 innings pitched and leads the International League in WHIP at 0.80. Before his last start, an 8-2 win for Indianapolis on Sunday, he hadn't pitched in 10 days. Taillon previously skipped a start to manage his workload.
His numbers may raise eyebrows, but Taillon knows better than to take his stat lines too seriously. For two years, he didn't have any box scores for people to judge, but that didn't mean he wasn't constantly working toward success. Now it's more about his daily habits and how they pave the way to his future.
"Now I definitely judge myself off that process, what I think I'm capable of vs. what my outcome is," Taillon said. "So I'd say if anything, my two years being injured kind of raised the bar on how work is supposed to be done and what I expect of myself."
In a way, just watching baseball taught Taillon this approach. Even National League Cy Young Award winners Jake Arrieta and Clayton Kershaw give up a walk, a hit, a run. And life goes on.
"You don't see them really try to do more, or change their game, they just keep pitching the way they know how," Taillon said.
Considering Taillon's season so far, it's no question Huntington regards him as a viable option to call up to Pittsburgh. It's just a matter of when.
"Mechanically, he's as sound as he's been since even before we drafted him," Huntington said. "And he's been able to repeat his pitches fairly well. The consistency and the command are as good as they've been. Still some work to do, still refining some of the little things."
Taillon has lived with the pressure to perform since a young age. Then, the Bucs took him as the No. 2 overall pick in the 2010 Draft between two generational talents, Bryce Harper and Manny Machado -- both All-Stars and MVP Award candidates before their 24th birthdays. Taillon has worked his way to the precipice of the next logical step.
"And that's kind of how I'm wired, I always want to set the next goal," Taillon said. "I'm never complacent with where I'm at."
To Taillon, a day game for the Indianapolis Indians means a night off. A night he can spend out of his cleats and without the No. 19 on his back, maybe at dinner with friends.
Taillon can't control when he gets called up, so he said he tries not to stress about it. Instead of a contradiction of perfection and relaxation, it seems he's struck a balance. But still, that thought lingers.
"He's human," said Indianapolis pitching coach Stan Kyles. "[If you] ask him if he's thinking about Pittsburgh, I think he would say, 'Absolutely.' But he's a balanced kid -- he's always been balanced in his work, his play. I think he's right where he needs to be, mentally."
Sarah K. Spencer is a reporter for MLB.com based in Pittsburgh. This story was not subject to the approval of Major League Baseball or its clubs.