CVCC stays alive in JUCO World Series
Rematch with San Jacinto will determine championship opponent for Yavapai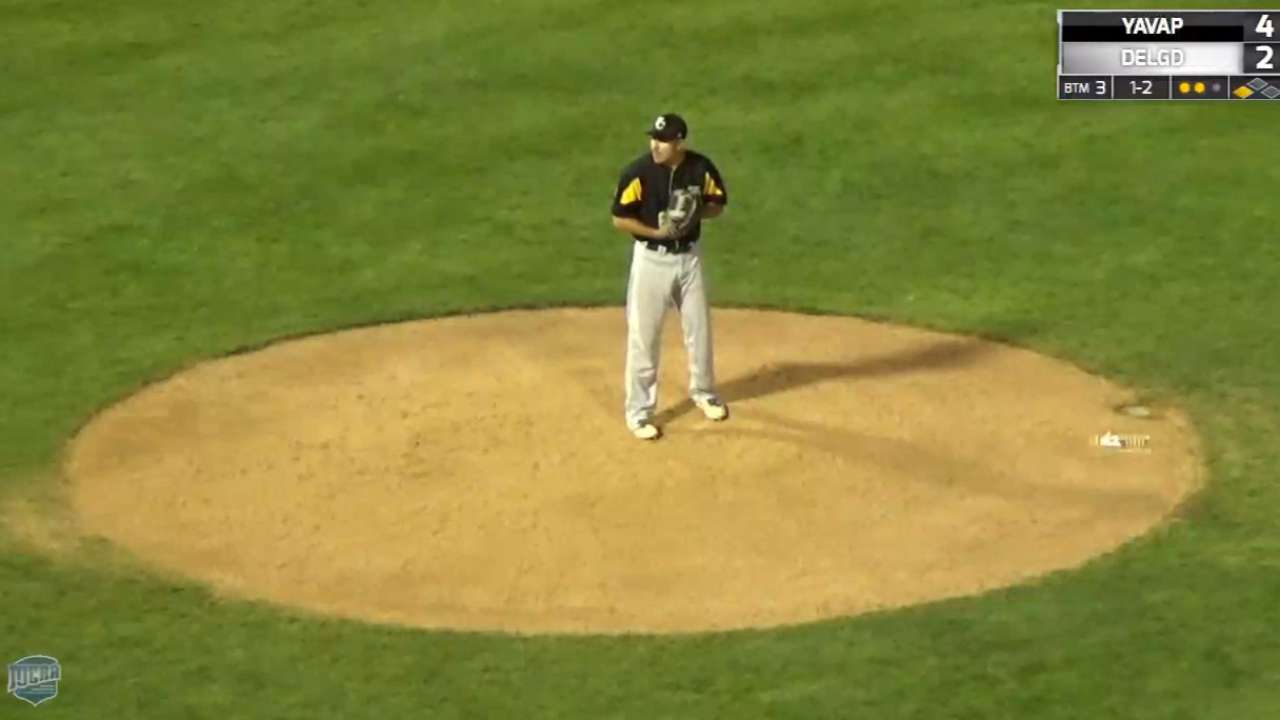 GRAND JUNCTION, Colo. -- Chattahoochee Valley (Ala.) slugged its way past undefeated San Jacinto (Texas) on Thursday, 13-3, withstanding elimination in mercy-rule fashion and forcing a semifinal rematch between these two Friday in the Junior College World Series.
In a battle between the nation's top ranked teams, CVCC -- which fell, 4-3, to Iowa Western on Monday in the double-elimination tournament -- powered to a convincing trump over a team that fielded some of the best JUCO prospects, including tournament MVP favorite Ryan January.
CVCC scored seven runs with two outs in the second inning and rolled behind a dominant pitching performance by right-hander Chase Burks, who tossed a complete game (seven innings for the mercy rule), surrendering three earned runs on seven hits and three walks with five strikeouts against an offense that has averaged 10.25 runs per game this tournament.
"There's probably a thousand other guys with better stuff in America, but I don't think there's a better pitcher, player or just a baseball player in general that has more heart than this guy, that has more guts -- we'll call it intestinal fortitude -- than he does out there on the mound," CVCC head coach Adam Thomas said.
No moment was more paramount than with two outs and the bases loaded in the fourth, when January came to the plate. San Jacinto mounted momentum and scored three runs the previous inning, and January had entered the at-bat with four homers this week, two short of the tournament record held by 10-time MLB All-Star Kirby Puckett.
Burks answered with a strikeout of January high and in, then pumped his fist into his glove in front of a roaring 8,000-plus on hand.
"Our approach going into the game was to try to bust him inside, and I think I did a pretty good job of that late in the count and kind of kept him off balance," Burks said. "He chased something that was up, and that was huge.
"Bases loaded with probably their best hitter," Burks continued. "It was a big situation. I pitch with a lot of intensity and that was a big moment."
Thomas took a page from the playbook on his message to the dugout with such a sizable lead. Through the first two innings of its first three games, San Jacinto had been outscored a combined 12-2, including a 7-0 deficit in the first against Cowley (Kan.), and had gone on to win each of those games.
"We've got to keep scoring touchdowns," Thomas said. "I'm serious. That's exactly what I told our team -- touchdowns, touchdowns. [San Jacinto] is good. They're probably the best team out here in terms of talent-wise. They're really good. ... A seven-run lead here with the pee-wee Giants in the local Little League is not safe."
Now for Thomas and his contingent comes the challenge of doing what no team has done: defeat San Jacinto in consecutive days. It's only lost back-to-back games once all year, at the hands of two separate teams.
"We had our night, and we love it. But we've got to turn around and do it again tomorrow," Thomas said. "It doesn't matter any more because I'm sure there's no question that he's going to have his team ready to go tomorrow, and we're probably going to see that left-hander [Devin Smeltzer] that's unreal. We're going to have to compete our rear ends off against that guy, and we will."
In the matinee, No. 14 Yavapai (Ariz.) faced elimination for the third day in a row and cruised to a 7-3 upset over No. 4 Iowa Western, keeping its streak rolling as arguably the tournament's hottest team.
Nate Easley, son of 17-year MLB veteran Damion Easley, drilled a two-run triple on a fastball high and in that propelled Yavapai to an early lead. It was the same pitch he popped up to the catcher in foul territory during his first at-bat.
"I knew what I did wrong and the adjustment I had to make, and I knew they were going to keep coming to it until I put it in play, and two strikes, I knew he was coming to it," Easley said, noting he conversed with pitching coach Jerry Dawson about specific plate-discipline strategies after his early surge this tournament.
Easley is another JUCO World Series MVP candidate who is hitting .450 this week and has made a slew of flashy plays in center field.
Hayden Durkiewicz tossed 5 2/3 strong innings and gave up two earned runs on five hits and a walk, fanning five. Rashaan Kuhaulua picked up his first save and was effective with his three-pitch repertoire, fanning five on a fastball, curve and changeup over two innings.
"I used to throw a slider, but I don't really need it right now," Kuhaulua said, just as head coach Ryan Cougill cut him off jokingly to prevent giving away too much of a scouting report.
Yavapai now awaits Friday's CVCC-San Jacinto winner. Sophomore southpaw JoJo Romero, who was just revealed at No. 124 on MLBPipeline.com's Top 200 among Draft prospects, will take the hill in what will likely be his final amateur game.
Daniel Kramer is a reporter for MLB.com based in Denver. This story was not subject to the approval of Major League Baseball or its clubs.